Things to Do in Atlanta that Aren't the World of Coke or the Georgia Aquarium
Even if you've already crossed off the Georgia Aquarium and the World of Coke, Zoo Atlanta, and Piedmont Park from your bucket list, Atlanta still has so much to offer for all sorts of travel groups. From lesser-known museums to local-favorite hang-outs, there is no shortage of group-friendly destinations in Atlanta—if you know where to look.
Whether you're traveling with veteran visitors and looking for something new or simply searching for destinations to fill out your itinerary between the major attractions, use this guide as inspiration when mapping out your next Atlanta group trip. And when you're ready to head out and see the sights, consider National Charter Bus your first choice for reliable group transportation services. Call 404-400-1914 today and see how simple renting a bus in Atlanta can be!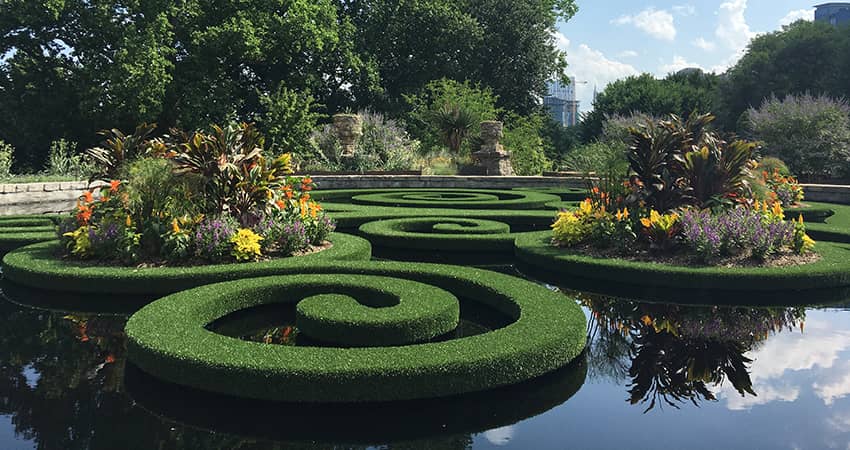 Atlanta Botanical Garden
Address: 1345 Piedmont Ave NE, Atlanta, GA 30309
Phone: 404-876-5859
Welcoming an estimated 780,000 visitors per year, the Atlanta Botanical Garden is hardly a "hidden gem." But given how the gardens' blooms and landscaping change from season to season, year to year, this beloved greenspace is well worth a tour, even for returning visitors!
The Atlanta Botanical Garden is composed of nearly a dozen themed exhibits and plots, from the tropical inhabitants of the Fuqua Conservatory to the educational Edible Garden—the shady woodland Canopy Walk to the highly curated rose and Japanese gardens. Anticipate setting aside at least two hours to take in all the greenery, sculptures, and seasonal displays.
Charter Bus Rental Parking: The botanical garden's bus-friendly, on-site parking lots are available to school field trip groups and folks coming in by minibus rental. Full-sized charter bus rentals will be asked to park off-grounds after dropping guests off at the loading bay near the entrance. Keep in mind that street parking in Midtown's residential areas is very limited, so private surface lots are your best bet.
National Center for Civil and Human Rights
Address: 100 Ivan Allen Jr Blvd NW, Atlanta, GA 30313
Phone: 678-999-8990
A popular destination for history and civics class field trips, this sobering yet powerful museum also makes a great outing for non-profit organizations and any group interested in social justice. Here, visitors can explore a rotation of permanent and temporary exhibits focused on the history of the Civil Rights Movement, as well as contemporary human rights movements for people of color, the LGBTQ+ community, and other marginalized groups around the world. Even the architecture of the building lends itself to the center's theme of empowerment—visitors literally climb their way to the top of the building as they explore the displays. (Don't worry, there's also an elevator for wheelchair users who need ADA accommodations.)
Charter Bus Rental Parking: Downtown Atlanta is known for a lot of things—ample parking space is not one of them. Motorcoaches and oversized vehicle rentals are only permitted to park at the Georgia World Congress Center (GWCC) Marshalling Yard, about a half-mile away from the National Center for Civil and Human Rights.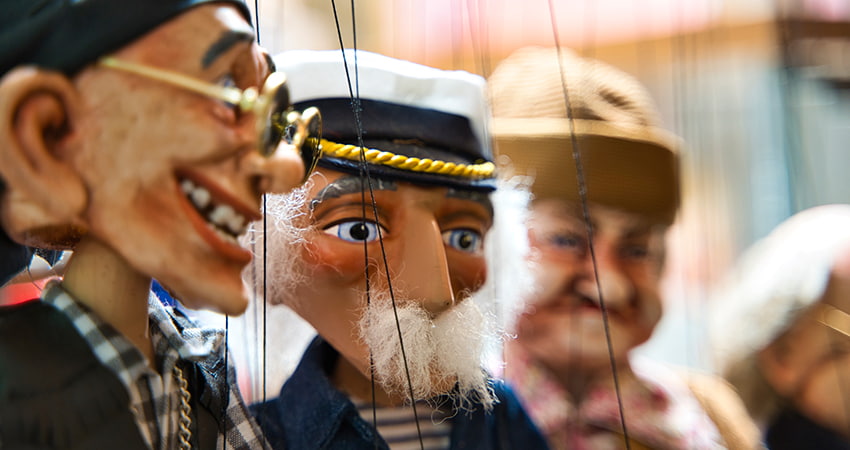 Center for Puppetry Arts
Address: 1404 Spring St NW, Atlanta, GA 30309
Phone: 404-873-3391
The often-overlooked attraction is always a fun time for little ones and the young at heart—and it's also the country's premier destination for anyone interested in the art of puppetry! The Center offers two main attractions: a regular rotation of performances and a world-class puppet museum.
Performances here include many adaptations of fan-favorite children's stories, from "Charlotte's Webb" to "The Little Red Hen & The Grain of Wheat"—as well as seasonal performances like the Halloween variety show and "Rudolph the Red-Nosed Reindeer" around Christmastime.
If your group just wants to tour the museum, discounts are available for groups of 10 or more. Come learn about the history of puppetry arts around the world. You can even meet your favorite Jim Henson creations, including real puppets from The Dark Crystal, Labyrinth, and The Muppets!
Charter Bus Rental Parking: Limited parking spots—including accessible parking—are available for free behind the main building. If you're planning to visit during the Center's busy seasons (when school is out of session), this lot will likely be full. Have your bus driver pull through and drop everyone off within walking distance of the entrance before parking in one of the paid surface lots nearby.
College Football Hall of Fame
Address: 250 Marietta St NW, Atlanta, GA 30313
Phone: 404-880-4800
If there's one thing ATLiens love, it's college football! If you're traveling with a group of sports fans, you won't want to pass up a visit to the College Football Hall of Fame. Alongside an indoor football field that can be reserved for events, this center houses exhibits that feature college football memorabilia from throughout the decades, as well as profiles of the nearly 1,000 players and coaches inducted into this Hall of Fame.
Groups of 15 or more visitors will need to reserve their tour at least a week in advance—but will receive discounted admission and the opportunity for custom tour packages based on your visitors' interests! School groups and youth sports teams can receive interactive worksheets that pair with state curriculum standards, while private event groups can rent out specific sections of the museum for family reunions, corporate team-building events, and much more.
Charter Bus Rental Parking: The parking situation here is the same as for most downtown attractions—the GWCC Marshalling Yard across the street. The daily rate can vary, but you'll most likely pay $30 per vehicle for a full day of parking access.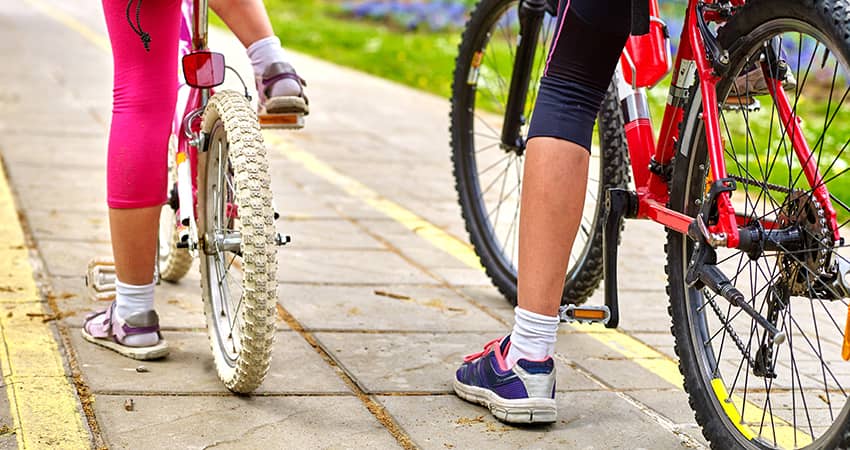 The Atlanta Beltline
Once a historic railway encircling the city, the Atlanta Beltline has quickly become a popular walking trail for locals and tourists alike. It's more than just an urban hike, though—folks of all walks of life enjoy the accessibility to restaurants, breweries, and street art this walking and biking trail has to offer.
While you can't go wrong with any of the nearly half-dozen trails that make up this greenway, the Eastside Trail is probably the most popular stretch of the Beltline. This 2.25-mile path stretches between Irwin Street and the intersection of 10th Street and Monroe Drive. Plan a stroll here if your group is interested in popping into the shops at Ponce City Market, the Midtown Promenade, or Piedmont Park!
Charter Bus Rental Parking: The nature of the Beltline—a circle around the city of Atlanta with many access points—means pinpointing the perfect parking spot depends on where you want to start walking and how far you want to go. That being said, the most logical starting point for groups will likely be near the Inman Park MARTA station's bus-friendly parking lot.
Explore All of Atlanta with a Private Bus Rental
As you can see, ATL has tons more to offer than a glimpse at whale sharks and free samples of Coca-Cola! When you're ready to get out and take in all that this beautiful city has to offer, National Charter Bus will be with you every step of the way. Our nationwide network of minibus and charter bus rentals makes it easy and stress-free to reserve the ideal ride for your group's next outing.
All you need is a headcount, a rough itinerary, and an idea of what amenities you want aboard your motorcoach—WiFi, TVs, a PA system, you name it!—and our 24-hour reservation team will be happy to provide a personalized bus rental quote within minutes. Call 404-400-1914 today to get started!