Group Guide to Visiting Arches National Park
Nestled near the Utah and Colorado border, Arches National Park is a must-visit location for groups of outdoor enthusiasts. National Charter Bus is your go-to group transportation service for big hikes, team-building days, or vacations exploring Arches National Park. Plan a day hiking the natural landscape and see over 2,000 natural rock arches with friends, family, coworkers, or teammates. Keep on reading to learn more about Arches National Park and how to get there with a group!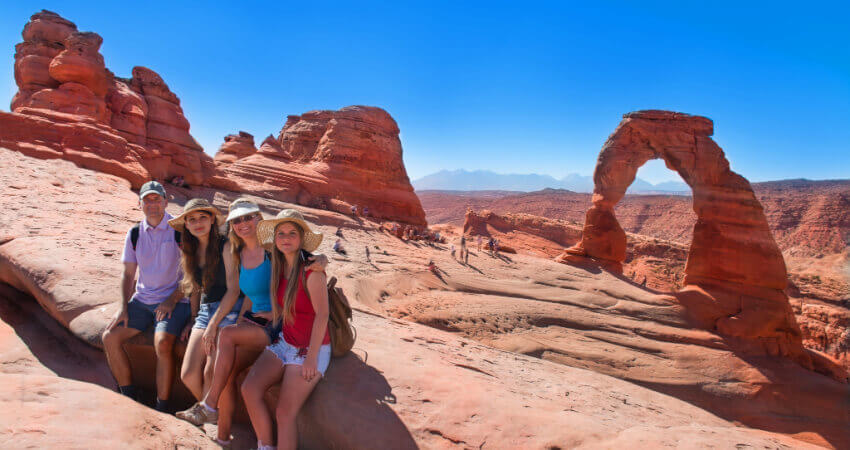 How To Get To Arches National Park
Arches National Park is located just outside the small city of Moab, Utah, around a 3.5-hour drive from Salt Lake City and a 5.5-hour drive from Denver. Whether you're staying in Moab or coming from a major city in Utah or Colorado, having efficient transportation is a must for large groups. National Charter Bus offers minibus and charter bus rentals of all sizes to transport local and long-distance groups headed to Arches National Park. Small groups traveling to the park can book an 18-passenger minibus rental for a compact ride or large numbers of visitors can opt for a 56-passenger charter bus rental. Charter bus rentals in the network include amenities like plush eats, personal climate controls, and entertainment features such as WiFi and flat-screen TVs. Your group will be comfortable all drive long and ready to take on the trails at Arches National Park!
National Charter bus also offers convenient ADA-accessible bus rentals for groups traveling to Arches National Park. If you're taking a self-guided tour of accessible viewpoints or trials at Arches, you can trust the National Charter Bus for safe, ADA-compliant transportation.
Whatever your group size or travel occasion may be to Arches National Park, National Charter Bus will make sure you have suitable transportation. Call the team at 1-844-755-0510 to learn more about charter bus rental pricing and to find the right bus for your hiking trip or tour.
Entrance Fees at Arches National Park
Large non-commercial groups of park visitors traveling by charter bus or minibus will be charged entrance fees based on vehicle capacity. Full-size charter bus rentals can accommodate up to 56 passengers and groups will need to pay $15 per person, not to exceed $100. Most minibus rentals are for 18 or more passengers and entrance fees will also be $15 per person but will not exceed $40. Educational groups traveling with schools or camps may qualify for an entrance fee waiver.
Parking and Bus Regulations at Arches National Park
During the busy season, it isn't uncommon for all 3 parking lots at Arches to fill by 8 a.m. So carpooling or setting up a caravan for a group hike might not always be the best idea. If you're opting to travel by charter bus or minibus rental, you'll have designated oversize vehicle parking. There are 10 oversize vehicle spaces in the Devil's Garden Parking Lot, 4 in The Windows Section Parking Lot, and 28 in the Wolfe Ranch Parking Lot. Each lot also has ADA-designated spaces for visitors traveling in an accessible vehicle.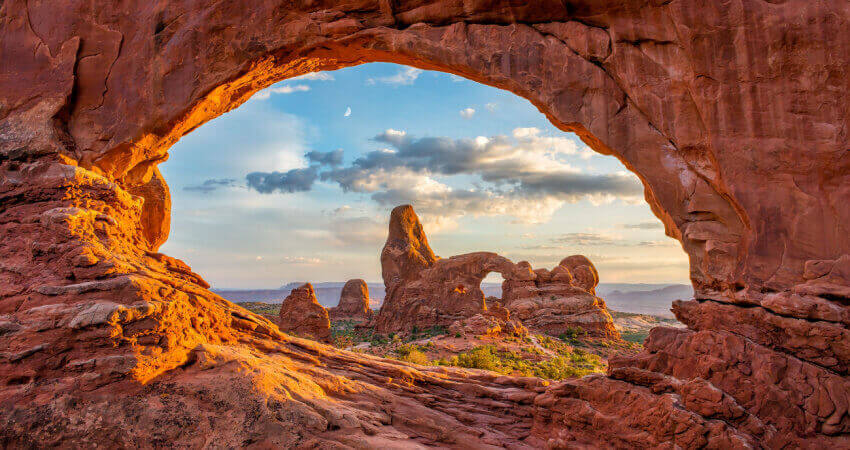 Geographic Highlights at Arches National Park
Arches National Park has a breathtaking landscape spanning 119 square miles. Here are the parks' top geographic highlights to prioritize during your visit:
The Windows Section
The Windows Section contains a large concentration of natural rock arches and is one of the most scenic spots in the park. North Window, Turret Arch, and Double Arch are among the most photographed formations in The Windows Section. The trail to Double Arch is relatively easy, flat, and easily accessible. The first 100 yards to Turret Arch are flat but the trail does become rocky and uneven, which may be difficult for visitors with mobility concerns.
Devil's Garden
Devil's Garden offers more difficult trails for seasoned hikers looking to break a sweat for gorgeous views of the Double O Arch. The first portion of the Devil's Garen Trail is relatively easy until you reach the landmark Landscape Arch. After the landscape arch, the trail becomes increasingly difficult until reaching Double O Arch.
Delicate Arch
At 52 feet tall, the Delicate Arch is the largest free-standing arch in the park and is among one of the most famous formations of its kind in the world. The Delicate Arch area is one of the busiest in the park, so it's highly recommended you plan your trip accordingly to avoid crowds. The trail to see the arch up close is around  3 miles roundtrip and is considered moderately difficult.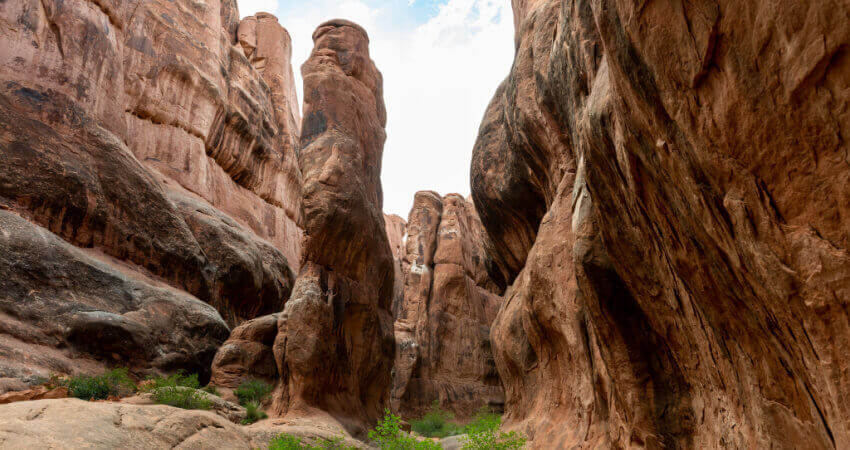 Tour Options and Activities at Arches National Park
Groups visiting Arches National Park can choose self-guided or ranger-led programs to explore the park. Determining what to do in Arches depends on how much time you have to visit.
Are you interested in taking a quick, easy visit to the park? If you want to keep your trip under 2 hours, consider taking a scenic drive in your charter bus. You can save time driving rather than traveling on foot while still seeing the park's highlights. Drive to The Windows Section to snap photos and stroll amongst the park's largest arches or go to the Delicate Arch Viewpoint to see the world's most famous natural stone arch. Enjoy views through your charter bus's panoramic windows and leave the driving up to the professionals.
If a longer visit is in the stars, consider taking a hike through the park. Hiking trails range from 15 minutes to 5 hours and range in difficulty from easy to strenuous. Beginner hikes can pick short, easy trails like the 0.6-mile Double Arch Trail and the 1.2-mile Window Loop. More experienced hikers or those who want to break a sweat should consider moderate and strenuous options like the 3.2-mile Delicate Arch Trail and 7.9-mile Devil's Garden Trail. After a long day of hiking and snapping photos of beautiful rock formations, you can count on your professional charter bus driver to shuttle you back home or to hotels.
Ranger-led programs vary in length and are great educational options for park visitors interested in the natural history of Arches. Programs include everything from short talks at the visitor center to physically demanding guided hikes into Fiery Furnace. Check the park's website and inquire at the visitor center about ranger-led options available during your trip.
Activities like backpacking, camping, canyoneering, and rock climbing can also be enjoyed at Arches National Park but visitors must register in advance. If you plan to register for these activities, please be sure to read through the park's rules and regulations thoroughly.
Rent a Charter Bus to Arches National Park
National Charter Bus is your go-to partner in exploring all that some of the country's top national parks have to offer, including Arches. When you're ready to book your group transportation to and from Arches National Park, call the rental team at 1-844-755-0510 to get a free charter bus quote.