The Best Ski Trip Spots Near(ish) Boston
If you're planning a trip to Boston, you probably haven't thought of adding skiing to your itinerary. Don't limit yourself to only seeing the typical historic destinations and tourist spots like Fenway Park. A little bit outside of the city, you can find some beautiful snowy destinations, perfect for breaking out a pair of skis and testing your skills on the slopes.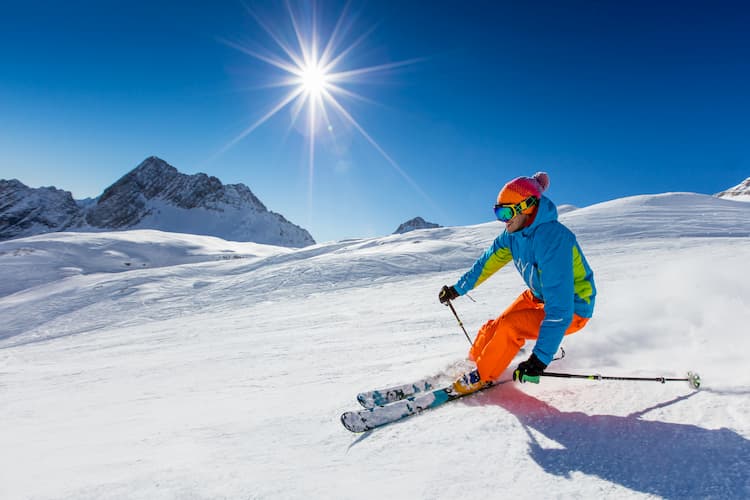 Whether you're traveling for a school field trip with students eager to race down the mountain, or you're planning a family vacation for all of your relatives, we can pair you with the perfect bus to fit your needs. If you're traveling with a group of around 20 people, opt for a minibus for a comfortable fit. Need more room? Don't worry, we can pair you with a full-sized charter bus to fit up to 55 people.
Your reservation specialist can help you decide which amenities you want to have, with options including large luggage storage areas perfect for holding everyone's equipment, and power outlets to make sure everyone's devices stay fully charged for a day on the slopes. Call us at 617-275-8102 to secure the minibus or charter bus rental today.
Best Day Trip Destinations
Nashoba Valley Ski Area
Address: 79 Powers Road, Westford, MA
Distance from Boston: About 45 minutes
Located just 45 minutes outside of the city, Nashoba Valley Ski Area is a great option for a spur-of-the-moment ski trip. With 17 trails and a range of difficulty, there are plenty of slopes to fit varying experience levels throughout your group. The area offers daily first-come, first-serve group lessons, allowing you to be flexible in planning your trip without worrying about securing reservations.
If you're looking to do more than ski, Nashoba also offers snow tubing, racing leagues and lessons, and snowboarding spots. Discounted ticket prices are available for groups of more than 6 who want to tube, and on ski packages for groups over 15. After spending a day in the snow, close out your day trip by eating at Outlook Restaurant, which has a delicious dinner menu and a full bar.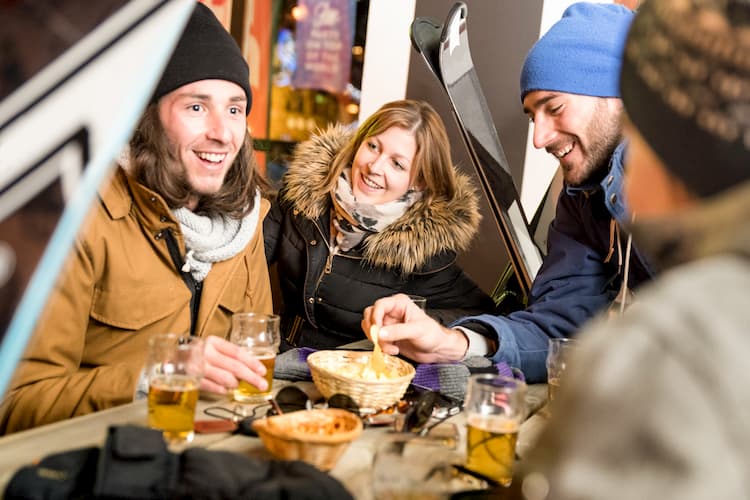 Weston Ski Track
Address: 198 Park Road, Weston, MA
Distance from Boston: About 30 minutes
The Weston Ski Track offers cross-country style, natural-snow trails across 15 kilometers of mostly level ground. If the weather prevents good skiing conditions, they also have 2 kilometers of snowmaking trails to ensure there is always a slope ready for your group. This spot is perfect for a crowd of beginners, with a variety of competitively priced lessons available all season long.
If you're planning a sporty trip for a group of students, the Weston is the go-to spot for school teams thanks to its beginner-friendly trails and its location so close to the city. Teams get a special discounted rate and can get a special season rental package, allowing the team to have access all season long. Pair this with a private sports team bus rental to make sure your students have safe, reliable transportation to the mountain.
Best Spots for the Whole Family
Gunstock Mountain Resort
Address: 719 Cherry Valley Road, Gilford, NH
Distance from Boston: About 2 hours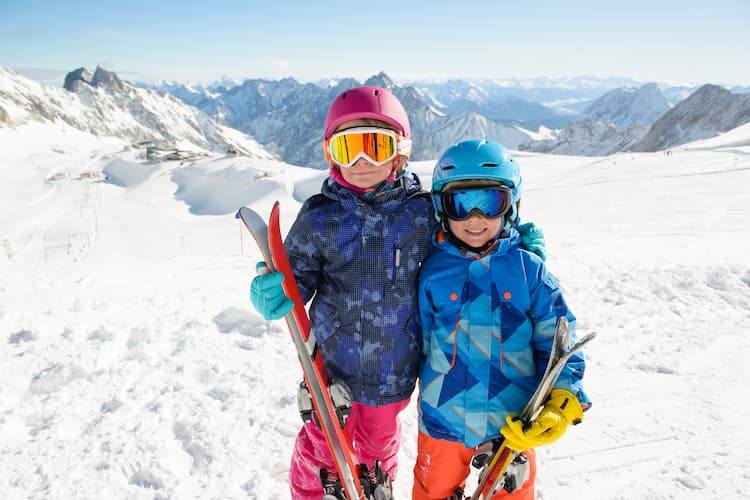 If you're traveling with kids, Gunstock Mountain Resort offers activities that will keep them occupied for days. Although the mountain is one of the smaller peaks in the region, it is one of the least-crowded ski spots around Boston, so the skiing experience is up to par with its larger counterparts. The children in your group can participate in their daily kids' programs consisting of group lessons for ages 3 to 14.
If skiing lessons aren't up their alley, let your little ones explore the snow tubing, mountainside rollercoaster, or scenic lift rides the resort has to offer. Take advantage of the discounted group rates  by getting your friends together and taking all of your families up for a unique mountainside camping trip at the resort's winter campground. A minibus is the perfect size for a comfortable group trip up to the mountain, and a reservation specialist can pair you with a bus equipped with DVD players and flat-screen TVs upon request to keep the kids occupied the whole way there.
Mount Sunapee
Address: Mount Sunapee, Newbury, NH 03255
Distance from Boston: About 1 hour 45 minutes
Mount Sunapee has a long season with 67 different slopes across 233 acres, making it one of the larger ski spots around Boston. With so many different trails, there is a spot to match everyone in your group (even the person itching to show off on an expert-level slope). If you want to have some adults-only fun but didn't bring a babysitter, snag a spot for the youngsters in your group at the Mother Goose Childcare Center, where they will stay warm and occupied all day long with the qualified daycare staff.
If you're planning a large family gathering, like a family reunion or a big birthday bash, reserve the Hearthstone Room along with your group ticket package. A cozy, private space for up to 35 guests, this room has a private entrance to the lodge, catered food and beverages from the lodge's culinary team, optional bar service, and line cutting privileges at the main lifts on the mountain, making it the perfect backdrop for an event your family will be talking about for years to come! They even have a convenient bus drop-off area, making it easy for your driver to get you right where you want to be.
Best for Luxury Skiing
Stowe Mountain Resort
Address: 5781 Mountain Rd, Stowe, VT 05672
Distance from Boston: About 3 ½ hours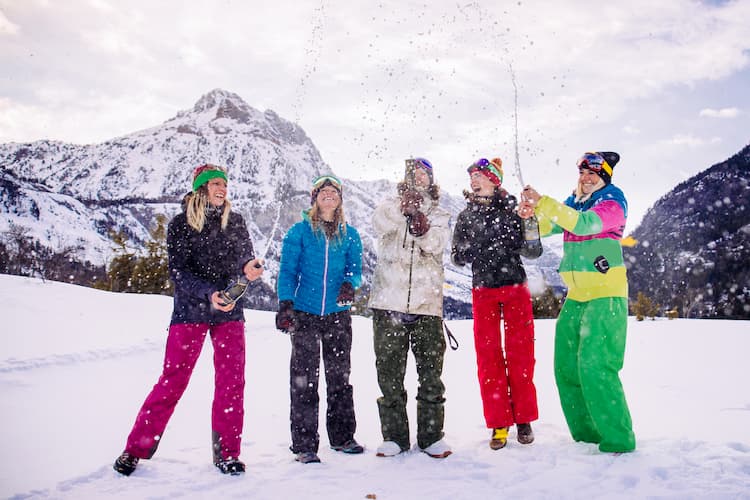 Looking for a luxurious ski experience? If you're willing to travel a little further, Stowe Mountain Resort is the perfect place to elevate your trip. With private mountain guides prepared to accompany your group around the mountain, 40 miles of trails to race down, and a historical village on the mountain perfect for shopping and dining between rides, it's a great destination for you and your friends on a special weekend.
Stay at the lodge at Spruce Peak on the mountain for maximum comfort, with options ranging from luxury room rentals with beautiful snowy views to peak penthouses for when your group wants to go all-out. Rejuvenate after a day on the slopes at the Spruce Peak Spa Sanctuary with a massage or a dip in their premium Jacuzzis. With a trip this fancy, you'll want to make getting there just as comfortable, so request a charter bus featuring plush reclining seats and extra legroom to set the tone for your weekend of relaxation.
Plan the Perfect Ski Trip with National Charter Bus
Don't let figuring out group transportation become a hassle while planning your ski trip. Let us handle your transportation logistics with a private bus rental, letting you stay focused on which slope to hit first. Our reservation specialists are here 24/7 to give you a free, no-obligation quote on the bus perfect for your group. All you have to do is give us a call at 617-275-8102 today!
Tags In