Guide to the Best Ski Trips Near Las Vegas
Las Vegas may seem like an unlikely location for a ski trip, but Sin City is centrally located to numerous ski resorts in Nevada, California, and Utah. Adding a day or two of skiing to your Las Vegas casino trip can be easily doable with a private ride from National Charter Bus. Travel from Las Vegas in a comfortable charter bus rental and hit the slopes for your family trip, company retreat, or even a unique bachelor and bachelorette bash. Renting a charter bus from Vegas and receiving a personalized quote only takes a few minutes when you call the National team at 702-780-0497.
Keep on reading to learn more about ski resorts near Vegas and the best way for your group to get there!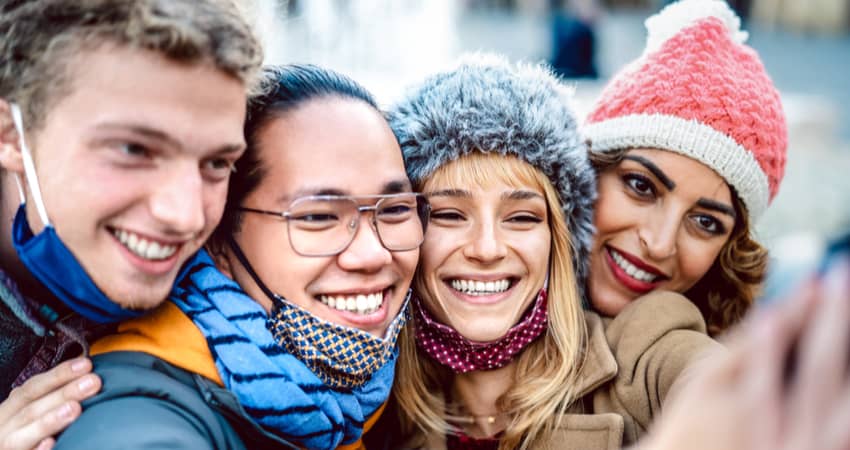 How to Travel to Ski Resorts from Las Vegas
Most of the ski resorts closest to Las Vegas's city center are still at least an hour's drive away. So unlike big resorts in major ski hubs like Denver and Salt Lake City, prescheduled shuttles aren't usually an option from Las Vegas. Renting a car can be an efficient and easy way to get to nearby resorts, but large groups may have a difficult time organizing multiple rentals. That's where a charter bus rental comes in handy! The National Charter Bus network includes minibuses and full-size charter bus rentals for ski groups of all sizes.
On top of having plenty of cabin room for your entire group, each charter bus rental will have enough space for your luggage or ski gear. If you're traveling across Nevada state lines to other ski resorts, you'll have a comfy ride for the long haul. Relax in plush reclining seats, stream music and movies with onboard WiFi, and avoid bathroom disasters with onboard restrooms.
Lee Canyon Ski Resort
Distance from Las Vegas: ~1 hour or 50 miles
Address: 6725 Lee Canyon Rd, Las Vegas, NV 89124
Phone: (702) 385-2754
Lee Canyon is the only ski resort located in southern Nevada. It's the closest skiing spot to Las Vegas and is an easy day trip for an afternoon outing. Lee Canyon is a relatively small, no-frills type of ski resort. There are 27 trails, most of which are for intermediate and advanced skiers. There's one bunny slope for beginners with complimentary coaching sessions for newcomers. Groups with children or new skiers may want to pick another resort with more trail options for beginners. You'll also find 3 terrain parks for snowboarders and more experienced skiers, snow tubing, snowshoeing, and play areas for kids.
Charter bus rental tip: Groups visiting Lee Canyon should inquire about group packages by emailing groupsales@leecanyonlv.com. Parking reservations are required for every vehicle entering Lee Canyon and you should inquire about parking a charter bus at the time of group ticket purchase.
Brian Head Resort
Distance from Las Vegas: ~3 hours or 200 miles
Address: 329 UT-143, Brian Head, UT 84719
Phone: (435) 677-2035
Utah's southernmost ski resort is located in Dixie National Forest and is a well-rounded pick with great snow, beginner-friendly slopes, a ski school, and options for more experienced skiers. There are two skiable mountains in Brian Head, encompassing more than 70 runs and 665 acres of skiable areas. Brian Head is a wonderful family-friendly option with its gentle terrain for children new to skiing and ski instructors that are trained in working with kids on the slopes. The après-ski options around Brian Head are relatively limited, so you may want to pick another resort if you're looking for a fun post-ski nightlife scene.
Charter bus rental tip: Groups of 20 or more can qualify for discounted admission with requests made at least 3 weeks in advance. Oversized parking for your charter bus may be permitted at the Navajo Lodge parking lot with a prior inquiry.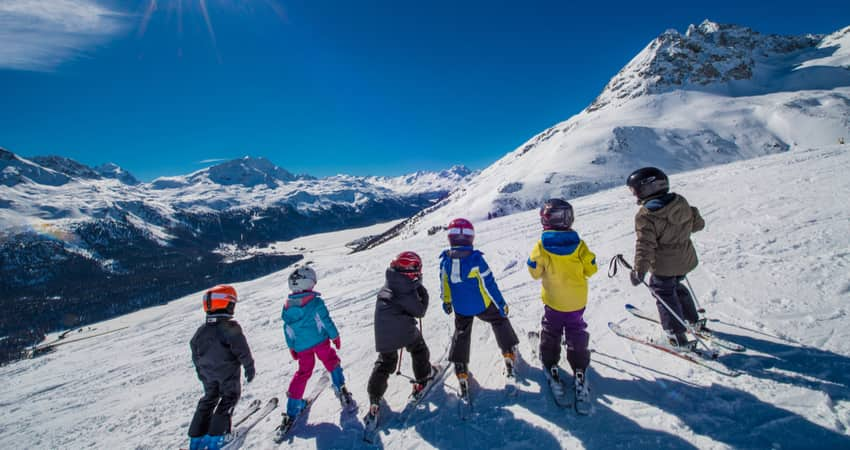 Big Bear Mountain Ski Resort and Snow Summit Ski Resort
Distance from Las Vegas: ~3.5 hours or 215 miles
Address: 43101 Goldmine Dr, Big Bear Lake, CA 92315
Phone: (844) 462-2327
Big Bear Mountain and Snow Summit are sister resorts located in the San Bernardino National Forest, right off of Big Bear Lake. Visiting these two resorts is a great option for a group with mixed skill levels and interests. Big Bear is popular with snowboarders for its irregular terrain and for essentially being one big terrain park. Snow Summit has a bigger skeleton of traditional downhill ski runs. Between the two resorts, you'll find a variety of beginner trails, intermediate options, and a handful of expert-level runs. All of the entrance passes available offer combined access to both resorts, including a selection of mountaintop restaurants and base lounges for ​​après-ski fun.
Charter bus rental tip: Groups of 15 or more can qualify for discounted group packages.  There are multiple parking lots located across both resorts. There are travel restrictions around Big Bear Lake for vehicles over 45 feet long. When you book a group package, be sure to ask about road restrictions and where your bus can park.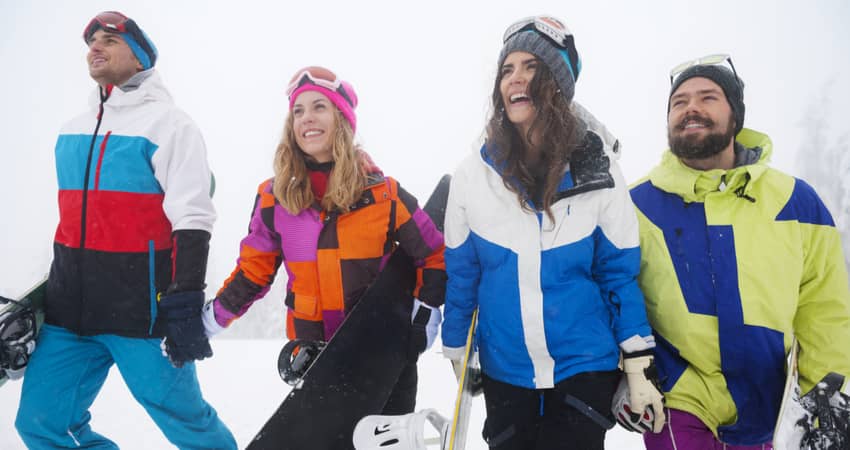 Mountain High Resort
Distance from Las Vegas: ~3.5 hours or 225 miles
Address: 24510 CA-2, Wrightwood, CA 92397
Phone: (888) 754-7878
Located in the San Gabriel Mountains about 1.5 hours from Los Angeles, Mountain High is one of the busiest ski resorts in the region. Mountain High is actually split into three resorts—East, West, and North—each being dedicated to skiers and snowboarders of different skill levels. The North Resort is dedicated to Mountain High's ski school and family-friendly activities like tubing and snow play zones. The West Resort is one of the highest elevation ski resorts in California and is home to Mountain High's Terrain Park. The East Resort has the longest trails at Mountain High and offers picturesque views of the nearby Mojave Desert.
Charter bus rental tip: Groups of 15 or more can qualify for discounts on lift tickets, recruitment rentals, and ski school lessons. There are loading & unloading zones at the base of each resort and paid parking is offered for oversized vehicles on a first come first serve basis. Space is limited, so giving prior notice and arriving early is recommended.
Mammoth Mountain Ski Area
Distance from Las Vegas: ~5 hours or 312 miles
Address: 10001 Minaret Rd, Mammoth Lakes, CA 93546
Phone: (800) 626-6684
Not only is Mammoth Mountain popular for skiing and snowboarding in winter, but it's also a prime spot for mountain biking in the warm months. Mammoth Mountain has a relatively balanced roster of ski runs for beginner-, intermediate-, and expert-level visitors. Although Mammoth Mountain is a long haul from Vegas, this resort boasts one of the longest ski seasons in the region and the biggest selection of trails your group can find. If you have group members interested in terrain parks, Mammoth Mountain has 8 areas with halfpipes, jumps, and jobs. The parks include pro-level terrain, as well as beginner-friendly options.
Charter bus rental tip: A designated dropoff and pickup area can be found in front of the Canyon Lodge, Eagle Lodge, and Main Lodge. General parking areas can be found in each area but spots may be limited for oversize vehicles. Your charter bus driver may be required to park along the street in designated locations near The Village or off-site at Mammoth Mountain RV Park overflow lots.
Plan a Ski Trip from Vegas with National Charter Bus
Let National Charter Bus handle your Las Vegas group transportation for an upcoming ski trip. Catch up on some rest after a busy Vegas trip and before ski resort fun in a comfortable charter bus rental. Your driver will take on the roads to your ski resort of choice so you can focus on a day of hitting the slopes. Call 702-780-0497 to reserve your Vegas charter bus rental today!