The Best Ski Trip Spots near Chicago
Because Illinois is one of the flattest states in the U.S., you won't find many impressive mountains near Chicago proper. But if you love to ski or snowboard, you can still plan a weekend trip to a resort in Wisconsin or a day trip to a small winter sports area in the suburbs. Ski trips can get a little complicated when you're traveling with a large group, though.
If you're going skiing with a few friends, you can get away with piling everyone into one car. But if you want to treat your entire after-school group or sports team, one car won't be enough. And maybe you're not up to begging for volunteer drivers and then worrying about whether everyone can safely drive up a mountain.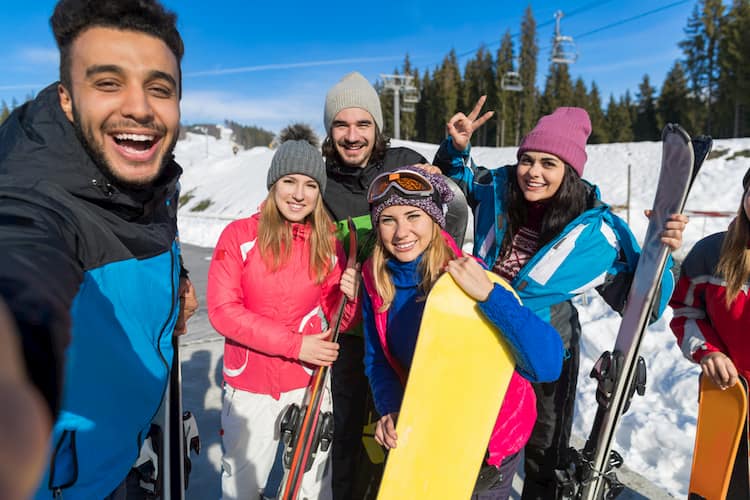 When you want to spare yourself some stress, call National Charter Bus. We only work with professional, experienced drivers who can definitely handle a mountain. Just contact us at 312-392-0239, and we'll find the right bus for your next trip to one of these Midwestern ski resorts.
Four Lakes Alpine Snowsports
Four Lakes lies less than 30 miles from downtown Chicago, so it's a popular destination for school or youth groups looking for a quick day trip. The resort has an expansive learn-to-ski area, 7 tow-rope lifts, and beginner, intermediate, and advanced slopes. However, the tallest hill is only about 100 feet high, so this resort is definitely geared more toward novices than experts. If you have more experienced kids with you, they can try snowboarding in the terrain park or night skiing on the lighted slopes.
Bus Parking: Four Lakes has its own lot, which will usually have plenty of room for charter buses.
Distance from Chicago: 45 min.
Address: 5750 Lakeside Dr, Lisle, IL 60532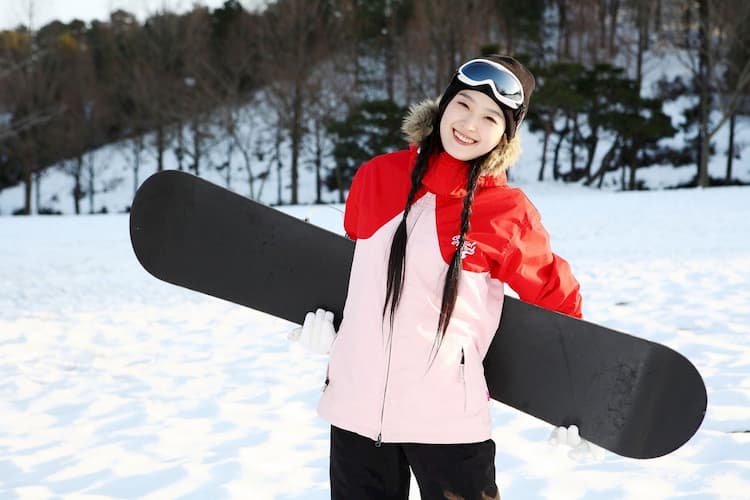 Villa Olivia
Located in Chicago's suburbs, Villa Olivia is a beautiful event venue with a seasonal winter sports area. If you're looking for hardcore skiing, though, you'll have to look elsewhere—there are only 7 runs, and the highest hill is about 180 feet. But if you want to bring your friends to a picturesque resort where you can indulge in some easy skiing or snow tubing, Villa Olivia is perfect. It also has a chairlift, which gives it an edge over Four Lakes for some skiers.
Bus Parking: Villa Olivia has its own lot where your charter bus or minibus can park.
Distance from Chicago: 1 hr.
Address: 1401 W Lake St, Bartlett, IL 60103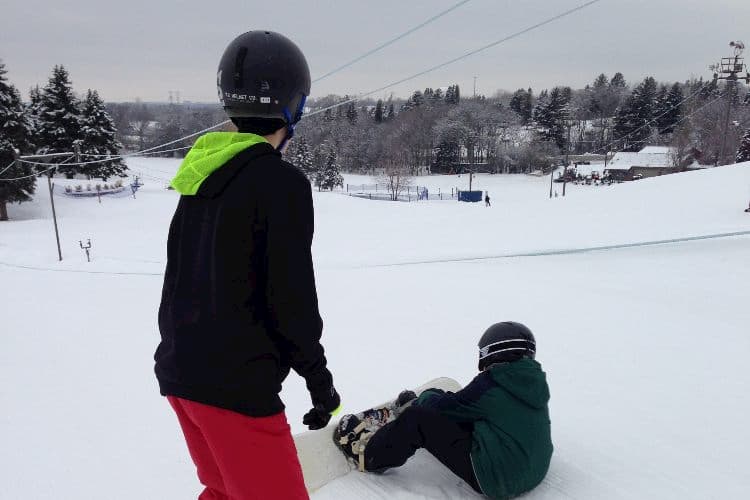 https://www.flickr.com/photos/mike_miley/8462256123
Snowboarding at Villa Olivia
Wilmot Mountain
If you're looking for a larger ski resort where you could spend an entire weekend, you're looking for Wilmot. Located about 70 miles from Chicago, Wilmot is owned by the Vail Resorts team, who know how to create a relaxed refuge in the mountains. The resort has 25 runs and 8 chairlifts, and you can choose between long, winding green and blue runs and an array of black diamond runs. Looking for an adrenaline rush? Try the mogul field, the snowboarding terrain park, or the "Snocross" run, where you can race snowmobiles.
Bus Parking: Wilmot has its own free parking lot for visitors.
Distance from Chicago: 1 hr. 30 min.
Address: 11931 Fox River Rd, Wilmot, WI 53192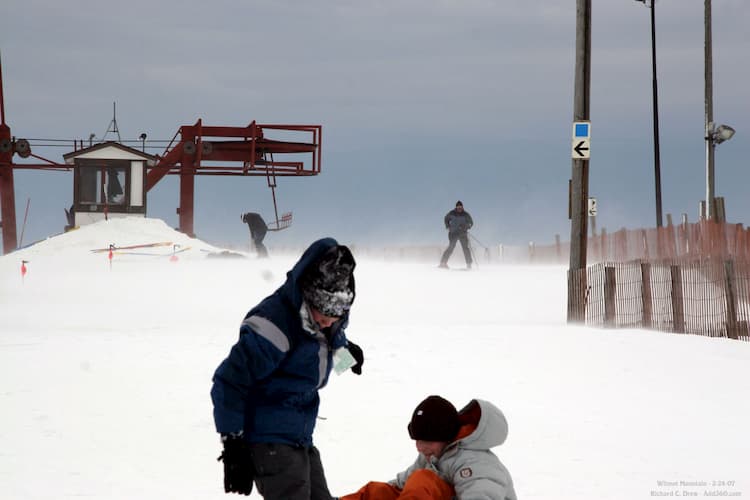 https://commons.wikimedia.org/wiki/File:Wilmot-mountain-high-winds.jpg
Skiers at the top of Wilmot Mountain during a windy day
Alpine Valley
Craving diverse terrain or ski-in, ski-out rooms? Drive less than 2 hours to Alpine Valley, located about 100 miles from Chicago. This is the only resort in southern Wisconsin that offers any ski-in, ski-out rooms at all, and it's famous for its terrain-based learn-to-ski program designed to help beginners get onto real slopes quickly and safely.
Alpine Valley has 90 acres of runs, with the longest being about 3,000 feet. It also boasts 7 chair lifts and a 388-foot vertical drop. The 3 terrain parks are reserved for snowboarders only, making this a popular destination for people who want to board without dodging skiers along the way.
Parking: Alpine Valley offers free parking for your bus.
Distance from Chicago: 1 hr. 45 min.
Address: W2501 Co Rd D, Elkhorn, WI 53121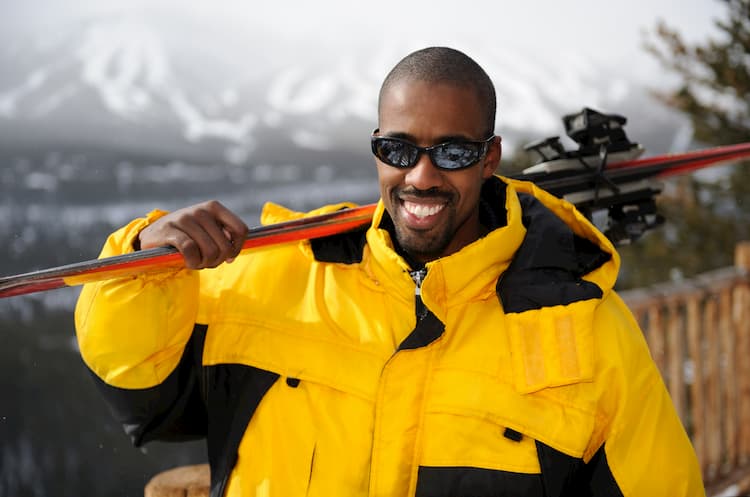 Chestnut Mountain Resort
Chestnut Mountain lies about 170 miles from downtown Chicago, so you'll need to brace yourself for a 3-hour drive. A charter bus can make that time fly by, though. Just pop in a DVD for everyone to watch on their TVs, or ask for free WiFi so you can listen to music or check Instagram on your phone.
Chestnut Mountain is designed for longer stays, with a beautiful lodge that includes restaurants, an indoor pool, a sauna, and a whirlpool. You're also near Galena, so you can ask your charter bus to take you into town to shop or check out more restaurants and bars.
But what about the skiing? You'll have plenty of options for that too. Chestnut Mountain has 19 trails that range from bunny to black diamond, all spread over 220 beautiful acres. Ambitious snowboarders can check out one of the biggest terrain parks in the Midwest, while daring skiers can venture up to the 475-foot vertical drop.
Bus Parking: Chestnut Mountain has free parking for guests.
Distance from Chicago: 3 hrs.
Address: 8700 W. Chestnut Mountain Rd, Galena, IL 61036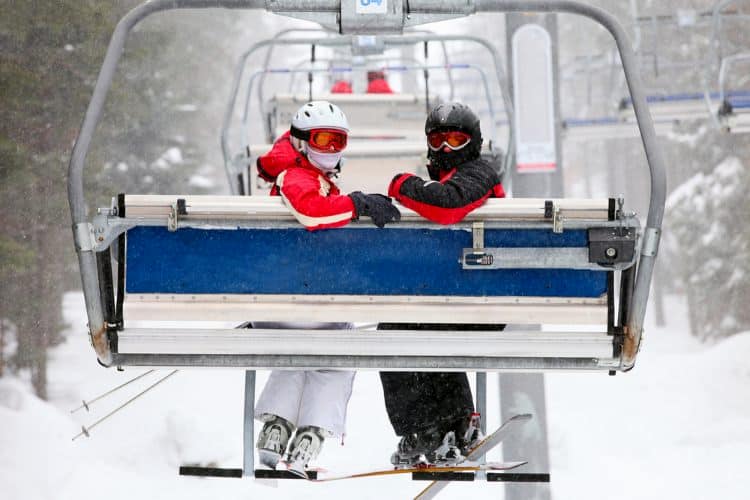 Cascade Mountain
Only slightly farther away than Chestnut but to the north of Chicago instead of the west, Cascade Mountain has the longest S-Rail in Wisconsin. It also features four terrain parks, making this a snowboarder's paradise.
Cascade Mountain prides itself on being family-friendly, and tubing is incredibly popular. Experience the resort's 900-foot snow chute, and then try out night skiing on lighted slopes. The resort also provides discounts for groups of 15 or more, so this is a great option when you're traveling with coworkers or students.
Bus Parking: Cascade Mountain has a designated lot with free parking for your charter bus.
Distance from Chicago: 3 hrs.
Address: W10441 Cascade Mountain Rd, Portage, WI 53901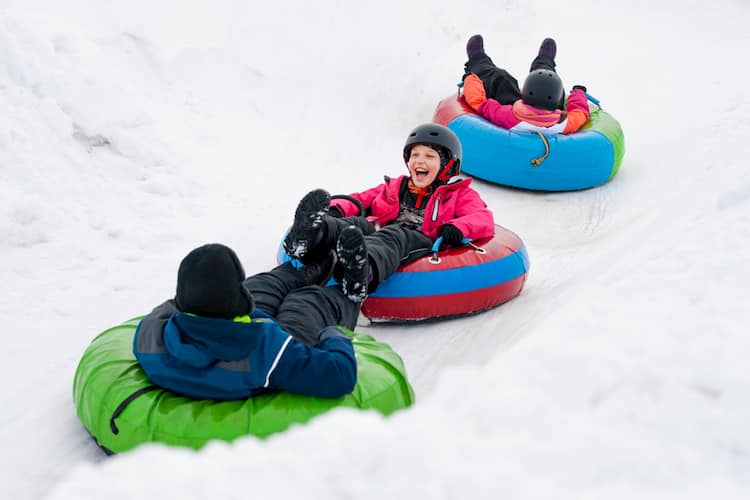 Devil's Head
Located about 184 miles from Chicago, Devil's Head Resort lies on one of the highest mountains in Wisconsin. It's known for its 3,500-foot run, its 500-foot vertical drop and 30 trails, which are almost evenly divided between beginner, intermediate, and advanced options. It also has a terrain park and, like Alpine Valley, it offers ski-in, ski-out rooms (though Devil's Head is much farther north).
Groups of 20 or more should contact groupsales@devilsheadresort.com at least two weeks before their trip to book space on the slopes. Lodging and food packages are also available if you plan to stay overnight.
Bus Parking: Devil's Head has onsite parking for your motorcoach or minibus.
Distance from Chicago: 3 hrs.
Address: S6330 Bluff Rd, Merrimac, WI 53561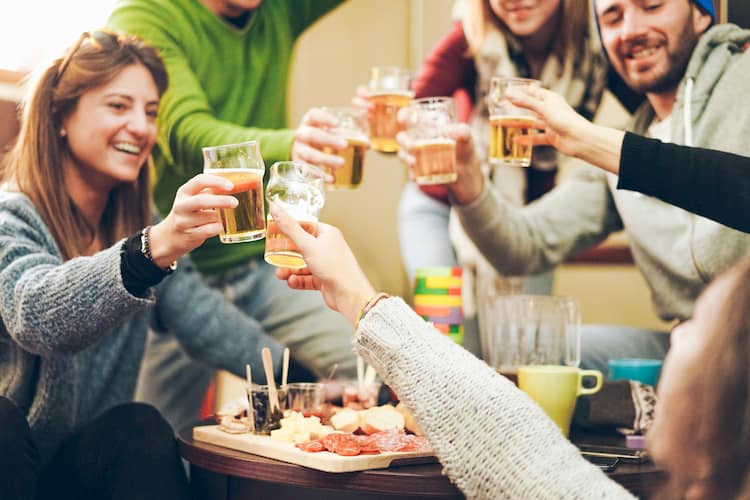 Granite Peak Ski Area
If you're with a group of hardcore skiers, you'll want to seriously consider Granite Peak for your next weekend away. Located about 274 miles outside Chicago, Granite Peak is often less crowded than other ski resorts because it's relatively far from major cities. But with a charter bus, you can request free WiFi and TVs to keep you entertained during the drive.
When you get to Granite Peak, you'll be rewarded with the highest vertical drop in Wisconsin—700 feet!—and 68 runs for your group to choose from. The mountain also has 3 high-speed chairlifts that are popular destinations for sunset tours after skiing closes for the day. If you'd like to bring a large group to Granite Peak, you can make reservations for 20+ people online 2 weeks in advance.
Bus Parking: Granite Peak has a free and spacious parking lot with room for your bus.
Distance from Chicago: 4 hr. 30 min.
Address: 3605 N. Mountain Road, Wausau, WI 54401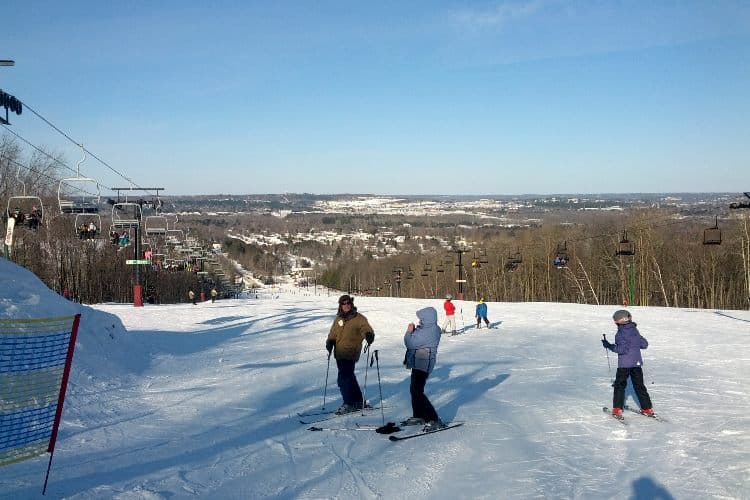 https://commons.wikimedia.org/wiki/File:Granite_Peak_Ski_Area.jpg
Skiers near chairlift at Granite Peak
Crystal Mountain
Like Granite Peak, Crystal Mountain lies a bit farther from Chicago than many of the other resorts on this list. You'll definitely want the extra legroom charter buses offer to keep your group comfortable on the way there. However, while they're a similar distance away, the two resorts have very different atmospheres. Granite Peak is more of a serious skiers' getaway, while Crystal Mountain is ideal for those who do want to ski but also want to eat, drink, and party.
Crystal Mountain has 58 downhill slopes at a variety of levels, but it's equally well-known for its beautiful condos, hotels, and bungalows. The resort also hosts seasonal events like beer and food festivals and private gatherings like weddings and business conferences, so the staff are experts at working with large groups.
Bus Parking: Crystal Mountain has its own parking lot for cars and charter buses.
Distance from Chicago: 4 hr. 45 min.
Address: 12500 Crystal Mountain Dr, Thompsonville, MI 49683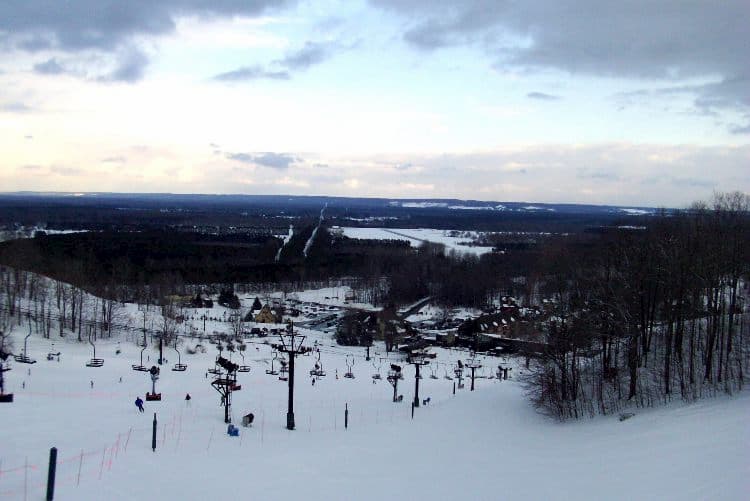 https://commons.wikimedia.org/wiki/File:Crystal_Mountain_-_Cheers_Chair.jpg
Expansive view from top of Crystal Mountain
Mount Bohemia
Mount Bohemia is quite far from Chicago–about 455 miles and almost an 8-hour drive. But if you're traveling with a group of expert skiers, Mount Bohemia presents the ultimate challenge. Store your ski gear in the bus's undercarriage storage space, lean back in a reclining seat, and let us take you up the mountain for a raw, thrilling ski experience you'll never forget.
Mount Bohemia has 500 acres of ungroomed terrain, 94 runs with 91 of them rated black diamond or above, and the highest vertical drop in the Midwest at 900 feet. This isn't a place for the faint of heart, but it's more than worth the trip for skilled adrenaline junkies.
Bus Parking: Mount Bohemia's parking lot is only open to visitors who plan to camp. If camping isn't your intention, you can find parking by booking a log cabin at the Nordic Spa on the mountain.
Distance from Chicago: 7 hr. 45 min.
Address: 6532 Gay Lac La Belle Rd, Mohawk, MI 49950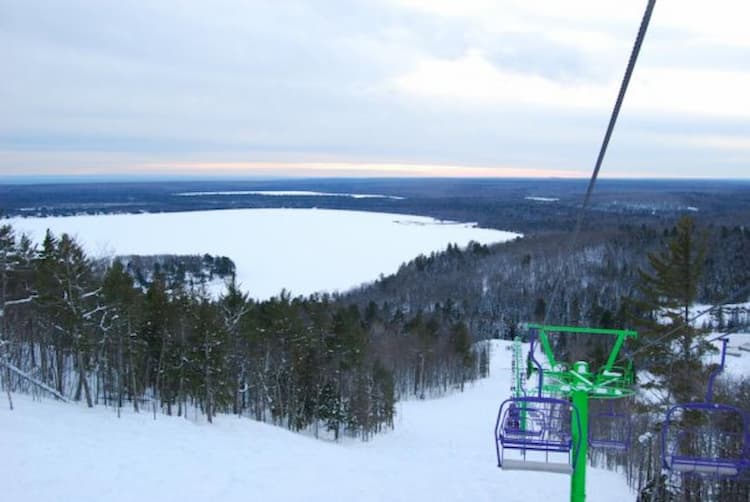 https://commons.wikimedia.org/wiki/File:Looking_over_Lac_La_Belle.jpg
Chairlift at Mount Bohemia
Get Ready for Your Next Ski Trip
Whether you want to take a group of kids to the Chicago suburbs for a day of learning to ski or a group of friends to Mount Bohemia for a weekend of racing down slopes, National Charter Bus can help. Call us at 312-392-0239, and we'll find a charter bus with abundant storage space for skis and boots, reclining seats, and free WiFi to keep you busy on your way up the mountain. We're available 24/7 to help you plan your next weekend escape.
Tags In