The Ultimate Charter Bus Carry-On Packing Guide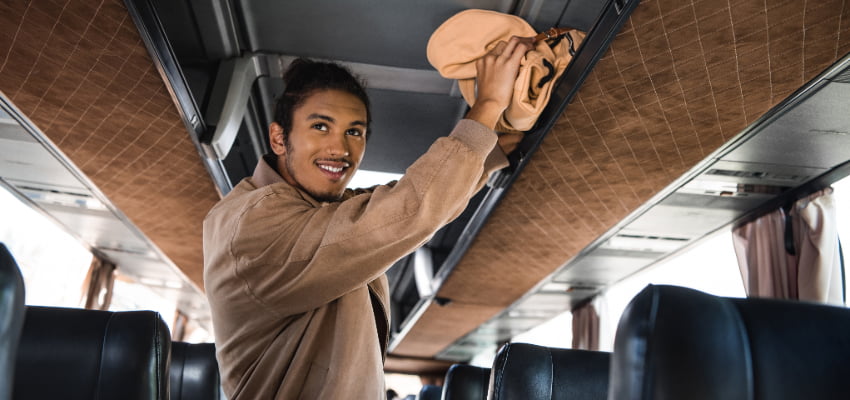 So you're prepping for your next group excursion. Great!
But you're having trouble deciding what you should and shouldn't pack in your carry-on bag. Not so great.
Don't worry—we're here to help.
We at National Charter Bus have transported millions of passengers where they need to be, so we know a thing or two when it comes to what you'll need during the ride ahead.
Whether this is your first group trip on a motorcoach or you just want to streamline the packing process, keep reading to learn how to make the most of your carry-on space on your type of charter bus. When you're ready to book—or if you have any further questions—just give us a call at 1-844-755-0510. Our team is available 24/7 to take your call, walk you through the rental process, and even offer a free quote with no strings attached.
So, how much storage will I have on my bus, anyway?
Well… it depends.
The exact amount of storage space you'll have on your bus varies, because it depends on the model of motorcoach and how many other passengers are on board.
For example, since they are mostly built and booked for short-distance excursions, minibuses are best suited for travelers with one carry-on bag or minimal luggage. Most minibuses don't have baggage compartments underneath the cabin, but some larger shuttles do. If the extra storage space is make-or-break for your group, just let your National Charter Bus rep know when you book, and we'll try our best to find a minibus with enough room to stow everyone's stuff.
On the other hand, you can expect your standard 56-passenger charter bus to offer enough storage to accommodate one average piece of luggage and one carry-on for each passenger. Think of it like a typical airline where you're allowed one checked bag and one carry-on item. The dimensions of your "checked bag" should add up to around 62 inches or less (the size of an average suitcase), and as long as your carry-on can fit in the overhead storage or under the seat in front of you, you should be fine.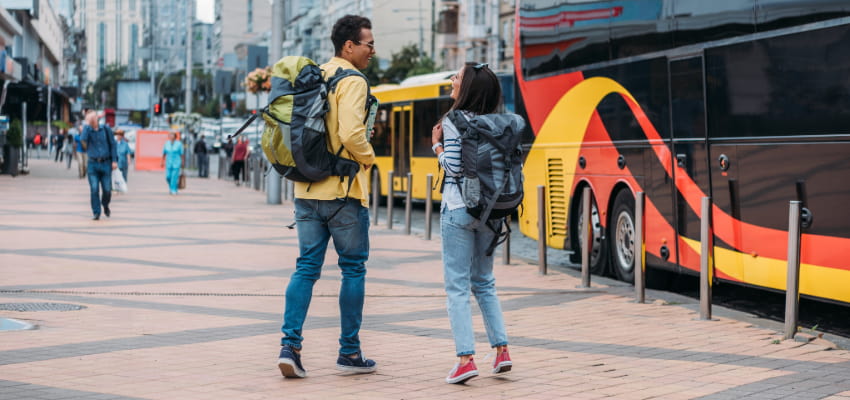 Carry-On Best Practices
In most buses, the overhead bin—or Overhead Parcel Rack, if you're feeling fancy—is about  10 x 16 x 24 inches, and each compartment is intended to hold about two bags at a time. Again, think of it like the overhead storage space you'd see on an airplane.
A small suitcase or duffel bag should suffice for most group trips, but we especially recommend using a tote or backpack as your carry-on—something big enough to hold the things you need handy during the trip, but soft enough to squish under the seat or overhead.
As a general rule of thumb, try to keep your carry-on bag under 25 pounds. For reference, that weighs about the same as…
an average 2-year-old,
a beagle,
2 especially chunky cats (or 3 average-sized cats),
or 3 gallons of milk.
Keep in mind that the 25-pound suggestion is just that—a suggestion. There's no scale on the bus and no one's going to weigh your carry-on upon entry, so don't stress out if your baggage is on the heftier side. Just be thoughtful about how much room your luggage occupies, because you will be sharing the storage spaces with other passengers. If running out of carry-on space is a concern for your group, let us know and we'll see what we can do.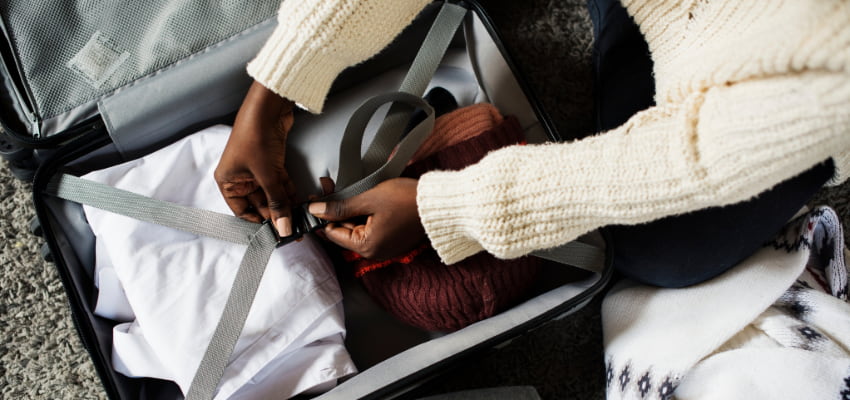 General Tips:
First things first: label all your bags.
Especially if your carry-on bag looks fairly generic (think black, gray, or beige). Whether you use a fun luggage tag with all your contact information inside, a bright bandana tied to the straps, or sew-on patches that are souvenirs from past trips, add a little personal flair to your bag and make it stand out from the crowd. That way, the post-trip unloading process runs smoothly, and there's less chance of someone grabbing your bag by mistake.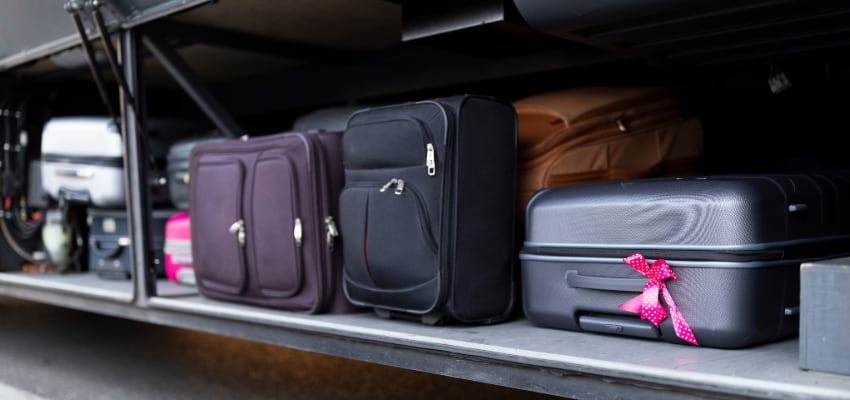 Important stuff goes in the carry-on.
This tip may seem like common sense, but it's worth noting: if something is valuable and can fit in your carry-on, it should go in your carry-on. This can include, but is not limited to:
Your wallet
Any loose cash you might have
Prescription medication
Personal electronics like cell phones, laptops, and music players
As a preventative measure, keeping your valuables close at hand is a good mindset to have throughout your travels. The luggage bay beneath your bus will be inaccessible throughout the duration of your ride, and your driver will look after everyone's belongings during pit stops, so we highly doubt your stuff will be stolen. But it's always better to be overly safe than sorry.
Comfort items take next priority.
Depending on the length of your ride and what's on your docket once you get there, you might want to pack some basic toiletries in your carry-on as well. For one thing, you never know when you'll need lip balm, lotion, a toothbrush, or feminine hygiene products. And if you're traveling for a conference, convention, or another work-adjacent event, you may want to store makeup, a lint roller, or even a small comb in your bag for on-the-road touch-ups between stops. Keep the basics nearby so you can arrive feeling fresh, clean, and ready to go.
Snack smart.
Snacks are welcome—if not strongly encouraged—on group road trips. And considering that you won't be able to access the luggage bay beneath the bus during transit, you'll want to store your food and drinks in your carry-on.
We just ask that you be a courteous passenger and snack wisely. Avoid smelly foods (trust me, your fellow passengers will thank you) as well as messy snacks or food that spills easily. You'll be in a moving vehicle, after all, and no one wants to front a $250 cleaning fee if you leave a mess.
Know your ABCs.
Now that you know what and what not to throw in your carry-on, it's time to actually get packing. When arranging the gear in your carry-on bag, we recommend reviewing your ABCs:
Accessibility, as in "easy to grab."
The stuff you're most likely to use during the ride should be within reach, either near the top of your bag or in an exterior pocket. On the flipside, things you're probably not going to use can be packed farther down in the bag or in harder-to-reach pockets. Your phone, wallet, and snacks? Put it on top. That book you keep saying you'll read and keep putting off, but you brought it anyway in case the motivation happens to strike you? Be honest with yourself, and bury it in the depths of your bag if you need to. We won't judge.
Balance, as in "optimal weight distribution."
Because the last thing you want is to reach into the overhead storage bin mid-transit and have your carry-on topple out onto the floor. Be aware of your bag's center of balance as you pack. If you have a heavier item in your carry-on—a laptop, a textbook, etc.—try to place it either in the base of your bag or in a compartment that will be close to your body when you carry it.
Compression, as in "get creative."
If you're a heavy packer—or just want to make the most of your carry-on storage—you'll want to leave no space in your bag unoccupied (unless you're planning to bring back some souvenirs). This can mean any number of packing arrangements, from investing in compression bags for bulky and squishable items, to artfully Tetris-ing your stuff just so, to adopting unorthodox containment methods. For example: are you transporting a pair of sneakers? Stuff them with a couple pairs of socks, souvenirs, or anything else you're unlikely to need mid-trip.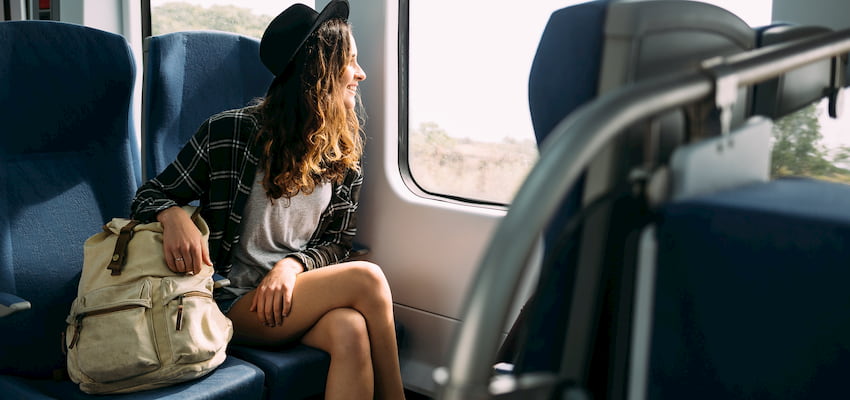 All packed? Let's go!
The National Charter Bus team is always here to make your group transportation planning easier, so you can travel with confidence. Just call 1-844-755-0510 with a headcount, budget, and itinerary in mind, and then sit back and relax as we work our magic. From corporate trips to weddings, sports fan outings to private events, we'll work around the clock until we find the perfect bus to fit your group trip!