Things To Do With a Group in Orlando that Aren't Disney World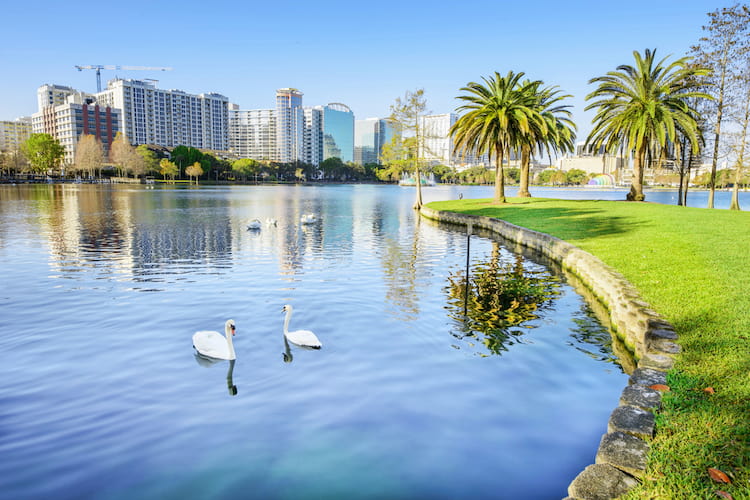 If you've had your fill of Disney World for the moment, don't think you're going to be bored in Orlando. There are dozens of brilliant attractions to experience in this vibrant, sunny city—from animal sanctuaries to pirate adventures to whole museums dedicated to chocolate. A day in Orlando at any of its other amazing destinations is a day well spent.
Consider renting a private charter bus for your group trip to Orlando. With a large motorcoach or minibus at the ready, you can easily make sure your entire team, class, or party travels all together and on time without needing to rely on rideshares or public transit. A private charter bus will also make it simpler to travel to Orlando from out of town and stay in total control of your itinerary. Call us at 407-274-9782 to speak with a reservation specialist, get a free quote, book a charter bus, and hit up any of these Florida hot spots:
For groups who can't kick their chocolate craving:
Chocolate Museum & Cafe
The Chocolate Museum & Cafe in Orlando is the place to be to have your (chocolate) cake and eat it too. Historical displays? Chocolate. Hand-made sculptures? Chocolate. Everywhere you look? You guessed it: chocolate. Go here to enjoy a 45-minute tour through the museum, which includes exhibits about the history of chocolate dating back to the Aztecs, and how chocolate transforms from the cacao plant to your Hershey bar. You'll also see 25 solid chocolate sculptures of some of the world's most recognizable landmarks like the Eiffel Tower and Mount Rushmore, and get to sample chocolates from around the world in the tasting room.
You'll find this museum a stone's throw away from Orlando's biggest theme parks, so expect it to be a popular attraction. Thankfully, you can call ahead to reserve a private tour or event space for your group. Groups of 6 or more can enjoy a nearly 50% discount on tickets when you make an appointment, so call ahead to reserve your tour. You can also book an event such as a social gathering or corporate event.
Address: 11701 International Drive Suite 400, Orlando, FL 32821
Phone: 407-778-4871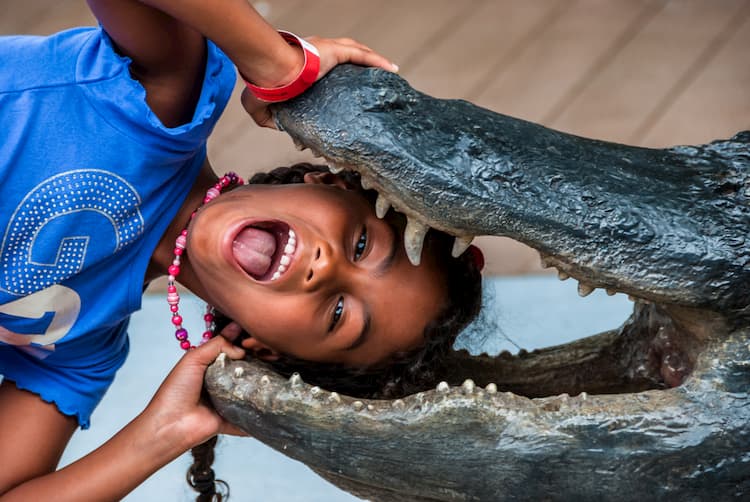 For groups looking for a quintessential Florida experience:
Gatorland
You can't be in Orlando, Florida and not visit Gatorland. A staple of the area since 1949, Gatorland is home to more than 2,000 alligators and crocodiles. This park puts an emphasis on alligator safety and education, like to be extra cautious around bodies of water during breeding season and to simply stay away from gators you see in the wild, and don't feed them. You'll also see other wildlife like tropical birds, flamingos, Florida panthers, and bobcats.
The options for groups here at Gatorland will make your next trip or event an epic one. If you're looking to plan a corporate trip or teambuilding event, there's no better bonding experience than flying through the air on a zip line 1,200 feet above alligator swampland. They also offer exciting, educational experiences for field trips and scout troops. Load your scouts on a charter bus and take them to proudly earn their Gator Safety Activity Badge!
Address: 14501 S Orange Blossom Trail, Orlando, FL 32837
Phone: 407-855-5496
For folks who wanna shop 'til they drop:
The Florida Mall
Grab five to fifty of your closest friends and hit up the The Florida Mall! With over 250 stores to choose from—including the only American Girl and Disney Store locations in Orlando—you can spend all day enjoying a group shopping trip. For a unique adventure for kids, visit the Crayola Experience to enjoy colorful activities and even build your own crayon box. Hungry? Plan a group dinner at a popular restaurant like American Girl Bistro, Buca di Beppo, or LemonShark Poke.
A charter bus or minibus is the perfect transportation to bring on a personal trip to The Florida Mall. At any point, you can return to the bus to store your bags in the undercarriage luggage bay or overhead racks, leaving your arms free to continue your spree!
Address: 8001 S Orange Blossom Trail, Orlando, FL 32809
Phone: 407-851-6255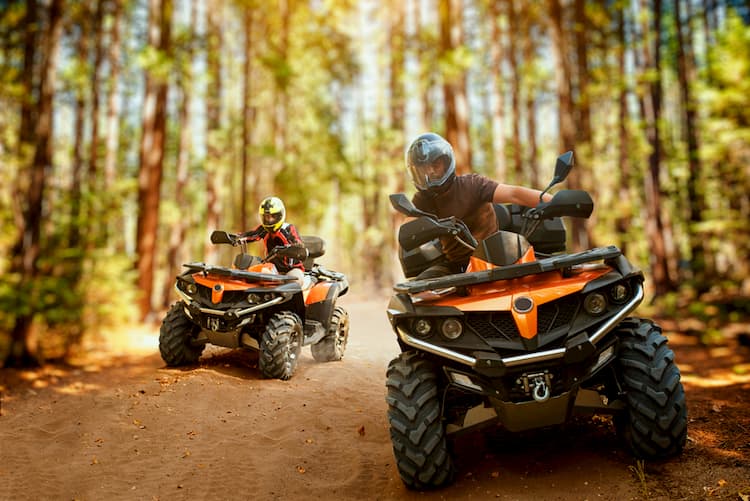 For groups of adrenaline junkies:
Revolution Off Road
If you're looking for an exhilarating adventure that doesn't involve a roller coaster, look no further. Just outside of Orlando, Revolution Off Road is where to take your group for a day of driving ATVs through the mud, testing your archery skills, and trying your hand at bass fishing. Up to four people at a time can go for a Mucky Duck drive through mud, water and woods; or groups can get together for a friendly game of archery tag with marshmallow-tipped arrows.
This is a great place for a company picnic or exciting outdoor wedding in the Florida sun. Customize the experience of your day, whether you want to focus on team activities like archery tag, or let folks enjoy clay shooting and bass fishing on their own. Revolution Off Road has an outdoor pavilion with picnic tables for group lunches, and a lakeside beach for wedding ceremonies. You can rent a charter bus for your wedding transportation to take guests from a local hotel straight here to the fun with no sweat off their back.
Address: 4000 FL-33, Clermont, FL 34714
Phone: 352-400-1322
For groups who love doing it for the 'gram:
Madame Tussauds Orlando
It may be a cliche tourist attraction, but that doesn't mean it's not fun! Bring your group to Madame Tussauds in Orlando for an afternoon of snapping selfies with the famous wax faces and figures of Shrek, Scarlett Johansson, Michael Jackson, and so many more. You can also plan your visit around a special event, like when they unveil a new wax figure.
Groups of 10 or more can enjoy discounted admission when they visit, and school groups can request a special educational tour. If you want to plan a field trip for students in grades 6-12, book Madame Tussauds Art & History Observation Guide for free when you make a group reservation in advance.
Address: 9350 Turkey Lake Rd, Orlando, FL 32819
Email (Group Sales): OrlandoSales@MerlinEntertainments.biz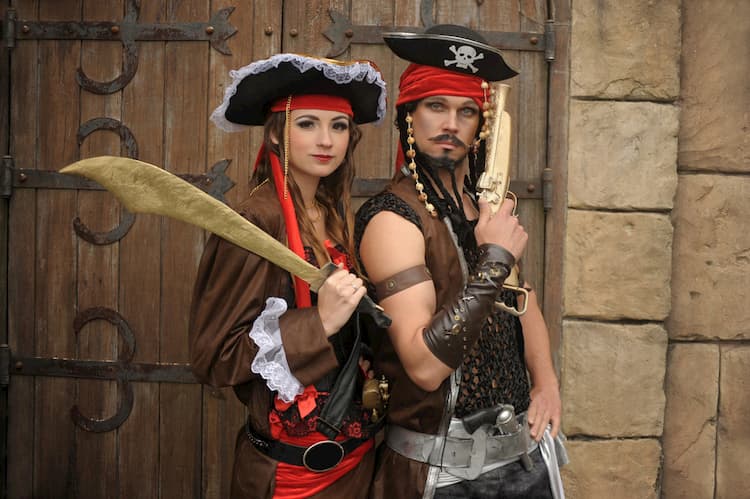 For groups who pillage and plunder and rifle and loot!:
Pirates Dinner Adventure
Disney isn't the only place where you'll find pirates in the Caribbean! This interactive dinner show is a great option for a group (or pirate crew) of any age. The show is family-friendly and features a blend of drama, comedy, action and romance alongside exciting aerial and acrobatic feats. Guests also have the chance to be a part of the show. If any members of your group are feeling bold, they can take the opportunity to go on stage and play the role of a renegade pirate!
Load up your charter bus (or rather, set sail on your pirate ship)  and head here for a birthday, corporate event, family reunion, or social gathering. Groups of 14 or more can be quoted a special discounted rate, get priority seating, and take part in pre-show activities like photo-ops, snacking on appetizers, and meeting the cast. Tour groups and school trips can also enjoy complimentary admission for their bus driver!
Address: 6400 Carrier Dr, Orlando, Fl 32819
Phone: 407-206-5102
For groups who cried at the end of James Cameron's Titanic:
Titanic: The Artifact Exhibition
When planning a group outing in Orlando, definitely consider spending the day at Titanic: The Artifact Exhibition. This amazing educational attraction is the perfect choice for groups of history buffs and curious students. Explore galleries featuring recreations of the Grand Staircase and Promenade Deck, and see a 3-ton recovered section of the original ship's hull. Wanna kick your trip up a notch? Stick around until the evening for the First Class Dinner Gala, a recreation of one of the most famous dinner parties aboard RMS Titanic with special guests Margaret "Molly" Brown and Captain Edward John Smith.
Groups are in luck—discounts for exhibition tickets are available for parties of 10 or more. Just call the exhibit's group coordinator for more information. You can also rent parts of the exhibition as an event venue! For school groups, the exhibit offers teacher guides for all grade levels, free of charge. It includes a full lesson plan and activity pages for students to enjoy.
Address: 7324 International Dr, Orlando, FL 32819
Phone (Group Coordinator): 407-248-1166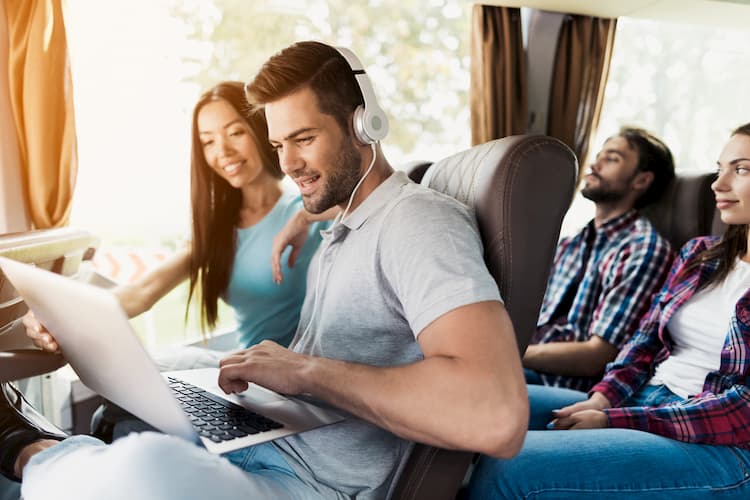 Rent a Charter Bus for Your Orlando Trip
You don't need to spend the day at Disney World to have a good time in Orlando! Whether you're local or traveling in from Tampa or Miami, let National Charter Bus find the best transportation for you. Call us today at 407-274-9782 to get a free, no obligation quote and begin planning your Florida trip.
Tags In