Top 5 Places to Visit on a Field Trip in San Francisco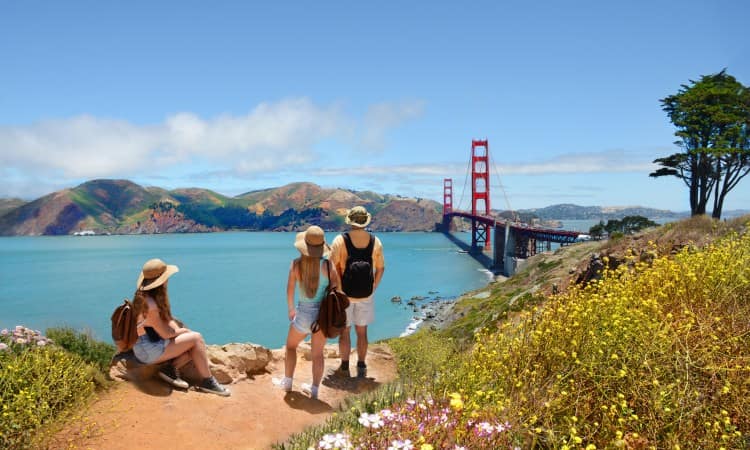 There are few field trip destinations as iconic as San Francisco. The two-hundred-year-old City by the Bay is located on a plateau spanning the dazzling Pacific coastline and giving way to some of the most beautiful sights on the West Coast. But the city's unique location and history also make it a great host for a unique array of educational destinations and tours for families and students of all ages! Take a field trip to San Francisco for travel, fun, adventure, and discovery. Load up on the bus and take off on your grand adventure. If you need some inspiration, check out our top 5 recommended field trip attractions, museums, and more below.
Some think San Francisco is just about the Golden Gate Bridge, cable cars, and fog, but those who've stepped foot in the coastal paradise know that it's so much more. Thousands of visitors travel over the coast by ferry boat, but the views from the waters are nothing compared to the 360-degree panoramic view from San Francisco's two iconic bridges. Charter a bus to San Francisco to enjoy the marvel of the coastline on all three sides of the peninsula. You can take a quick break for the kids and pull over for a rest stop then hop back on the bus and go over the Bay Bridge or Golden Gate Bridge as you head into the bay area in style.
Here's a list of top school-trip ideas in San Francisco:
1.   San Francisco Exploratorium
Explore the world of science in the San Francisco Bay. The Exploratorium is famous for its interactive exhibits and engaging educational galleries for kids of all ages. Breeze through galleries with ease knowing that your private bus driver will await you at the finish line. You'll also be around a lot of popular tourist destinations your students can stop at along the way.
2. California Academy of Sciences
The California Academy of Sciences is one of the most popular museums in the city, featuring an interactive planetarium, a natural history museum, an aquarium, and more than 412,000 square feet of adventure. With a live penguin exhibit and Nightlife Exhibits, this museum is sure to pique your students' scholastic interests. Learn about the science behind this rocking city. Ride the San Francisco earthquake simulator to get shaken up before your next adventure!
3. Aquarium of the Bay
Enjoy the best of San Francisco's native wildlife of the sea at the Aquarium of the Bay. Explore beyond the waves for some of the most spectacular sights of local sea-living creatures such as sea lions. Go with the flow as you set your own time frame and schedule for exploration. A private shuttle will pick you up and drop you off at every location on your field trip itinerary.
4. San Francisco Zoo & Gardens
Visit the San Francisco Zoo to learn about more than 2,000 different critters spread across its 100 acres, including some endangered and rescued species. Plan your visit ahead of time, from tickets to transportation, so your students can enjoy the animals and exhibits stress-free. Learn about the importance of wildlife conservation in the majestic San Francisco Bay.
5. Ghirardelli Chocolate Factory
Are your students done fish-and-chipping at Fisherman's Wharf? Ghirardelli Chocolate Manufactory is a local favorite when you have a chocolate craving in the heart of Fisherman's Wharf. You'll find this delectable marvel located in the famous Ghirardelli Square. Watch the process of your favorite chocolates being made from the cocoa beans in front of your eyes! Choose the most delectable dessert up to your tastes!
San Francisco Field Trip Charter Bus Services
Ready to plan your field trip to 'Frisco? Navigate the city's top attractions with ease as you take the backseat of your San Francisco shuttle. Depending on your itinerary, your personal driver can shuttle your group between destinations and hotels. Start the rental process with your itinerary and the number of passengers so we can promptly provide you with a custom quote. Our friendly reservation specialists are available 24/7 at 415-226-7853 to answer any questions about bus travel in San Francisco. Before you call our expert reservation specialists to book your trip, finalize your itinerary with all of the places you want to go in and around San Francisco. You'll receive a quote quickly with absolutely no obligation! If you like what you see, we'll secure your reservation in minutes.
Tags In