Our Guide to Visiting Washington, D.C. with a Group
Visiting beautiful Washington, D.C. is always a good idea. The National Mall, local restaurants, and countless museums provide endless opportunities for exploration in the nation's capital. Why wait any longer to schedule your group trip to D.C.?
Because sometimes, planning a group trip is a total pain— that's why.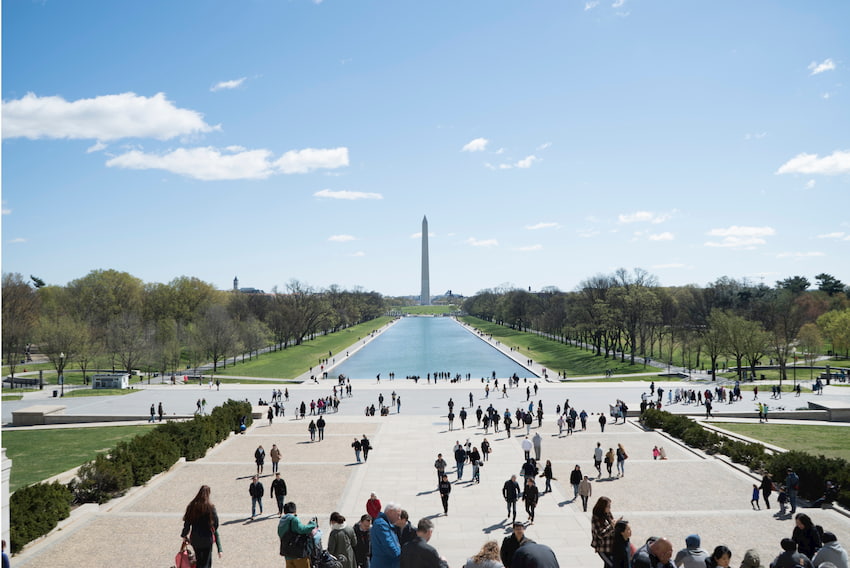 At National Charter Bus, we understand that putting together a group trip can be challenging. Planning an itinerary that appeals to a wide variety of travelers presents a unique challenge that you won't feel when you're traveling on your own. What if some of us don't like museums? What if some of us have already seen the Washington Monument a million times?
Even after you've gotten an itinerary in place, you might wonder how your group will get around town without getting separated. The Metro is great, but does it best suit my group? Ridesharing is also an option, but won't the group get separated if we all take separate cars?
If you're facing similar issues, we've got you covered. Having booked plenty of trips to and from D.C. in the past, we at National Charter Bus have gathered a few tips for group travel that are sure to ease your stress as you prepare for your upcoming D.C. trip.
Follow our step-by-step guide below to help take the stress out of planning group transportation in Washington, D.C.! From the preliminary planning stages to securing your charter bus to embarking on your journey, we've got all of the necessary steps covered.
1. Get a rough headcount for your trip.
Before you even start planning your itinerary, it's important to keep in mind how many people you're traveling with, even if the number hasn't been finalized. This way, you can plan to accommodate your group's size when you're looking at potential attractions, restaurants, and hotels.
2. Ask everyone to choose one thing they definitely don't want to miss.
This may be tricky with a large group. But, as many planners know, it's almost impossible to please every traveler when you're putting together an itinerary.
Having everyone choose their number-one "must-see" stop ensures that they'll have one big attraction to look forward to. After that stop has been crossed off the list, everything else can be "icing on the cake" for the remainder of your trip.
If one stop doesn't sound like enough, have every group member list the top 3 D.C. stops they definitely need to visit. This way, you can prioritize attractions that overlap, and maybe get some ideas for lesser-known places to visit!
3. Consider how many times your group members have visited Washington, D.C. in the past.
If you're traveling with a group of newcomers, you'll definitely want to plan on visiting a few classic stops like the White House, the Capitol Building, and other iconic monuments down the National Mall.
However, if you're coming in with a group of returning visitors, they might be perfectly content with skipping the Mall and delving deeper into some less-visited attractions, such as the African American Civil War Museum or the National Arboretum.
4. Start planning an itinerary.
Once you have a list of the places you'd like to visit, you can determine which days you'd like to visit those places. Keep your computer screen open with a map of the Washington, D.C. area so that you can quickly see which stops are close to one another and which ones will be more difficult to get to.
If your group is particularly large (40+ people), be sure to call restaurants in advance to ensure that they can accommodate everyone. You can also look into group tours at local museums for a smoother experience, and lock in group discount rates for a lower overall trip cost.
For those classic Washington, D.C. stops, check out our guides to visiting the Capitol Building, the National Mall, or any of the numerous local Smithsonian museums!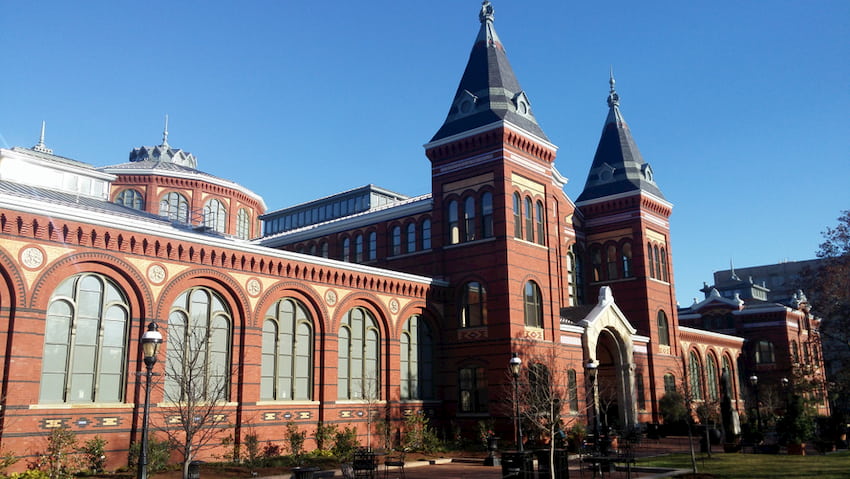 If you'd like a few recommendations for lesser-known D.C. attractions, check out our suggestions below:
African American Civil War Museum
Address: 1925 Vermont Avenue NW, Washington, DC 20001
Phone: (202) 667-2667
This memorial and museum commemorate over 209,000 African-American soldiers who served under the Union during the Civil War, as well as white, Hispanic, and unsegregated Navy sailors who contributed to the fight against slavery.
United States National Arboretum
Address: 3501 New York Avenue NE, Washington, DC 20002
Phone: (202) 245-4523
While it's only 2 miles north of the Capitol building, the National Arboretum offers a relaxed break from D.C. city life. Any botany nerds in your group can speak to the staff about the extensive research that takes place at the Arboretum, while other group members can take in the scenery. Among the trees, shrubs, flowers, and other beautiful flora, you'll also find the original columns that once held the east portico of the U.S. Capitol.
IA&A at Hillyer
Address: 9 Hillyer Court NW, Washington, DC 20008
Phone: (202) 338-0325
Hidden behind the Phillips Collection, Hillyer is a unique art space that highlights D.C.'s unique blend of cultures by providing support to both local and international artists. Artists at all career stages are nurtured as they prepare to exhibit their work at any of the gallery's three spaces.
Hillyer also serves as a venue for group events, so if you're in town for a corporate gathering or a personal celebration, check out one of their spaces for your group!
Heurich House Museum
Address: 1307 New Hampshire Avenue NW, Washington, DC 20036
Phone: (202) 429-1894
The Heurich House Museum, otherwise known as the "Brewmaster's Castle," is a Gilded-Age mansion that serves as a window into the past, with much of the original furnishings still preserved to this day.
However, things get really interesting on the Brewmaster's Tour, during which visitors can tour the historic home while sipping on local craft beers, one of which is a pre-prohibition lager that was developed by the house's original owner, Christian Heurich.
5. Account for downtime and meals.
This sounds like a no-brainer, but when you're excitedly planning your D.C. trip, it can be easy to overlook how much time your group might need to relax and recuperate between stops.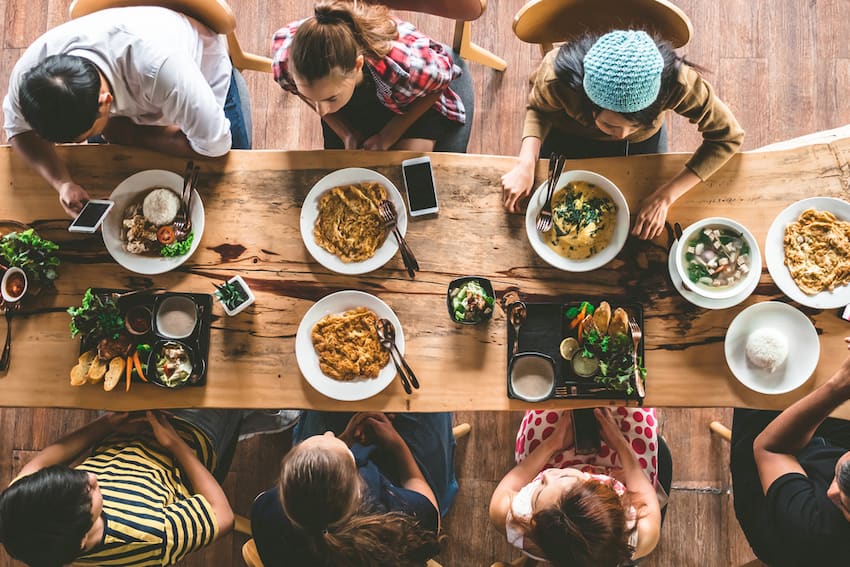 This will be especially necessary if you've visited the National Mall. Though it doesn't look like much of a hike from ground level, the total distance between the Capitol steps at one end and the Lincoln Memorial at the other totals almost two miles, which can be very tiring to walk!
Make sure you've allotted enough time at restaurants for feet to rest and food to digest. If necessary, plan an afternoon break back at your hotel where group members can nap before going back out for the evening.
Here are a few of our favorite Washington, D.C. restaurants that can accommodate groups:
Agua 301
Address: 301 Water Street, Washington, D.C. 20003
Phone: (202) 484-0301
Cuisine: Mexican
Del Frisco's Grille
Address: 1201 Pennsylvania Avenue NW, Washington, DC 20004
Phone: (202) 450-4686
Cuisine: American, steak house
Lauriol Plaza Restaurant
Address: 1835 18th Street NW, Washington, DC 20009
Phone: (202) 387-0035
Cuisine: Tex-Mex
The Source by Wolfgang Puck
Address: 575 Pennsylvania Avenue NW, Washington, D.C. 20565
Phone: (202) 637-6100
Cuisine: Chinese
6. Choose your ideal hotel.
The D.C. area is full of hotels of varying prices for you to choose from. If you'd like to save a little money, consider staying in a suburb such as Arlington or Alexandria; you'll have your charter bus to bring your group into D.C. each morning and make sure you get back safely each evening.
Don't forget about your bus driver when you're looking at hotels! Your driver doesn't have to stay in the same hotel as your group, but you will need to provide accommodations for them for as long as your trip lasts. Be sure to call ahead and make sure your driver's hotel has a designated bus parking area so that your bus will be easily accessible by your driver.
7. Finalize your itinerary.
With hotels and attractions in mind, it's time to lock down an itinerary! Check back in on your itinerary plans and be sure you've accounted for your group's preferences, necessary downtime, and travel times.
8. Get your charter bus quote.
With your itinerary in place, you can now get a quote for your charter bus trip to Washington, D.C.! Contact National Charter Bus at 202-250-3441 for a personalized quote that takes into account all factors that influence pricing.
These factors include the time of year you're traveling, how many stops you're making, which bus you'll be renting, and more. Your reservation agent can break down the cost for you once you've called in for your quote.
9. Prepare for your trip to Washington, D.C.
With the bulk of planning behind you, the hard part is over! Now, all that's left to do is look forward to your trip.
Feel like making a change to your itinerary? If any changes come up before your departure date, feel free to contact your reservation specialist. We'll make sure your driver knows what to expect.
Why Book a Charter Bus to D.C.?
When it comes to group travel, a private DC charter bus is the best way to ensure that everyone travels together in a safe and organized manner. Traveling in separate cars means having to choose drivers, making group members volunteer their personal vehicles, and coordinating rest stops along your journey.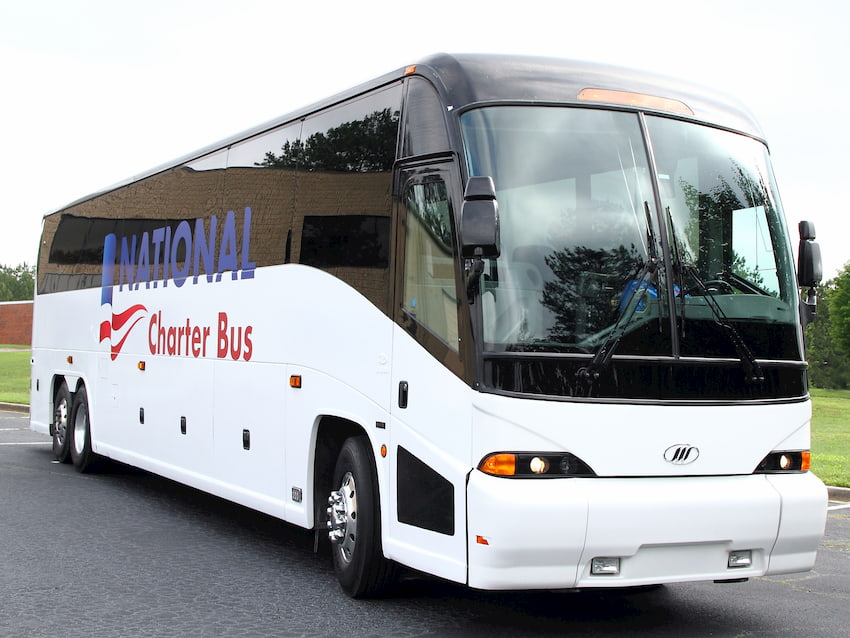 A private bus streamlines your entire trip by keeping everyone together and providing you with a professional driver who can do all the navigating while you relax. You'll never have to worry about which car got lost or stop your entire caravan so that one car can run into a convenience store for snacks.
Plus, with a personal driver operating your bus at all times, you'll be able to sit back and do some sightseeing from your bus while you're driven to every stop on your itinerary. Driving through a new city can be stressful, so leave that to us while you focus on fully enjoying every stop on your Washington, D.C. itinerary.
Hit the Road with National Charter Bus!
Ready for your next Washington, D.C. adventure? So are we! Call our 24-hour team at 202-250-3441 to book the perfect bus for your group today. Whether you're in need of a full-sized motorcoach or a compact minibus, we'll make sure you're paired with the best bus for you. Contact us today to get started and to receive a free bus rental quote.
Tags In