Where to Park a Charter Bus in San Francisco
San Francisco is a fantastic place to tour with a group, and a charter bus or minibus rental is one of the ways to get around the city without having to stress the moment-to-moment transportation details.
And while the National Charter Bus team can help you with every step of the reservation process—from locking in all the amenities you want aboard to helping you plan the perfect routes—it certainly doesn't hurt to know where your bus rental can and cannot go within the city!
Figuring out the ins and outs of a new city can be tough, which is why I've put together this guide for you. Keep reading to learn more about bus parking, loading, and unloading in San Francisco, and call 312-392-0239 whenever you're ready to request a free, no-hassle quote for your trip!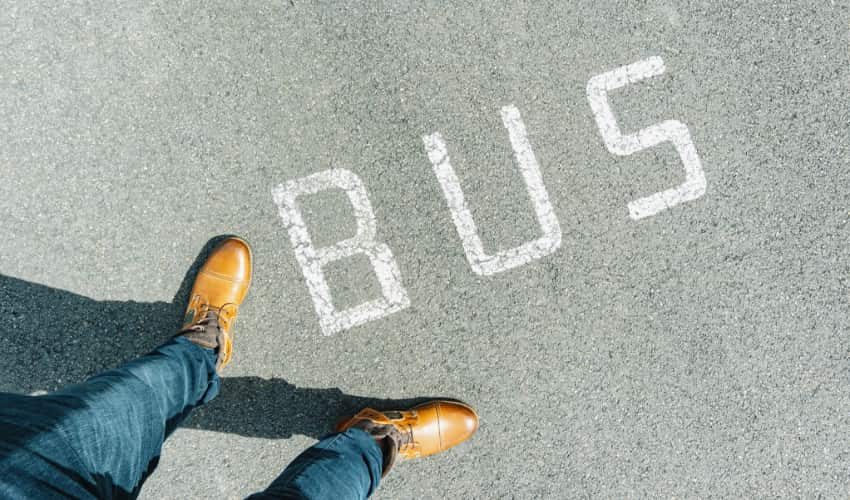 Restricted Streets
San Francisco has two types of restrictions that may keep certain vehicles off a given street: restrictions by capacity (no more than 8 passengers) and by weight (no more than 3 tons or 9 tons, depending on the street). Both of these parameters exclude most motorcoaches and buses from the streets that have these limits—with an exception of sprinter vans.
The San Francisco Municipal Transportation Agency provides a map of all city streets where buses can't be, but here are the broad strokes:
Avoid the northern tip of town that's not Fisherman's Wharf. That includes most of the Marina, Russian Hill, and Nob Hill neighborhoods, as well as pieces of Pacific Heights.
The blocks directly surrounding Alamo Square can only be accessed by personal vehicles and employee shuttles—no tour buses are allowed.
The stretch of Great Highway (the road along Ocean Beach and the city's western coast) that passes through Sunset District is prohibited to motorcoaches.
Select residential areas and commercial docks also prohibit buses from passing through. When in doubt, check the SFMTA bus street restrictions map.
On top of all that, as of late 2019 and early 2020, the city has taken measures to convert select streets into pedestrian pathways in heavily trafficked areas with high rates of collisions. So even if you've taken a charter bus or minibus through places like SoMa in the past, the roadways may look a little different the next time you visit.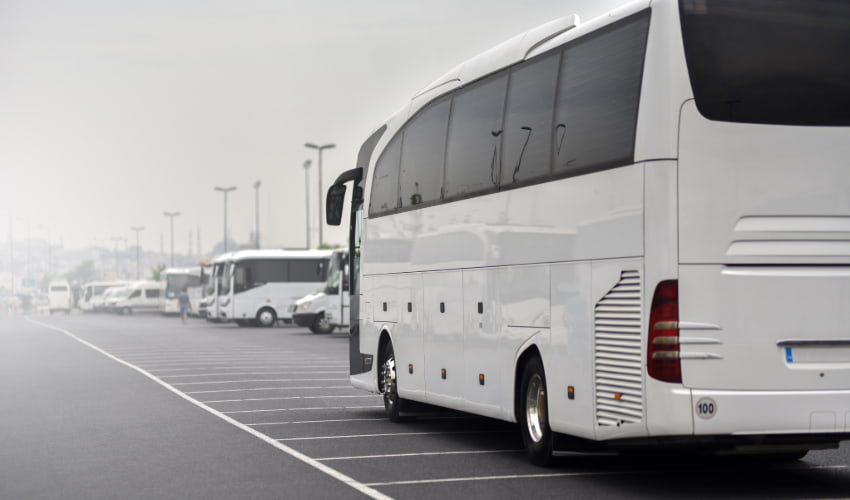 Overnight Parking
Needless to say, San Francisco is crowded. There are nearly 100,000 personal vehicles registered to park in SF on any given day. So parking spots, oversized or otherwise, come at a premium here, and while there is a chance your group may find a hotel that can accommodate a full-sized charter bus, those lodgings are few and far between.
Luckily, there's always the AT&T Park Parking Lot. Named after the baseball field it's attached to (though the stadium itself is now called Oracle Park), this parking lot is most likely where your bus will spend the most time when you're not on it. Look for signs to Lot A along the west side of Terry Francois Boulevard. Keep in mind that spots here cannot be reserved in advance, though there should be plenty of spots to spare. The rates are $35 per day when there isn't an event at the stadium, and when there is, the rate is $50 a day.
There are also a few metered motorcoach spaces at Fisherman's Wharf on North Point and Jones Streets that allow for overnight parking. Just be sure to read the street cleaning signs, because these spots may prohibit coaches from parking here some nights during the week.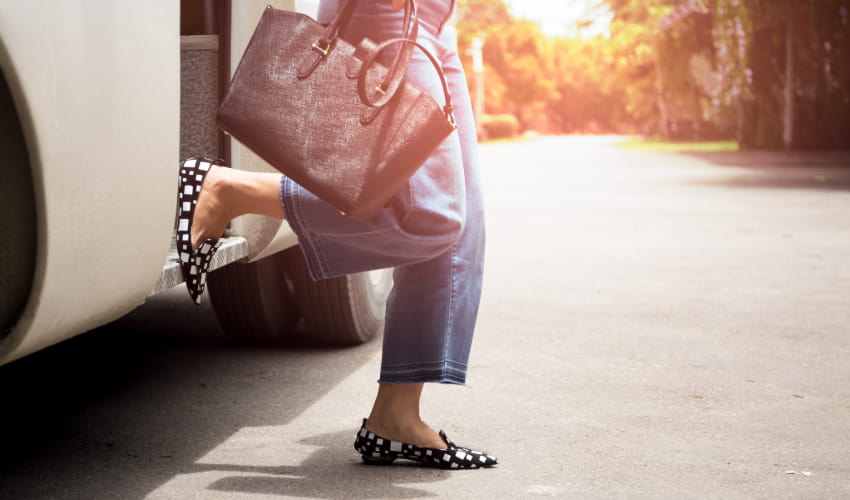 Legal Idling and Loading
The city of San Francisco prohibits motorcoaches from idling for more than five minutes—unless you're in the Presidio, where you cannot idle for any amount of time. The only exception is when your bus is actively loading or unloading, and even then there are time limits depending on the neighborhood.
When it comes to letting everyone on and off your private bus, our driver is never allowed to pull into a public bus stop to do so. Also, no one is allowed to double park within city limits—tour buses or otherwise.
So where can you board and disembark from your charter bus or minibus shuttle? Well, it depends on where you're going! Here are a few of San Francisco's most-trafficked destinations, and how you can safely get to them on your charter bus rental:
Parking and Loading Near Popular San Francisco Destinations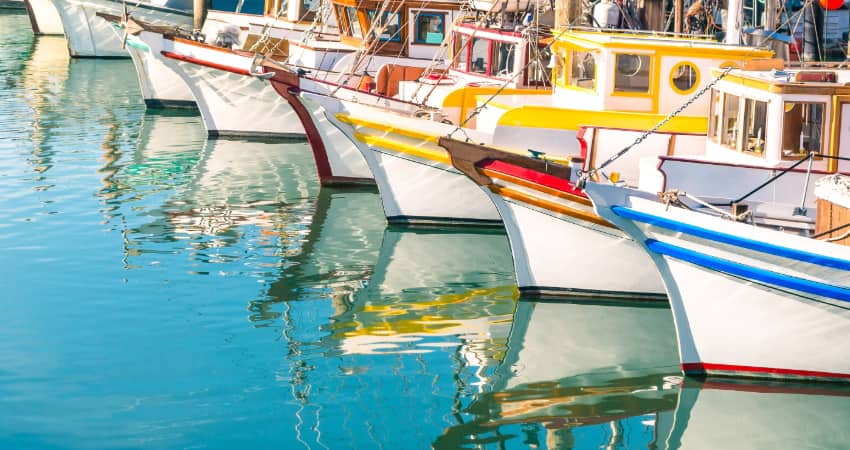 This entertainment and commercial hub is one of the most-visited tourist destinations in San Francisco—so it makes sense that it's the most accessible to charter buses! Keep your eyes peeled for the proper signage, and you should find 18 load/unloading zones within this district. 20-minute, metered tour bus parking is permitted near Fisherman's Wharf on:
The west side of Mason Street, south of Beach Street.
The east and west sides of Hyde Street, between Jefferson and Beach Street.
The east side of Columbus Avenue, north of North Point Street.
The north side of Bay Street, between Taylor and Jones Streets (except afternoons Monday through Friday).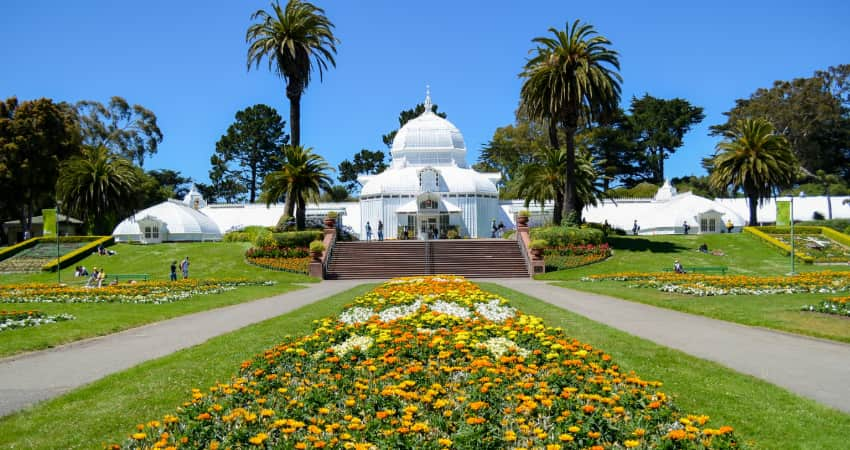 Golden Gate Park
There are two loading zones near the Conservatory of Flowers. One is west of the Conservatory entrance on the north side of JFK Drive, and the other is east of the entrance, on the south side of JFK. From here, you can easily go explore the Victorian greenhouse, set up a picnic on Hippie Hill, or pay respects at the National AIDS Memorial Grove.
As for parking, Golden Gate Park is where you'll find one of the most reliable motorcoach-friendly daytime parking this side of the city: the bus-only lot on Concourse Drive. Your driver can park behind the Music Concourse bandshell for a $3 fee. Also, there's a little refreshment stand here just for charter bus drivers!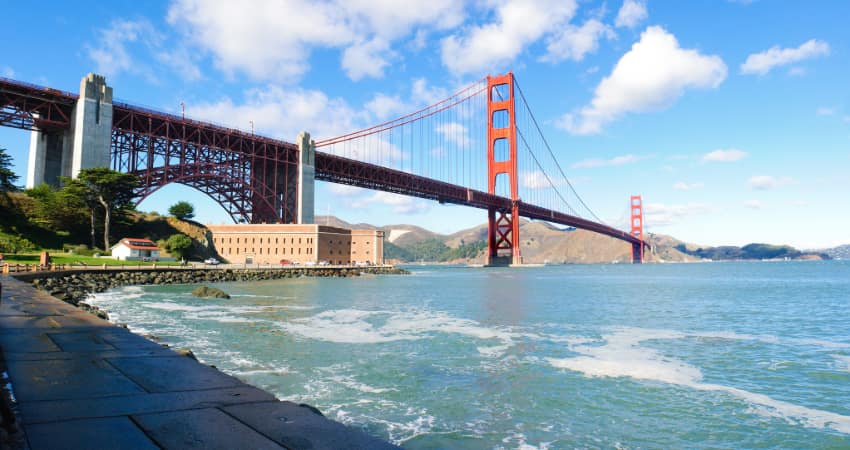 Want to explore this historic 1,500-acre green space, but not sure where to park the bus while you take it all in? Good news! You've got some options:
Golden Gate Bridge Welcome Center—There are eight parking spots for buses outside the center. This place is one of the best spots in town to view the Golden Gate Bridge, so let your driver look after your belongings while you take your camera out to the viewpoints throughout the grounds.
Lincoln Boulevard at Crissy Field Overlook—This singular bus-only parking spot along the boulevard is a great pull-off to take in views of the Bay. Your sightseers can unload, stretch their legs, and snap some photos of Alcatraz in the distance without worrying about a loading/unloading time limit.
Lincoln Boulevard at Langdon Court—If you're in the area to check out the remaining Battery points from the park's days as a military outpost, this parking lot is the closest to most of them. It's also a short drive from the historic San Francisco National Cemetery and the popular Baker Beach (where all the locals go to enjoy the surf on rare sunny days).
Montgomery Street—There are a few streetside parking spots outside the Walt Disney Family Museum. Those planning bayside weddings at the Golden Gate Club will likely have wedding shuttles directed here when they're not transporting guests.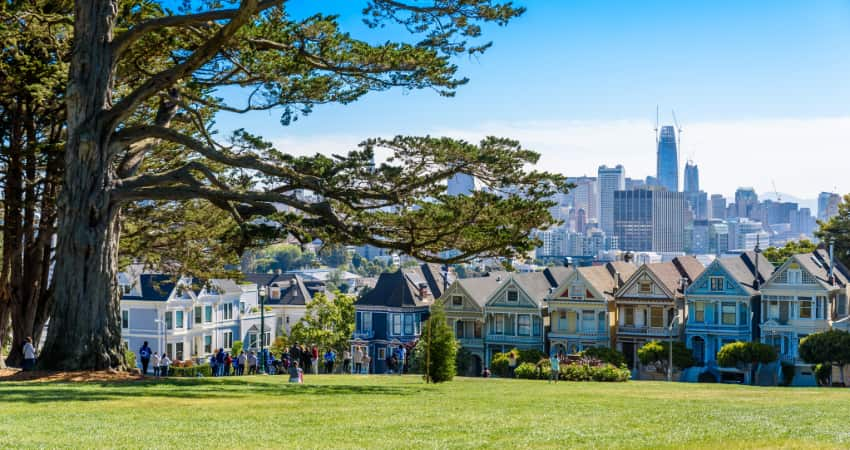 Alamo Square
Like I've mentioned before, many blocks surrounding Alamo Square are not navigable by motorcoach due to narrow streets, historical buildings, and the fact that is—despite the tourist influx—a residential neighborhood. However, if your group wants a glimpse of the Painted Ladies (or a chance to reenact the Full House title sequence), you can have your driver drop you off anywhere along the north side of Fell Street that's east of Pierce Street. If you see the mosaic mural outside Ida B. Wells High School, you're in the right place.
Tour buses are only allowed to take 5 minutes to load and unload in this area, so make sure you're ready to get a move-on once you pull up to the curb. From here, your driver can park at one of the bus-friendly lots in Golden Gate Park—which is about 10 minutes away.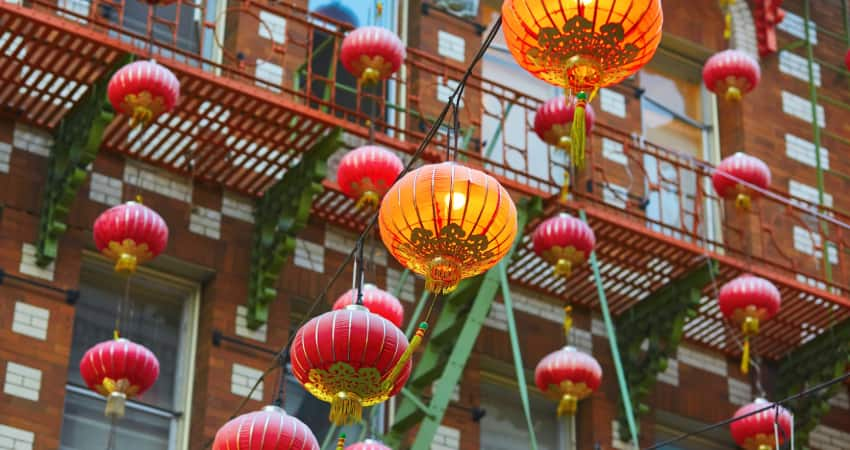 Chinatown
Whether you're here to take a group selfie at the Dragon's Gate, tour one of the neighborhood's temples, or snack on some authentic dim sum—how you enter and leave Chinatown is the same.
Look for the five-way intersection where Columbus Avenue intersects Washington Street, across from the Transamerica Pyramid. Your driver can drop everyone off on the east side of Columbus Avenue, then wait up for you in one of two places: Fisherman's Wharf if that's already on your itinerary, or Oracle Park if you're keeping the bus there overnight.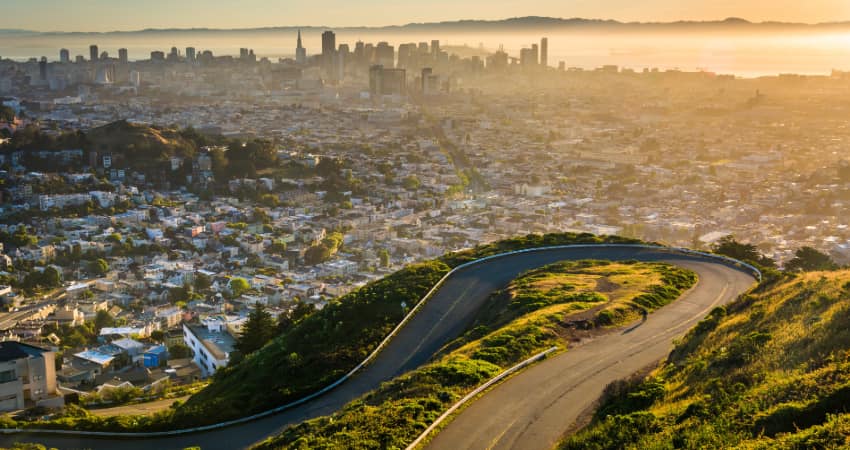 Twin Peaks
That's right—even a motorcoach can navigate the winding roads up to the highest peak in San Francisco! At the Christmas Tree Point viewing area, your charter bus can park in any of the 9 bus spots for up to 20 minutes. That should give your group plenty of time to look through the viewfinders, take in the view of the skyline and the Bay, load up, and roll out to your next destination.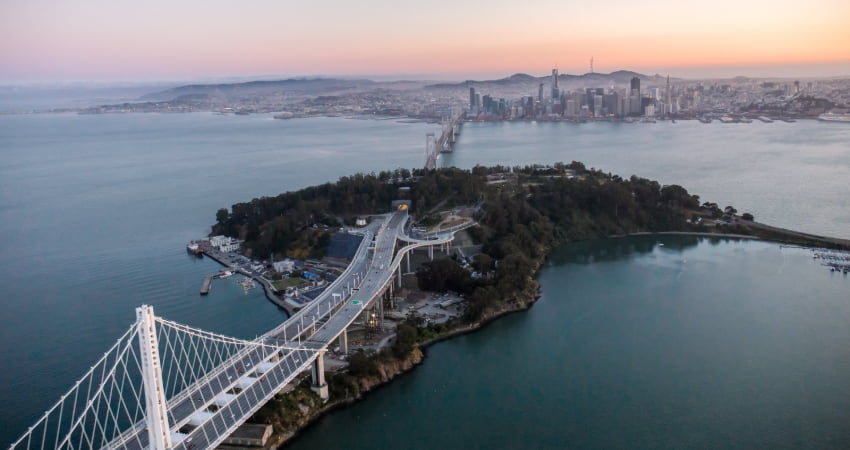 Treasure Island
Once an engineering marvel constructed for the 1939 World's Showcase, nowadays this artificial island is still a hub for special events. If your group is here to catch the Dragon Boat Festival launch or score some thrifty finds at the regular pop-up flea market, have your shuttle park on the east side of Avenue A, near the San Francisco Vista Point and the dog park.
Reserve Your San Francisco Charter Bus Rental
As you can see, getting around San Francisco with a group can be tricky. But with some advanced planning, your Bay Area group travels will be a breeze! Rent a bus through National Charter Bus, and our team can make the planning process even easier. Our network of coaches and professional drivers means our 24/7 reservation specialists can pair your group with the perfect ride for whatever you've got on your itinerary. From zippy minibuses with speedy and free WiFi to spacious charter buses with a DVD player and ADA-friendly amenities—and so much more!—we've got you covered.
Don't believe me? Give us a call at 415-226-7853 to receive a free quote for your bus rental, and see for yourself how easy it is to get around San Francisco in a group.
Tags In