10 Places to Visit Around Phoenix Besides The Grand Canyon
The Valley of the Sun is the perfect place to bond with Mother Nature. With close-to-perfect sunny weather, a flair for outdoor activities, and a mix of every landscape you can think of, Phoenix is the perfect vacation spot for adventurous groups.
Contrary to popular opinion, the Grand Canyon is not the only wonder waiting to be seen. There are plenty of attractions for group entertainment in the heart and outskirts of the city. Yes, we know the layers of ancient rock strata are pretty mind blowing, but did you know there are other natural parks, valleys, mountains, and trails that are equally as astounding? From a massive meteor crater to crystal blue lakes, Arizona will stun you in every way possible.
Interested in checking out these hidden treasures? All you need to do is pack your water bottles and hiking shoes— National Charter Bus will handle the rest.  We provide 24/7 group transportation services for travelers looking to discover the wild side of Phoenix. While some outdoor adventures may not be for the faint of heart, the air-conditioned bus rentals with on-board entertainment will provide instant composure within seconds.
If you're ready to get going, check out our list of the top ten places to visit around Phoenix that are not only once-in-a-lifetime experiences, but also picture-perfect places to upload on the 'gram. Whether you're on a field trip, a corporate venture, a college-bonding trip or looking for a place to host your wedding, our reservation experts will pair you with the perfect bus that will transport you to any site of your choice. Reach us at 480-626-4711 to find the best Phoenix bus rental today!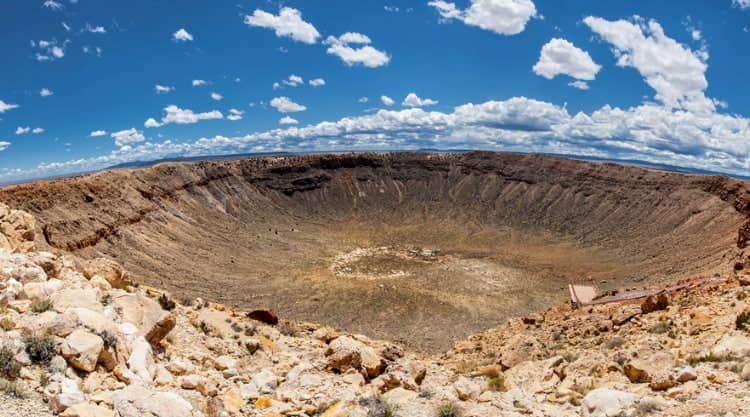 1. Meteor Crater
When someone says 'meteor crater', we're automatically transported to the Triassic Period when a mystery rock killed all the dinosaurs that once roamed the earth. A meteor seems like something that definitely exists, but needs to be seen in person to be truly experienced. Well, believe it or not, you can still visit a meteor crater on planet earth. The world's best preserved meteorite site lies in the outskirts of Arizona and is the direct result of a catastrophic collision that left a gaping dent in the southwest landscape almost 50,000 years ago. This crash was so intense, that it is often compared to the energy of more than 20 million tons of TNT. A must-see attraction, it's truly a life-changing experience to see how large the crater is in comparison to the average human. This spot is the perfect place for your group to get-together under the vast blue sky and contemplate the vastness of the universe.
Trip duration from Phoenix to the Meteor Crater: 2hr 46 mins

How to get here: The meteor crater is located in the Arizona High Desert. Hop on Interstate 40 and get off at Exit 233. This internationally acclaimed site is located around 20 miles away from Winslow, Arizona.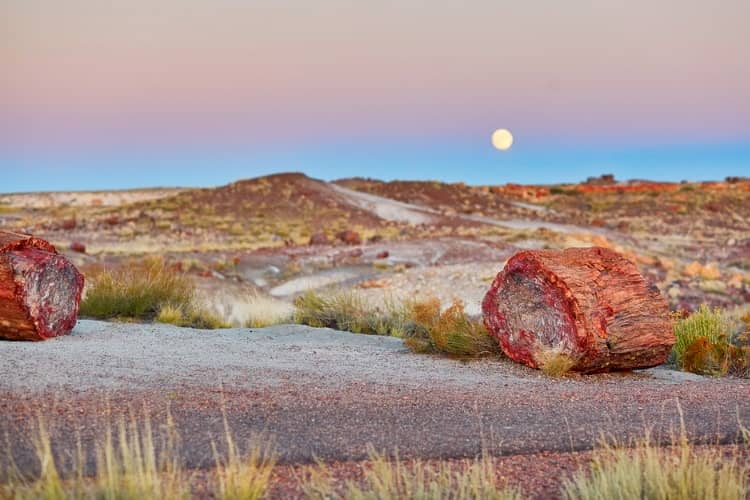 2. Petrified Forest National Park
Exactly as the name suggests, the Petrified Forest National Park is an open landscape that was created when large deposits of wood transformed into rock over time. The result, known as "petrified wood," are fossilized remains found in over 230 square miles of the park. These features, along with fallen trees from the Late Triassic period, are truly a sight for sore eyes. Not only is this attraction close to the Painted Desert – a historical monument comprised of a pattern of vividly colored sands – it's also kid-friendly and provides extensive knowledge on fossil extraction, excavations, and exotic animal species.
Trip duration from Phoenix to the Petrified Forest National Park: 3hr 25 mins
How to get here: This park is located in northeastern Arizona, and can be accessed from Interstate 40 or Highway 180. The park has two entrances for visitors to use. If you're entering the park from the West, get off Interstate 40 and take Exit 311 to use the North entrance. If you're coming from the East, leave interstate 40 by taking Exit 285 into Holbrook, then traveling on Highway 180 to enter the South gate.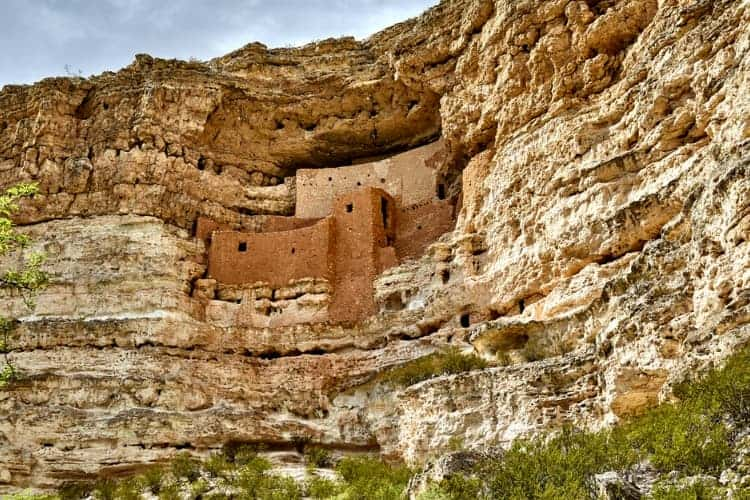 3. Montezuma Castle Monument & Montezuma Well
Built by the Sinagua people and declared a site of historical significance by President Theodore Roosevelt, the Montezuma Castle Monument is an ancient apartment dwelling from 1100 AD. It is a towering structure on a limestone cliff with around 45 to 50 rooms that functioned as a domestic space for the civilization of the past. Even though several artifacts and jewels were stolen years back, it's still an incredible attraction that can be admired by hiking along the Sycamore grove at the bottom of the cliffs or observing the remaining possessions in the museum.
Montezuma Well is part of this overall structure but is located around 11 miles away from the castle. It is a limestone sinkhole that was used to sustain irrigation needs in the Prehistoric era. Explore the trails surrounding the well and take in the peaceful greenery of the region.
Trip duration from Phoenix to the Montezuma Castle Monument: 1 hr 29 mins
Trip duration from the Montezuma Castle Monument to the Montezuma Well: 18 mins
How to get here: The castle is located in Camp Verde, Arizona. Take I-17 and get off at Exit 289. Follow the blinking red light to Montezuma Castle Road. If you want to go directly to the well, get off at Exit 293 instead.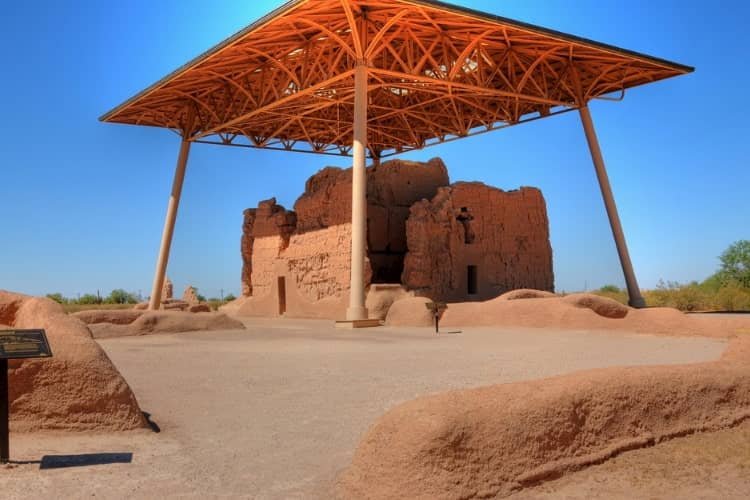 4. Casa Grande Ruins National Monument
The Casa Grande Ruins National Monument is an extensive settlement that was created by the Sonoran Desert people in the year 1350 C.E. To this day, architects are unsure of its use, but it appears to be an area where farming and irrigation practices were conducted. There is also a four-story structure on the site belonging to the Ancestral Puebloans Hohokam, that evokes both mystery and curiosity in the groups of visitors that frequent the area. Walk around the area on a guided tour and have a group picnic near the historical structure when you're done.
Trip duration from Phoenix to the Casa Grande Ruins National Monument: 55 mins
How to get here: Located near Coolidge, Arizona, the national monument can be entered via Highway 87 or 287.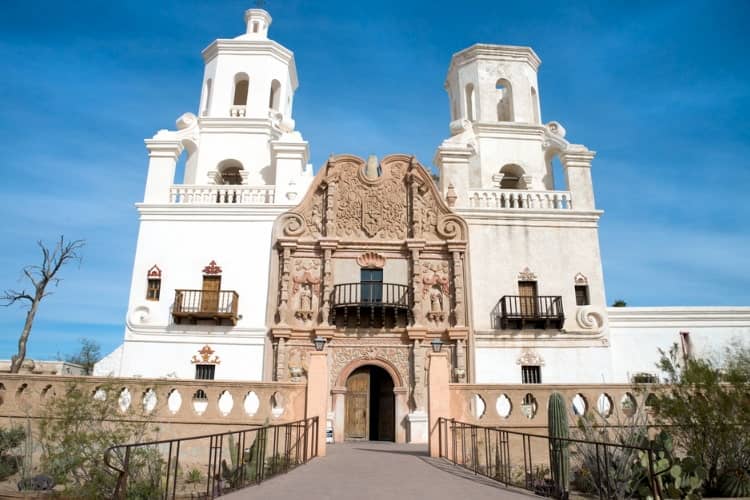 5. Mission of San Xavier del Bac
Known as the oldest European structure in the state of Arizona, the Mission of San Xavier del Bac is a cathedral that was established in the latter portion of the 1700s. It has a deep and riveting history, as it was initially part of New Spain, then Mexico, and finally the United States. Its strikingly white exterior has earned it the title of the "White Dove of the Desert," while its interior is filled to the brim with paintings, murals, frescos, and statues. It's a true celebration of Moorish architecture and can be fully experienced during the week on a free tour, or during the weekend when attending Mass services.
Trip duration from Phoenix to the Mission of San Xavier del Bac: 1 hr 52 mins
How to get here: The Mission is situated near the heart of Tucson, Arizona. Get on Interstate 19 and take Exit 92 to San Xavier Road.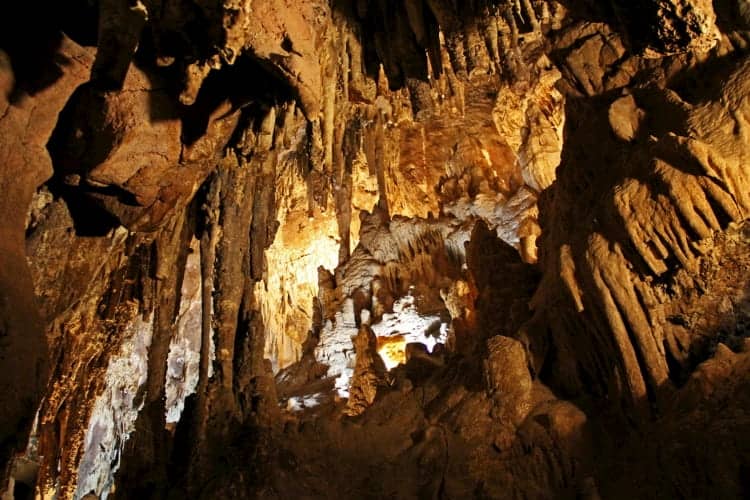 6. Kartchner Caverns State Park
An accidental discovery made in 1974, Kartchner Caverns State Park was uncovered by two avid cavers who were intrigued by the humid atmosphere in a sinkhole near the Whetstone Mountains. Upon further examination, they came across rows of brilliantly contorted cave passages, now a part of the Arizona State Park system. Being 2.4 miles long, with vivid colors and delicate structures, it was no doubt that this discovery was meant to be introduced to the public. The Rotunda Cave Room is the most famous area in the caverns, with the bell canopy being the most exciting feature to admire— the direct result of consistent water erosion over time. Other notable features include stalactites, brushite moonmilk, 'turnip' shields, and 'birdsnest' needle quartz deposits. Cave tours are provided for large groups along with wildlife viewing sessions. Once you're done checking out the caverns, there are several nature trails outside for eager hikers to conquer.
Trip duration from Phoenix to Kartchner Caverns State Park: 2hr 26 mins
How to get here: Located in Benson, Arizona, the fastest route to get to Kartchner Caverns State Park is via 1-10 E. Followed by Exit 302, take a swift right on AZ-90 S.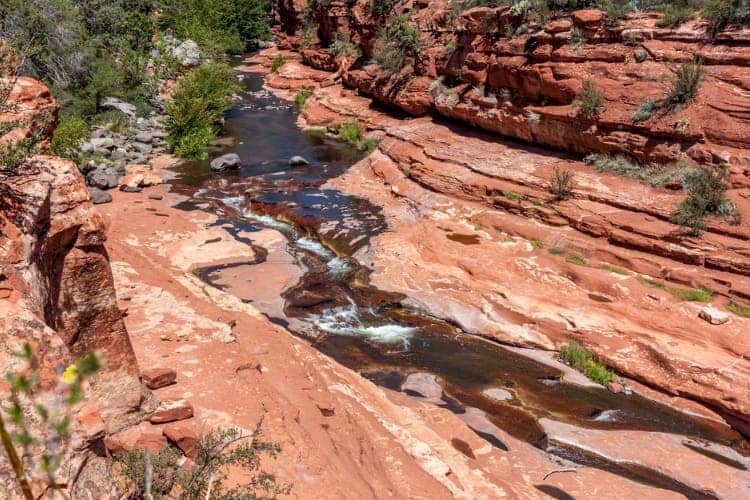 7. Slide Rock State Park
There's no better way to celebrate the warm weather in Arizona than to be at Slide Rock State Park. With several glistening pools of water and cool flowing creeks, it's the perfect place to spend your day basking in the sun. The park was formed due to a natural water slide that developed along the beds of the Oak Creek Canyon. In addition, the fact that its surrounded by towering red rock deposits and the Coconino National Forest nearby, makes it one of the more popular tourist destinations in the state. When your group is tired of lazing around, check out the Clifftop Nature Trail and Pendley Homestead Trail for a more productive end to the day.
Trip duration from Phoenix to Slide Rock State Park: 2hr 17 mins
How to get here: Slide Rock State Park is located in Sedona, Arizona. Get on 1-17 N followed by Exit 298. Merge left onto AZ-179 N and take the AZ-89 A N exit to the park.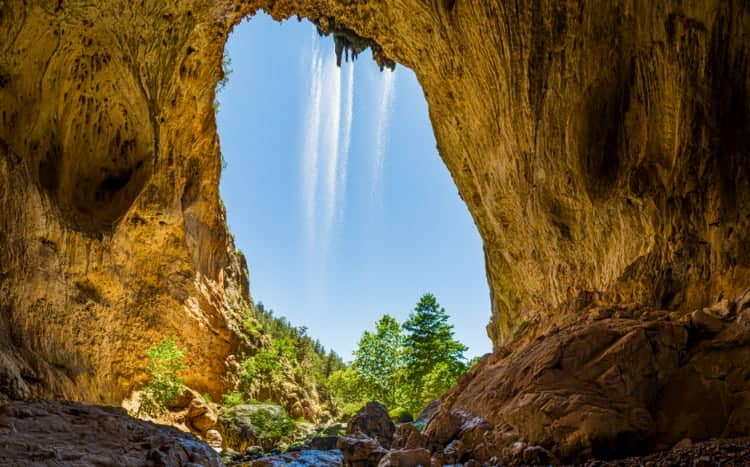 8. Tonto Natural Bridge State Park
The Tonto Natural Bridge State Park is home to the world's largest natural travertine bridge. It's around 183 feet in height and it gravitates above a tunnel that is 400-feet in length. The bridge is accessible from 4 different viewpoints or it can be observed by directly standing on top of it to admire the surrounding panoramic landscape of lush green pine trees. Besides the bridge, there are several hiking trails for groups to conquer, such as Pine Creek, Waterfall, Gowan and Anna Mae Trail— which leads directly to the bridge itself.
Trip duration from Phoenix to Tonto Natural Bridge State Park: 1 hr 50 mins
How to get here: Take Highway 87 to the park, which is located in Pine, Arizona.
9. Lake Pleasant
Have you ever seen a lake situated in the center of a desert? Check out Lake Pleasant, an otherwise breath-taking example of what happens when water meets land. Situated in Lake Pleasant Regional Park, it is a 10,000-acre wide pool of crystal blue water contained in a man-made reservoir that was built in 1927. Also known as the largest multi-arch dam in the world, it's a prime spot for several outdoor activities, such as fishing, scuba diving, kayaking, and even scorpion hunting. Moreover, the red rock mountains in the distance, mirrored into the cerulean blue waters, provide viewers with an out-of-world experience— possibly Mars.
Trip duration from Phoenix to Lake Pleasant: 51 mins
How to get here: Lake Pleasant Regional Park is located in Peoria, Arizona, which can be accessed via I-17 N, followed by Exit 223. This merges into Lake Pleasant Road, which eventually leads to the parks main entrance.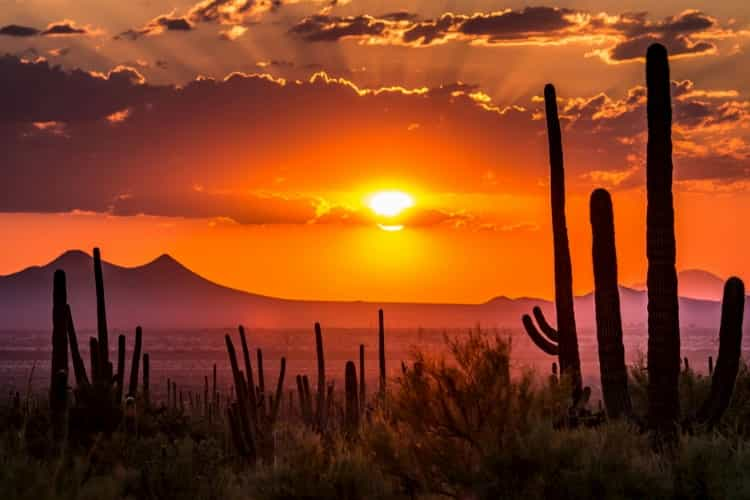 10. Sonoran Desert
Extending from Arizona to California, Northwest Mexico, and beyond, the Sonoran Desert encapsulates around 100,000 square miles of territory. It's a hiker's dream, as it contains a collection of landscapes, ranging from sandy desert views to grasslands, coniferous and deciduous forests, and even tundra species. There are several man-made and natural trails to follow to your heart's content, with plenty of opportunities for picture-taking, wildlife-viewing, and rock-collecting.
Trip duration from Phoenix to the Sonoran Desert: 1 hr 13 mins
How to get here: The Sonoran Desert stretches across several states and can be accessed from several cities. The portion in Phoenix can be reached via 1-10 W followed by the Phoenix Bypass to 9 Mile Well Road.
Travel to Any Phoenix Destination Today
Interested in visiting more than one location? Leave it to National Charter Bus to drive you anywhere in and around the state. Reserve an 18-, 20-, 25-, or 56-passenger private bus rental for the ultimate Phoenix road trip. Each bus is fully equipped with high-end amenities designed for ultimate comfort and satisfaction. From free WiFi to onboard restrooms, National Charter Bus has you covered for any future adventures.
Speak to our 24/7 trained reservation specialists at 480-626-4711 for a free, Phoenix trip quote. Happy travels!
Tags In