Guide to Visiting Bryce Canyon
One of the standouts in the state of Utah is the breathtaking Bryce Canyon. A colorful landscape of rocks and history brought to life, it's known for its crimson-colored hoodoos and spire-shaped rock formations that stretch towards the sky and offer incredible views for hiking enthusiasts. Every year, the canyon draws in more than 1.5 million people from miles around—Salt Lake City, Las Vegas, and beyond—who want to take in its views.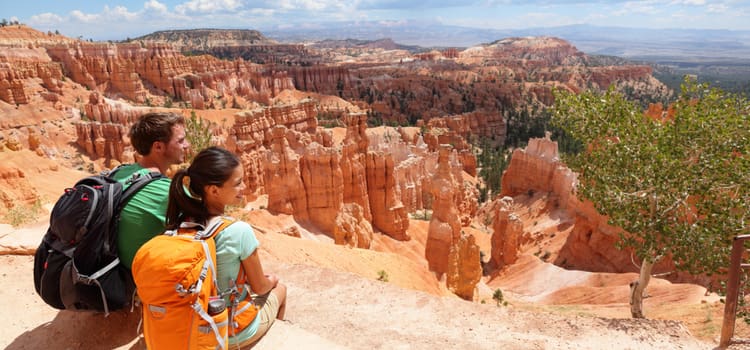 If you and your group plan on visiting this stunning canyon soon, consider renting a charter bus for your group's trip. A charter bus is convenient because you can rent one for as long as you'd like; if you only need one for a few hours to shuttle you to and from your lodging to the canyon, it's affordable and easy to arrange. Our 24/7 representatives at National Charter Bus would be happy to talk to you and explain further.
Below, we have some basic intel for those interested in exploring Bryce Canyon.
The basics of visiting Bryce Canyon
According to the National Park Service, the physical address for Bryce Canyon is Highway 63, Bryce Canyon National Park, Bryce, UT 84764.
The entrance fee depends on the vehicle used; private vehicle passes are valid for 15 passenger capacity or less, cost $35, and are valid for seven days. For larger groups, such as those renting a charter bus, the entrance fee is a flat fee of $150. This sounds like a lot until you consider that the per person fee for individuals entering is $20 each for walk-ins.
Bryce Canyon offers several lots for parking, but by 10 a.m. most of the most popular parking lots begin to fill up. Having a charter bus or minibus to pick up and drop off your group is a great way to avoid the hassle of parking several different cars. Charter buses even have their own parking options—your charter bus can park at Shuttle Station in Bryce Canyon City, additional spaces in the Visitor Center parking lot, and all viewpoints along the Southern Scenic Drive.
Bryce Canyon trails
Bryce Canyon offers several trails with varying difficulty, from easy to strenuous.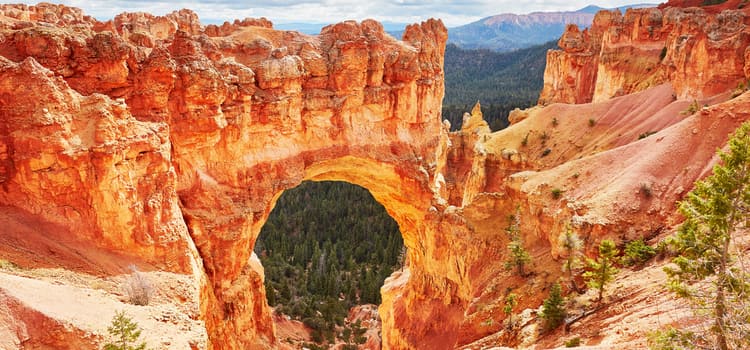 Beginners:
For beginners, we recommend the one-mile hike from Sunset to Sunrise Point. A paved portion of the Rim Trail, it's the easiest hike that offers views of the scenic Bryce Amphitheater. Another great trail for beginners is the Bristlecone Loop, another one-mile hike, which loops through spruce and fir forests and vistas. Our final recommendation for beginners is the Mossy Cave trail. This is a streamside walk to a mossy grotto that fills with beautiful icicles in the winter and dripping moss in the summer. Beware, though; this trail tends to get crowded and fill quickly, so plan on getting there before 10 a.m. or after 6 p.m. to avoid the crowds.
Intermediate hikers:
The intermediate trails at the canyon offer great views with only slightly more effort than hiking the beginner trails. Queen's Garden trail is a little under two miles and is the easiest trail that lets you descend into the canyon. The Navajo Loop (not available during winter), is a short but steep trail, at about 1.3 miles, and allows you to see Thor's Hammer, Two Bridges, and the bottom of Wall Street. The Tower Bridge trail is one of the more difficult of the intermediate hikes, but the 3-mile hike allows you to see the Chinese Wall, a beautiful and picturesque cliff.
Experienced hikers:
Dedicated and experienced hikers will be interested in the strenuous hikes, which all include elevation changes of 1,000 feet or more and distances of at least four miles. If you're up for it, it's a great way to see as much as possible all in one go around. The Fairyland Loop is the longest of the strenuous hikes at eight miles long, but it tends to be a less crowded trail and lets you see the Chinese Wall, Tower Bridge, and the canyon's iconic tall hoodoos all in the same trail. The Peekaboo Loop is a steep and spectacular 5.5-mile hike that takes you through the heart of the canyon and lets you see the Wall of Windows, a cluster of giant hunks of limestone, sandstone, and other rock that formed 50 million years ago. In order to see as much as possible, we recommend experienced hikers take on The Figure 8 Combination hike. The 6.4-mile hike takes around four to five hours to complete and combines the Queen's Garden, Peekaboo Loop, and Navajo Loop for an ultimate sightseeing hike.
Trail closures happen at times, so be sure to check in advance to make sure the trails you want to visit aren't closed.
Things to do at the canyon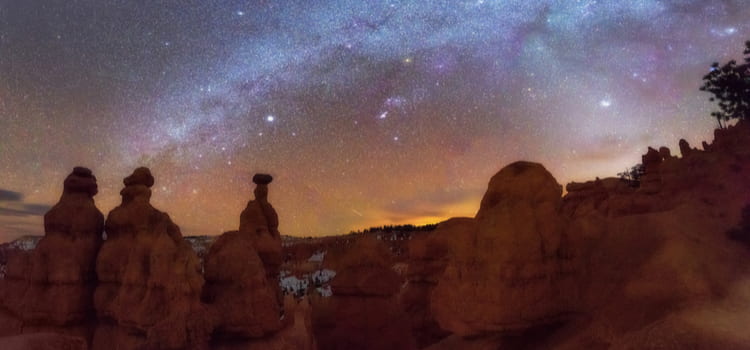 The canyon offers a variety of ranger-led activities for those interested in learning more about the canyon. You and your group can attend Geology Talks to hear a ranger speak on the history of the rocks that form the canyon, and Constellation Tours to learn about the many beautiful stars and constellations visible from the canyon's night skies. Rangers also offer unique Full Moon Hikes during the full moon period of the month, plus programs for kids. From the months of April to October, you can also take a horse or mule-guided tour of select parts of the canyon. Two-hour tours cost $75 per person, and three-hour tours are $100 per person.
In addition to year-round activities, the canyon also hosts annual specialty events every year. They host an Annual Geology Festival, where you can join rangers for guided hikes and learn more about the rocks within the canyon. You can also find hands-on activities, crafts, and educational booths at the Visitor's Center. The canyon also hosts an Annual Astronomy Festival, featuring ranger-led tours of the many constellations and stars visible from the canyon and more activities for all ages. There's also an annual winter event.
Accommodations
If you plan on staying more than one day, consider staying at the lodge on site. The Lodge at Bryce Canyon offers 114 rooms including lodge suites, motel rooms, and cabins, perfect for housing your group and your charter bus driver. Reservations are highly recommended if you plan on staying at the lodge, and the dining room at Bryce Canyon Lodge is open for breakfast, lunch, and dinner. The Lodge also features a gift shop. For accommodations outside of the Lodge, you can visit the Garfield County Tourism Bureau for recommendations.
The canyon also offers two campgrounds, the North Campground and Sunset Campground. The North Campground is reservation-only from May 27 through October 1, and first-come, first-served from October 2 through May 26. Meanwhile, the Sunset Campground is closed in winter, and first-come, first-served April 15 through October 31. Group sites are available at the Sunset Campground from April 15 through October 31 and require reservations.
The General Store is located near Sunrise Point and the North Campground and offers convenient, grab-and-go foods such as pizza, soup, ice cream, and sandwiches. It also offers beverages, restrooms, showers, camping supplies, and souvenirs.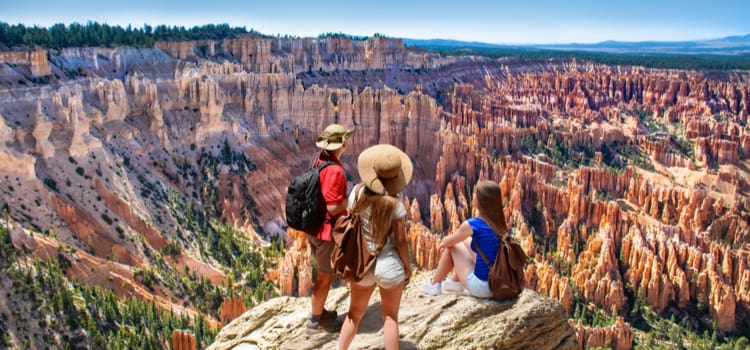 See Bryce Canyon with National Charter Bus
The great outdoors are waiting for you! Give us a call today at 1-844-755-0510​ to learn more about how renting a charter bus from National Charter Bus for you and your group can help enhance your travel experience to Bryce Canyon. Happy trails!