What's the Difference Between a Bus and a Coach?
So you've heard the words coach, motorcoach, and charter bus thrown around, but how exactly are they different from a plain bus? There are actually quite a few differences between coaches and buses, including purpose, design, history, and amenities.
History of Buses and Coaches
Buses and coaches have similar origins starting in Europe during the 1600s as horse-drawn vehicles.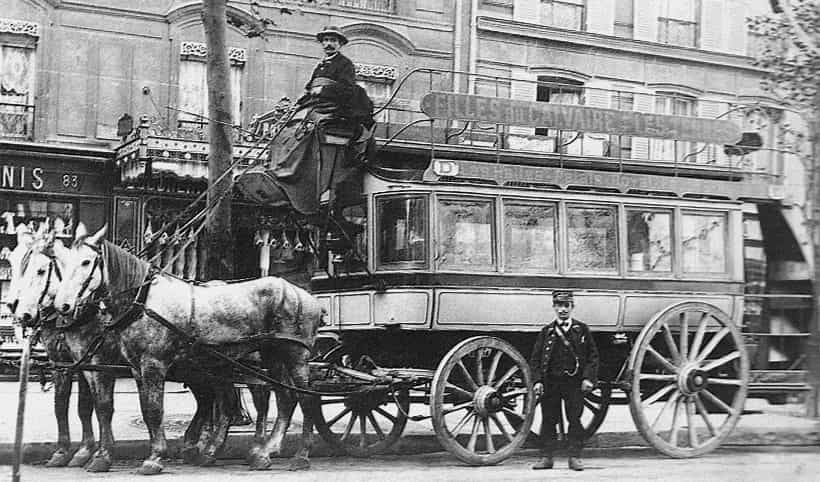 The term "bus" comes from the word "omnibus," which originally referred to a horse-drawn carriage that served as a public bus line. One of the earliest iterations of an omnibus was launched in Paris in 1662, but they eventually spread throughout France and soon Great Britain, where the first bus line opened in 1824. Early motor buses were developed in the late 1890s but were not produced and used on a mass scale until 1910.
Modern coaches started with stagecoaches, also sometimes referred to as carriages. Horse-drawn stagecoaches often traveled pre-scheduled routes but could be hired for long-distance travel with a small number of passengers with light luggage. Great Britain was home to the first recorded stagecoach in 1610 that traveled between Edinburgh and Leith. Longer distance routes were developed between cities like London and Liverpool with coaching inns along the way for travelers to rest. Once railways were introduced in the 19th century, horse-drawn coaches became all but obsolete.
The earliest motorized coach was the charabanc, which was introduced in the 1920s and quickly became the preferred vehicle for companies that previously operated horse-drawn coaches.
Different Uses for Buses and Coaches
To keep it simple: All modern coaches are technically buses but not all buses are coaches. Both types of vehicles are used to transport a large number of passengers across different distances.
Buses
A bus usually refers to public transport or pre-scheduled transportation like transit (city) buses and school buses. Buses are usually built for efficiency and not necessarily comfort. They serve the public and travel along predetermined routes, making several stops along the way. The main purpose of a transit bus is to offer cost-effective transportation for as many passengers as possible within metro areas. Bus services can often be split into different categories like standard buses, which service normal routes and express buses, which often service fewer stops for faster rides.
Coaches
A coach may also be called a motorcoach, coach bus, or charter bus. Smaller models may be considered minicoaches or minibuses. Unlike normal buses, coaches are primarily used for private transportation and are often used for long-distance travel where convenience and comfort are key. Coaches are usually private modes of transportation and travel on routes determined by the riders or trip organizers. Some intercity coach services like Greyhound travel along fixed routes and are open to the public via a ticketing system. Although the schedules of coach buses vary, most coaches don't make more stops than necessary since many are traveling long distances.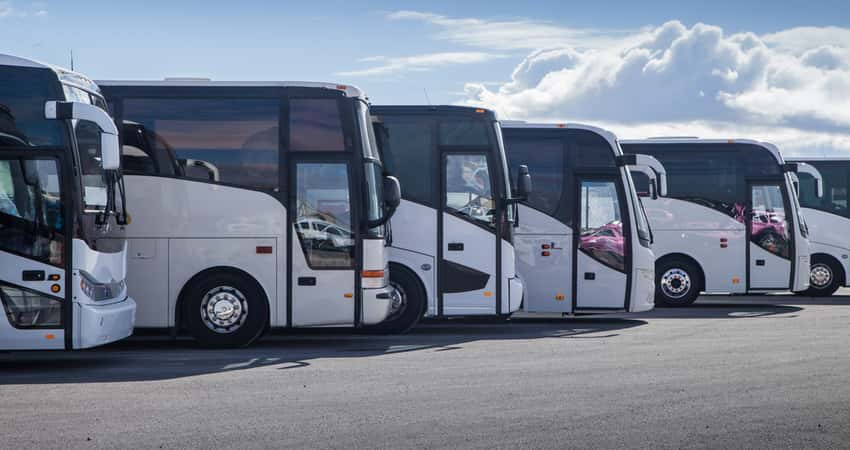 Designs of Buses and Coaches
Buses
Vehicles like standard city buses are oftentimes a similar length and overall body style to coaches. However, buses that service public sectors can also come in modified designs like the articulated bus. These extended vehicles shave multiple cabins and optimize the number of passengers that can be transported along any given route. Transit buses also include standing areas and railings that can be used when seats fill with passengers. Most transit buses can accommodate anywhere from 40 to 60 passengers, depending on the model.
Other notable design choices may include:
Multiple entry doors
Straphangers for standing passengers
Dedicated seats at the front of the bus for passengers with mobility concerns
Ramps for passengers with mobility aids on ADA-accessible buses
Coaches
Coaches have a raised floor that creates space underneath the bus for luggage storage, making it taller than your average transit bus. This gives the interior of coach buses a platform-like appearance compared to normal buses, and passengers have a raised view of the street. Coach buses usually have anywhere between 18 and  56 seats. Buses on the lower end of that range usually qualify as minibuses or minicoaches.
Here are a few coach design differences from transit buses:
One entry door at the front of the vehicle
Storage compartments beneath the bus for at least one piece of luggage per passenger
Uniform rows of seating throughout the bus
Ramp at entry or wheelchair lift in the rear of the vehicle on ADA-accessible coaches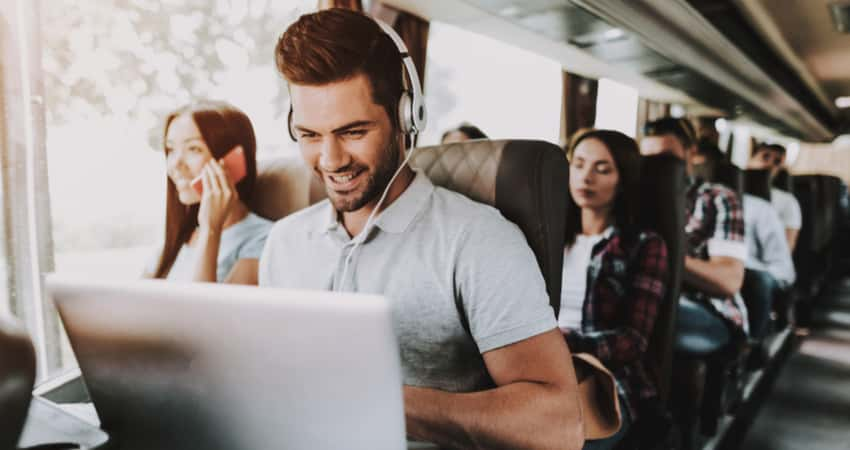 Amenities of Buses and Coaches
Bus Amenities
Transit buses aren't known for being the most comfortable rides and don't always include amenities to improve rider satisfaction. Of course, there are newer models of buses that may have updated features for riders, but this will vary depending on the transit service and city.
Some transit bus amenities may include:
Free public wifi
Covered bus stops and bus shelters
Coach Amenities
Since coach buses are primarily built for comfort across long distances, they often include additional amenities not found on transit buses.
Amenities on coach buses may include:
Plush reclining seats made of cloth, leather, faux leather, or a combination of materials
WiFi
USB and electric outlets
Dropdown TVs
Overhead storage compartments
Reading lights and personal climate controls
Bus and Coach Services Today
Today, many private group transportation companies in the U.S.A. operate a fleet of minibuses and charter buses. Charter bus rental services like those provided by National Charter Bus are often used as alternatives to rideshares, carpools, or public transportation for short- and long-distance trips. Private charter buses are often used for business travel, sporting event transportation, wedding shuttles, and personal events like group tours. The National Charter Bus rental team can be contacted at 1-844-755-0510 to organize transportation services across the United States.