Guide to Visiting the Grand Canyon with a Group
Offering plenty of outdoor activities and unbeatable views, the Grand Canyon consistently ranks as the second most-visited national park in the country, bringing about six million visitors a year. The canyon showcases nearly two billion years of the Earth's geological history, creating the iconic marbled views Americans know and love.
It's one of the most popular parks to visit for family vacations, offering plenty of family-friendly activities for all ages. The Grand Canyon offers something for everybody.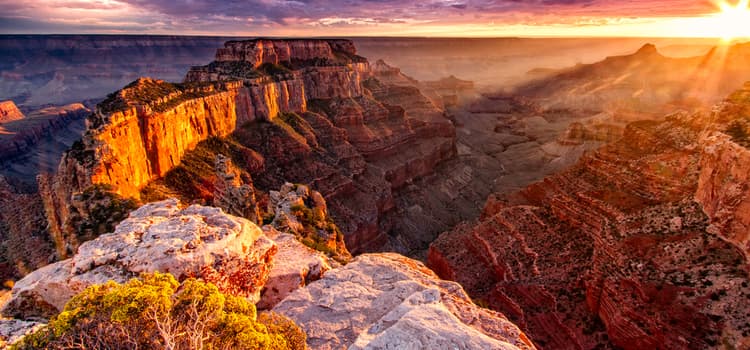 Charter bus options for a group
To enjoy the magnificent views the Grand Canyon has to offer, stress-free, consider getting a charter bus from National Charter Bus for your group. Consistently ranking at the top of the industry for safety, and with charter buses for every group size, you can't go wrong.
The buses we charter also offer modern amenities such as WiFi, space for luggage, outlets, restrooms, and TV screens. You and your group will be cruising through the Grand Canyon with style and ease. So whether you're coming into the park from Phoenix, Las Vegas, or even Denver, everyone will arrive comfortably and all together.
We have agents available 24/7 to answer any questions and help you set up your charter bus rental, so give us a call today at 1-844-755-0510 to learn more!
There's a lot to unpack about the Grand Canyon, and a lot of information, but below is our basic guide to one of America's most beloved national parks.
Park overview and basic information
The Grand Canyon has two main rims that you can enter through: the North Rim and the South Rim. The South Rim, which includes Grand Canyon Village and Desert View, is open 24/7, 365 days a year. The North Rim is open for 2021 from May to October 15.
The price for entering the Grand Canyon varies based on what vehicle (if any) you are driving. Current 2021 rates are:
$35 for a single vehicle with up to 15 passengers
$30 for a motorcycle and its passengers
$20 for an individual when entering the Grand Canyon by foot, bicycle, Grand Canyon Railway, or private rafting trip
Organized non-commercial groups and commercial tours are subject to different fees based on the circumstances, and visitors aged 15 or younger can enter the Grand Canyon for free. Keep in mind that returns are not accepted for inclement weather. Once you buy a pass, it's valid for seven days, and you can either buy your pass beforehand at recreation.gov, or at three locations in the park: North Rim Entrance Station, South Rim Entrance Station, and Desert View Station Entrance.
If you are wondering when the best time to visit the Grand Canyon is, consider March through May and September Through November. Daytime temperatures are cooler, and there are fewer crowds. If you visit during the summer, you will be visiting during their busiest season and face tons of crowds, even with limited capacity during COVID-19.
The Grand Canyon offers lodging options for your group, which is excellent for overnight stays. Lodging also offers convenient charter bus parking options.
North Rim Visitor Center Address
Grand Canyon National Park, Marble Canyon, AZ 86023
South Rim Visitor Center Address
The Inner Canyon, 8 S Entrance Road, Grand Canyon, AZ 86046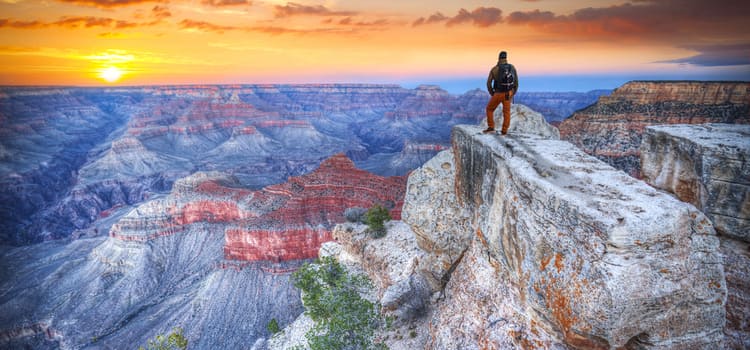 What to do at the Grand Canyon
In addition to the breathtaking view, there's no shortage of activities to enjoy during your visit. Here are a few below:
Hiking and camping
Hiking the Grand Canyon is a challenge to even the most avid and fit hikers. But for those up to the task, it presents unforgettable views and an experience like no other. It's recommended you bring adequate food and water, other supplies, and read up on hiking tips at the Grand Canyon's website.
There are camping areas at both the South and North rims, and the Desert View, with hundreds of sites available at each. Fees start as low as $9 depending on the site you choose and the size of your party. There is no cell phone or internet connectivity at the sites, so be prepared for that.
Mule trips
You can take a guided mule tour through both the North and South rims, including the Kaibab National Forest, at different times of the year. Depending on the trip you take, the age requirement is at least 7 to ten years of age, and the weight limit for riding mules is 200 to 220 pounds, once again depending on the trip you take. It's a great group activity, but spaces fill up quickly, so be sure to get in as soon as possible; you can book your tour up to 15 months in advance.
Whitewater rafting and boating
Whitewater rafting is a great group activity, and there are plenty of great opportunities for whitewater rafting at the Grand Canyon. There are two main river trip opportunities detailed below:
One-day commercial river trips: this is a smooth water trip on the Colorado River, and you can take a half-day or a full-day trip.
Two- to five-day noncommercial river trips: these trips launch from Diamond Creek and takeout at Lake Mead. You can obtain permits for these trips starting a year in advance of your trip, and they are released on a first-come, first-served basis.
You also have the opportunity to book longer rafting trips up to 25 days depending on the needs and desires of your group.
Bicycling
There are numerous biking trails along the Grand Canyon. The South Rim offers 13 miles of trails, plus a smaller Greenway trail along Hermit Road. This road and greenway are great for cycling due to the scenic views, lack of vehicle traffic during most of the year, and safe path. Those looking for a shorter path can bike the South Kaibab Trailhead and Yaki Point. The North Rim offers several trails as well, including the 1.9 miles long, forested Bridle Path.
If you need to rent a bike, you can rent one from Bright Angels Bicycles, which is by the Grand Canyon Visit Center. Rentals are around $42 for the entire day, depending on your age and the bike you rent. They also offer repair services.
For safety, it is recommended you and your group wear helmets, bright colors, share the road and ride in single file, and bring plenty of snacks and water.
Guided tours
Both the North and South rims have day hikes and walks led by certified park rangers. These are great for groups, totally free, take place year-round, and require no advanced signup.
Arts and culture
Those interested in history, arts, and culture can visit the Historic South Rim Village, which features the Hopi House History building, which pays tribute to the Hopi who have inhabited the canyon for centuries. You can also find other history centers in the village.
You can also check the Grand Canyon's website for their calendar, which will tell you about special events that are taking place during the year.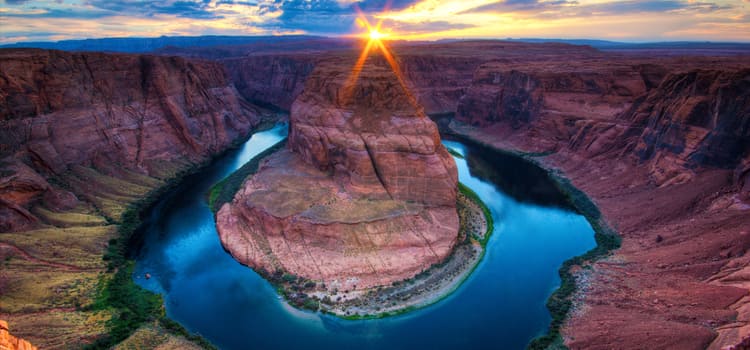 Have a "grand" time – book with National Charter Bus
Want to enjoy the Grand Canyon without any of the added stress? Give National Charter Bus a call today at 1-844-755-0510 at whatever time works for you, and we will work with you to accommodate you and your group's specific needs. Get in touch today for a free and personalized bus rental quote!