An LA Travel Guide for Non-Movie Buffs
The City of Angels may be best known for the glitz and glamor of the film industry, but there's more to Los Angeles than spotting movie stars and touring film sets! Besides—while attending a live studio recording, combing the Walk of Fame for your favorite performer, or visiting the Dolby Theatre can be fun, if you only focus on attractions related to the silver screen, your group will miss out on all the museums, galleries, and beaches LA has to offer.
Looking to fill your itinerary with non-movie-related stops? We've put together this comprehensive guide to Los Angeles' most popular destinations—besides Hollywood, of course—as well as some tips for bus rental parking in LA. And when you're ready to hash out the transportation details to and from these spots, the National Charter Bus team is here to make renting a LA charter bus easy! Call 323-201-2618 today to learn how we can provide stress-free travels and a free no-obligation quote for your personalized LA bus rental.
Kid-Friendly Destinations
Whether you're planning a field trip with your local school group or trying to fill your youth group's itinerary on your next vacation, don't feel like you have to spend all your time in film-centric places like Disneyland or Universal Studios Hollywood—as fun as those places are! Los Angeles is also full of educational and fun attractions your kids are sure to love, including:
La Brea Tar Pits
Address: 5801 Wilshire Blvd, Los Angeles, CA 90036
Phone: 213-763-3499
A great place to teach kids about prehistoric life and earth systems, what's known as La Brea Tar Pits is the only active Ice Age excavation site in the world. Over 3.5 million fossils have been pulled from its murky depths, including wooly mammoths, dire wolves, saber-tooth cats, and even indigenous humans. And when we say it's active, we mean that scientists are still excavating here today!
Visitors can watch on as archeologists and paleontologists dig through 50,000 years of history and afterward explore the exhibits and full-scale models of prehistoric creatures at the site's attached museum. Self-guided visits of the tar pits are free for California schools, and guided programs can be added on for no additional cost. Just ensure you have at least one chaperone for every five students and that you reserve your field trip at least three weeks in advance.
Parking your charter bus rental: Bus parking is available for free on the west side of Curson Avenue.
Griffith Observatory
Address: 2800 E Observatory Rd, Los Angeles, CA 90027
Phone: 213-473-0800
It's true, this famous LA sight has played the backdrop in numerous films—from La La Land to The Terminator—but you don't need to be a movie buff to appreciate this observatory!
Besides offering some of the best views of the Hollywood sign and the surrounding cityscape, the Griffith Observatory provides a wide variety of telescopes and educational programs about our solar system—all completely free to the public. In fact, during your visit here, the only thing you would need to pay for is access to the 290-seat planetarium. And even then, tickets will only cost between $3 and $7 per person (just keep in mind planetarium admission is sold on a first-come, first-served basis, with no reservations). If you are planning a visit with kids, you should have at least one chaperone for every 10 children.
Stop by during the day to check out the massive Zeiss telescope and the observatory's coelostat (a telescope used to look at the sun), or check it out on select evenings to join the free monthly Star Parties. There, volunteer astronomers can answer your inquiring minds' questions about space and the stars, as well as teach them how to use different types of telescopes.
Parking your charter bus rental: There is street parking along the roads leading up to the Griffith Observatory and a parking lot attached to the front lawn. However, buses and motorcoaches are not permitted to park here. Instead, have your bus driver park at the Greek Theatre and hop aboard the free shuttle that carries visitors up the hill to the observatory.
Impress Your Art Lovers
You could say that LA is full of artists, both on the screen and off. If you're traveling with a senior community, some high-profile convention clients, or just a gaggle of fellow art enthusiasts, checking out the city's art scene is a "must-do"—and here are a couple of the city's most popular museums we recommend: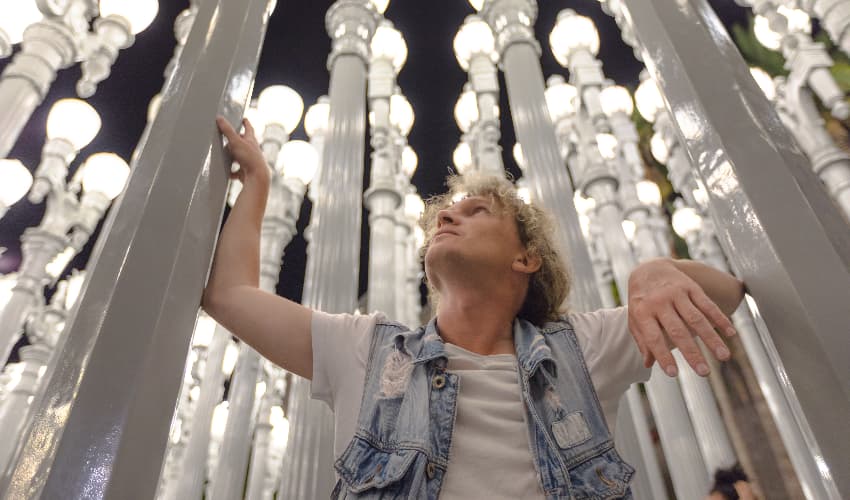 Los Angeles County Museum of Art
Address: 5905 Wilshire Blvd, Los Angeles, CA 90036
Phone: 323-857-6010
Spanning five buildings and holding more than 142,000 objects from over a 6,000-year period, the LACMA is undoubtedly the largest art museum in the western U.S. But the vast collection isn't the only thing that's huge here! This museum is best known for its larger-than-life public art installations and sculptures sprawled across the outdoor gardens and three stories of indoor space. In particular, we recommend posing for an iconic selfie in front of the Urban Light installation—composed of restored 1920s and 30s street lamps, many of which illuminated actual SoCal streets.
Visiting groups of 10 or more should reserve their tickets in advance to skip the entrance line and to receive a discounted admission. If you'd appreciate a more structured experience, the museum offers 50-minute guided tours tailored to your group's specific interests—ask about coordinating one when you call ahead to reserve your tickets. Also, admission is free for all visitors 17 and younger!
Parking your charter bus rental: When you arrive, your bus driver can drop everyone off in front of the LACMA's main entrance before snagging a parking spot on Curson or Sixth Street (available on a first-come, first-served basis).
The Getty
Address: 1200 Getty Center Dr, Los Angeles, CA 90049
Phone: 310-440-7300
The Getty is among LA's most popular art museums—and for good reason. It is composed of two museums. At the Getty Center in Brentwood, you admire the impressive collection of American and European works, including art from the likes of Claude Monet, Vincent van Gogh, and Paul Cézanne. At the Getty Villa in Malibu, you can take in ancient Greek and Roman art in a recreation Roman manor along the shore.
Regardless of which location your group decides to visit, everyone should take some time to explore the perfectly manicured grounds and lush gardens in addition to their exhibition tour. The Getty allows visitors to bring their own picnic supplies into the gardens, so pack a cooler or two into your charter bus's undercarriage and enjoy a meal al fresco before you check out the galleries.
Admission to both Getty facilities is always free, though larger groups are asked to request a tour time slot ahead of your trip. You'll have your choice of a guided visit or a self-guided tour, and the museums can accommodate up to 120 people in a visiting group at a time.
Parking your charter bus rental: The Center will notify you where you can park your charter bus or minibus when it confirms your visit reservation. If any member of your group is planning to drive their own vehicle, they can park in the free garage located on the property—just let the center know ahead of time so their spots can be reserved for them.
Relax by the Ocean
You don't need to be a movie buff to enjoy Los Angeles' gorgeous beaches! With over 30 miles of public beaches in LA, getting into the SoCal spirit by hitting the sand and surf is a no-brainer for newcomers and budget travelers alike. Besides paying for parking or grabbing an ice cream sandwich, enjoying the beach with your fellow travelers is completely free! Oh, and don't worry about wearing your wet bathing suits around if you're planning to grab dinner elsewhere in town. With a National Charter Bus rental, your group can change into dry clothes in your bus's onboard restroom and store suits, towels, and chairs in the luggage bay before heading to the restaurant. Just let our team know you need room to store your beach gear and a place to change, and we can hook you up.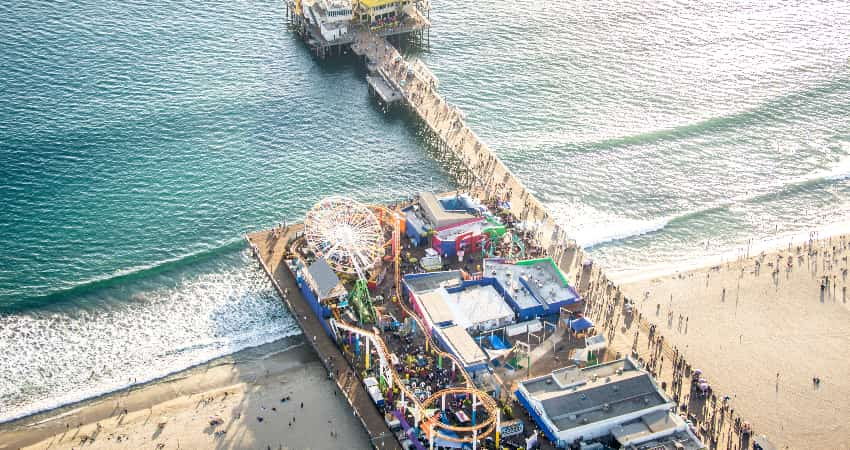 Santa Monica
Address: 200 Santa Monica Pier, Santa Monica, CA 90401
Phone: 310-458-8295
This area may get a bad rep for being a tourist trap, but many locals and out-of-towners say Santa Monica is the best beach in the city to lay out, relax, and do some people-watching (seriously, Santa Monica is known for its beautiful residents).
If you're looking for something a little more fast-paced, the landmark Santa Monica Pier will surely offer the thrills and fun your energetic group needs. There, you'll find Pacific Park: a boardwalk-style amusement park with a roller coaster, a carousel, and a huge Ferris wheel. The Coney-Island-style funplex even offers discounted admission for groups, so be sure to have your headcount ready when you approach the ticket booth.
Parking your charter bus rental: Lot 1 North at 1550 Pacific Coast Highway (right next to the Santa Monica Pier) offers paid parking spaces for oversized vehicles—though rates vary by season. The lot is open daily from 6 a.m. to 2 a.m., and if you're planning a trip during prime beach season we recommend emailing parking@smgov.net to reserve a spot in advance.
Make the Most of Los Angeles with a Bus Rental
Now that you have an idea of LA's other popular destinations, all you need to do is start planning your trip! We at National Charter Bus would love to lend a hand. Our nationwide network of motorcoaches allows us to specialize in private bus rentals that are personalized to every group's needs and itinerary. So whether you need a simple minibus shuttle to the city's museums or a full-size charter bus to transport your entire class, you'll receive a comfortable motorcoach and the services of an experienced, professional driver.
Don't believe us? Give us a call at 323-201-2618, and see for yourself how easy it is to rent a bus in LA!