The Best Group Ski Spots Near NYC
New York City is the biggest concrete jungle in the United States, but you don't have to travel too far to enjoy the great outdoors. If you're planning a group trip during the winter season, New York state has 43 ski areas to choose from. On top of in-state ski areas, there are dozens of additional ski resorts in neighboring states like New Jersey, Vermont, and Pennsylvania.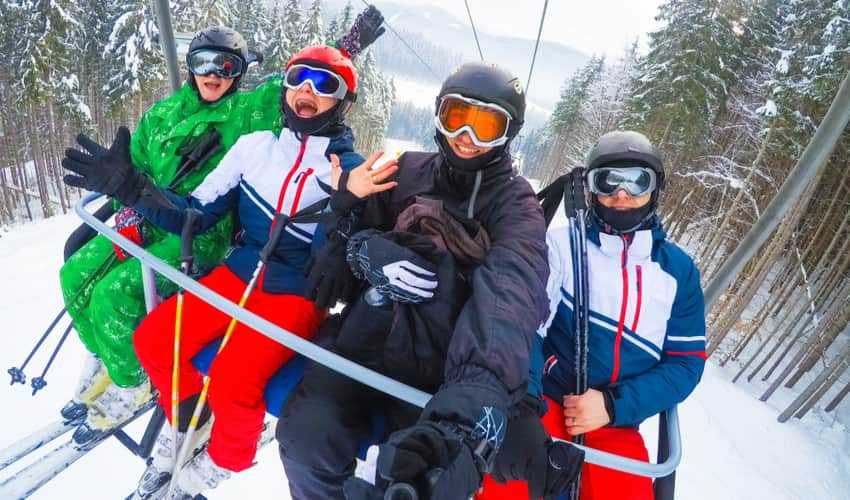 A Note on Safety
Due to the ongoing health crisis, group reservations and bus arrivals may be limited during the 2020-2021 ski season. Resorts may offer group reservations in future ski seasons. Keep in mind, you should still exercise caution when organizing a trip with a large number of people.
How to Travel to NYC-area Ski Resorts
Large groups can organize a carpool to go skiing, but if you're from NYC, you may not have vehicles to accommodate your group size. You can take advantage of ski resort shuttle services from local airports, but this only works if you're planning to organize group airline tickets.
Whether you're hosting a big trip with friends, a team-building retreat with colleagues, or a winter bachelor/ette party, renting a charter bus from NYC is one of the best ways to comfortably travel to your ski resort of choice. National Charter Bus will get your group into a spacious, climate-controlled charter bus or minibus for your ski trip. Don't worry about renting multiple cars or having to organize expensive airfare for everyone. Reserve a charter bus rental with plenty of space for every passenger by calling the National Charter Bus team at 718-233-4974!
With so many ski resorts to choose from, you'll want to pick one based on your group's needs and experience level. Here are just a few resorts that you may want to consider:
Best Ski Resorts for Beginners
Mountain Creek Ski Resort
Distance from NYC: 1.5 hours or ~55 miles
Address: 200 NJ-94, Vernon Township, NJ 07462
Phone: (973) 827-2000
Mountain Creek Ski Resort is one of the closest ski spots to New York City. Groups of beginners who want easy slopes and a conveniently located destination should reserve passes at Mountain Creek. Mountain Creek has 4 peaks with 17 terrain trails that are great for beginners. Guests will also find a large terrain park at the South Peak perfect for beginner and intermediate snowboarders.
Charter bus rental parking: Parking at Mountain Creek is notoriously difficult and the lots are far from the ski lifts. You'll want to organize a dropoff location near the lift before your bus driver parks your charter bus. Consult the resort staff about bus parking when you reserve your ski passes.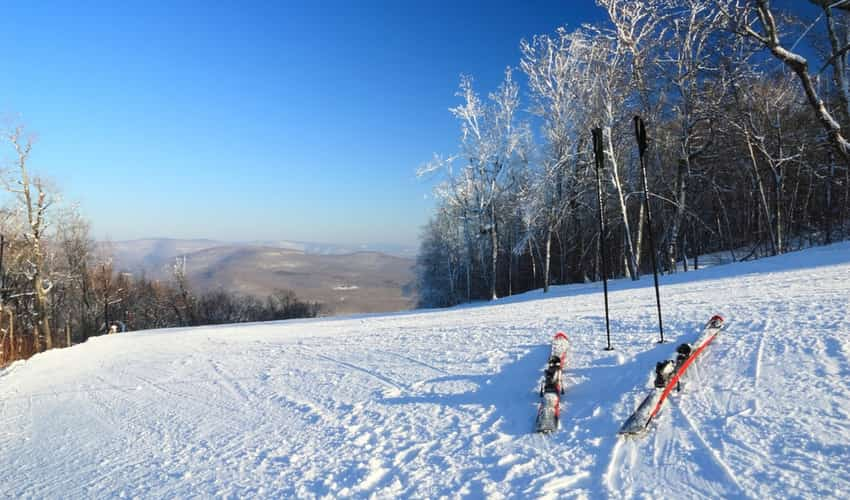 Belleayre Mountain Ski Center
Distance from NYC: 2.5 hours or ~135 miles
Address: 181 Galli Curci Rd, Highmount, NY 12441
Phone: (845) 254-5600
Belleayre features easily navigated terrain that's split into beginner trails on the lower mountain and intermediate/advanced trails on the upper portion of the mountain. Of the center's 50 trails, around a dozen are designated for beginners. This makes Belleayre an ideal ski location for groups with a range of experience levels. Belleayre also has a popular ski school that provides private lessons for beginners of all ages.
Charter bus rental parking: Parking is available for oversized vehicles at the Discovery Lodge near the bottom of the mountain.
Best Ski Resorts for Intermediate and Advanced Skiers
Hunter Mountain Ski Resort
Distance from NYC: 2.5 hours or ~130 miles
Address: 64 Klein Ave, Hunter, NY 12442
Phone: (800) 486-8376
Right after Slide Mountain, Hunter Mountain is the second-tallest peak in the Catskills. With 75% of ski runs recommended for intermediate-level visitors and higher, Hunter Mountain is one of the best resorts in New York for experienced skiers and snowboarders. If you have a few group members who aren't as experienced, Hunter Mountain has a well-organized ski school with courses for both children and adults. Hunter Mountain also offers a variety of other activities like snow tubing, hiking, ziplining, and riding a scenic chair lift that provides views of the Catskill Mountains.
Charter bus rental parking: Most parking at the resort can be found at the base of the mountain near the tubing park.
Gore Mountain Resort
Distance from NYC: 4 hours of ~230 miles
Address: 793 Peaceful Valley Rd, North Creek, New York 12853
Phone: (518) 251-2411
Gore Mountain is a busy ski resort not too far from Albany that has some of the most impressive terrains on the east coast. It's a no-frills type of resort that's frequented by intermediate-, advanced-, and expert-level athletes. Of the resort's 110 trails, around a dozen are considered easy runs. So if you have a mixed group, beginners will still have a few trails to choose from and can take lessons at the Gore ski school. Although Gore isn't known for being the most luxurious resort, the trails are well-groomed and the lodges are cozy, with full-service restaurants and bars for when you need a break.
Charter bus rental parking: Some parking lots can be far away from the lifts, and shuttle services may be packed if you're there on a busy day. When you make your group reservation, you'll want to inquire about dropoff and parking locations for your charter bus.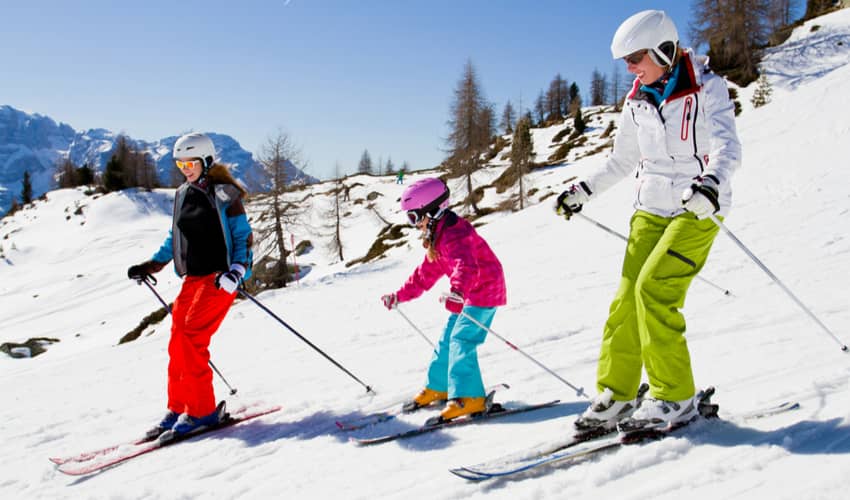 Best Ski Resorts for Families
Thunder Ridge Ski Area
Distance from NYC: 1.5 hours or ~68 miles
Address: 37 Birch Hill Rd, Patterson, NY 12563
Phone: (845) 878-4100
Thunder Ridge Ski Area is relatively small with only 21 runs, most of which are beginner-friendly. This ski area is a big day-trip destination for NYC families with younger kids who may not have a lot of experience on the slopes. The area offers lessons with ski and snowboard instructors who are trained to work with kids. Thunder Ridge also hosts ski and snowboard races where families with children ages 8 and older can register to compete throughout the season.
Charter bus rental parking: Parking at Thunder Ridge is plentiful and free. Since the ski area is relatively small, your bus driver shouldn't have to worry about parking issues.
Catamount Mountain Resort
Distance from NYC: 2.5 hours or ~130 miles
Address: 78 Catamount Rd, Hillsdale, NY 12529
Phone: (518) 325-3200
Not only does Catamount Mountain Resort have several kid-friendly ski runs, but it also offers aerial adventures with zipline and ropes obstacle courses. Catamount should be a must-visit for young competitive skiers looking to hone their racing skills. The resort's Junior Race program is one of the largest programs of its kind. It's open to skiers ages 7 to 20 and includes different coaching programs and competitions throughout the year.
Charter bus rental parking: All parking at Thunder Ridge is free and can be found right outside of the Berkshire and Taconic lodges at the base of the mountain.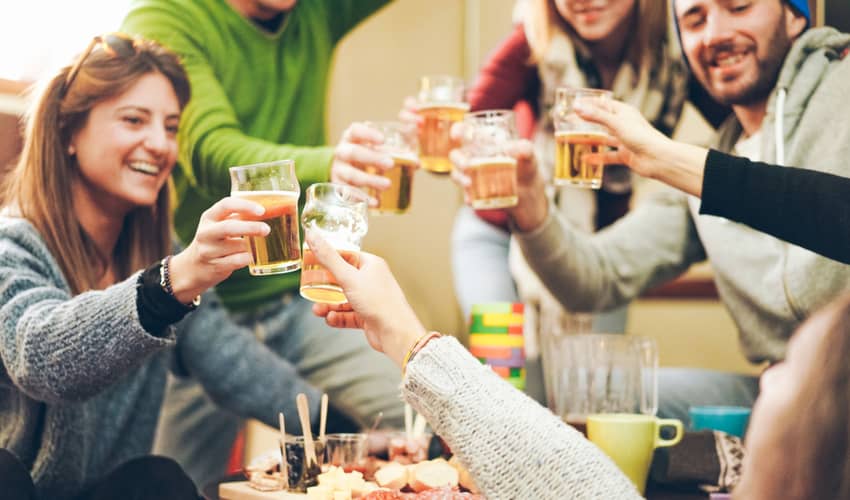 Best Ski Resorts for Après-Ski Activities
Camelback Mountain Resort
Distance from NYC: 1.5 hours or ~90 miles
Address: 301 Resort Dr, Tannersville, Pennsylvania 18372
Phone: (570) 629-1661
Located in the Poconos just under two hours' drive from NYC, Camelback is one of the busiest ski resorts in the region. On top of being a great ski spot for beginners and families, Camelback has a variety of après-Ski activities for all types of groups. There are 15 eateries ranging from quick grab-and-go options to upscale dining spots. Have casual beers and brats at Summit House, or opt to sip wine and try dry-aged steaks at Berrelli's Italian Chophouse. If you're tired of hitting the slopes, the resort also has snow tubing, zip-line courses, an adventure park, a spa, and an indoor water park.
Charter bus rental parking: Camelback has 14 paid parking lots and a shuttle service that stops at each lot. However, the shuttle is often crowded, and you may be waiting a while for a shuttle with open seats. You'll want to consider organizing a dropoff near the resort entrance before your bus driver goes to park.
Okemo Mountain Resort
Distance from NYC: 4.5 hours or ~250 miles
Address: 77 Okemo Ridge Rd, Ludlow, VT 05149
Phone: (802) 228-1600
Okemo Mountain Resort is relatively far from the city, but it has one of the best après-ski scenes in the region. The resort has several on-site restaurants that offer quick bites and sit-down dining, but the real stars are the local spots just down the road in quaint Ludlow. Grab pints of Guinness and pub bites at Killarney, have classy cocktails at Main & Mountain, or take the kids for sweets and hot cocoa at Waffle Cabin. Along with top-notch après options, Okemo is also known for having a varied terrain that's fun for everyone from families to expert skiers and snowboarders.
Charter bus rental parking: Two drop-off areas can be found in front of the Clock Tower and Jackson Gore Inn. Bus parking can be found in the Clock Tower Loft Lot at the intersection of Okemo Ridge Road and Okemo Mountain Road. If this lot is full, your driver may be directed to parking overflow areas. All parking at the resort is free.
Reserve a Ski Trip Bus Rental From NYC
When you're planning a ski trip from New York City, the last thing you want to stress about is transportation. Your group should focus on building your itinerary, getting your cold-weather gear together, and enjoying each other's company. Rent an NYC charter bus and shuttle to your ski trip destination with National Charter Bus. Call our team 24/7 at 718-233-4974 for a free quote!
Tags In