Providence Charter Bus & Minibus Rentals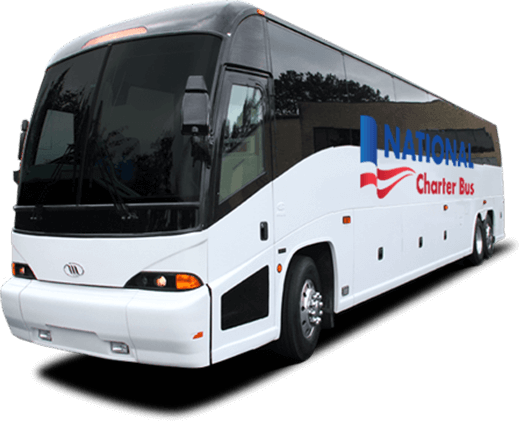 National Charter Bus has access to a premier network of charter bus rentals in Providence for any event or occasion, from charter bus rentals for private events to government and military bus rentals. The Providence buses in our network come in many different sizes, with the amenities you request, and are driven by professional drivers with on-the-road experience. Get your itinerary, travel dates, and headcount ready, and you can book your Providence charter bus rental in a matter of minutes when you give us a call at 1-844-755-0510.
National Charter Bus Services
Questions about renting a bus? We have answers.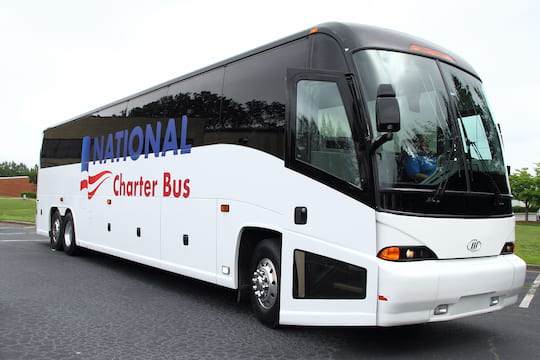 Group Transportation Options in Providence
Thanks to our vast network of charter buses in Rhode Island, we can find you a bus rental in Providence of any size for any occasion! You can book a 15-passenger minibus rental for smaller groups, a full-size charter bus rental for groups of up to 56 people, and everything in between. Each bus in our network is maintained and inspected regularly for safety before it hits the road, ensuring your group's safety. Our charter bus reservation specialists can connect you to the perfect Providence charter bus for your group's specific needs in minutes when you call us at 1-844-755-0510 for a quote.
Popular Providence Bus Amenities
Reclining Seats
Free WIFI
POWER OUTLETS
TV HD
Luggage
RESTROOMS
Charter Bus Rentals in Providence You Can Trust
For all your charter bus rental needs in Providence, National is ready to step up and be the charter bus company in Rhode Island that you can trust. We work with only the best charter bus providers in the state with only the best and safest charter buses in Providence and offer 24/7 customer service and support. Give our team a call at 1-844-755-0510 when you are ready to book your Providence charter bus!
More About Providence Charter Bus Rentals
At National, our booking process is quick and easy. Just get together your trip details, including your travel dates, your number of passengers you need accommodations for, and your itinerary with addresses. Then, give our 24/7 reservation team a call at 1-844-755-0510. From there, you will be connected to a free, no-obligation quote in a matter of minutes. If you decide to book, you will put down 10% of the cost of your Providence bus rental to secure your reservation.
We believe everybody deserves to enjoy the ride, which is why we offer ADA-accessible charter bus rentals in our network at no extra cost. Some of these features include wheelchair lifts, extended aisle space, and added hand railings at the entrance and throughout the cabin. Be sure to let your reservation specialist know as soon as possible if you need an ADA-accessible bus rental so that they can be sure to secure one for you.
The bus rentals in our network are not limited to just Providence! We offer charter bus rentals in neighboring cities and states as well. So if you're looking for a New York City bus rental to see Times Square, a Philadelphia charter bus to see more of American history, or even a Maine charter bus to taste some of the best seafood in the country, National can get you there.
Charter Bus Rental Locations Near Providence
The most modern bus rentals in Providence