5 Tips for Chartering a Private Denver Ski Shuttle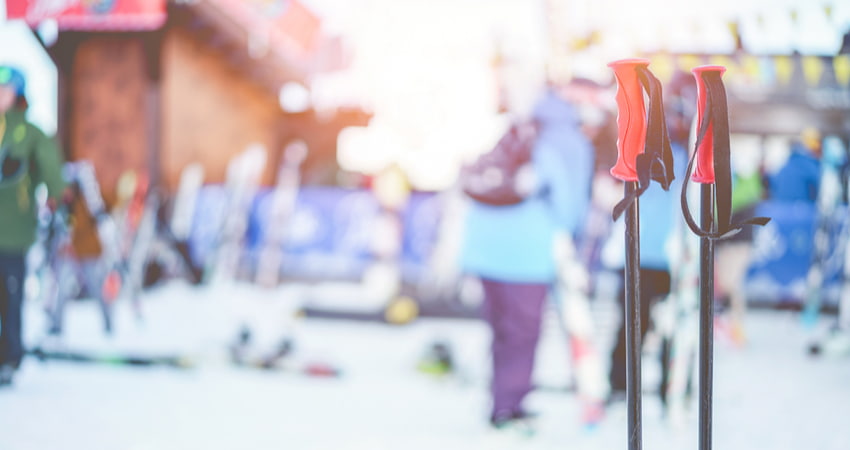 With its world-class resorts and breathtaking snow-capped peaks, Colorado is home to some of the world's best skiing spots. As Colorado's capital, Denver serves as a main travel hub for thousands of visitors ready to hit the slopes in the late fall and winter months.
Denver itself doesn't have the prime skiing opportunities though. You'll have to travel a few hours out of the city to reach popular resorts in Aspen, Vail, Beaver Creek, and Breckenridge.
If you're not a Colorado resident, how will your group make it to the ski area after landing at Denver International Airport (DIA)? The last thing you'll want to worry about after a long flight is renting multiple vehicles to accommodate everyone in your group. And let's not even get started on fitting all your winter gear and luggage in the trunk of a sedan.
That's where a private shuttle from National Charter Bus Denver comes in.
A private minibus rental is one of the most comfortable ways to transfer from the airport to your lodge. Rather than rushing to catch a pre-scheduled bus or train up to the mountains, you'll be traveling according to your own schedule. Corporate ski retreat attendees will stay comfortable on a private climate-controlled bus, while visitors traveling during a big annual family trip can keep the kids entertained with TVs and onboard WiFi.
While organizing your group outing to Denver, make sure that reserving transportation is at the top of your to-do list. We've compiled a few helpful tips to help you plan the best group travel experiences to the slopes.
Let's slide right into it!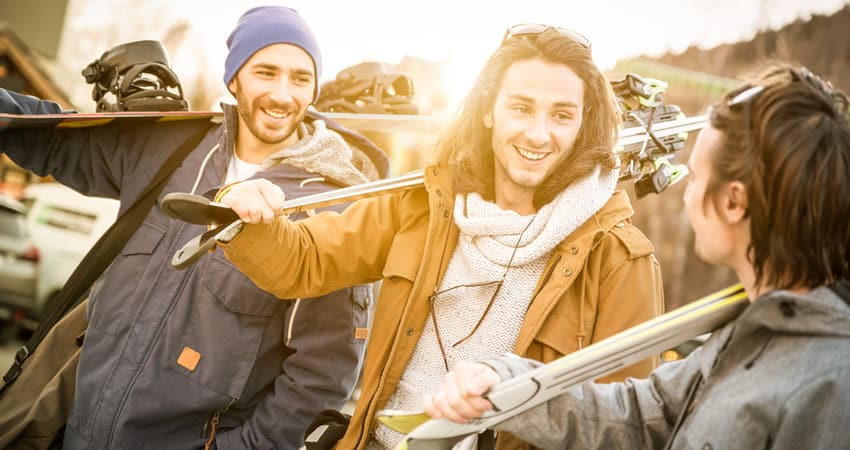 1.   Get a Headcount
Knowing how many people will be on your trip is your first step to securing a Colorado ski shuttle and resort accommodations. Figure out the number of guests you'll have at least two to three months in advance. Depending on availability and time of year, most ski resorts offer planning services and group discounts when you book several rooms.
Once you have an idea of how many people will be on your trip, we'll be able to pick the ideal type of bus for your needs. Minibuses are usually the best option when traveling around the crowded resort streets during peak ski season. These compact vehicles can comfortably fit up to 25 passengers and have plenty of space for ski equipment, snowboards, and personal luggage. If you're traveling with more than 25 people, a full-sized charter bus will be a more comfortable option. Our team of rental experts can pair you with a spacious bus when you call us at 303-317-3208.
2.   Build an Itinerary
Having a detailed trip itinerary will not only help your ski group stay on track but will also help us plan transportation logistics. Your itinerary doesn't need to be a minute-by-minute breakdown of all that you want to do, but it should be pretty comprehensive. If you're flying into DIA and plan to make multiple stops on the way to a resort, we'll just need an outline in order to help your bus driver plan routes and parking accordingly.
Are you interested in exploring a few different resorts during your time in Colorado? Or are you a group of locals looking to start regular visits to the slopes? Epic Pass offers a variety of passes to five Colorado resorts, including popular locations like Vail and Breckenridge. Ikon Pass is a similar annual option that gives passholders access to six ski resorts, like the iconic Aspen Snowmass and Winter Park Resort. Grab your passes, organize your itinerary, book a lodge, and get ready to hop on your charter bus between resorts.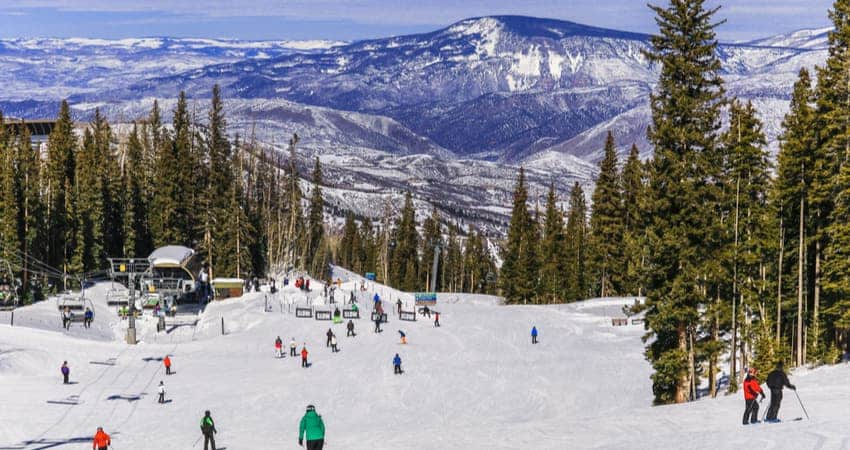 3.   Consider the Crowds
Most resorts open for ski season in mid-November to early December. The opening of the season can often be hit or miss when it comes to the weather and level of snowfall. Crowds and resort demand are usually at their lowest during these early months. If your ski group is looking to save money, consider booking your charter bus for this time rather than traveling during peak season.
Once January hits, the slopes will start getting much more crowded, with peak season usually coming around late February and March when powder snow is more abundant.
Keep in mind, resorts will also be packed around holidays like Christmas, Thanksgiving, and New Year's. These holidays bring beautiful festive events at the resorts, but may not be best for groups who want a little peace and quiet.
4.   Inquire About Drop-Off and Parking Options
Depending on the resort, your charter bus will likely have to drop everyone off in a designated location before parking in an oversized vehicle lot. A smooth dropoff and pickup process is important when you have a seemingly endless amount of winter gear to unload. Our operations team will assist in handling the loading and parking logistics at the resort, but having an idea of where your private bus can load and park will make it much easier for everyone involved.
Most resorts or local city governments will specify any charter bus regulations on their websites. For example, The Town of Vail offers charter bus parking just east of Lionshead parking structure. Charter bus parking in this lot is free, while RVs and other classes of oversized vehicles will be charged $50. Your driver can pick everyone up at your lodge and then park in the charter bus lot, just a short walk from a ski lift. If your group is wanting to be dropped off rather than walking from the charter bus lot, an oversized shuttle loading area is available near the Lionshead Welcome Center.
That being said, each ski town has its own regulations for oversized vehicles. Just be sure to give the area's Parking and Transportation website a once-over before beginning your trip.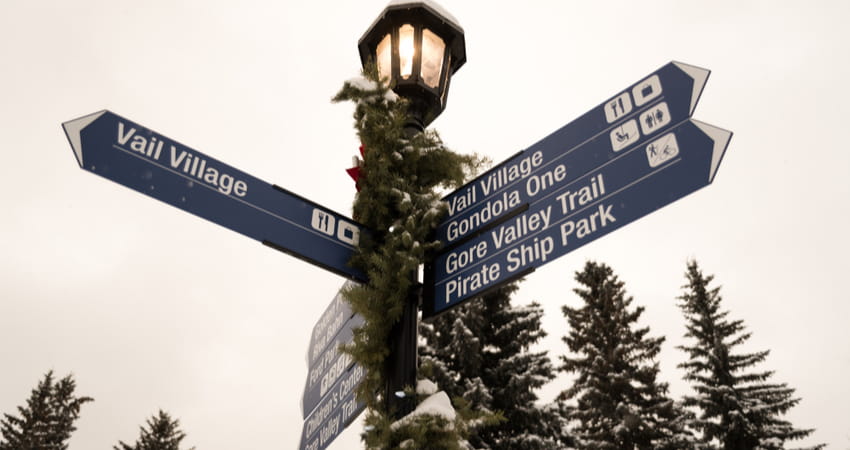 5.   Choose Your Resort Wisely
Colorado has more than two dozen ski resorts for visitors to choose from. Each resort has its own quirks and unique terrain, making some locations better for beginners while others are perfect for masters of the slopes.
Taking into account your group's experience level should be one of your first considerations while choosing a resort. Sure, most resorts have several trials for all experience levels, but some offer more opportunities for groups traveling with children and beginners. Resorts like Aspen Mountain and Telluride are havens for advanced skiers looking for adventurous trails,  while locations like Steamboat Springs and Beaver Creek may be better suited for beginners.
When it comes to your transportation, National Charter Bus puts no limit on your travels across Colorado. However, a ski trip from Denver to Echo Mountain Resort will run about an hour, whereas a trip from Denver to Purgatory Resort will take nearly 7 hours. That's a big difference. The miles are well worth it for some quality ski time—just expect some extra transportation planning to go into longer trips. If you're coordinating a multi-night stay after a long drive to Telluride or Steamboat Springs, be sure to reserve lodging for your driver as well.
Ready to Hit the Slopes?
We want your ski trip to be filled with memories of beautiful snow and wintertime fun, not the hassle of driving on icy roads or cramming overstuffed luggage into a trunk. Call National Charter Bus Denver at 303-317-3208 to reserve a charter bus for your next group trip to the mountains.
Tags In