Fun Places to Plan Socially Distanced Field Trips in Dallas
Dallas has so many fun and educational spots to see that normally, educators might have a hard time choosing where to plan a field trip! Unfortunately, due to the COVID-19 pandemic, organizing a field trip is a bit trickier than usual. Many popular destinations like the Perot Museum of Science, the Dallas Museum of Art, and the Dallas Zoo are closed to field trip groups at the moment. Most locations, though, are offering virtual field trips for students and educators continuing school online.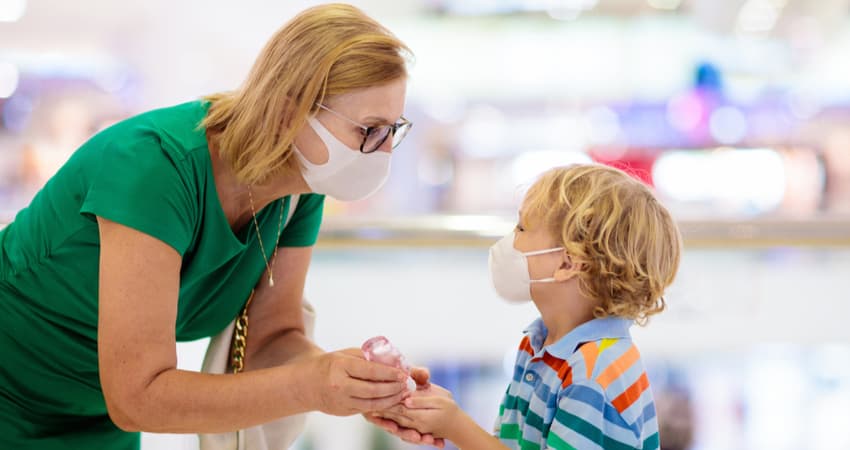 If your school has returned to small-scale in-person learning or you're a leader for a local youth group, learning pod, community organization, or scout troop—you have a few options for safe, socially distanced field trip opportunities.
As you plan a safe field trip for your students or scouts, you'll also want to consider what mode of transportation is best for your day out. National Charter Bus can provide a safe and sanitized charter bus rental in Dallas for field trips. We'll ensure your charter bus is thoroughly sanitized, and we can even book a spacious vehicle for groups who may need to social distance onboard. A National Charter Bus team member will help you organize your safe field trip transportation when you call 214-206-1981.
Let's take a look at where you can plan your next socially distanced field trip in Dallas!
Dallas Arboretum and Botanical Garden
Address: 8525 Garland Rd, Dallas, TX 75218
Phone: (214) 515-6615
The Dallas Arboretum and Botanical Garden is a wonderful outdoor destination right off of White  Rock Lake where kids can get in touch with nature. The arboretum features several gardens with native and exotic flora, including a Children's Adventure Garden outfitted with a playground, a discovery lab, and STEM-focused interactive exhibits. School programs can be organized in the children's garden or the main garden, and they can cover topics like plant and animal life cycles, Texas' native wildlife, and how fruits and vegetables are grown. Keep in mind that the arboretum's educational programs are best suited for students in 3rd through 6th grade.
Arboretum-led programs are currently very limited, but educators can organize self-guided and teacher-guided field trips at this time. You'll need to request your field trip at least 3 weeks in advance, and group sizes may be restricted. All guests will be required to wear face coverings throughout the gardens, and children must wear gloves in the Children's Adventure Garden.
Charter bus rental parking: Bus rental parking is free and will be designated when your field trip is confirmed.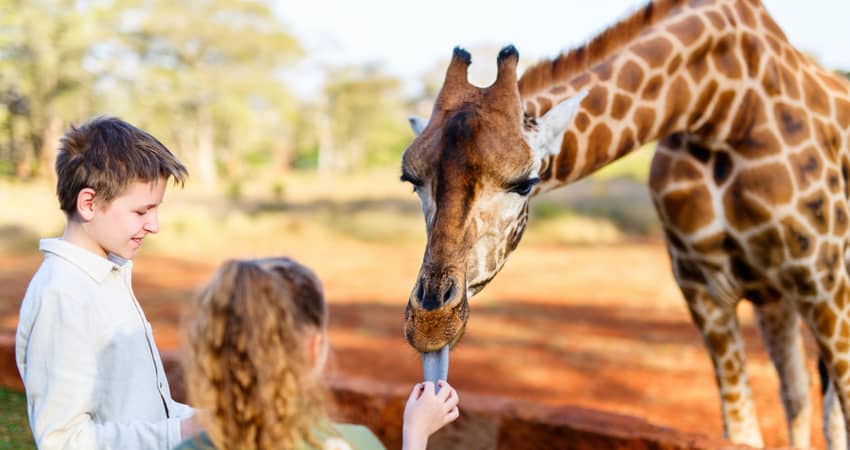 Fossil Rim Wildlife Center
Address: 2299 Co Rd 2008, Glen Rose, TX 76043
Phone: (254) 897-2960
Fossil Rim Wildlife Center is actually located in Glen Rose about an hour and a half from Dallas. The drive is well worth it for a safari field trip! This non-profit organization has a safari-style drive-thru tour where guests can interact with animals like giraffes, antelopes, and rhinos. Private guided options are available by reservation for small groups to hop on a safari tram with a personal tour guide.
Limited in-person educational programs are available for up to 10 people at a time. Current programs include nature hikes, animal talks, and small science experiments. All groups are required to reserve their visit in advance, and face coverings are required for any visitors outside of a vehicle.
Charter bus travel tip: If you're traveling in an oversized vehicle like a charter bus, you may not be able to participate in a self-guided drive-thru safari. Instead, inquire about where you can have your bus driver park while your field trip group participates in a guided tour or educational program.
Fort Worth Botanic Garden
Address: 3220 Botanic Garden Blvd, Fort Worth, TX 76107
Phone: (817) 463-4160
Although the Dallas Arboretum is closer and much bigger, the Fort Worth Botanic Garden is still a wonderful option for an outdoor field trip. The arboretum can get busy and may be unable to accommodate your field trip group, so try this nearby garden instead! The Fort Worth Botanic Garden has 17 garden collections that include a popular Japanese garden, a rose garden, and a desert garden.
The Fort Worth Botanic Garden partnered with the Botanical Research Institute of Texas (BRIT) to develop GROW educational programs. GROW field trips include self-guided and limited guided programs at this time. Sign your class up for a self-guided exploration through the gardens, or reserve spots in nature workshops for your local scout troop. The botanic garden also offers group size-restricted workshop days for homeschooled students.
Charter bus parking tip: Parking for BRIT programs is available in the garden's main lot. Additional overflow parking for the garden is available off of West Freeway on busy weekends.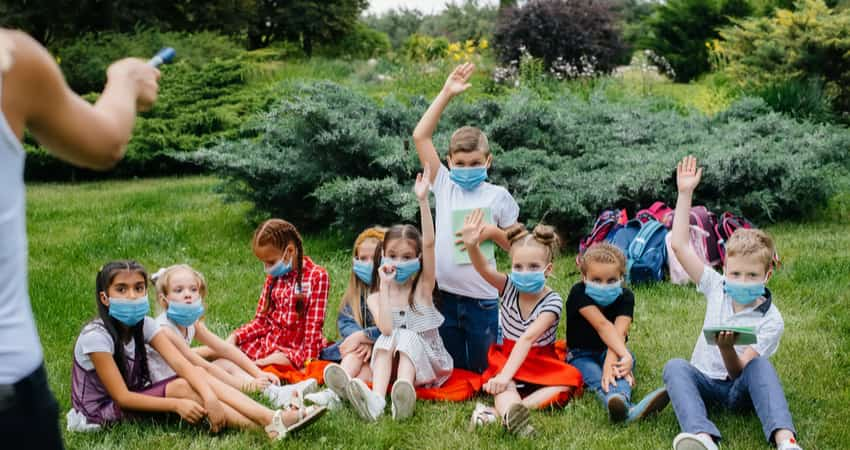 Texas Discovery Gardens at Fair Park
Address: 3601 Martin Luther King Jr Blvd, Dallas, TX 75210
Phone: (214) 428-7476
Although the 2020 State Fair of Texas was canceled and some museums and performance centers in the area remain closed, Fair Park still has a few attractions open. The Texas Discovery Garden isn't quite as big as the Dallas and Fort Worth gardens but is well worth a visit for small field trip groups. The discovery gardens have 7.5 acres of lush greenery for kids to explore, as well as a beautiful butterfly house and insectarium filled with more than 50 species of critters. Guests can also explore the gardens' snake house, home to 20 species of venomous and nonvenomous snakes.
The Texas Discovery Gardens holds EarthKeepers Educational Programs for field trip groups. All of their programs are TEKS-compliant (Texas Essential Knowledge and Skills) and are suited for students of varying ages. Younger students can learn about topics like the basics of gardening and butterfly life cycles, while older students can participate in programs that explore the benefits of composting and learning to build terrariums. Face coverings will be required throughout your group's time in indoor spaces, and they may only be removed if spending extended time outdoors, away from other guests.
Charter bus travel tip: Enter Fair Park through Gate 5 at the intersection of Robert B. Cullum Blvd. and Grand Ave. Charter bus and motorcoach parking is available at several lots in Fair Park.
Museum of Illusions
Address: 701 Ross Ave, Dallas, TX 75202
Phone: (214) 432-1582
An optical illusion museum may seem like an odd choice for a field trip, but the Museum of Illusions offers a fun way to promote critical thinking. This museum is relatively small but has plenty for kids to enjoy! Exhibits include a vortex tunnel, brainteasers, dilemma games, holograms, and other interactive optical illusion experiences. Students will be challenged to think critically to solve puzzles and will learn about concepts like gravity and size ratio perception. If you have students or campers who have sensory sensitivities, this museum could be overwhelming for them and may not be the best choice for your field trip.
Group reservations are available with a prior request through the museum's website. Guest capacity is limited, so it's important that you request your field trip a few weeks in advance to give the museum adequate time to organize accommodations. All guests will be required to wear face coverings, and access to some hands-on games may be limited for sanitization purposes.
Charter bus parking: Finding parking in Dallas's West End district can be tough. The museum does not have a private lot, so you will have to organize nearby street parking for your bus rental or reserve an oversized space at a public lot.
Plan a Safe Field Trip in Dallas Today
Ready to get your students out and about for a field trip day around Dallas? Leave the field trip transportation up to National Charter Bus Dallas. Your professional driver will ensure your students are safe on the roads, as well as keep your charter bus rental as clean as possible. Call the National Charter Bus team today at 214-206-1981 to secure your field trip ride!
Tags In