How We're Keeping You Safe During COVID-19
If you're planning to travel under the current circumstances, you probably have some questions or concerns when it comes to your passengers' safety—and rightfully so.
National Charter Bus has put together this guide to how our network is handling pandemic travel so you can know what to expect and reserve your bus rental with peace of mind.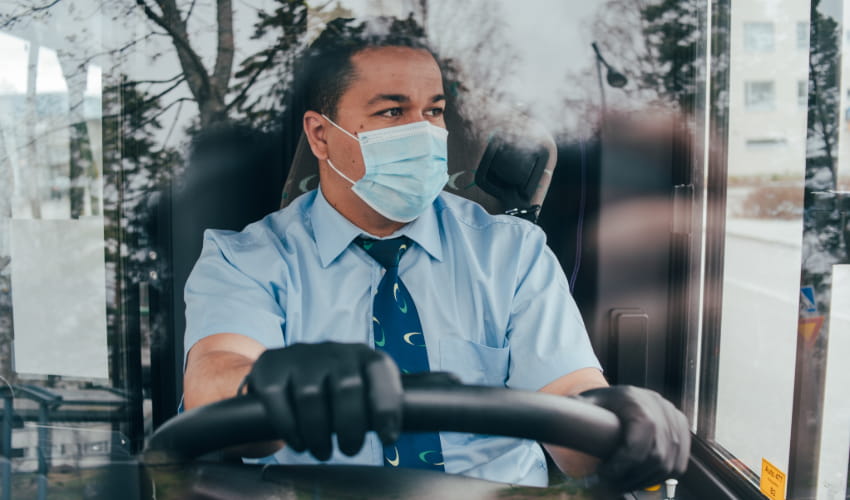 Is it safe to travel?
For the foreseeable future, no method of group transportation is 100% guaranteed to be safe. If your travel isn't essential, the safest option is to just stay home.
However, if you do plan on traveling in a group, we at the National Charter Bus team will go the extra mile to ensure your trip is as safe as possible. Whether you're transporting essential staff to and from work, providing emergency shuttles to victims of natural disasters, or taking kids to school, we will secure you a clean and sanitized bus and help your group social distance while on the road. Keep reading to learn more about the steps we're taking to keep your group safe.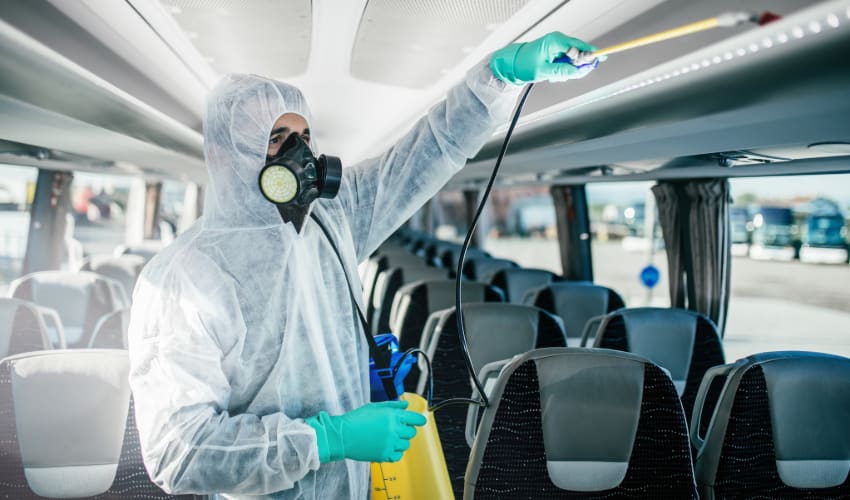 What you can expect from us:
Here are the basics of what you can expect from your National Charter Bus rental.
To keep your buses clean and ventilated.
Buses in our network are regularly sanitized—with particular attention given to high-touch areas like handrails—using EPA-registered solutions that the CDC has confirmed kill the virus.
In addition to the best sanitation practices, bus providers in our network have been informed by the CDC how to ensure the best ventilation conditions on buses while limiting onboard humidity. Providers in our network have been encouraged to work with their HVAC suppliers to increase the filter efficiency of their ventilation units and provide portable HEPA filtration units when possible.
An experienced and reliable driver.
Your driver will be well-versed in the importance of social distancing, wearing face masks, frequent hand-washing, and limiting contact with their eyes, mouth, or nose as much as possible. Drivers in our network have received training regarding what COVID-19 symptoms look like, how the virus is spread, and what to do if they believe they are sick. If they test positive for COVID-19 or display symptoms, they are granted flexible leave and must stay home until they've been symptom-free for at least 10 days.
In addition, the CDC encourages bus providers to provide employees soap, clean water, and single-use paper towels around the bus lots for drivers to use when they're not driving. When they are driving, your driver should have access to hand sanitizer made with at least 60% alcohol at all times.
Accommodations you can request.
No matter what will make your group the most comfortable, our team will work with you to make it happen. Here are some suggestions for specific COVID-related accommodations we offer:
You can request a bus that's bigger than you need. For example, under normal circumstances, your 20 passengers could easily fit in a 20-passenger minibus But if you'd like to arrange a staggered seating formation so everyone can social distance en route, you'll need to reserve a larger model, such as a 56-seat charter bus rental.
You can ask us about providing temperature checks to everyone as they board the bus.
Depending on the buses' model and layout, you can designate separate doors for entering and exiting the bus to promote single-direction foot traffic.
You can ask us to establish physical barriers between bus transit operators and passengers, like strip curtains, plastic sheets, or similar partitions.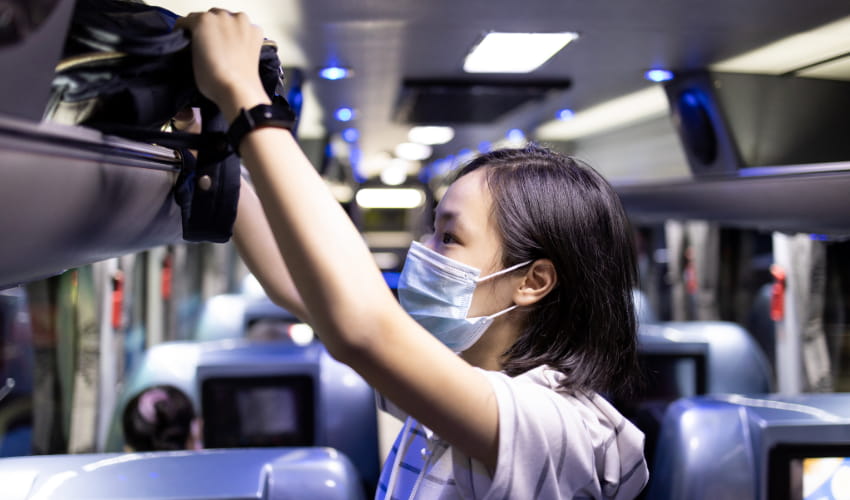 What you and your passengers can do:
We at National Charter Bus are doing all that we can to ensure your safety, but there are a number of steps passengers can take to further minimize health risks during your trip. For example:
Bring your own hand sanitizer (containing at least 60% alcohol) and disinfectants for your personal items and luggage. Our providers should have some handy in case you forget, but it never hurts to carry your own.
If you're traveling on a full-sized charter bus, you will likely have an onboard restroom with a sink, soap, and paper towels. If there's no line, feel free to use these to keep your hands clean as well.
Ask your passengers to get tested or self-screen for COVID-19 symptoms before you embark, and minimize exposure to others prior to your trip.
Require everyone to wear a cloth face mask both on and off the bus, and encourage everyone to maintain a distance of 6 feet from other passengers when possible.
If you can, open your bus's windows to improve the flow of fresh air while the bus is in motion.
Pack your own food and snacks to minimize the number of pit stops you make. When you reserve a full-sized charter bus, your group should have plenty of room to stash picnic lunches and coolers in the luggage bays.
Avoid overnight travel plans whenever possible. But if you do need to find a place to lay your head, read up on your lodgings' mask requirements and guest occupancy limits before you reserve your rooms. When booking your hotel, inquire about booking a room block for your group to keep your contact with the rest of the hotel to a minimum.
What about essential employees?
Of course, not everyone has the option to stay home during the pandemic. If your workplace requires employees to be on-site—from corporate staff to medical personnel—National Charter Bus can help. Rather than having your employees navigate public transit or figure out carpool situations, we can help you set up a commuter shuttle service based on the routes and rules that work for your business. That way, your employees will only come in contact with coworkers they already see every day, and they'll arrive refreshed thanks to small comforts like free WiFi, individual power outlets, and reclining seats.
Cancellations and reservation changes
We know these are strange times, and your group travel plans can change at a moment's notice. Reserve a ride through National Charter Bus, and we'll keep at least one thing constant: reliable transportation on your terms. That's why we'll work with you if you need to modify your reservation or cancel your trip. You can cancel your plans up to 14 days prior to your scheduled departure, and you'll still receive a full refund.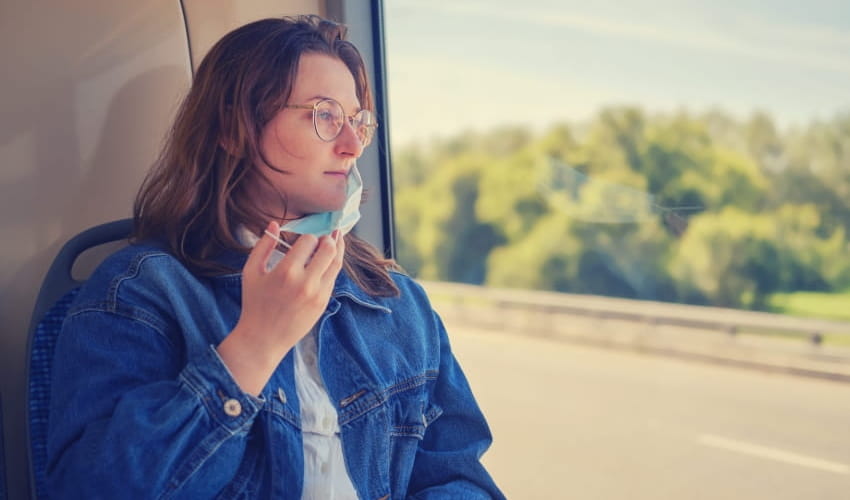 Travel Safely with National Charter Bus
Any questions or concerns? We want to hear them. Give us a call at 1-844-755-0510, and our 24/7 team can assist you with your rental and offer a free, no-obligation quote.