A Group Guide to Visiting Glacier National Park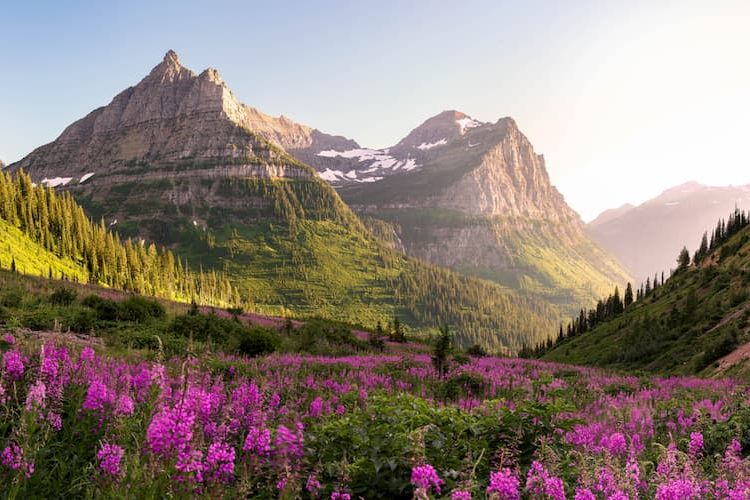 Situated in Montana's Rocky Mountains, Glacier National Park is easily one of the most majestic parks in the U.S. This 1,583-square-mile wilderness holds pristine forests, snow-capped mountains, crystalline lakes, and meadows full of flowers.
If your group wants to hike, camp, or ski in Glacier, National Charter Bus can help you get there. We offer modern motorcoaches with reclining seats to take your tour group from Seattle or Portland to Montana. Just give us a call at 1-844-755-0510 to book a charter bus for your next adventure.
Quick Navigation
Hiking
Nature Trails
Tips for Hiking Safely
What to Bring When Hiking
Guided Hiking
Camping
Campgrounds
Tips for Camping Safely
What to Bring When Camping
Driving and Parking a Charter Bus in Glacier
Driving
Parking
Shuttles
Plan a Trip to Glacier with Your Group
About the Park
The Continental Divide runs down the center of Glacier National Park, separating it into west and east sides. West side trails start at around 3,200 feet in elevation and offer heavy trees and a great deal of solitude. East side trails start at around 5,000 feet and have fewer trees, which means they often have more expansive views and heavier crowds.
Much of Glacier National Park is untouched backcountry, but Going-to-the-Sun Road, the main thoroughfare that cuts across the park, is lined with visitors' centers, chalets, and lodges that are open during peak season (May-September). If you're not an experienced adventurer, you'll probably want to stick to the trails and hotels around this main road.
If you do spend plenty of time outdoors, you can venture to the hiking trails or campgrounds farther out in the backcountry. This is where you'll find much of the park's wildlife, like mountain goats, bighorn sheep, lynx, and grizzly bears. Just make sure you keep your distance!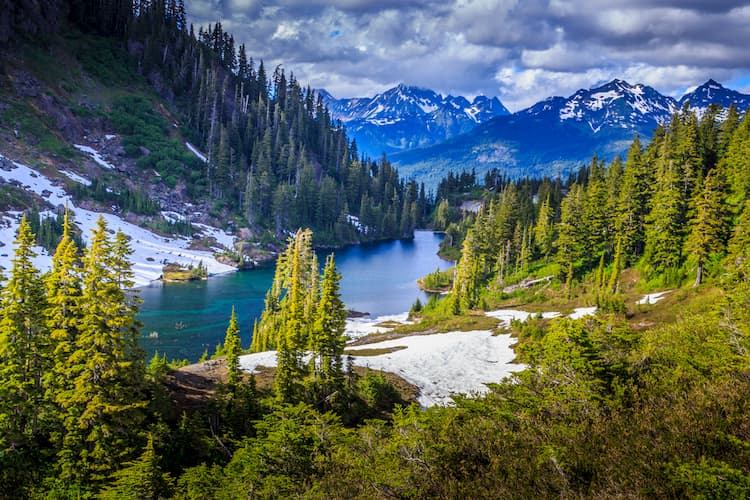 Seasons and Weather
It's always important to think about the weather when visiting a National Park, but it's especially important when you visit Glacier. Glacier typically has snow in its higher elevations from September to mid-July, and lower trails may still have snow from late September until June. In winter you can expect below-freezing temperatures, and even in summer nighttime temperatures can drop into the 30s. Make sure you do your research and pack plenty of layers before venturing into the park.
Because Glacier has such cold temperatures and heavy snowfall, many of its amenities are only open in late spring or summer. Concession stands, hotels, restaurants, boat rental shops, and horseback riding stables are usually open from May to early September. Going-to-the-Sun Road and many of the hiking trails also open as the snow melts.
This means that if your group visits from mid-September to April, you'll have fewer options for lodging, food, and trails. However, you can engage in backcountry skiing, snowshoeing, and rustic camping with lower crowds. Check the park's website regularly before your visit to learn what will be open or closed.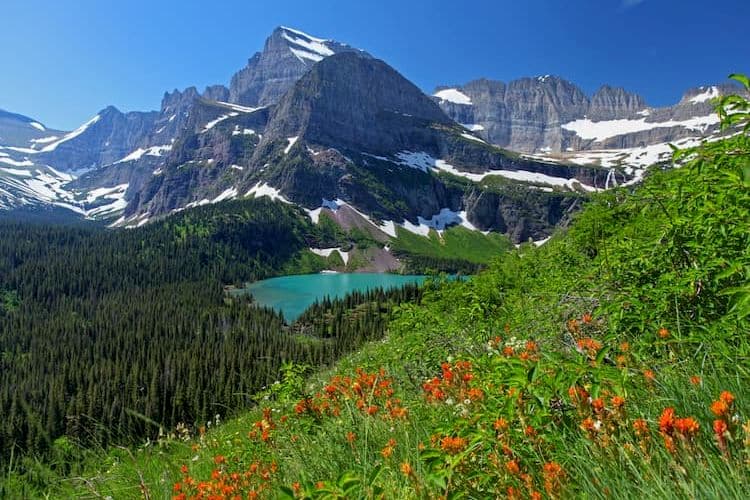 Hiking
Glacier National Park has more than 700 miles of hiking trails, and thousands of people hike the park's 158 named trails each year. The National Park Service divides the trails into five sections, listed below:
When you're trying to pick the right trail for your group, make sure you do your research. You could end up in a dangerous situation if you choose a trail that's too steep or long for your level of hiking experience.
Nature Trails
If you're not sure that your group is up for a challenging hike, you may want to try one of the park's nature trails. Trail of the Cedars, Forest and Fire, Hidden Lake, Running Eagle Falls, and Swiftcurrent Nature Trail are all beautiful walks that give you glimpses of the park's flora and fauna and are ideal for beginning hikers or groups with kids.
The Trail of the Cedars and Running Eagle Falls are also the only hiking trails that are wheelchair-accessible. (Going-to-the-Sun Road and many of the park's shuttle bus tours are accessible as well, though they aren't hiking trails.) Mobility aids and trained service dogs are permitted in the park, though service dogs are discouraged due to the risk of dangerous interactions with bears.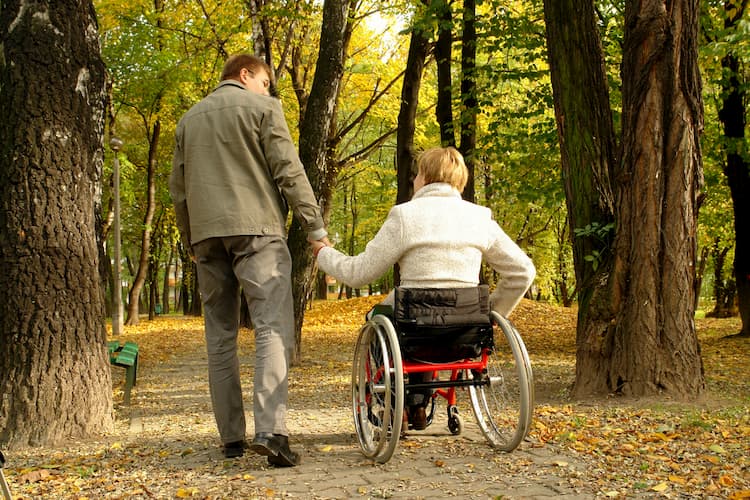 Tips for Hiking Safely
If you're planning to tackle Glacier's trails, especially the more intense ones, make sure you follow these tips to keep your group safe:
Stop at a visitor center or ranger station or check the park's website to learn about trail and weather conditions before you leave.
Familiarize yourself with hazards on your chosen hiking trail.
You probably won't have cell phone reception in the backcountry, so tell someone who is not on the hike where you're going, when you'll be back, what route you're taking, where your car is parked, what the license plate number is, and what you'll be wearing. That way they can find help for you if your group doesn't return and can't call or text.
Consider completing the voluntary Day Trip Plan PDF and leaving it with the front desk of your hotel or with a traveling companion that is not hiking with you.
Hike as a group for safety from wildlife.
Keep your group together. Most dangerous situations occur when someone gets ahead of or falls behind the group.
If somebody falls or gets hurt, help may take hours or days. Make sure everyone in your group has water, food, and basic first aid supplies.
What to Bring When Hiking
Although Glacier has concession stands and stores that are open during the summer, it's still important to bring supplies when hiking—especially during winter, when the stores aren't open. Here are a few items you shouldn't hike without:
Sturdy footwear
Plenty of water (surface water in the park may not be safe to drink)
Bear spray (read about how to use it before hiking)
Mosquito and bug repellent
Sunscreen and a hat
Rain gear and layers for warmth
Snacks or a lunch (don't leave trash behind: if you pack it in, pack it out)
Guided Hiking
Hiking independently in the backcountry isn't for everyone. During peak season from May through September, rangers frequently host free, guided tours departing from the park's visitor centers. If you'd like a personalized tour, your group can also hire a Glacier Guide, a professional trail guide who is licensed to operate within the park. Or take a boat tour and then have a guide lead you around the trails by booking a tour with the Glacier Park Boat Company. Groups who aren't prepared to tackle the park alone have plenty of options.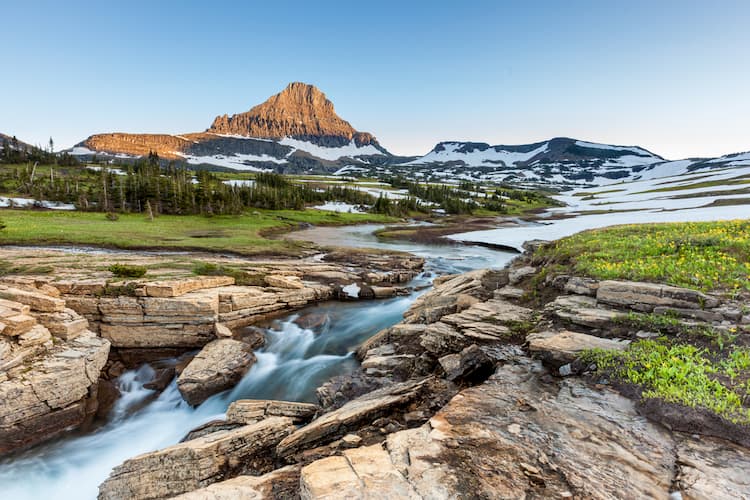 Camping
Although Glacier National Park has hotels and lodges open during the summer, many groups choose to camp for a more natural, rugged experience. But Glacier has many camping regulations in accordance with Leave No Trace laws, so you'll need to do some research before you pitch your tents.
Campgrounds
Glacier National Park has 65 campgrounds in the backcountry. In order to camp at any of them, you'll need a Backcountry Permit from the Agpar Backcountry Office or the St. Mary Visitor Center. In winter, you must reserve your permits online or at the office 3 to 7 days in advance. From May to October, you can get permits the day you want to camp. But you'll probably need to arrive at the office or visitor center early, as permits sell out quickly. Permits cost $7, and you must watch a Backcountry Camping video created by the National Park Service to obtain one.
Once you have a permit, your group will be assigned to a designated campsite. At-large (undesignated) camping is only available in the Nyack/Coal Creek camping zone. No more than 12 people will be granted a permit for the same campground, so larger groups may need to split up. Each campground has 2-7 campsites, and each campsite can hold up to 4 people and up to 2 tents.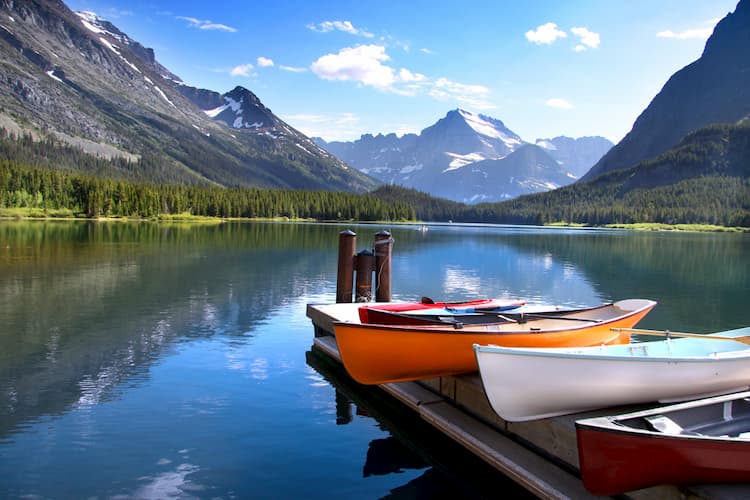 Tips for Camping Safely
Camping is undeniably fun, but camping in the backcountry can also be risky. Here are a few tips to keep your group safe:
Never camp alone. If you need to split into smaller groups, make sure everyone has a companion.
Use extreme caution when crossing snowfields, glaciers, and snowbridges. These frozen areas can be slippery or collapse.
Hypothermia is a real risk in Glacier, especially at night. Dress in layers with synthetic or wool clothing as a base layer. Put on rain gear before you become wet, and replace any wet clothes with dry ones. Staying out of the wind and eating high-calorie foods can also help you stay warm.
Be careful when fetching water. The glacial streams and rivers in the park are cold, and the water moves quickly.
Bring a water filtration system or boil water for 1-5 minutes to kill bacteria before you drink it.
Stay at least 100 yards away from bears and wolves and 25 yards away from all other wildlife. Make sure any animal you see has a clear route away from you, and move if it tries to come near you.
What to Bring When Camping
It's important to be well-prepared for camping in Glacier. Here's a list of items your group should be certain to bring:
Bear spray
Topographic map
Compass
First-aid kit
High-calorie food
Shelter
Sleeping bag and pad
Appropriate footwear
Wool or synthetic clothing to layer (dry clothes to sleep in)
Rain jacket and pants
Lightweight camp shoes
Footwear for stream crossings
A weatherproof food and garbage hanging bag
25 feet of rope for hanging food and garbage
Water container and water filter
Camp stove and fuel
Emergency signaling device
Insect repellent
Driving and Parking a Charter Bus in Glacier
Since Glacier National Park has limited parking, bringing a caravan of cars there isn't always easy. A charter bus or minibus can hold your entire group and therefore limit the number of vehicles you'll need. If you do plan to rent a bus, though, it's a good idea to figure out where your bus will be able to drive and park.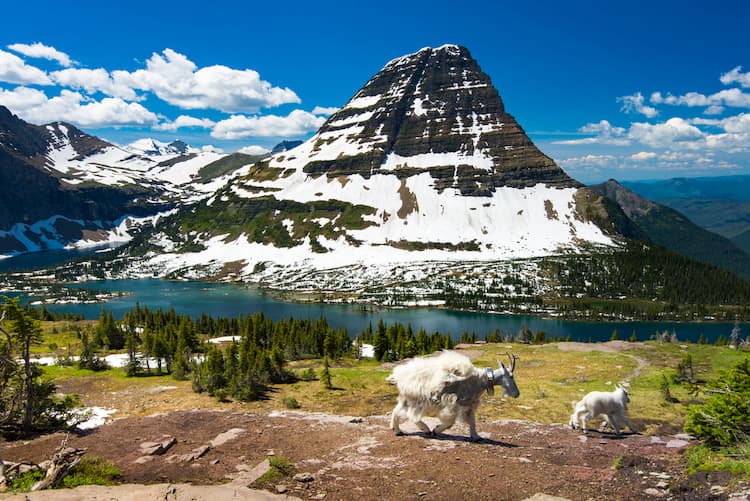 Driving
Many roads around Glacier National Park, like parts of U.S. Hwy 89, are seasonal. Check the Montana Department of Transportation map before your trip for the status of roads outside the park. For the status of roads inside the park, you can check the NPS website. Also note that there are no gas stations inside Glacier, so you'll probably want to fuel up beforehand.
Parking
Because Glacier only has three major visitor centers where people can park, spots can be very limited. Arrive early to increase your odds of finding a space at one of these locations.
St. Mary Visitor Center (east side)
Location: Adjacent to the St. Mary Entrance Station on Going-to-the-Sun Road, near the town of St. Mary on U.S. Hwy 89 on the Blackfeet Indian Reservation
Hours: Open daily late May to early October
Apgar Visitor Center (west side)
Location: Entry off Going-to-the-Sun Road, approximately 2 miles from the West Glacier Entrance Station near the town of West Glacier, Montana
Hours: Open daily mid-May to mid-October
Open weekends in fall, spring, and winter as staffing allows
Logan Pass Visitor Center (Going-to-the-Sun Road)
Location: In the middle of the park at the highest point along Going-to-the-Sun Road, approximately 32 miles from the West Glacier Entrance and 18 miles from the St. Mary Entrance
Hours: Open daily 9:30 am to 5:00 pm until September 29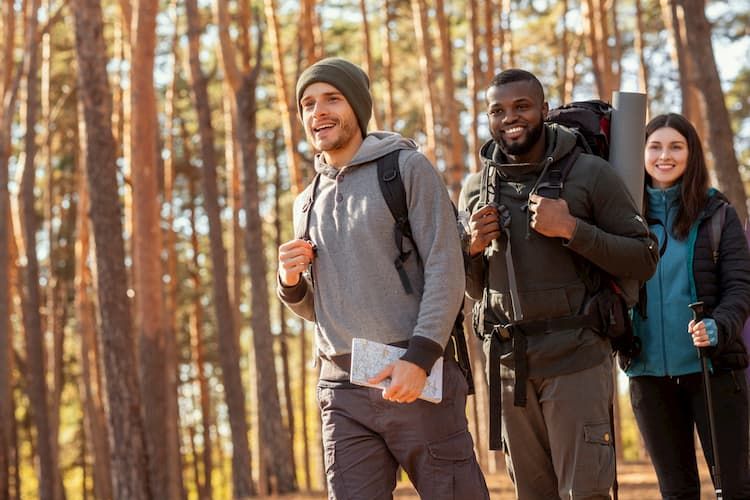 Shuttles
After your bus parks at one of the visitor centers, you may still find yourself a long way from the hiking trail or campsite you want to visit. Luckily, Glacier has a series of shuttles that your group can catch.
Glacier Shuttle System
A free shuttle along Going-to-the-Sun Road between Apgar Visitor Center and St. Mary Visitor Center that stops at trailheads along the way
Glacier National Park Lodges Hiker's Shuttle
A fee-based shuttle from Many Glacier to the St. Mary Visitor Center that runs only during the summer and stops at many trailheads
Glacier Park, Inc. Hiker's Shuttle
A fee-based shuttle that runs on the east side of the park with seasonal availability
Plan a Trip to Glacier with Your Group
Whether you're a group of hardcore hikers who want to experience Glacier's challenging mountain trails or a group of beginners who just want to stroll along a nature trail, you'll find beauty and serenity at Glacier National Park. And if you need a way to get to the park, National Charter Bus would love to help. Just give us a call at 1-844-755-0510 to find the charter bus that's right for your group—all at a reasonable and transparent price.