The Ultimate Guide to Group Camping
Rule Number One: never camp alone.
As much as we like to romanticize the idea of venturing out into the wilderness alone—disconnecting from society and becoming one with nature—that's not exactly realistic, nor is it the safest route.
Besides, no matter the location or occasion, camping is always better with friends! Or a few friends. Or even 30.
Coordinating a large group camping excursion requires a lot of planning and legwork—and, given the weather, just a touch of luck. That's why we at National Charter Bus assembled this comprehensive guide to planning a group camping trip that covers all the bases: from small tips and tricks to popular trip locations for large groups, from securing the ideal campsite to securing your perfect ride into the wild.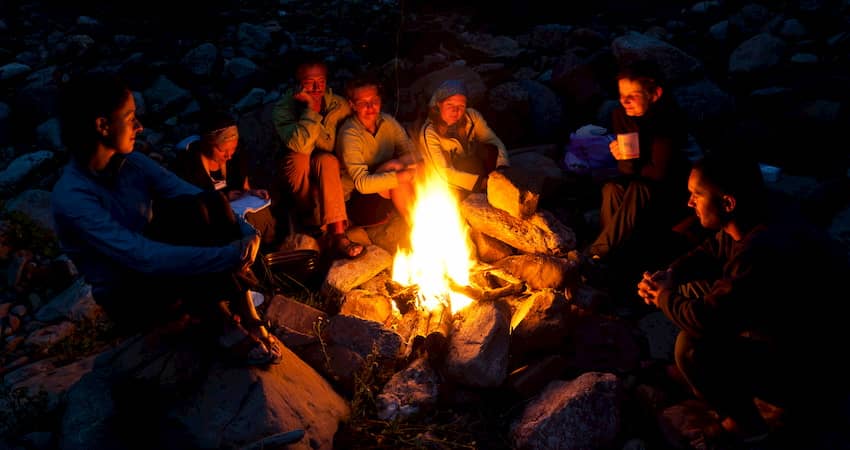 Group Camping Transportation
To avoid travel-related roadblocks that would otherwise hinder your camping plans, sort out the transportation logistics well in advance. Getting anywhere with a large group can be a hassle, but this is especially true if you try to coordinate carpools, pack your gear across multiple personal vehicles, and find enough campground parking for everyone.
That's why we recommend reserving a private transportation service: a provider like National Charter Bus will take care of the details so you don't have to!
When you call our 24/7 reservation team at 1-844-755-0510, a knowledgeable rep will connect your campers with a spacious and safe motorcoach, a professional driver, and any amenities you think your campers will need for total on-the-road comfort.
Even if your campers are rugged outdoor purists looking to get away from modern comforts, that doesn't mean you can't enjoy a few moments of onboard WiFi connection, ensure your devices are charged before you hit the trail with personal power outlets, or stretch out in a climate-controlled cabin after a long day of trekking. With enough space to comfortably carry up to 56 passengers at a time—and roomy luggage bays to store even the bulkiest of gear—a private charter bus rental is not only the easiest way to transport large camping groups, but the best comfort investment in the long run.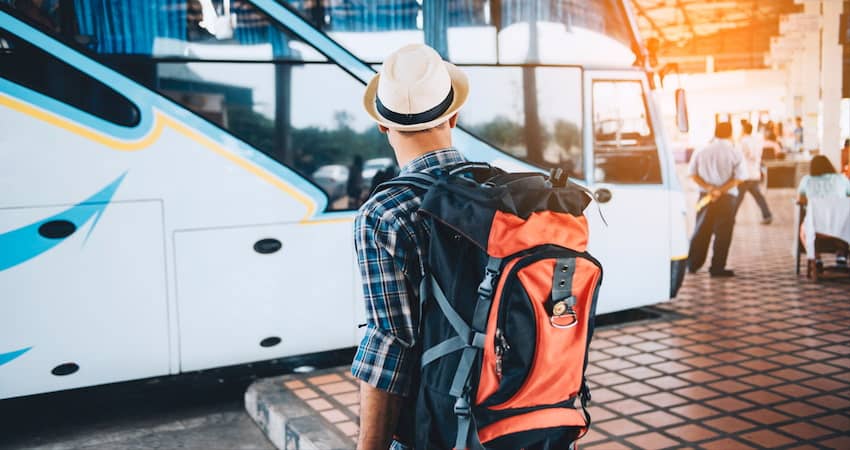 Reserving Lodging
As with many aspects of planning your adventurers' next group camp, some places are on a first-come-first-served basis, even for the group sites. Others have very limited parameters when it comes to how many people can stay on a given spot and requires larger groups to break off into smaller camps.
Also keep in mind that while your group of campers may not mind roughing it out in the wilderness, your bus driver may disagree. If your group is camping overnight—or if you're planning a camping trip that involves traveling through the night—you'll want your driver to be well-rested. Many hotels provide discounted room and board for professional operators, so be considerate of their comfort when you reserve their lodging.
While you're weighing your driver's lodging options, ask the potential hotels on your shortlist about bus parking. Some places can accommodate oversized vehicles—usually with an increased parking fee—while some hotels are located near motorcoach-friendly public lots.
5 Tips Before You Hit the Trail
We know that if you're planning a group camping trip, there's a lot to consider, from wrangling up gear to drafting an itinerary that appeals to all skill levels. While the list of pre-trip checkboxes could go on for pages and pages, we've found that as long as you hit the following bullet points, your group camping trip should go off without a hitch: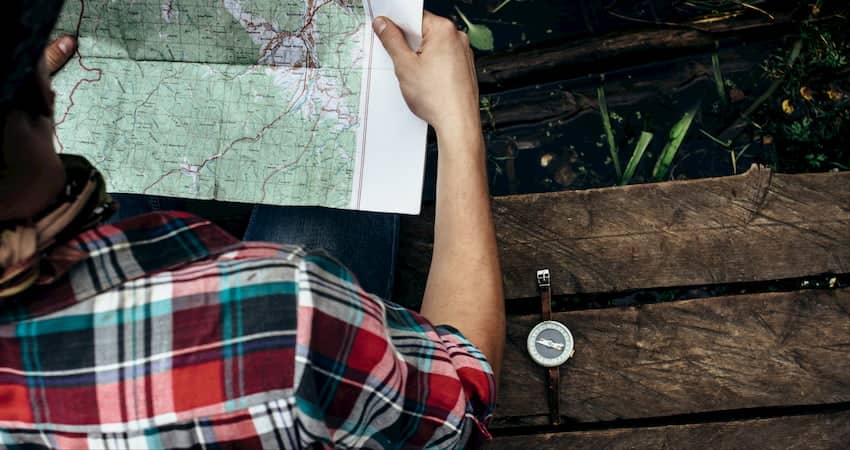 1.   Designate a leader.
Coming up with big ideas like itinerary plans and day trip destinations can be a team effort—in fact, we recommend it! Letting each camper pitch one or two activity ideas means everyone will have at least one thing to look forward to during your camping trip.
However, when it comes to making reservations and keeping everyone up to date, leave all the coordinating to one person and one person only. If everyone does their own thing, or if too many people have final say on trip details, your group camping trips runs a higher risk of miscommunication, reservation mistakes, and overlooked details.
We recommend selecting a leader who can serve as a point of contact for campgrounds, outfitters, caterers, or any other vendors your group may need, and also keep everyone in the loop about the "wheres" and "whens."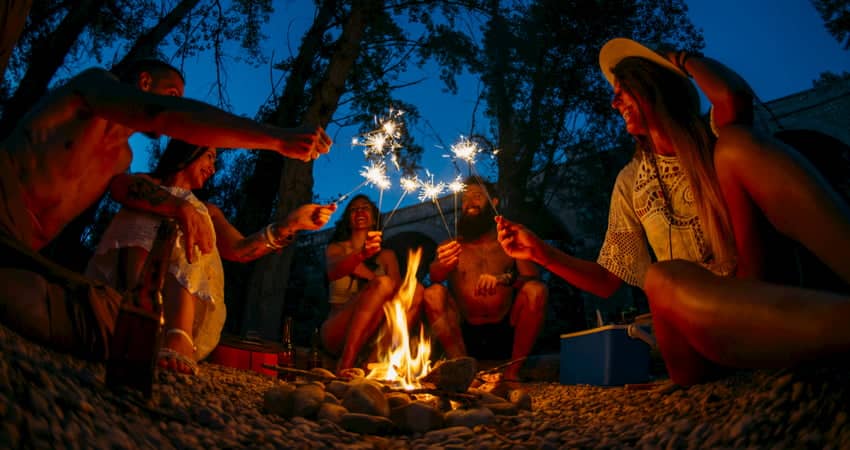 2. Assign duties.
Again, we definitely recommend appointing a group trip leader to hash out all the important details. However, that doesn't mean they have to handle all your pre-trip logistics alone. If you're the designated planner, don't be afraid to divide and conquer!
Unless you have a lot of free time before the trip, you're going to need all the help you can get when it comes to rounding up supplies. Yes, some stuff, like sleeping bags, sleeping pads, and personal hygiene items, are a burden everyone must bear individually. But community gear that's shared by the group? Split it up! Make a list of everything your group will need, separate the gear responsibilities into broader categories—like "food" or "shelter" or games—and assign the categories to your most trusted campers.
Once you get to the campground, task your fellow adventurists with small jobs that benefit everyone, like gathering wood and starting campfires, cooking meals, or babysitting the little campers. That way, everyone has a chance to get involved in camplife, and you don't get stuck with all the work.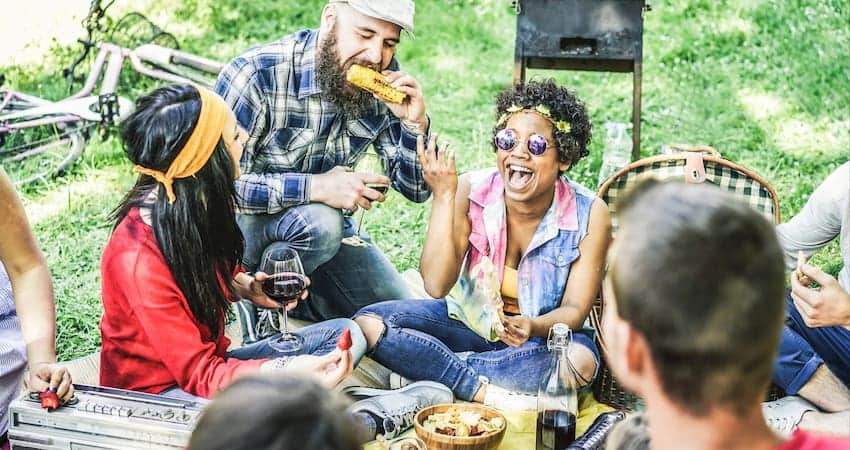 3. Balance full group, small group, and individual activities.
Sure, there's nothing like sharing the great outdoors with the whole group, but not everyone will want to do the same thing—all together—at all times. To avoid an early burnout, strike a balance between group activities and individual alone time. This planning can apply to all aspects of your trip, including small group excursions and day-to-day camp life.
For example, how will your group handle meals? Are families responsible for providing their own food? Will individuals take turns cooking for everyone? Both approaches to meal planning have their pros and cons, but which one works best for you and your friends?
Once you have questions like these nailed down, your group will not only have a better idea of what supplies you'll need, but you'll know how much wiggle room you should allot in the itinerary for small group and individual activities.
Bus tip: Planning activities for different group sizes means you'll need different kinds of transportation for each activity. While your entire camping group can comfortably fill a full-sized charter bus, a compact minibus shuttle may be a better fit for a small group's day trip away from the campground. Clue your reservation rep in to any potential side adventures, and they will be happy to mix and match your fleet to suit your itinerary.

4. Book well in advance.
Campsites go quickly, especially if you're planning to take on the wilderness during Spring Break or the summer months. Even worse, the chances of securing a good site dwindles as more campers tag along, so consider procrastination your enemy if you're camping in a large group.
If you're planning to camp with more than 10 people, or if you're even slightly choosy about location—which, honestly, you should be—reserve your site as early as possible. Most Federal and State parks will allow you to book 6 months prior to your arrival date. The best campsites could very well fill up on the same day reservations become available, but cancellation fees are generally minimal. In other words, it's better to contact your preferred campground as soon as you get a headcount and choose the dates, so your group will have better luck getting enough spots to accommodate everyone.
Bus tip: This advice especially applies to booking your campers' transportation to and from the campgrounds. For the best rates and motorcoach selection, reserve your shuttle service at least 3 months in advance if you're camping in the off-season, or 6 to 9 months ahead of time during peak camping season.

5. Hope for the best, plan for the worst.
Before the trip, make an easily accessible list of all the emergency gear your campers could possibly need, including but not limited to rainproof gear, extra tarps and rope, jackets, and so on.
…And then expect someone to forget something important.
It happens all the time, even for seasoned outdoor enthusiasts. Tents get tears, campers forget their boots, and sometimes Mother Nature is all too eager to rain on your parade. Your group can either bum around your campsite and wait it out, or roll with the punches.
If you have the space, consider bringing an extra sleeping bag, first aid kit, and change of clothes just in case someone needs them. Even better, invest in a large community tent for eating, playing cards, and all-around merry-making. In a pinch, it can even double as extra sleeping space—should someone forget a sleeping bag or a cabin becomes out of commission.
Bus tip: Worried about space? The average charter bus offers enough storage capacity for each passenger to bring one suitcase-sized piece of luggage, as well as room in the cabin for everyone to bring a small-to-medium-sized backpack. If you think your group will require more space to stow tents, kayaks, folding tables, and the like, just let your reservation rep know! We'll hook up your group—literally—with a trailer hitch to transport all your oversized outdoor equipment!
Popular Group Camping Destinations
Need help picking a place to set up camp? No worries! Here are some of the United States' most popular destinations for group campers:
Yellowstone National Park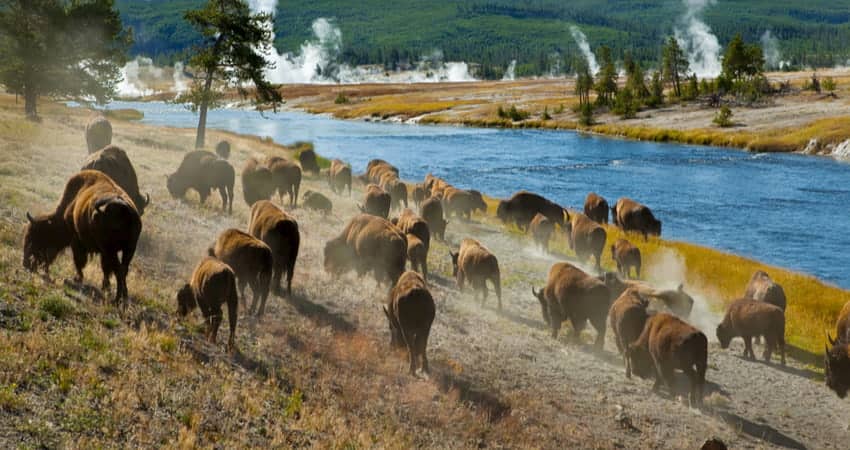 Yellowstone and group adventures go together like s'mores and campfires. Whether your group is into day-hiking, geyser-viewing, wildlife-watching, or waiting patiently as an entire bison herd ambles across the road, no one should pass up the chance to see one of the best preserved slices of the American West. As one of the most iconic National Parks in the United States—drawing in over 4 million visitors every year—sharing this natural wonder with a large group is a no-brainer.
However, securing enough sites for a group camp can be tricky. Given its relatively untouched terrain and the NPS's inclination to keep it that way, group-friendly sites on Yellowstone grounds itself are few and far-between; all told, there are 6 lodge/cabin/hotel options, 3 tent-only campgrounds, and one RV park available for group reservations.
It's not uncommon for reservations at Yellowstone National Park to fill a year and a half in advance, so be sure to fill out a group camping request form as soon as you get a headcount.
For reference, here's a brief overview of the 3 major grounds available to groups camping in Yellowstone:
Place
Type
# of Group Sites
Site Capacity
When It's Open
Grant Village

Campground

Tent only
8
20-60 people
Early June to Mid September
Bridge Bay Campground
Tent only
6
25 people, 3 vehicles
Mid May to Late September
Madison Campground
Tent only
3
15-20 people, 3 vehicles
Late April to Late October
Grand Canyon National Park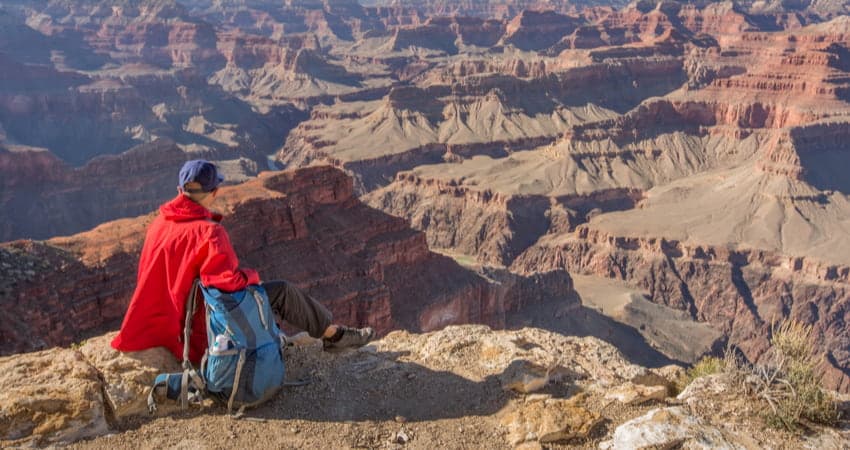 At points in our lives, we are faced with difficult decisions we must make. Settling on where to stay in Grand Canyon National Park is no exception.
On one hand, there's the South Rim in all its photogenic glory. Sure, the peak season crowds can be a pain—considering this rim draws 90% of its 5 million annual visitors—but believe us, there's a reason so many flock to the South Rim. The views alone are well worth the multi-hour drive from the likes of Las Vegas and Phoenix.
On the other hand lies the North Rim, quiet and oft-overlooked. While this rim offers fewer lookouts across the canyon, the views you do see are more colorful and secluded. In fact, many National Park veterans consider a trip to the North Rim the most genuine way to experience the Grand Canyon in all its natural glory.
No matter where you inevitably set up camp, one thing is certain: experiencing the Grand Canyon is better with company. From day-hikes along the rim to backpacking trips into the canyon depths, outdoor excursions here can be thrilling and intense, so there's always safety in numbers.
Place
Type
# of Group Sites
Site Capacity
When It's Open
North Rim

Campground

Tent and RV camping
3
25 people, 3 vehicles
Mid May to Late October
Mathers Campground
Tent and RV camping
7
50 people, 3 vehicles
Early March to Late November
Great Smoky Mountains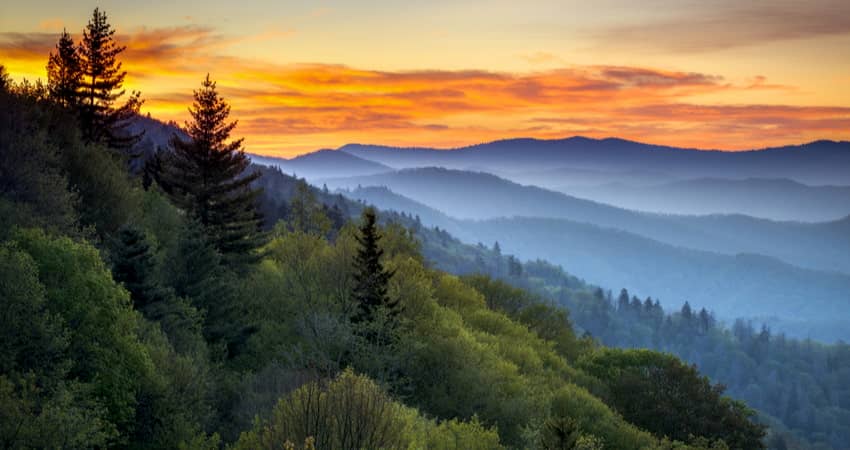 Many will tell you that the best time of year to visit the Smokies is fall. And with its rolling sea of deciduous trees awash in waves of reds, oranges, and yellows in autumn, who can blame them?
However, if you're looking to avoid the leaf-viewing fall crowds—or just don't want to handle the frigid nights when tents are involved—you're in luck. The Great Smoky Mountains boast year-round beauty, including wintery pristine snowcaps, wildflowers abound in spring, vivid greenery come summer.
Despite the Great Smoky Mountains' status as—well—a mountain range, this National Park is surprisingly accommodating to buses, motorcoaches, and oversized vehicles. Whether your campers decide to take the scenic loop through the tame hills and log cabins of Cades Cove, or brave the heights of Clingmans Dome, there's no shortage of sights and experiences to delight your group of outdoor enthusiasts! That being said, GSMNP still has plenty of hairpin turns and steep inclines that make bus access to specific campgrounds difficult, so read up on the park's bus restrictions before you book.
Place
Type
# of Group Sites
Site Capacity
When It's Open
Big Creek

Campground

Tent only
1
25 people
Mid April to Late October
Cades Cove Campground
Tent only
4
20-30 people
Mid April to Late October
Cataloochee Campground
Tent only
3
25 people
Mid April to Late October
Cosby Meadows Campground
Tent only
3
20 people
Mid April to Late October
Deep Creek Campground
Tent only
3
20 people
Mid April to Late October
Elkmont Campground
Tent only
4
15-30 people
Early March to Late November
Smokemont Campground
Tent only
3
20 people
Mid May to Late October
Reserve your Group Camping Shuttle Today
What are you waiting for? The great outdoors await you!
Whether you're looking for a quick shuttle to the outskirts of the city limits, or scouting some out-of-state parks, National Charter Bus is here to make your camp-bound transportation easy and stress-free.
When you call 1-844-755-0510, you'll be greeted by reservation specialist from our 24/7 team of travel experts. Your rep will be able to answer any transportation-adjacent questions you may have, walk you through your potential fleet options, and stand by as a reliable contact should you need to make any changes to your itinerary.
Give us a ring today to receive an instant free quote, no strings attached!