How to Park a Charter Bus in San Antonio
Have you ever planned an exciting day out just to find yourself frustrated with parking at your destination? It can be a buzzkill. If you're organizing a group trip around a busy city like San Antonio, a charter bus rental can help alleviate travel-related stress. You'll still need to organize parking for your bus, but don't worry too much—that's why National Charter Bus is available 24/7 at 210-343-2190 to help you book a bus and plan logistics.
Before you call in for your San Antonio charter bus quote, check out this helpful guide to parking your bus around the city's busiest areas. Your charter bus driver will handle the hard part, but giving them a clear idea of where to drop your group off and where to park can keep your trip rolling according to schedule.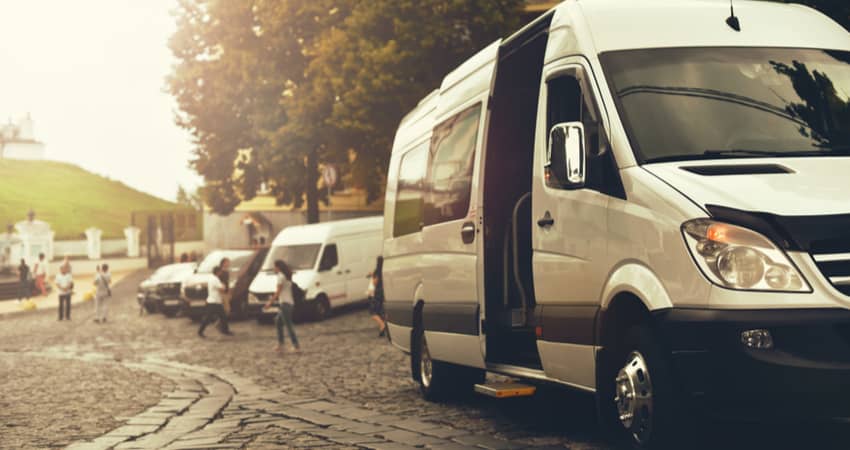 Parking at San Antonio Hotels and Lodging
If you're out-of-towners planning to stay in San Antonio overnight, you'll have to find a long-term parking spot for your charter bus. Depending on where your hotel is located, there may be on-site oversized parking for your bus. Busy Downtown San Antonio hotels are less likely to have on-site parking for your charter bus, but you can always inquire with the concierge ahead of time.
The best options for overnight accommodations are privately-run lots and public street parking. Private lots usually charge a base parking fee of around $60 a night, while street parking requires getting a permit from The City of San Antonio Right of Way Office. Once you reserve parking for your bus, be sure to book a nearby hotel room for your driver. The easiest way to simplify transportation to and from your hotel is to book a block of rooms for your entire group and driver. This will minimize the amount of time you'll have to wait for your driver to arrive and scoop your group up for your San Antonio event.
Street Parking Your Bus in San Antonio
When you contact the Right of Way Office, you'll need to know how many parking spots your charter bus will require and how many days you'll need the spots. Each street spot can accommodate a vehicle up to 22 feet long. Smaller models like minibuses can be parked in one or two spots, while a full-sized charter bus may require two or three spots.
Your permit fee will be totaled as follows: ($30 fee per parking space) x (total number spaces needed) x (the number of days to be restricted) + (sales tax).
Contact the Right of Way Office as soon as possible to inquire about securing a street parking permit.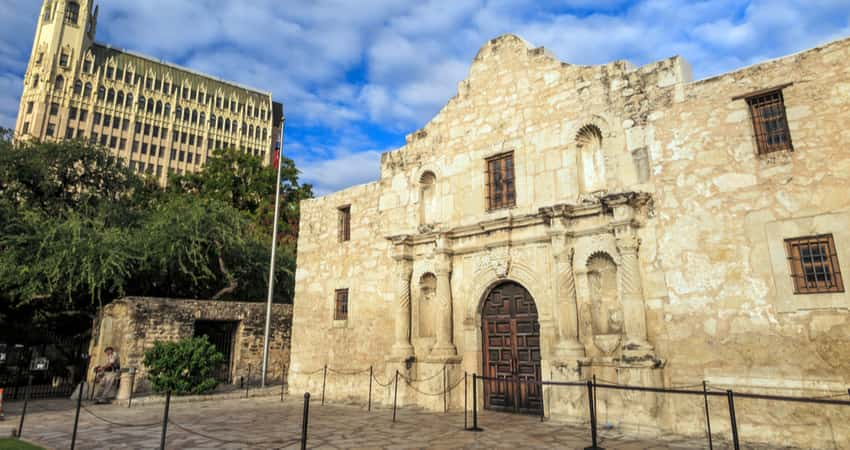 Parking at The Alamo
The Alamo is the busiest attraction in San Antonio, which can make parking difficult at times. Thankfully, The Alamo sees plenty of tour buses on a regular basis and has an efficient system for loading, unloading, and parking. Charter buses can unload passengers at the gate on Houston Street before parking down Alamo Street across from the Henry B. González Convention Center. The Alamo's main loading area is fully accessible, so groups traveling in an ADA-complaint charter bus won't have to worry about issues with entering with mobility devices.
Most loading zones around The Alamo have a 10- to 20-minute time limit, so be sure you have an organized way to account for all your group members before departing. Bus parking in the area usually comes with a 2- to 4-hour limit, but that should be plenty of time for groups to explore The Alamo.
Parking in Downtown San Antonio
Most of Downtown's most popular sites are a short walk from one another. But what if you're hot and tired after visiting The Alamo in Texas' heat? Hoofing it may not sound all too fun then. It also may not be possible if you're traveling with a group of senior citizens or those with mobility concerns. Instead, organize bus parking throughout the area and shuttle between these Downtown spots:
The Alamo Plaza Historic District
If you're planning to explore sites right outside The Alamo in the Alamo Plaza Historic District, it would be best to explore on foot, if possible. You'll be able to get up close and personal with beautiful historic sites like Hipolito F. Garcia Post Office and the Medical Arts Building without having to move your charter bus. An alternative to walking can be to hop on your bus and take a short ride around the area. Admire the beautiful architecture from your bus's panoramic windows or hop out for a few minutes to snap photos.
San Antonio River Walk
The River Walk stretches around 15 miles, but the section in Downtown San Antonio is the most popular among tourists. Have your bus in downtown or at the lot between Houston and Jefferson Streets.
Henry B. González Convention Center
Are you in town with a business group attending an event at González Convention Center? Large-scale events will likely have special parking rates and options for full-sized charter buses. If you're attending a smaller event at the center in a minibus, public parking can be found at lots along South Alamo Street and East Cesar E. Chavez Boulevard.
Tower of the Americas and Hemisfair Park
Tower of the Americas offers sweeping San Antonio views from 750 feet in the air. This popular attraction is located right next door to the convention center and the same lots can be utilized for parking. These city-run lots can be found at the following addresses:
South Alamo Lot
Address: 418 S Alamo St, San Antonio, TX 78205
Martinez Street Lot
Address: 326-398 Martinez St, San Antonio, TX 78205
Cesar Chavez GSA Lot
Address: 697-691 E César E. Chávez Blvd, San Antonio, TX 78205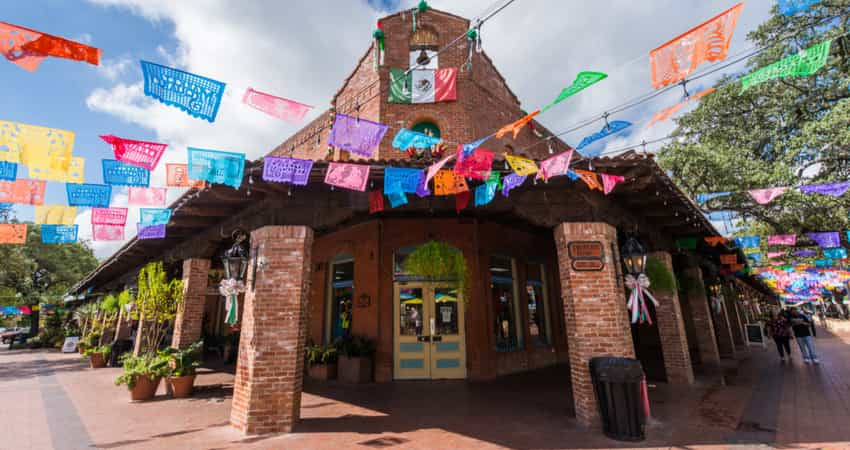 Market Square
Parking at Market Square can be tough since it's a busy spot for San Antonians and tourists alike to grab food, groceries, and local goods. Charter buses will need to unload passengers along Santa Rosa Avenue or San Saba Street. Oversized parking is available on San Saba Street, but in the event it's full, direct your driver to park at Urban Loop just a few blocks away. This designated charter bus parking area has a 4-hour limit.
Parking at San Antonio Theme Parks
San Antonio is home to several theme parks that are perfect for school field trips, summer camp outings, or even family reunions. These theme parks can get packed during busy seasons, so plan your transportation and parking accordingly!
Six Flags Fiesta Texas
Groups of thrill-seekers and adrenaline junkies will have more than their fill of fun at Six Flags Fiesta Texas. Parking at Six Flags can put a damper on a potentially exciting day though. Busy days and special events like Fright Fest bring notoriously horrible parking situations. Consolidating everyone on a bus can help ease your travel experience. Book your group ticket orders in advance along with $27 pre-paid parking for your bus and complimentary admission for your driver. You'll be directed to a bus parking area upon arrival.
Morgan's Wonderland and Morgan's Inspiration Island
Parking at Morgan's Wonderland is completely free of charge. Oversized vehicles like buses and RVs have a separate parking area that is fully accessible for guests in wheelchairs or with other mobility devices. If you'll need an ADA-accessible bus with amenities like a wheelchair lift, additional handrailing, and extended aisle space—just let your reservation expert know and we'll make sure you're covered!
SeaWorld San Antonio
Schools traveling by bus with prior field trip reservations park for free at SeaWorld San Antonio. Other groups traveling by charter bus will be directed to an oversized parking area separate from SeaWorld's general parking. Your group can be dropped off at a designated bus lane near the park's entrance before your driver goes to park your bus.
Parking at Other San Antonio Attractions
Are you planning to visit San Antonio's smaller and quieter attractions? Book your group transportation with National Charter Bus and ride to these local spots with ease: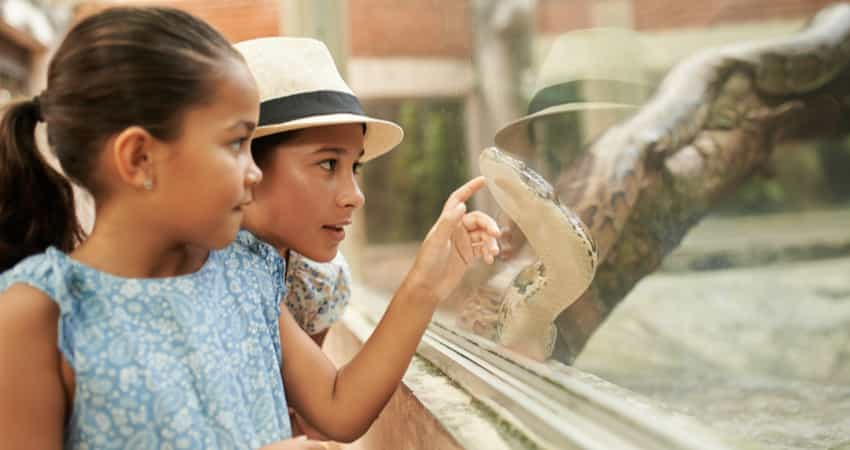 San Antonio Zoo
There are both parking garage and lot options for guests visiting the San Antonio Zoo. Oversized vehicles like motorcoaches won't be able to park in the zoo's garage. Instead, arrange to have your group dropped off at the entrance before the bus parks next door at Brackenridge Park or at the nearby SAISD Alamo Stadium Lot.
Japanese Tea Garden
Parking and admission to the Japanese Tea Garden at Brackenridge Park are completely free. The free admission and beautiful garden views are enticing to many visitors, which can make parking tricky. If parking is full, have your bus driver drop your group off at the garden entrance and park at a nearby lot along North St. Mary's Street. Once your group is ready to go, give your driver a call to swing by and pick everyone up.
San Antonio Botanical Gardens
The San Antonio Botanical Gardens have free parking lots that can accommodate guests in standard vehicles like cars or vans. Charter buses can drop groups off near the garden's entrance at the Welcome and Discovery Complex. Your driver will be instructed to park along Pickney Street behind the Goldsbury Foundation Pavilion.
Rent a San Antonio Charter Bus Today
With a National Charter Bus rental, you won't have to dread any travel-related stress while planning a group trip around San Antonio. Book your bus, organize any necessary pre-paid parking, and let National Charter Bus handle the rest. Call 210-343-2190 at any time to chat with a reservation expert about your transportation needs and how much your charter bus will cost. You'll get a personalized, no-obligation rental quote in no time!
Tags In