The Best Ski and Snowboard Spots Near Denver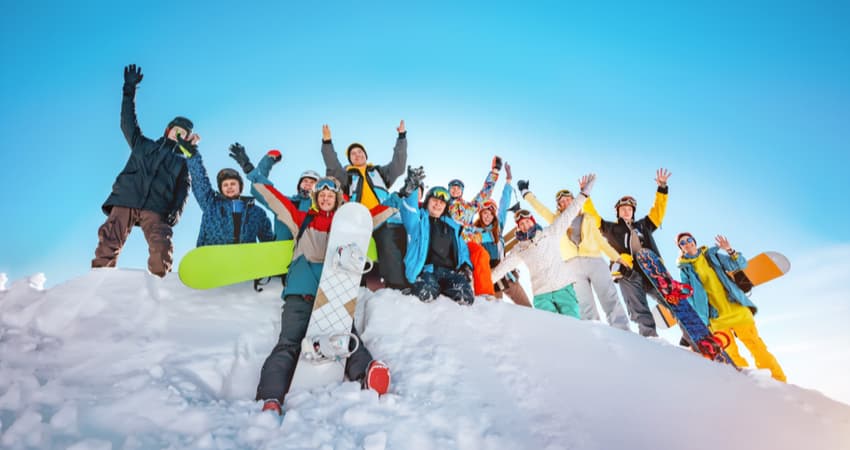 Gearing up for a winter or spring vacation in Colorado? Hit the slopes with your friends, family, or colleagues at one of the state's 32 ski resorts. From beginner- and family-friendly resorts to resorts laden with advanced black diamond slopes, Colorado offers skiing options for every type of group.
Denver is one of the most popular hubs for ski travel in the state. Whether you're visitors flying into DIA or you're locals hitting the road from home, rent a personal Denver ski shuttle with National Charter Bus to make your trip as smooth as ice. Being stuffed into a packed public shuttle or not having enough space for your personal gear in a rental car are just a couple of things that can put a damper on your ski trip. With a private Denver bus rental, you won't have to worry about a thing!
Renting a shuttle from Denver will give your group complete control over your trip from start to finish. Leave your transportation up to a professional driver as your group relaxes in cushioned, reclining seats inside a spacious climate-controlled charter bus or minibus. Call (303) 317-3208 to learn more about National Charter Bus pricing and to get a personalized quote!
Resorts for Beginners and Families
If you're traveling with kids, you'll definitely need to do some research on the most family-friendly resorts. These resorts offer kid- and beginner-friendly slopes, childcare services (for kids up to 6 years), and a variety of off-slope activities for all ages: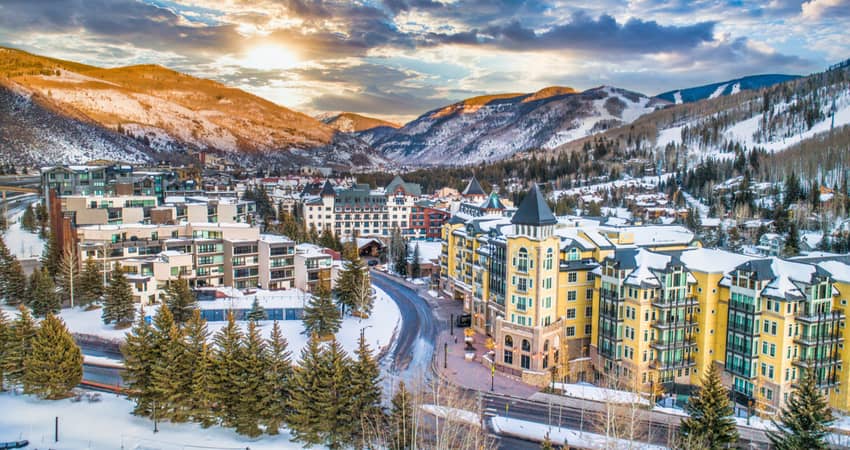 Vail Ski Resort
Address: Vail, CO 81657
Phone: (970) 754-8245
Distance from Denver: About 1 hour and 45 minutes or ~97 miles
As one of the biggest ski resorts in the country, Vail is one of the most crowded seasonal spots on this list. Vail has a variety of ski runs for everyone from beginners to advanced skiers. On top of its 195 runs, the resort also offers family packages for ski and snowboarding school, mountaintop tours, tubing, and ski biking. Once you hop off the snow, Vail's luxury Bavarian-style ski villages are charming, pedestrian-friendly, and filled with après ski options for everyone. Grab a bite to eat and then go bowling, practice your ice skating, catch a movie, or just relax by a fireplace. If the adults want to have drinks and enjoy a little kid-free time, Vail is also known for its top-notch après ski happy hours at beloved watering holes like The Red Lion.
Vail charter bus tip: Parking for charter buses and other oversized vehicles is available for $50 a day at the surface lot just east of the Lionshead parking deck.
Keystone Resort
Address: 100 Dercum Square, Keystone, CO 80435
Phone: (855) 603-0049
Distance from Denver: About 1 hour and 30 minutes or ~70 miles
If you're looking for a slightly more affordable family-friendly resort with varied terrain, Keystone is a top choice. It can still get quite crowded on weekends but doesn't see Vail-level attendance. Keystone has 131 ski runs across three mountains and five bowls, as well as an award-winning terrain park that provides something for beginners and advanced skiers. It also has one of the longest ski days in the state, offering night skiing during select times on Dercum Mountain.
One of the best parts about Keystone is that kids 12 and under ski for free with a minimum of two nights booked at village lodging. Keystone also hosts a variety of "Kidtopia" programs like daily parades, milkshake socials, arts and crafts, movie nights, and a meet-and-greet with an avalanche rescue dog.
Keystone charter bus tip: Weekend parking at Keystone is notoriously bad. If you're only visiting for a day of skiing and don't plan to stay overnight, organize a designated drop-off location with your charter bus driver. They can find parking outside of the resort and return to collect your group after your day on the slopes.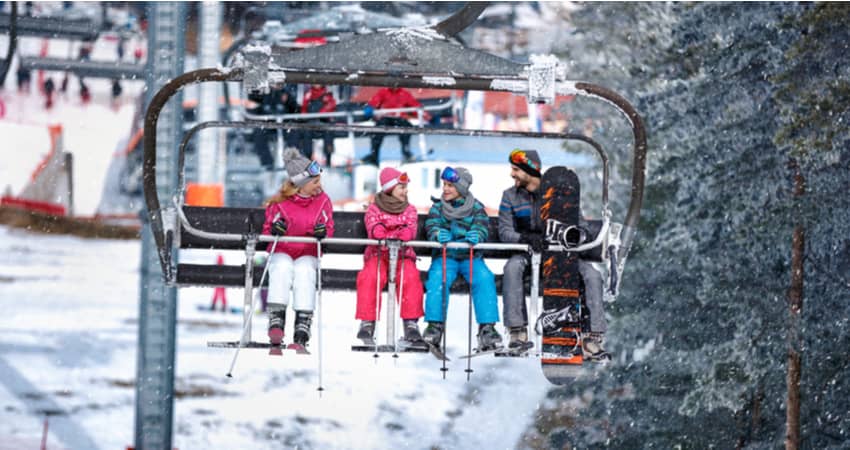 Copper Mountain
Address: 209 Ten Mile Cir, Frisco, CO 80443
Phone: (866) 841-2481
Distance from Denver: About 1 hour and 30 minutes or ~ 77 miles
Copper Mountain is a laid-back ski spot for visitors of all ages and skill levels. It has naturally divided terrain that makes it easy for beginners and advanced skiers to find the best ski runs for their level of expertise. There are over 140 ski runs with three peaks so guests can progressively work their way up to more difficult terrain. The resort also has an action sports playground for groups who may need a warm break from the slopes. Woodward Copper Barn is perfect for kids with activities like trampolines, skate/scooter/BMX zones, foam pit jumps, and tumble tracks.
Copper Mountain charter bus tip: Groups traveling in vehicles with 14 or more passengers will have to organize pick-up/drop-off with a Copper Mountain group coordinator. There's a designated bus drop-off area in the Flyer parking lot in Center Village. Once your group is dropped off, your charter bus driver will park at the Conoco service station right before the resort entrance.
Resorts for Intermediate Skiers
Groups in need of a little challenge may want to visit a resort with more options for intermediate skiers. Sure, you'll find intermediate runs on most mountains, but some are just better at challenging skiers than others. Check out these resorts for your group of intermediate skiers:
Beaver Creek Resort
Address: 210 Beaver Creek Plaza, Beaver Creek, CO 81620
Phone: (970) 754-4636
Distance from Denver: Around 2 hours or ~110 miles
If you want a taste of luxury skiing without the crowds at Vail but with plenty of intermediate runs, Beaver Creek is a fantastic option. Keep in mind, Beaver Creek really does play up the upscale ski experience, meaning it's one of the more expensive resorts to visit. The resort is known for its beautiful mountain views and picturesque tree runs for intermediate and advanced skiers. If you're traveling with a mixed group with a handful of beginners, don't worry! Beaver Creek has a renowned ski school and beginner-friendly ski areas too. Craving some much-needed relaxation after a long day on the slopes? Beaver Creek has several luxe spas in its villages to help you unwind.
Beaver Creek charter bus tip: Since Beaver Creek is much smaller than neighboring Vail, you'll find fewer parking options at the resort. It's highly recommended you organize a drop-off with your driver. If you're staying overnight, inquire about oversized parking with your lodging concierge. Day parking can be organized for oversized vehicles in nearby Vail.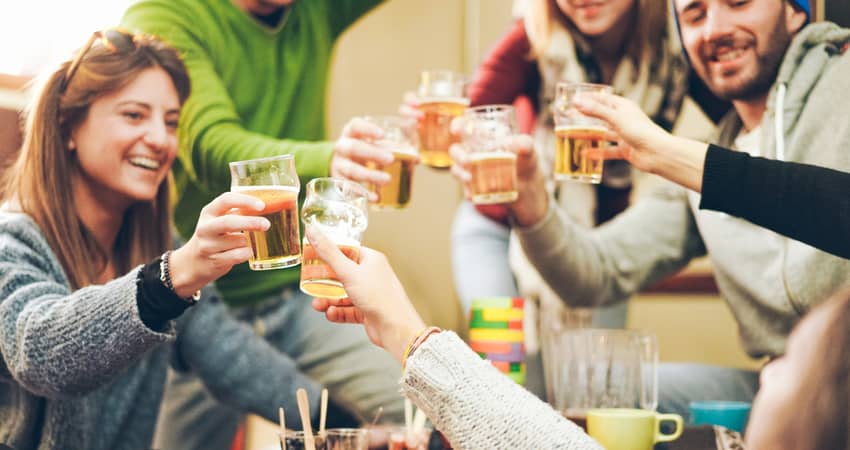 Breckenridge Ski Resort
Address: 1599 Ski Hill Rd, Breckenridge, CO 80424
Phone: (970) 453-5000
Distance from Denver: Around 1 hour and 40 minutes or ~85 miles
This historic town is a quintessential Colorado ski resort destination. Breckenridge is one of the busiest resorts in Colorado, even trumping Vail's massive seasonal attendance at times. So if you're not a fan of big crowds, you may want to skip Breck when you're planning a trip during peak times. The resort has thousands of skiable acres across varied terrain for visitors of all skill levels and boasts the highest ski lift in North America. Keep in mind that Breck's high altitude can make things a bit difficult for beginners or those prone to altitude sickness. If you're getting exhausted on the slopes or need a break from the (usually) long ski lift lines, Breck has après ski down to an art form. Enjoy cocktails, a bite to eat, or local brews on one of several heated patios and decks with views of the snowy peaks.
Breckenridge charter bus tip: Parking for oversized vehicles is not allowed in the resort parking lots. You'll need to obtain a parking permit from the Town of Breckenridge or inquire about options in nearby RV parks.
Steamboat Ski Resort
Address: 2305 Mt Werner Cir, Steamboat Springs, CO 80487
Phone: (970) 879-6111
Distance from Denver: Around 3 hours or ~150 miles
Compared to most resorts on this list, Steamboat Springs is a bit of a hike — but it's well worth it for a couple of days of hitting top-quality slopes. Steamboat is known for its glade skiing and incredible tree runs for intermediate and advanced skiers. Since Steamboat is so far from Denver, you'll usually run into fewer crowds. That means less time waiting in line at the ski lifts or après ski spots and more time enjoying your trip! After exploring the resort's 165 ski runs, make a reservation at Strawberry Park Hot Springs to ease any muscle aches after a long ski day.
Steamboat charter bus tip: Free parking is limited at the Steamboat resort. One of the easiest ways to cut down on parking costs is to have your driver drop your group off at the resort before returning to park at the base of the mountain. This is only available for daytime parking, so inquire about your lodging arrangement if you need to book overnight parking for your bus.
Resorts for Advanced and Expert Skiers
Tired of the bunny slopes and crowds of inexperienced skiers? These resorts are renowned for their black diamond- and double black diamond-rated terrain that offers challenging runs for experienced visitors. A few of these resorts still have options for less experienced guests, but be sure to proceed with caution when picking your ski spot.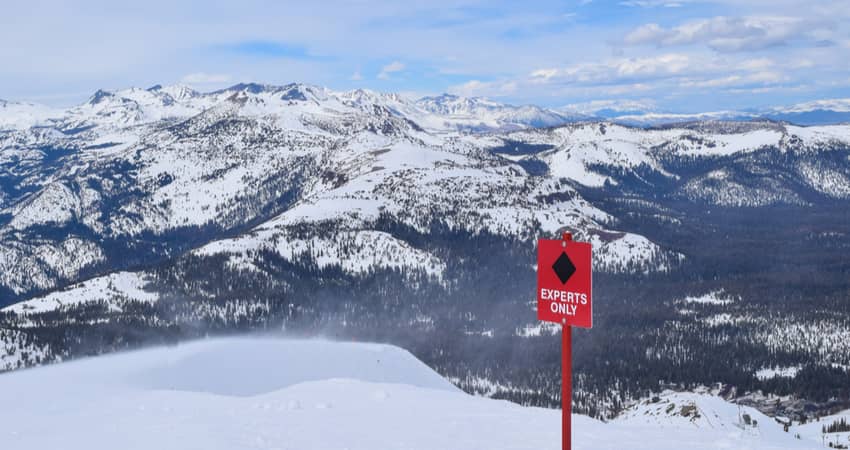 Arapahoe Basin Ski Area
Address: 28194 US-6, Dillon, CO 80435
Phone: (970) 468-0718
Distance from Denver: Around 1 hour and 20 minutes or ~65 miles
Arapahoe, also known as "A-Basin," and "The Legend," is one of the originators of big mountain runs in Colorado's ski scene. The area has extreme terrain, deep snow, and one of the longest ski seasons in the state (A-Basin is often open and thriving until June). There are 145 runs across two peaks, with around 70% of them being recommended for advanced and expert skiers. You'll still find a few beginner-friendly options if you have a handful of newbies in your group. Keep in mind that A-Basin isn't a resort town. It's a no-frills type of ski and snowboarding area, with no overnight lodging, minimal dining, and few après ski options. It's really for visitors who want to get down to business on the slopes during a day trip. If you're planning to stay overnight, you'll need to book accommodations in Keystone, Summit Cover, or Dillon.
Arapahoe Basin charter bus tip: Oversized vehicles need to get written permission in advance from Arapahoe Basin Ski Area to park in the area. Again, there aren't overnight accommodations in A-Basin, so you'll need to secure additional parking for your bus at your off-site lodging.
Aspen Snowmass and Aspen Highlands
Aspen Snowmass Address: 120 Lower, Carriage Way, Snowmass Village, CO 81615
Aspen Highlands Address: 199 Prospector Rd, Aspen, CO 81611
Phone: (970) 923-1227
Distance from Denver: Around 3 hours and 30 minutes or ~ 200 miles
Over its long ski history, Aspen has really become synonymous with winter sports in Colorado. It's hosted the Winter X Games every year since 2002 and is a major training ground for many pros. Aspen is actually made up of 4 resorts: Snowmass, Aspen Highlands, Aspen Mountain, and Buttermilk. Buttermilk is a great resort for quiet and easy slopes, while Snowmass is suitable for intermediate skill levels. Aspen Highlands and Aspen Mountain are where you'll find the real party though. These resorts are known for their tough terrain, renowned après ski options (seriously, Aspen really knows how to party), and high price tags.
Although Aspen's lift tickets can cost a pretty penny, they do cover access to all four mountains, so advanced and expert visitors will be able to get the most out of a trip. Aspen is relatively far out from Denver and isn't suitable for a day trip, so be sure to book lodging for your charter bus driver too when you make your reservation.
Aspen charter bus tip: Aspen has relatively slim parking options for oversized vehicles. Brush Creek Lot does offer day parking for large vehicles, but this can quickly fill up during peak travel season. Contact the town of Aspen at 970-920-5267 to verify any necessary rules to follow while visiting in your charter bus.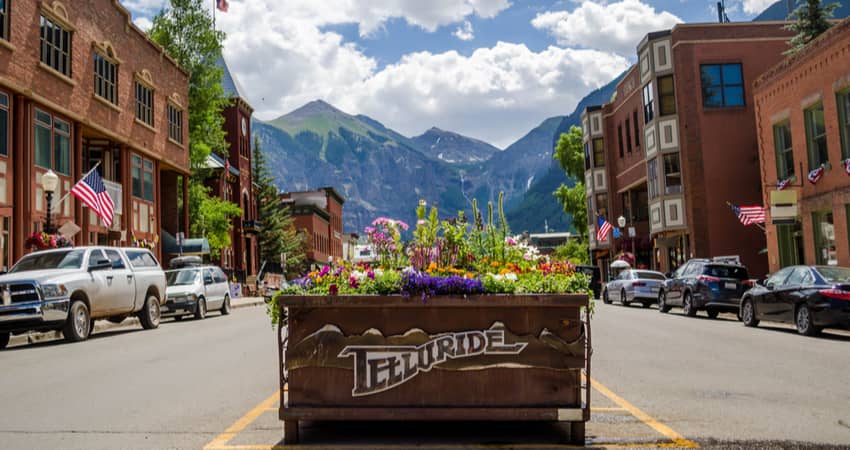 Telluride Ski Resort
Address: 565 Mountain Village Blvd, Telluride, CO 81435
Phone: (800) 778-8581
Distance from Denver: Around 6 hours and 15 minutes or ~330 miles
Aspen is already a long haul from Denver but Telluride is twice as far. But do you know what twice the distance means? Half the crowds! Well, maybe not half but it's significantly less crowded than areas close to Denver. For many local skiers and snowboarders, Telluride is the crown jewel of winter activities. Telluride is known for having some of the best mountainscapes in the state, great snowfall, elegant lodging, and upscale dining options. Around 40% of the terrain is for advanced and expert riders, offering lots of fun trails and steep runs across 2,000 acres.
Telluride is also a must-visit ski spot for history lovers. The town was established in 1878 as a silver mining camp and much of the town is a designated National Historic Landmark. Stop by the Telluride Historical Museum to learn about the town's past before you embark on your ski day.
Telluride charter bus tip: There are several parking areas throughout Telluride, but not all can accommodate oversized vehicles. The Gondola Parking Garage allows overnight parking for oversized vehicles for an additional fee.
Ready to Hit the Slopes?
Grab your gear, organize your group, and book your private shuttle with National Charter Bus! When you call (303) 317-3208, you'll be connected with a rental expert who can help you find a charter bus rental to perfectly suit your needs. Call anytime to get a quick and accurate personalized quote so you can hit the slopes in no time.
Tags In