Where to Park a Charter Bus in D.C.
As the nation's capital and the home of many monuments and museums, Washington D.C. sees a huge amount of charter bus traffic each year. Because it hosts so many charter buses, D.C. has regulations in place that determine which roads charter buses can take, where they can drop off passengers, and where they can park.
If you're planning a bus trip to D.C. with your school or tour group, National Charter Bus can help. Give us a call at 202-250-3441 to book your motorcoach, and then check out our guide to where your bus can park and drop you off in D.C.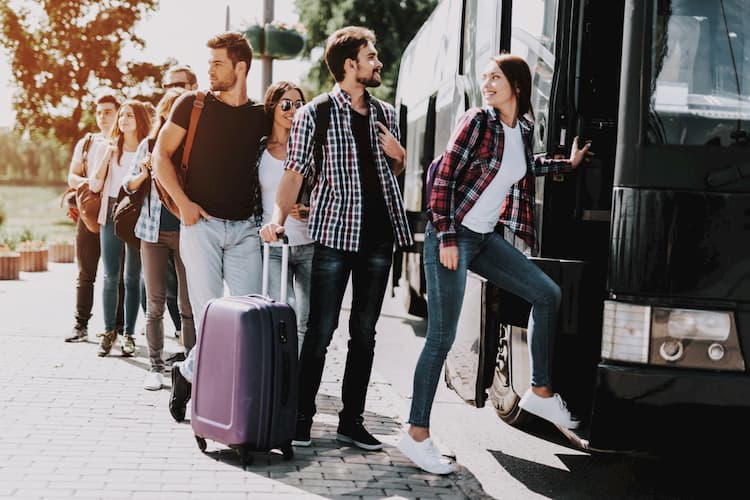 Basic Rules for Charter Bus Parking and Unloading
Because D.C. has so many motorcoach regulations, your first step should be to call the motorcoach hotline run by the D.C. Department of Transportation and Destination D.C. The hotline can be reached at 1-855-67-BUSES (28737) from 9 a.m. to 5 p.m. EST, Monday through Friday, and will have the latest information on parking, routing, and permits. You can also call the Office of Emergency Preparedness at 202-727-3159 during business hours to learn about planned road closures during the dates of your trip.
Routing Maps
D.C. has many historical neighborhoods with narrow streets and multiple areas with security restrictions, so the DDOT has developed a map to show which routes buses can safely take. The online map can be found here, and you can find a PDF version here.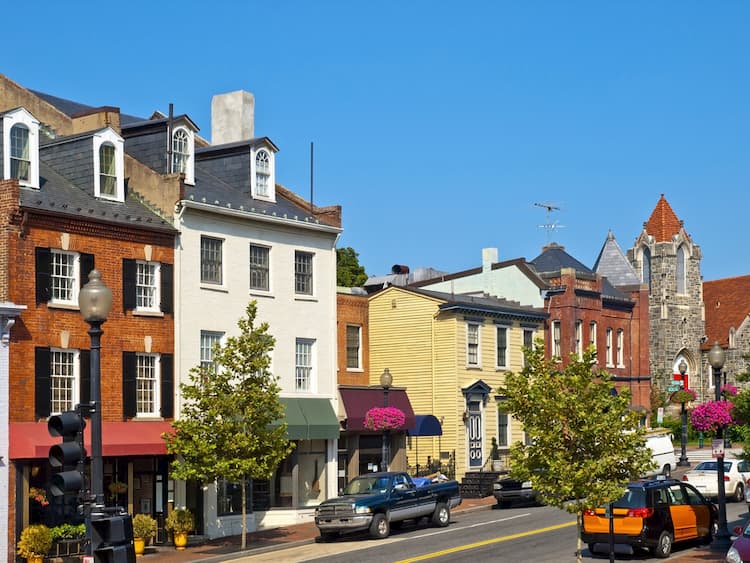 To get to destinations not on the map, your bus driver must use the highlighted route for as long as possible and then take the shortest path between the highlighted route and your destination. They should then return to the highlighted path. Use the maps to carefully plan your route ahead of time so you can stick to motorcoach-friendly roads.
Note that there are more routing restrictions in place during D.C.'s busy season (from April-August) than during the rest of the year. If you know you'll be traveling during the busy season, make sure to call the motorcoach hotline instead of just relying on the maps.
Permits
Most motorcoaches will need a Trip Permit from the Department of Motor Vehicles to drive in D.C. You can apply for a permit on the DMV website. If you have questions or the online form won't work for you, you can call 202-729-7083.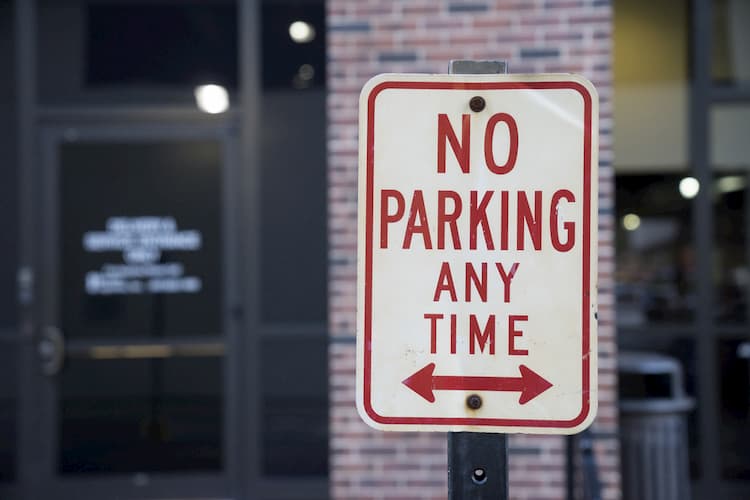 General Rules
The DDOT has released some basic rules that all motorcoaches should follow. Make sure to review these, and consider printing them or taking a screenshot with you on your trip.
Do:
Check posted signs before parking, since parking regulations are subject to change.
Be especially careful to check signs during rush hour—the rules are often different than during slower times.
Obey "No Parking" and "No Standing" signs.
Don't:
Let passengers off in Commercial Loading Zones or at Metrobus stops.
Double park.
Park in a zone for longer than the posted time limit.
Idle your engine for more than 3 minutes (or for more than 5 minutes when the temperature is below 32°).
Park in a metered area that isn't labeled for motorcoaches.
Park near houses, schools, playgrounds, hospitals, churches, or parks.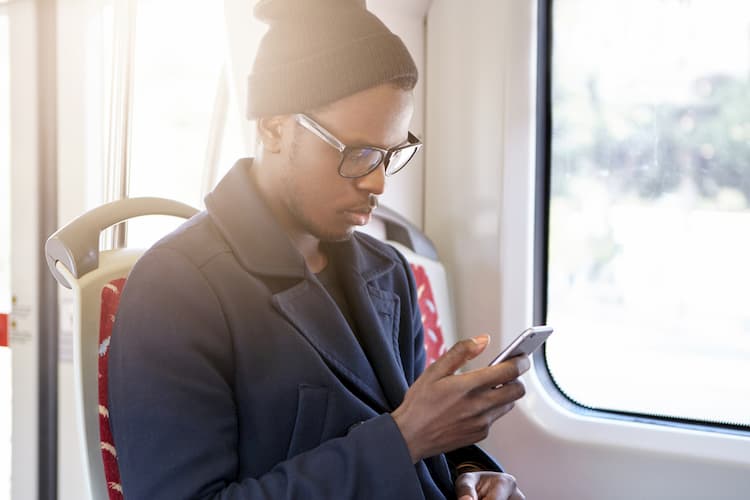 Your Parking Options Outside the City
Because D.C. has so many parking and unloading regulations for motorcoaches, some groups opt to have their charter bus drop them off at a Metro station outside the city. They then explore on foot and using the Metro.
If you're traveling with a group of college students or adults with good mobility, parking outside the city can be a great option. Your bus can stop at the Greenbelt Metro station, which has 60 oversize parking spaces for motorcoaches, and pay $8.95 to stay there all day. Your group can then board the train into the city.
Other Metro stations may not have oversize bus parking, but your bus can drop you off at a station and then go back to your hotel in Maryland or Virginia. The DDOT and Destination DC recommend Alexandria, VA, and Arlington, VA, as cities that often have hotels with bus parking.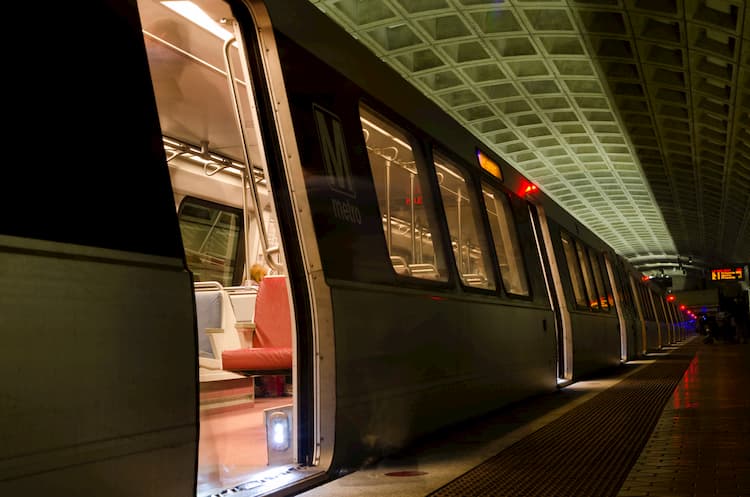 However, taking the Metro or walking isn't always an option if you're traveling with children or with people who have mobility restrictions. If you need your bus to take you around D.C., we've compiled a list of places you can park or get dropped off in the city.
Your Parking Options Within the City
Unloading Locations
The National Mall and the Memorial Parks have designated bus loading and unloading areas that are marked with signs. Although it can be tempting to get off right next to the Smithsonian museum you want to visit, make sure your driver obeys the signs to avoid getting a ticket. For areas outside of the National Mall, follow the unloading dos and don'ts we've listed above.
After your group gets off the bus, your driver will need to leave the unloading area and find a parking space. We've compiled a few likely options for you.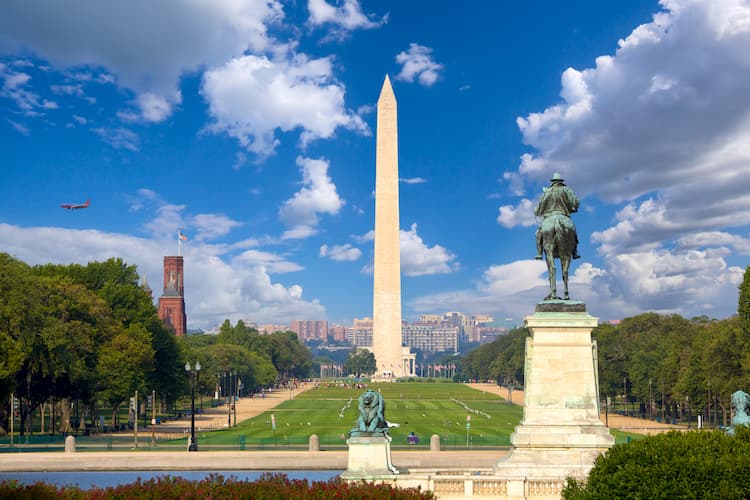 Places to Avoid Parking
The DDOT and Destination D.C. recommend three major lots and four street parking areas that can easily accommodate buses. You may be able to find street parking in other areas by following posted signs, but make sure you do not park in the following highly restricted areas:
H Street
Pennsylvania Avenue
Water Street
10th Street between E and G streets
Ford's Theatre
Madame Tussauds
Old Town Trolley Visitor's Center
National Mall—Independence Avenue between Ohio Drive and 3rd Street; Constitution Avenue between 23rd Street and 3rd Street
Georgetown—K Street between 30th and 31st Streets
Recommended Places to Park
So where can you park your full-size charter bus? Here are the lots and street parking areas the DDOT recommends.
Union Station Bus Terminal
The Union Station Bus Terminal lies on the Main Level of the Union Station Parking Garage and can be accessed from the Mezzanine Level of the station. Union Station offers 32 bus spaces available on a first-come, first-served basis, and only buses with reservations are guaranteed a space. Reservations cost $60 during off-peak season (July-February) and $75 during peak season (March-June) and offer in and out privileges.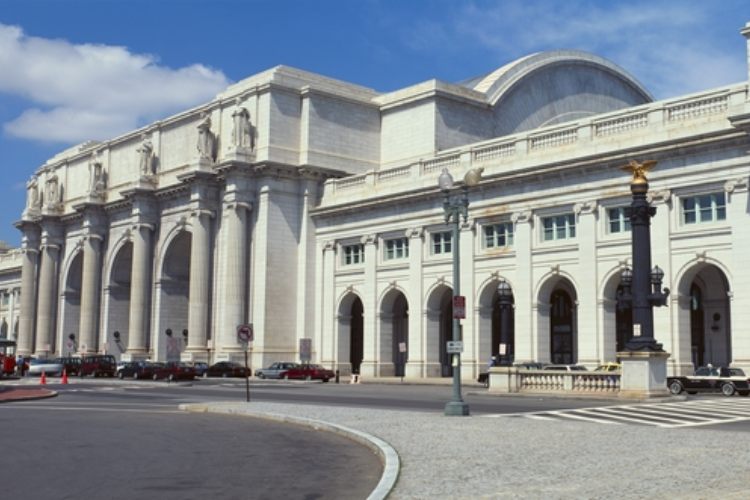 You can reserve bus parking by sending an email with your requested dates and times to businfo@uspgllc.com. If you do reserve in Union Station, note that your driver can only drop you off in the bus deck—dropping off in front of Union Station, around Columbus Plaza, or on Massachusetts Avenue is strictly forbidden.
Robert F. Kennedy Memorial Stadium
Previously the home of Washington, D.C.'s soccer and football teams, RFK Memorial Stadium now serves as a general recreation area for local sports teams. If you're bringing kids to play in a soccer or football tournament, you can park your bus in Lot 6 or 7 for $50. Even if you're not in D.C. for sports, RFK Stadium offers a great place to park your bus because it provides easy access to the Supreme Court and the U.S. Capitol.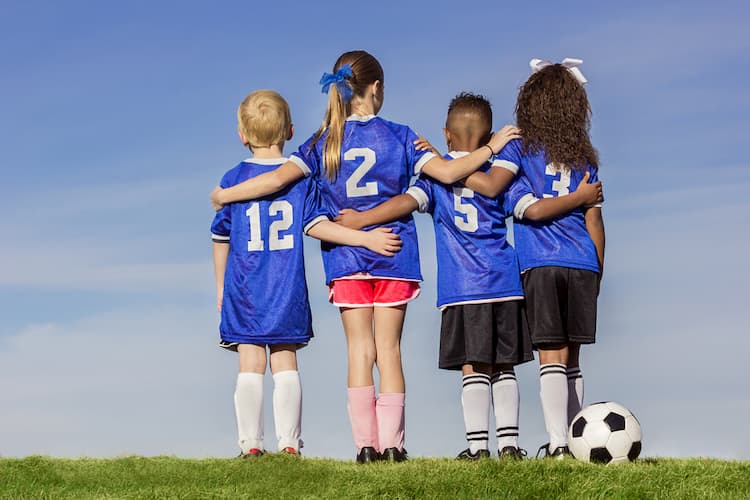 Buzzard's Point Parking Lot
Located at 1880 2nd Street SW, the Buzzard's Point Parking Lot has space for buses and offers easy access to the D.C. United Soccer Club stadium and Nationals Park. If you want to visit the White House or the International Spy Museum, your driver can drop you off there before driving a short distance to this parking lot.
Street Parking near the White House 
Buses can park in the 1400 block along New York Avenue NW, near where New York Avenue NW and 14th Street intersect. This location is only one block east of the White House, offers easy access to I-396, I-66, and Route 50, and is near the McPherson Square and Metro Center train stations.
This area has 5 parking spaces for $6.90 an hour, but it has a 1-hour limit from 9:30 a.m.-4 p.m. and from 4-7 p.m. Monday through Friday and from 7 a.m.-midnight Saturday and Sunday. Therefore, you'll probably want to use this area for short stops. You can pay for parking at meters or using the D.C. parking mobile app, and don't forget that you're responsible for any parking costs.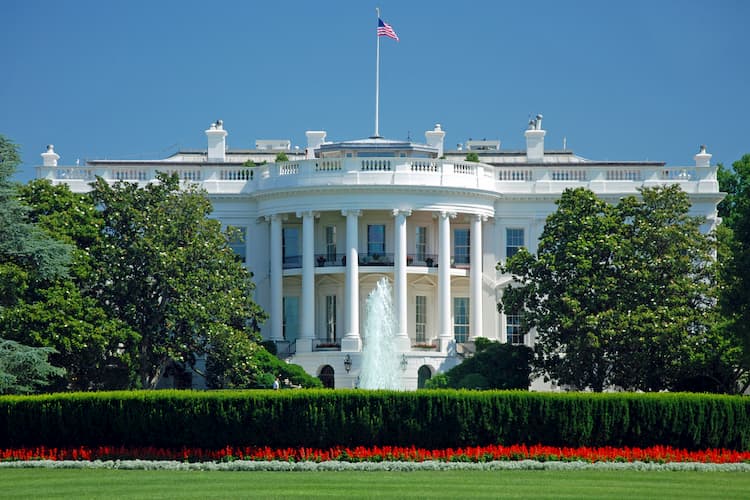 Street Parking at L'Enfant Plaza
Your bus can also park along the 300 block of L'Enfant Plaza SW, south of Independence Avenue SW and north of Frontage Road SW. From L'Enfant, you can access the National Mall, the Wharf, the International Spy Museum, and the L'Enfant Plaza and Smithsonian Metro stations.
This area has 12 parking spaces for $6.90 an hour, and you can pay the meter or pay through the mobile app. There's a 2-hour limit from 7 a.m.-6:30 p.m. and a 12-hour limit from 6:30 p.m.-7 a.m. every day.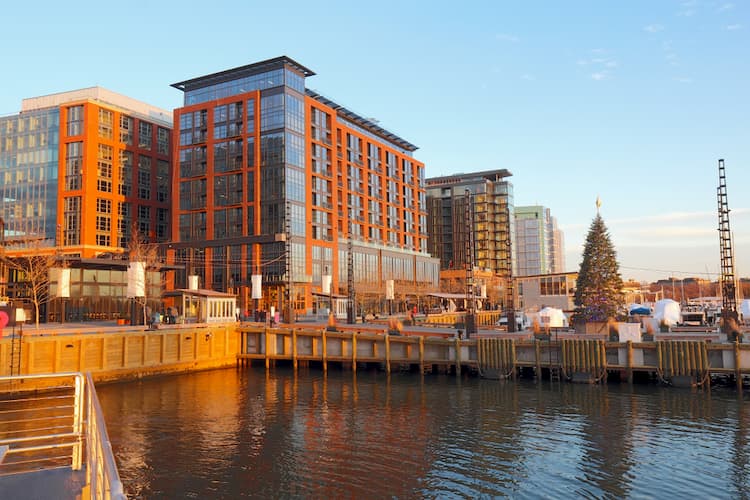 Street Parking on Frontage Road
Frontage Road SW has bus parking along the 700-900 blocks, near where Frontage Road SW meets 7th Street SW and close to the U.S Department of Housing and Urban Development. From here, you'll have easy access to L'Enfant Plaza, the International Spy Museum, the National Mall, the Wharf, and the Smithsonian and L'Enfant Plaza Metro stations.
This area has 6 parking spaces for $6.90 an hour, with a 3-hour limit from 7 a.m.-6:30 p.m. and a 12.5-hour limit from 6:30 p.m.-7 a.m. Like at other street parking locations, you can pay at the meter or via mobile app.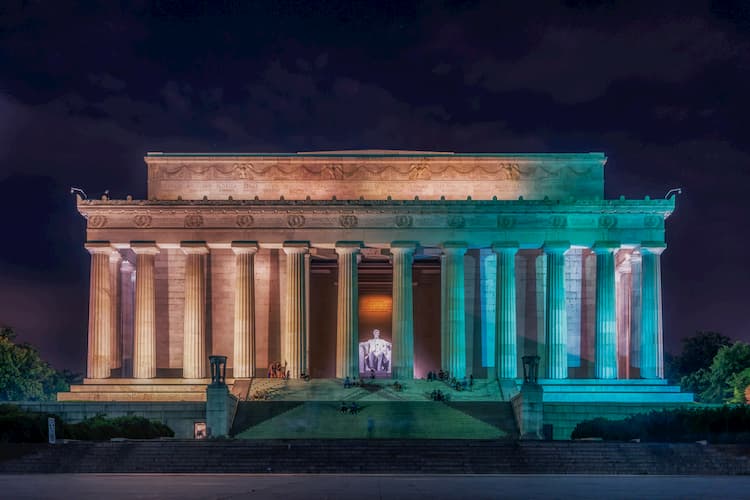 Street Parking near the Museum of the Bible
The 300 block of Virginia Avenue SW, located just outside the Museum of the Bible, has 7 parking spaces near the National Mall and the Waterfront neighborhood. The spots cost $6.90 an hour and have a 2-hour limit from 7 a.m.-6:30 p.m. each day. After 6:30 p.m., there is a 12.5-hour limit. You can pay for spaces at the meter or via the mobile app.
Plan Parking for Your Charter Bus in D.C.
Because so many charter buses come to D.C., you should be able to find a spot for your bus—but it'll require some advance planning. After you draw up your itinerary, decide whether you need your bus to park within the city or outside of it, and then figure out which street spots or garages make the most sense for your group. When you've finished your research and you're ready to book your trip, National Charter Bus will be waiting at 202-250-3441.
Tags In