Group Travel Guide: Explore Parks Around Las Vegas in a Charter Bus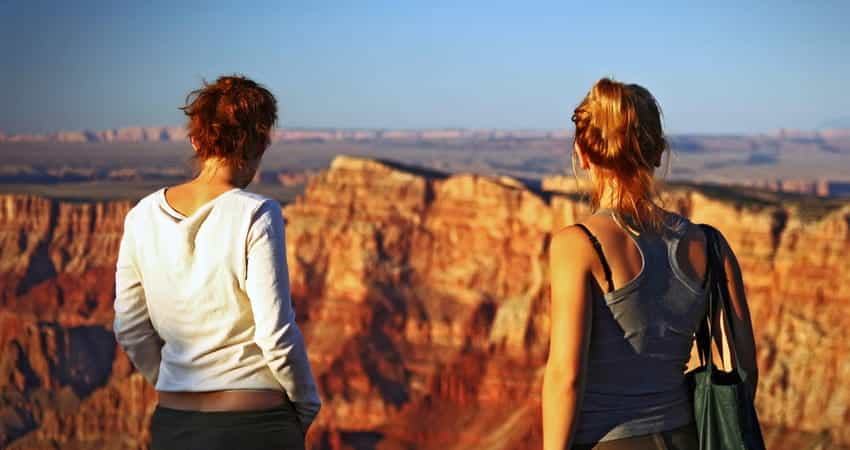 If you're anything like me, visiting Las Vegas for the gambling and clubbing sounds a bit…exhausting. Don't get me wrong, I know Sin City isn't all debauchery. I appreciate a Cirque du Soleil show or Mariah Carey performance as much as the next person, but the unique Southwestern landscape looks significantly more interesting.
Nevada is home to four National Service Sites and 23 state parks, and Las Vegas is within a short driving distance of several other famous parks in California, Arizona, and Utah. Whether you're taking a group tour of the Southwest's beautiful national parks or your bachelor party needs to break a good sweat after a long night at the Strip, call National Charter Bus Las Vegas at (702) 780-0497​ to book transportation for everyone.
Group Travel in the Great Outdoors
Unless you're traveling on foot or bike, most state and national parks charge entry per vehicle. Traveling with a large group in several private vehicles can easily lead to a long list of entrance fees, especially if you're planning to visit multiple parks. Renting a minibus or charter bus will help keep your entrance fees low and also gives you comfortable transportation for your entire trip, within Vegas and beyond.
Reserve a company minibus to attend a conference at the Las Vegas Convention Center and then shuttle everyone to Red Rock Canyon or Lake Mead for a day of team building. Need group transportation for your scout troop's outdoor adventure? No problem! National will get you a comfy private shuttle to take everyone out for a day of hands-on learning. You'll have a climate-controlled bus handled by a professional driver every step of the way. To make the travel experience even better, you can request amenities like WiFi, power outlets, onboard restrooms, and entertainment systems to help kill time on the road.
Book your private transportation and take a break from the hustle and bustle of Las Vegas. Get a breath of fresh air at these parks and recreation areas with National Charter Bus behind the wheel: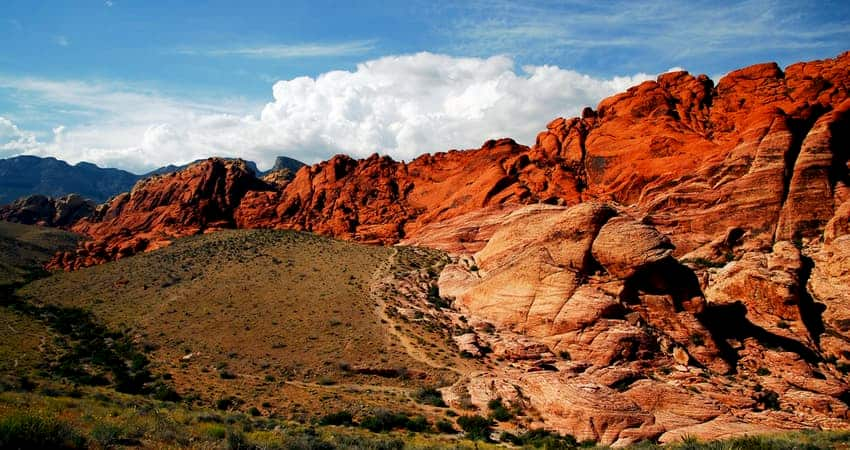 Red Rock Canyon National Conservation Area
Distance from Downtown Las Vegas: 16 miles
Visitor Center Address: 1000 Scenic Loop Dr, Las Vegas, NV 89161
Phone: (702) 515-5350
You'll find some of the state's most pristine natural views right in Downtown Vegas' backyard. Red Rock Canyon is the closest National Service Site to the city and is a popular day trip destination for locals and out-of-town visitors alike. The conservation area has 26 trails that vary in distance and difficulty and highlight Nevada's famous red sandstone, native plants, and seasonal desert waterfalls. Marvel at natural formations like Keystone Thrust, say hi to Jackson the burro, and learn about the endangered desert tortoise at the Red Rock Canyon Visitor Center before hitting the trails.
Charter buses will be charged $15 a vehicle plus an additional $5 per person. School groups and other organized groups should contact the Red Rock Bureau of Land Management Office at (702) 515-5350 to explore any available group educational programs.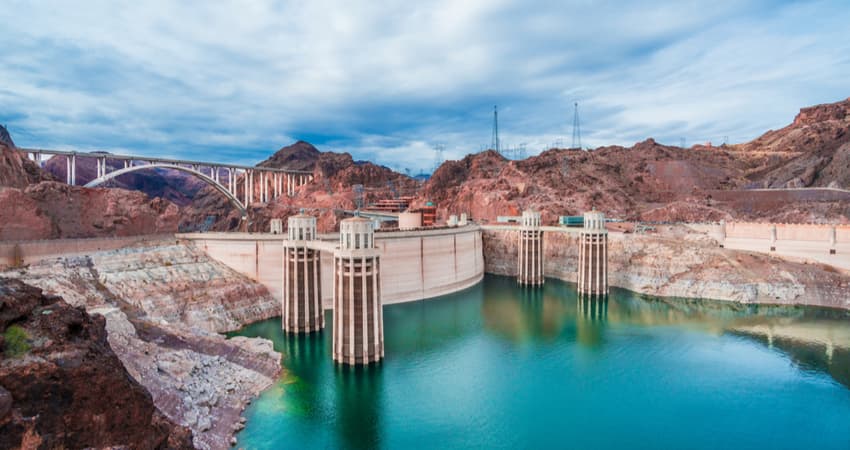 Lake Mead National Recreation Area
Distance from Downtown Las Vegas: 20 miles
Visitor Center Address: 10 Lakeshore Rd, Boulder City, NV 89005
Phone: (702) 293-8990
Lake Mead is the largest lake in Nevada and a prime location to enjoy water sports in the heart of the desert. Take a group fishing, kayaking, jet skiing, or scuba diving between Lake Mead and adjoining Lake Mohave. Want to keep your feet on the ground? The recreation area also offers scenic driving roads and activities like hiking, biking, horseback riding, and camping. If you want to learn more about a major part of Nevada history and about architectural innovation, head over to the west side of Lake Mead to tour the Hoover Dam. Private group tours of the dam should be booked at least four weeks in advance.
Vehicle entrance fees to Lake Mead depend on the passenger capacity of your minibus or charter bus. Entrance is $60 for minibuses that accommodate 16-25 people, and motorcoaches with 26 or more passengers will be charged $150.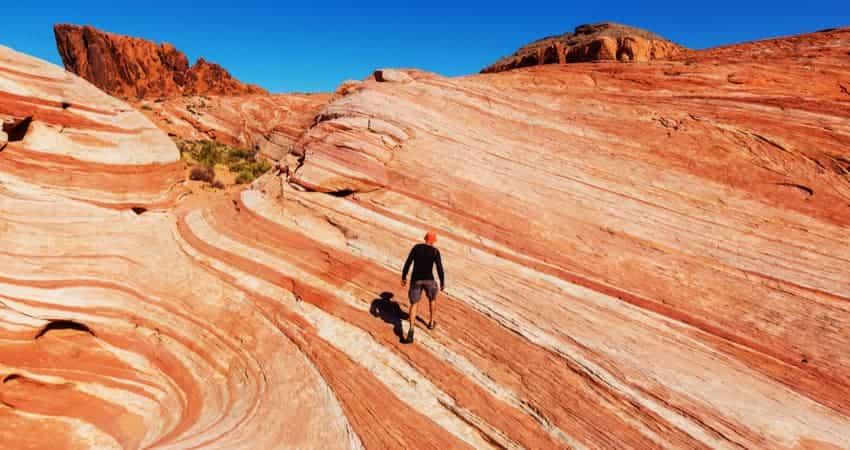 Valley of Fire State Park
Distance from Downtown Las Vegas: 50 miles
Visitor Center Address: 29450 Valley of Fire Hwy, Overton, NV 89040
Phone: (702) 397-2088
As Nevada's largest state park, Valley of Fire has miles upon miles of breathtaking trails and natural rock formations for visitors to explore. With more than 40,000 acres of red sandstone and 11 hiking trails, the park offers plenty of sights for visitors to admire. Hike Mouse's Tank Trail and Pinnacle's Loop to see petroglyphs that are over 2,000 years old, or embark on the Rainbow Vista Trail and White Domes Loop to take in the park's most scenic views. Many of the valley's trails are relatively spread out and can be difficult to hike in one day, especially if you stay on foot. Pack plenty of water and snacks onboard your bus, and have your driver shuttle you between hiking locations throughout the park.
The group entrance to the Valley of Fire is $10 per vehicle plus an additional $2 per person. If you want to reserve group use areas for a private event, you'll need to submit a special use application at least 60 days in advance with a $25 processing fee.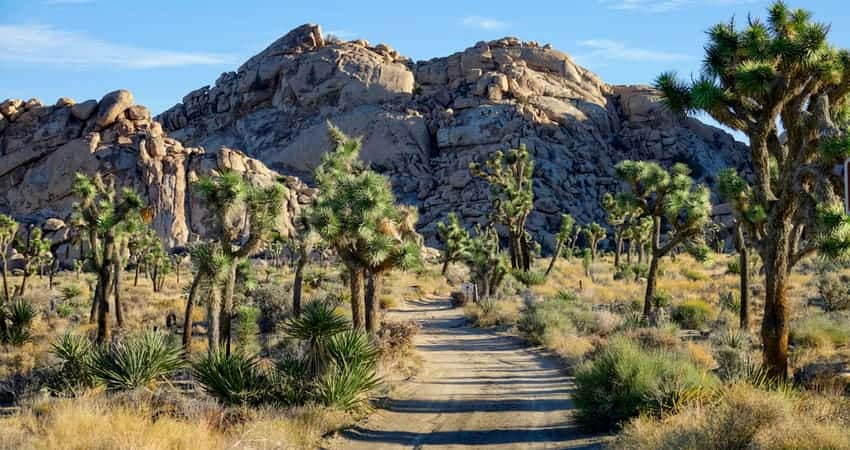 Mojave National Preserve
Distance from Downtown Las Vegas: 60 miles
Visitor Center Address: 90942 Kelso Cima Rd, Kelso, CA 92309
Phone: (760) 252-6108
Since Vegas is located at the southernmost tip of Nevada, visiting southern California parks is much faster than driving to Nevada's northern region to tour places like the Humboldt-Toiyabe National Forest. The Mojave National Preserve may not have the sprawling crimson rocks of Nevada's parks, but it does have a diverse landscape that offers a quieter outdoor experience compared to other busy locations. This preserve has expansive sand dunes, a mountainous landscape, an array of fauna like Joshua trees and yucca, and mounds of prehistoric volcanic rock that formed from underground lava tubes millions of years ago.
If you want to add another leg to your journey after the preserve, visit Joshua Tree National Park just 70 miles south. This park is exceptionally popular with hikers, so expect busy trails during peak travel season. Entrance to Mojave National Preserve is free, but if you choose to visit Joshua Tree as well, expect to pay $12 per person if your charter bus seats 16 or more people.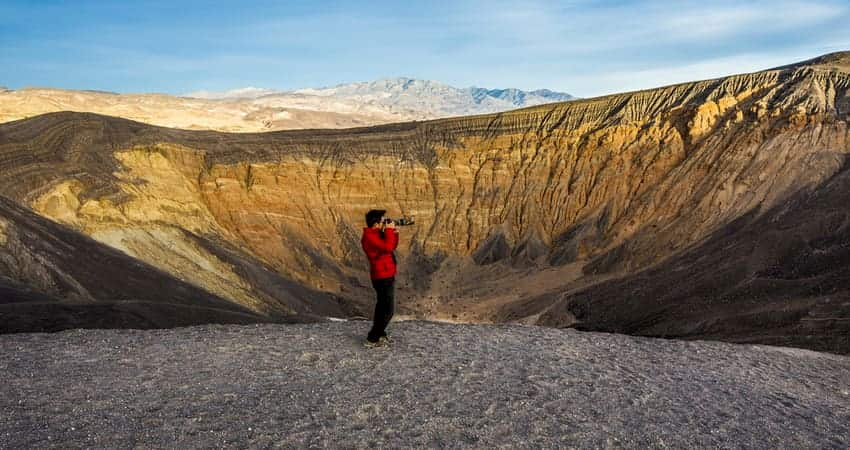 Death Valley National Park
Distance from Downtown Las Vegas: 130 miles
GPS Address: 328 Greenland Blvd, Death Valley, CA 92328
Phone: (760) 786-3200
Death Valley's name may not be very inviting, but this national park sees plenty of day-trip visitors coming from Vegas. As its name suggests, Death Valley isn't for the faint of heart, particularly during the summer when daily temperatures easily reach above 110°F. It's highly recommended to visit Death Valley in the winter months when the heat has subsided.
Be sure to pack plenty of water and snacks and to enjoy the climate-controlled cabin of your charter bus before exploring the "hottest place on Earth."
Visit Badwater Basin (the lowest point in North America at 282 feet below sea level), take in the rugged mountain views from Zabriskie Point and Dante's View, learn about the Death Valley Ghost Towns from the gold rush era, or grab a map at the Furnace Creek Visitor Center to hike one of the park's many picturesque trails. Keep in mind that Death Valley has several scenic drives, but not all locations are suitable for larger vehicles like charter buses. If you want to see spots like Titus Canyon or other popular backcountry roads, you'll need to find a company offering off-road vehicle rentals. Jeeps are usually the go-to option.
Oversized and commercial vehicles will be charged based on passenger capacity. Minibuses for 16-25 passengers will be charged $100, and charter buses with 26+ passengers will be $200. If you're planning a large event (hey, a desert wedding isn't unheard of), don't forget to apply for a special use permit.
Zion National Park
Distance from Downtown Las Vegas: 160 miles
Visitor Center Address: 1101 Zion – Mount Carmel Hwy, Hurricane, UT 84737
Phone: (435) 772-3256
Tired of miles and miles of deserts? With its breathtaking mixture of greenery, waterfalls, rivers, and rock formations, Zion is ranked among the likes of Yellowstone and Yosemite as being one of the best national parks to visit. Explore the park's many scenic points like Angel's Landing and Weeping Rock, and then hike one of Zion Canyon's 18 trails. If you want an easy trail, the Riverside Walk trail is a 2.2-mile wheelchair-accessible route that takes visitors along the serene Virgin River. Looking for a more intense hike? Try steeper trails like Weeping Rock or The Narrows.
Designated bus parking is available in four locations throughout the park, along with loading/unloading zones for passengers. Non-commercial organized groups traveling by charter bus (capacity of 16+) will pay $20.00 per person, but entrance charges will not exceed commercial fees for vehicles of the same size. Children 15 and younger are admitted free. Buses will also have to pay an additional $15 fee to go through the Zion-Mt. Carmel Tunnel.
Zion is an exceptionally popular park. So much so that visitors have occasionally been turned away due to overcrowding. Though parking is available inside, it's usually full by 10 am during peak travel seasons: spring, summer, and major holidays. A shuttle service is available from designated lots in nearby Springdale, but these can also become overcrowded during peak season. Large groups can make their travel experience easier by renting a private charter bus fit to their capacity needs and getting dropped off at the Zion Lodge Lawn. Your bus driver can then park in Springdale and come retrieve your group at the end of your day. Empty buses do not have to pay additional fees to enter the park to pick up passengers.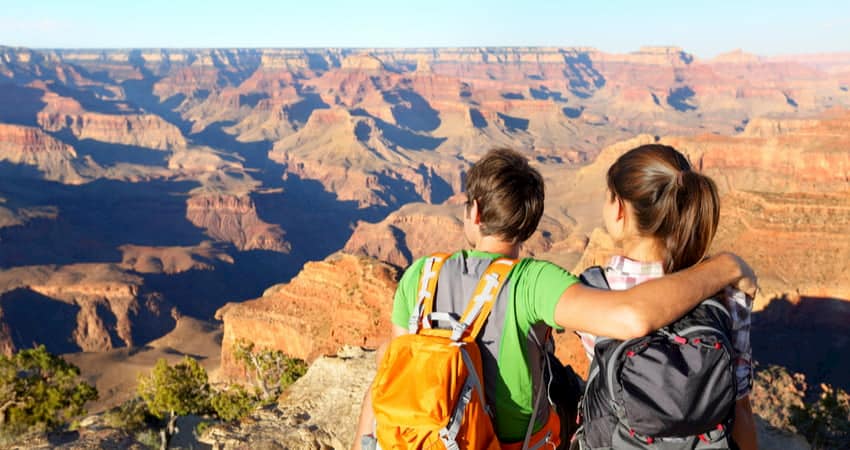 Distance from Downtown Las Vegas: 260 miles
Main South Rim Visitor Center Address: S Entrance Rd, Grand Canyon Village, AZ 86023
Phone: (928) 638-7888
The Grand Canyon is well…grand? It's hailed as one of the greatest natural wonders in the world and if you're an outdoor enthusiast or are generally familiar with major landmarks, you've definitely heard of it. It's one of the most famous sites managed by the National Park Service and is the second-most-visited national park, right after the Great Smoky Mountains.
I wouldn't consider the trip from Vegas to the Grand Canyon South Rim a "day trip," per se. It's around 4.5 – 5 hours each way, which can be exhausting for both you (especially after a long day out in the sun,) and your charter bus driver. If you're planning a trip to the Grand Canyon, consider booking a lodge for your group to rest overnight before heading back to Vegas or even down to Phoenix.
As with most other parks, organized non-commercial groups traveling in a charter bus will pay entrance fees based on vehicle capacity. Charter buses with 16-passenger capacity or higher will pay $8 per person. Oversized vehicle parking is available in Lot 1 of the Visitor Center, Lot B near Market Plaza, and Lot D near the Backcountry Information Center. Try to arrive by 9 am during peak season to secure parking for your bus.
At nearly 2,000 square miles, Grand Canyon National Park offers endless exploration opportunities. The Grand Canyon South Rim is the most developed area of the park and is where the main visitor center is located. Start your journey at the South Rim Visitor Center in Grand Canyon Village by pursuing the intricate indoor and outdoor exhibits, grab a map, and get going!
Public shuttle buses are provided within the park to transport visitors between scenic points and trailheads. To cut down on road traffic, it's usually recommended that you have your bus driver park and then use the pre-scheduled shuttle buses to hop between sites. If you're looking for some great photo ops, be sure to stop at Mather Point and Yavapai Point, both a short distance from the visitor center. Is hiking a major trail on your group's bucket list? Beginners can take on the 13-mile paved South Rim Trail while more experienced hikers may opt to hike the famous 12-mile Bright Angel Trail.
Let's Hit the Road!
Although Las Vegas is known for its flashy spending and overall extravagance, sometimes a day surrounded by nature provides a much-needed break. Plan a day out with a group of your favorite people and let National Charter Bus handle the transportation. Call our offices 24/7 at (702) 780-0497 to receive a free quote and to book your private charter bus to the area's top natural wonders.
Tags In