Guide to Visiting Yosemite National Park with a Group
As 2019's 5th most-visited national park, Yosemite is a great place to get outdoors and enjoy some beautiful greenery. The towering ancient sequoia trees, breathtaking views of Bridalveil Fall, and the iconic hike up the Half Dome attract millions of visitors each year.
If you've been itching to get out of the house for an adventure after being cooped up inside this year, we're here to help safely transport your group to your next big trip to Yosemite. Get your established pod of people together, pack up your bus, and let National Charter Bus carry you right to the park! We're available 24 hours a day at 1-844-755-0510 to give you a free quote on your bus trip.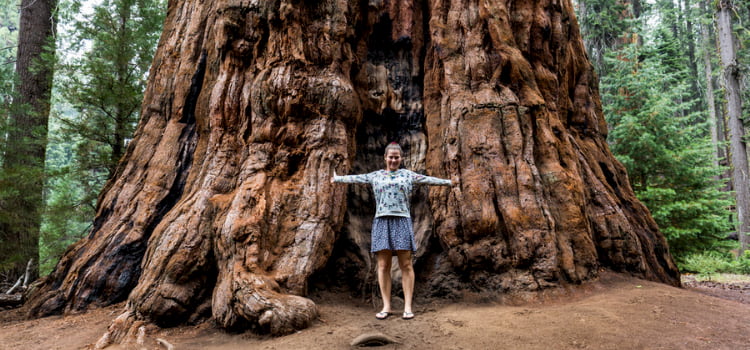 Extra COVID-19 precautions
Both Yosemite and National Charter Bus are taking extra precautions to keep your group safe during the COVID-19 pandemic.
From us: We're still booking trips, so if you'd like to see Yosemite with your fellow quarantine buddies, we're ready to get your trip organized. We'll make sure your bus is clean and well-ventilated, pair you with a reliable driver, and help you mandate masks and social distancing onboard. If you'd like, you can read more about our COVID-19 group travel precautions.
From Yosemite: As of late September 2020, the only open campgrounds are Upper, Lower, and North Pines Campgrounds and Wawona Horse Camp. Shared campgrounds that don't facilitate social distancing are still closed. All trails are open and backpacking is allowed, but the park advises hikers to keep their distance from other groups.
Yosemite continually updates its COVID-19 news page, so we definitely recommend checking in before you plan your trip!
Bus options for your group
If you're traveling to Yosemite with a group but you're stressing about how you'll get everyone there, we've got you. No one wants to split into multiple cars, try to keep a caravan together, and then find adjoining parking spots. Plus, you'll be tired after a long day of hiking and exploring. That's where we come in.
Keeping it simple with a 20-person hiking group? Book a 25-passenger minibus with plenty of seats for everyone, plus a little extra room for backpacks or picnic supplies.
Bringing a club of 50+ out to see Yosemite Falls? Book a full-sized charter bus so that no one has to put all of those extra miles on their car.
Need to build a custom fleet for your school field trip group? No problem! We charter multiple bus sizes and can always put together a fleet of buses that's customized to your needs.
But what will the ride be like? You'll have your pick of amenities like WiFi, climate controls, undercarriage storage, reclining seats, televisions with DVD players, and even onboard restrooms. Just ask your reservation specialist about the types of amenities you might want for your group when you call to book, and we'll make sure you're paired with the perfect bus. ADA-accessible buses are also available upon request.
Whatever you choose, all of your passengers will be able to sit back, enjoy the scenery, and relax, no matter how far you're traveling.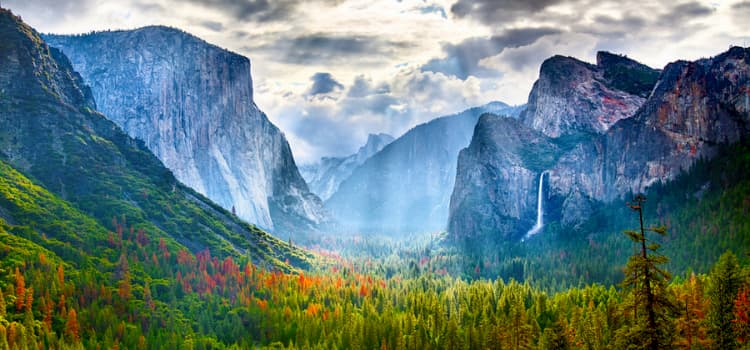 When to visit
Yosemite is open all day every day throughout the year, but locals and frequent visitors will tell you that the best times to visit Yosemite are during the months of May or September, when the weather is tolerable and the crowds aren't overbearing. Water flow is often strongest around May, so that's a great time to visit if you're interested in seeing the park's waterfalls. If you're planning a trip closer to the winter season, bear in mind that many trails could be closed due to snow.
All park entrances except for Hetch Hetchy are open 24 hours a day, so you're free to enter at whatever time suits you best.
How to get there
Yosemite's general address is simply "California" which, honestly, makes us feel pretty overwhelmed. The visitor's center can be found at the following address:
9035 Village Dr, Yosemite Valley, CA 95389
Or you can plan to arrive at one of the park's five main entrances.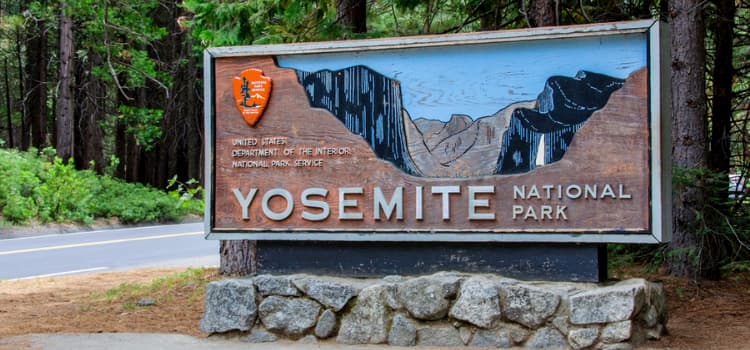 There's a lot of information out there about which entrance might be best (and which attractions are nearest to each entrance), but here are a few basic tips to help you start your planning:
Hetch Hetchy Entrance (northwest): best for escaping crowds.
Fastest route: Highway 120 to Evergreen Road.
Big Oak Flat Entrance & Arch Rock Entrance (west and southwest, respectively): best if you're traveling from San Francisco or the Bay Area.
Fastest route: I-580 East to I-205 East.
Cut to Highway 120 for Big Oak Flat or to Highway 140 for Arch Rock
South Entrance (south): best if you're traveling from San Diego or Los Angeles.
Fastest route: Highway 41.
Tioga Pass Entrance (east): best if you're traveling from Las Vegas.
Fastest route: via I-95 and Highway 120
Yosemite usually offers public shuttle services through Yosemite Valley, Mariposa Grove, and Tuolumne Meadows, but those shuttles aren't operating right now due to COVID-19. If you'd like to explore those areas or set up your own bus tour around Yosemite, just add it to your trip itinerary so your bus driver can take you to the park's most scenic spots.
Where & how to park & unload a charter bus
Parking fees: Charter buses entering the park for non-commercial use can pay $20 per person for each passenger aged 16 or over. These passes are good for seven days. You can pay online in advance or pay when you reach one of the park's entrances.
If you're booking a bus for a commercial tour, you'll need to pay $200 per vehicle for a minibus or $300 per vehicle for a full-sized charter bus.
Loading & unloading: When loading or unloading your bus, keep in mind that Yosemite enforces a strict 5-minute maximum idling time and does not permit you to keep your bus idling to use onboard air conditioners or heaters. Drivers may only allow the bus to idle for more than five minutes if they're warming up a cold engine.
Many park areas also require that charter buses arrive no more than five minutes early to a pickup and depart as soon as all passengers have entered the bus.
Be sure to check Yosemite's official bus parking guidelines to make sure your group adheres to the park's rules.
Where to park: Charter buses and minibuses are allowed to park in the following areas:
Near Yosemite Village:
Yosemite Falls parking lot, west of the Yosemite Valley Lodge (the only bus parking area in Yosemite Village)
Yosemite Falls Day Use parking lot
Near Half Dome Village and Majestic Yosemite Hotel:
Yosemite Valley Lodge designated bus parking area
Near the Yosemite Falls Picnic Area:
There is a designated bus parking area near the picnic site.
Near the Pioneer History Center in Tuolumne Grove:
There is a dirt lot across from the store parking lot specifically for motorcoach parking.
Wawona Hotel offers overnight charter bus parking.
What to see
With over 1,000 square miles, there are infinite corners, crannies, and peaks to discover throughout Yosemite. But before you venture (safely, and with a map!) into the park, consider visiting some of the park's most popular highlights:
Yosemite Falls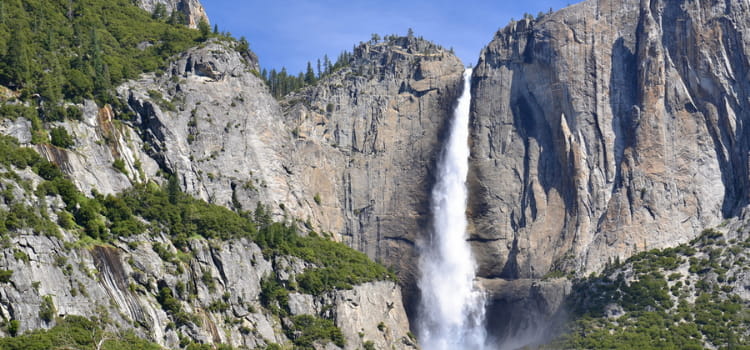 Why it's great: This is actually a combination of three cliffside waterfalls that come together to form one of the highest (and most picturesque) waterfalls in North America. The falls are also great for a one-day tour, as the connecting trail is a simple one-mile (and wheelchair-accessible!) loop.
El Capitan
Why it's great: This 3,000-foot-tall granite mountain is one of the Earth's most iconic rock formations. If you're feeling particularly adventurous, you can even scale the side of the mountain by rope climbing or following a trail.
Bridalveil Fall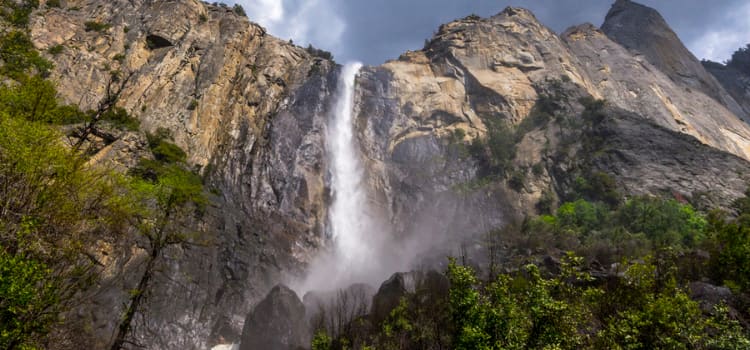 Why it's great: This 620-foot waterfall welcomes many visitors into the park and offers a beautiful photo opportunity at its easily-accessible base.
Half Dome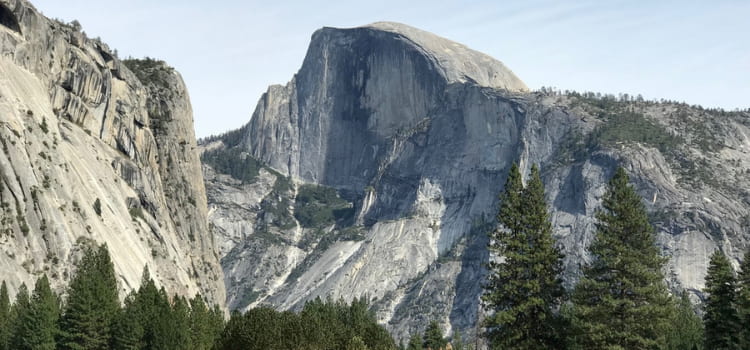 Why it's great: Half Dome often tempts adventurous hikers with its slick surface and 9,000-foot summit. The coveted view from the top can only be reached by a select few, but the dome itself is still a site within itself.
Horsetail Fall (a.k.a. "The Firefall")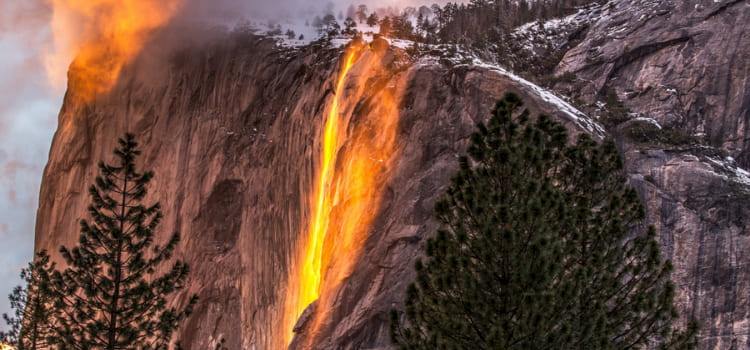 Why it's great: Just off the eastern edge of El Capitan lies this often-overlooked waterfall, which seems to glow orange during sunsets in mid-to-late February. If you're visiting the park during that time, you definitely won't want to miss it.
Mariposa Grove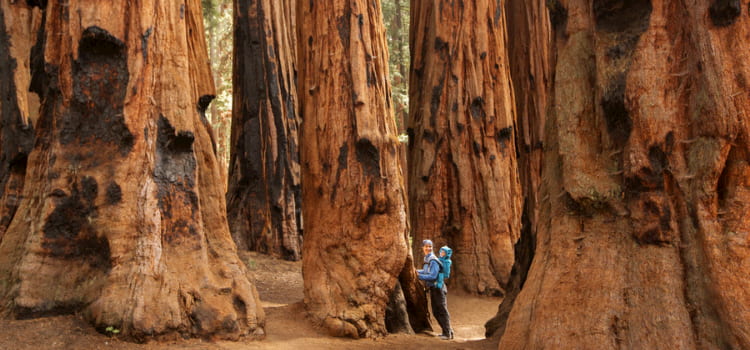 Why it's great: Here's where you'll find those towering sequoia trees that the park is known for. You can choose from one of four trails to lead you past some of the tallest and most famous trees in the world.
Book Your Bus to Yosemite National Park
Ready to plan your own adventure to Yosemite? National Charter Bus has you covered, with reliable drivers, comfortable buses, and easy travels, all at a predictable price point. Call us today at 1-844-755-0510 to book your trip to Yosemite National Park!