Guide to Visiting Sequoia National Park with a Group
Every nature-lover's bucket list should have the beautiful Sequoia National Park in the number one spot (just above Grand Teton and Yellowstone, of course). Between day hikes in the Giant Forest and sweeping landscape views from Moro Rock, there's every reason to plan a trip to this iconic national park—though we understand it could be challenging to arrange transportation and an itinerary for a group to travel to this beautiful yet remote destination.
National Charter Bus makes it easy for groups of all sizes to travel comfortably and conveniently to Sequoia National Park. No need to worry about confusing public transportation schedules and transfers, or choosing multiple drivers to navigate your group along windy mountain roads. We can provide you with an expert group transportation service and a professional driver for simple, straightforward transportation. Read on to learn more about how to plan your group trip to Sequoia National Park, then give us a call at 1-844-755-0510 to speak with a reservation specialist about how to put your travel plan into action!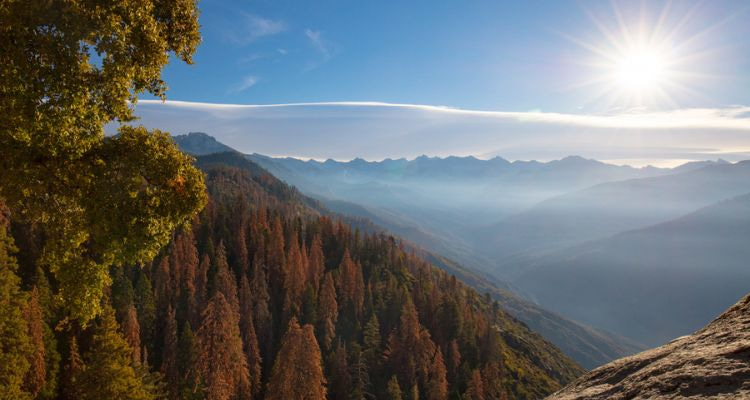 How to Get to Sequoia National Park
Sequoia National Park is located just a couple of hours away for groups traveling from California cities like Fresno and Bakersfield, but for everyone else, it may be a bit of a hike (no pun intended). If you're traveling from out of state or elsewhere in California, you can rent a charter bus for easy, comfortable long-distance transportation for your group to Sequoia National Park. You can also choose to fly into Fresno Yosemite International Airport or Visalia Municipal Airport where you can arrange further transportation. No matter how you choose to get there, call National Charter Bus to help at any step of the way.
Travel Options for Your Group
For a group of people, traveling to Sequoia National Park all together can be tricky. Your options can include arriving by personal or rental car, the park shuttle, or private charter bus rental with National Charter Bus.
Personal/Rental Car: If you choose to drive or carpool to Sequoia National Park, you can enjoy scenic routes without much concern for vehicle length limits, but will need a mindful driver to navigate narrow and winding mountain roads. You will also be limited by how many people you can fit in a car, plus personal belongings, camping/picnicking equipment, and anything else you want to bring with you on your trip.
Ticketed Bus/Train Ride: Whether you're traveling from out of state or elsewhere in California, you and your group can choose to purchase tickets from Greyhound Lines or Amtrak. An Amtrak train ride can get you to nearby Fresno, while a Greyhound bus will take you to Visalia Transit Center. From here, you can transfer to the Sequoia Park shuttle. Otherwise, you would need to rent a vehicle from Fresno to finish your travels to the park.
Park Shuttles: The Sequoia Park shuttle offers pick-up and transportation from Visalia Transit Center to and around Sequoia National Park (however, pick-up locations and routes are subject to change). Once inside the park, it can transport you and your group to many popular destinations within the park, according to a designated schedule and route. Keep in mind that the shuttle can only transport 16 people, so if you're traveling with a medium-to-large group, you may not all be able to travel together.
Private Charter Bus: A private charter bus rental is the only sure way to travel with a group, all together and on your schedule, to Sequoia National Park. You can ensure you have the best type of bus transportation for your group—one that includes air-conditioning, free WiFi connection, and ample storage space for belongings and equipment you want to bring with you to the park.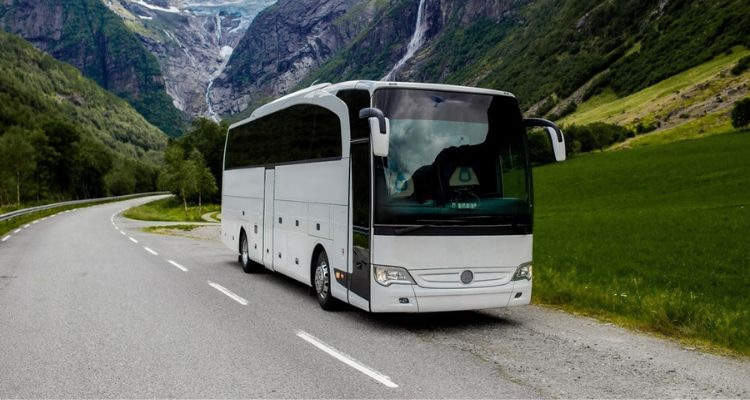 Planning Your Visit
When to visit
The best time to visit Sequoia National Park is in summertime—June through August—when the weather is the most stable and predictable. The park is open year-round, but it may be challenging to visit the park as a group during the winter. Snow chains/winter tires are required to safely navigate park roads in winter, which charter buses may not be able to accommodate.
Where to park/unload a charter bus rental
Sequoia National Park has three main entrances: Ash Mountain, Big Stump, and Lookout Point. Where you choose to enter the park depends on your Sequoia National Park itinerary. You can arrange to have your group dropped off and picked up at one of the visitor centers, and also arrange to have your bus parked there too. Visitor centers with parking spaces that can accommodate a charter bus include King Canyon Visitor Center, Lodgepole Visitor Center, and Village, and Foothills Visitor Center.
Charter bus travel restrictions
Because roads in Sequoia National Park are winding and steep, longer vehicles like charter bus rentals often cross the double yellow line and pose a danger to other drivers. Charter buses, RVs, and trailers are prohibited on some roads, like Panoramic Point Road which is extremely narrow and winding, and unsafe for large vehicles. Please keep this in mind when planning your trip to Sequoia National Park, as you may need to use the park shuttle or plan a day hike to access some areas.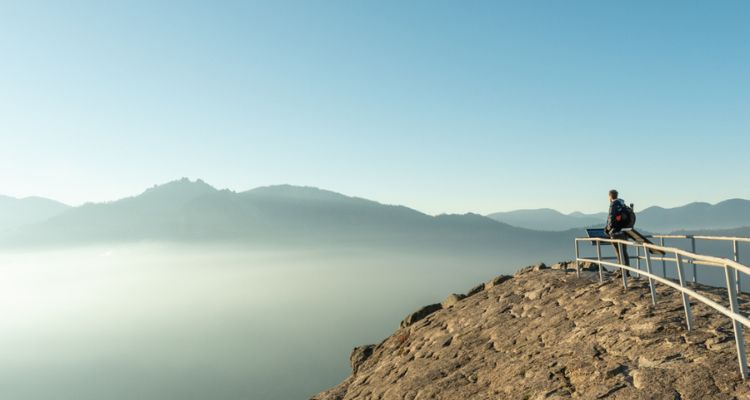 Park Highlights and Popular Things to Do
The most important part of your trip to Sequoia National Park (aside from your bus rental, of course) is what you're going to do when you get there! Whether you're a religious group seeking to enjoy a team-building retreat or a group of tourists enjoying a family vacation, you can enjoy your visit at Sequoia National Park in any way you'd like to.
Visit the General Sherman Tree
At 275 feet tall and over 36 feet in diameter, the General Sherman Tree is the world's largest tree measured by volume. Plan to lead your group along the Main Trail through the Giant Forest sequoia grove, where they can enjoy exhibits explaining the natural history behind the great sequoia trees.
If you're traveling with a group of go-getters and avid hikers, National Charter Bus recommends planning to hike the paved two-mile loop that begins near the Sherman Tree or the one-mile Big Trees Trail that loops around a lush meadow. At the end of your visit, you can arrange to have an air-conditioned charter bus loaded with cold water and snacks waiting for your crew!
Participate in a Junior Ranger Program
If you're planning a field trip for a school class, scout group, or youth organization, then consider organizing an adventure to participate in a Sequoia National Park Ranger Program. You can encourage students to earn their Junior Ranger Badge by exploring the park and completing the Junior Ranger Activity Booklet, plan an overnight camping trip with team-building activities, or enjoy a ranger-guided walk in the park.
With a charter bus rental from National Charter Bus, you can comfortably and easily transport a group of kids and teens to Sequoia National Park aboard a spacious motorcoach equipped with entertaining amenities like TVs and a DVD player, and free WiFi. They'll enjoy the journey as much as the destination!
Plan a Day Hike
Whether your group is interested in a short, paved trail or an all-day trek for experienced hikers, Sequoia National Park has it all. Want a little bit of a challenging hike with stunning waterfall views? Opt for a trail in the lush foothills. More interested in giant sequoias and beginner-friendly trails? Plan to walk along the paved Grant Tree Trail, North Grove Loop, or Big Stump Basin. There's a trail for every type of hiker and wilderness traveler, so plan according to the ability of your group, lace up your boots, and have an adventure at Sequoia National Park.
Climb Moro Rock
To enjoy the spectacular views only Moro Rock can offer the hard-working hiker, plan to have your group climb over 350 steps to the top of this iconic granite dome. If it sounds overwhelming, don't worry. It's well worth the effort. As you climb, views open up for you to see the foothills, San Joaquin Valley, and the vast surrounding wilderness. Handrails along the way make the trek relatively safe, and you and your group can take your time and adjust to elevation levels accordingly. Plus, you'll be grateful you added this hike to your itinerary when you can walk away with an epic group photo!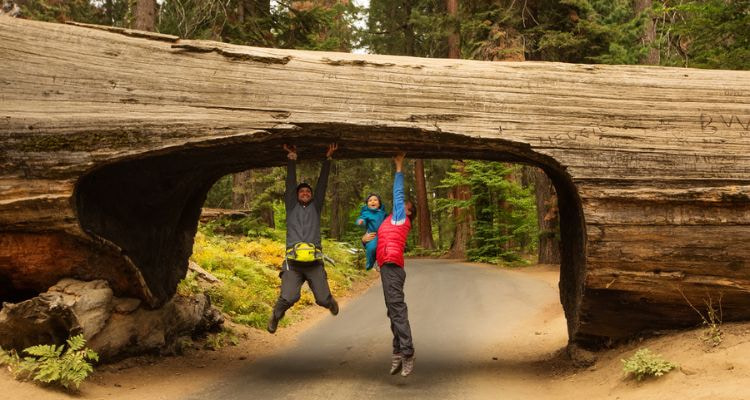 Plan Your Transportation to Sequoia National Park Today
No matter how you choose to travel to Sequoia National Park, we hope a charter bus rental with National Charter Bus can help you on your way! Whether you need a comfortable motorcoach for a cross-country road trip, shuttle service from a nearby airport or California city, or simply private transportation to accommodate a custom schedule at the park, we're here to help you plan your trip. Call us anytime at 1-844-755-0510 to speak with a reservation specialist and get the no-obligation price quote you need to start planning!