The Best Fall Activities in Boston for Groups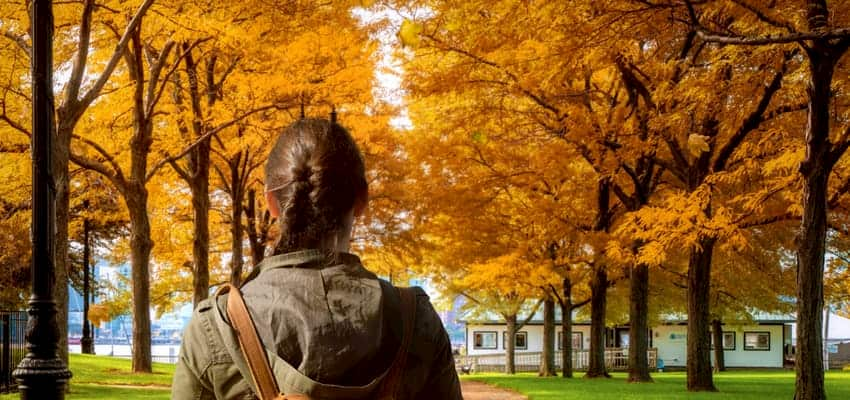 Now that we've hit September, it's officially fall!
Well okay, it isn't technically fall until September 23rd, but finally being in an -er month should count for something, right?
Boston is one of the best cities to experience the leaves changing and the brisk, crisp autumn weather.
It's the perfect place for out-of-town groups to take in the fall colors and the best time for locals to revel in the cool weather before a tough winter.
Get together with a group of friends, family, colleagues, or event host an academic trip to one of these popular events or locations. National Charter Bus Boston has your transportation covered to any group outing in Boston this fall.
Appreciate the Great Outdoors
Take a hike! Seriously, get a group together and take a hike or stroll in one of Boston's beautiful parks and outdoor recreation spaces. There's no better way to appreciate the peak of fall season in Boston than by organizing a group hike to admire the fall foliage.
Make sure everyone in your group has on their comfiest walking or hiking shoes and get ready for a day in the crisp, fall air. Pack all your gear and necessities for the day on your charter bus and head to one of these outdoor spaces for your next company team-building event, a school field trip, or even just a day out with a big group of loved ones.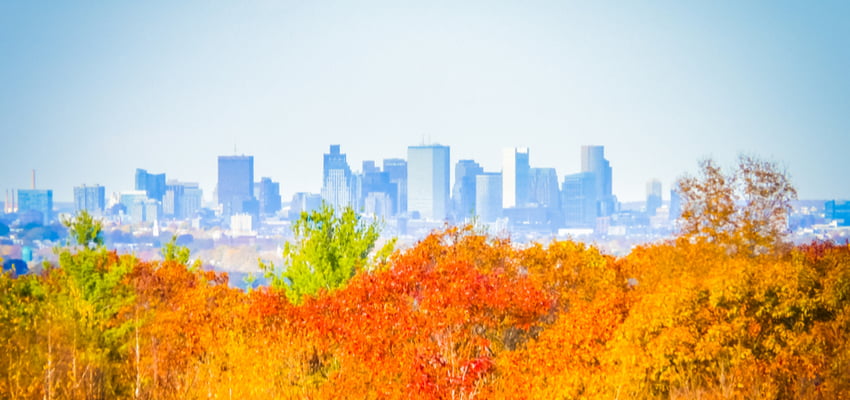 Blue Hills Reservation
Address: 695 Hillside St, Milton, MA 02186
Phone: (617) 698-1802
Located just a few miles south of Boston, Blue Hills Reservation offers hiking and biking trails that give visitors pristine views of the Boston skyline. With over 125 miles of trails ranging in difficulty, groups of all types will have options at this reservation. Blue Hills has plenty of opportunities for viewing the Boston skyline between the amazing autumn landscape.
Arnold Arboretum
Address: 125 Arborway, Jamaica Plain, Boston, MA 02130
Phone: (617) 524-1717
Take a visit to the country's oldest arboretum in the Jamaica Plain neighborhood of Boston. The more than 250-acre arboretum is a part of the prestigious Harvard University and sits as the second-largest park in Boston's Emerald Necklace. The arboretum offers guided group tours for visitors of all ages. Visit the arboretum during the breathtaking fall months and learn about the many trees and flowers in its collection.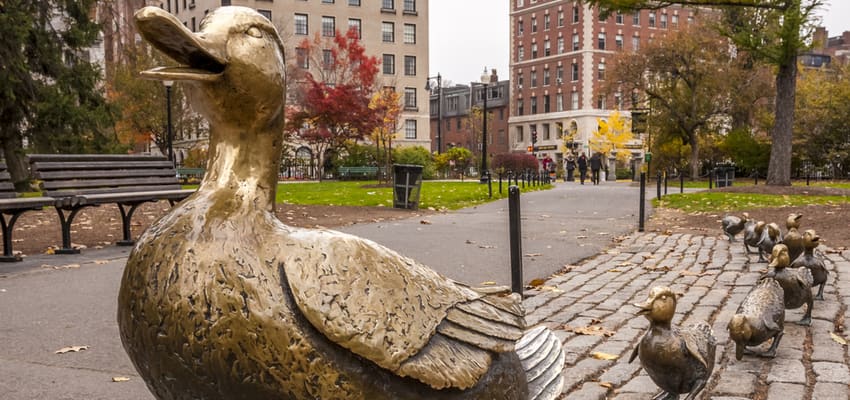 Boston Common and Public Garden
Address: 139 Tremont St, Boston, MA 02111
Phone: (617) 635-4505
As a historic attraction and a part of the bustling city center, the Boston Common, Boston Public Garden, and Freedom Trail are always bound to be packed with visitors. Although the area may be crowded, strolling along the Freedom Trail and stopping for a picnic or photo op at Boston Common is a great option for tourists in fall. Walk the trail and admire the historic buildings lined with golden trees. If your group is exhausted after a long walk along the Freedom Trail, have your charter bus driver pick you up at the end.
Fairs, Food and Culture Festivals
Summer is generally the peak time in Boston for major music festivals like Boston Calling. In fall, food, drink, and cultural festivals take the reigns. From numerous Oktoberfest celebrations to large-scale community events, there's a fall festival or fair to pique everyone's interest.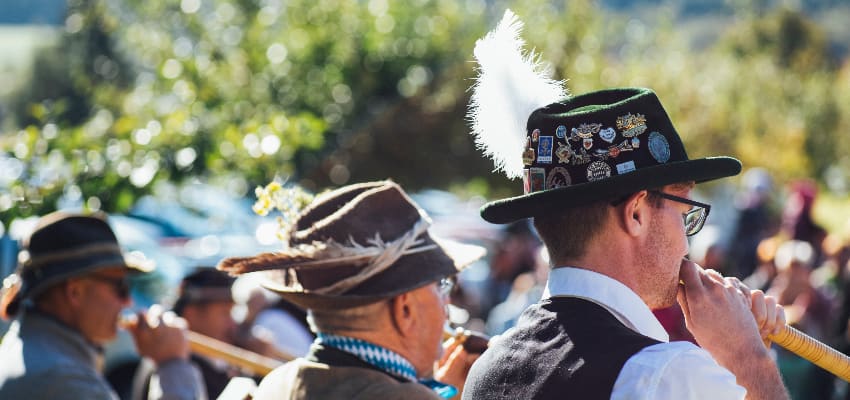 Oktoberfest Celebrations
September – October
What's fall without a traditional, lively celebration of German culture? Gather friends and family to celebrate with brews, brats, and plenty of dancing, music, and activities for the kids. Both Harpoon Brewery and Sam Adams Brewery host popular Octoberfest celebrations at their main Boston locations in the end of September or early October. If you're a group of Boston locals looking for a change of pace from the metropolitan Oktoberfests, shuttle over to Wachusett Mountain for an authentic mountaintop celebration.
The Big E
September
The Big E is New England's largest state fair and among the biggest state fairs in the country. The fair spans more than two weeks at The Eastern States Exposition in West Springfield and includes live music, fair food, carnival rides, and major agricultural competitions and events. The Big E is one of the best fall events to attend for groups traveling with children. Groups of more than 20 guests can take advantage of discounted group admission with advance sales.
Boston Book Festival
October
Get together with your fellow bibliophiles and head over to Copley Square and Dudley Square for two days of literature-related events. The annual event features authors that focus on work ranging from children's novels to poetry. With over 300 presenters and even more vendors, book lovers will have plenty to do at this annual fall event. Both days of the Boston Book Festival are free and open to the public.
Spooky New England Fun
Boston is one of the oldest cities in the US and has seen its fair share of wars and historic events. Many say that ghosts still linger from hundreds of years of history, making this New England area a prime destination during Halloween.
Take a Day Trip to Salem
The Salem Witch Trials are part of what put this city in the history books and in the running for "Most Haunted City in the United States." Salem is around 20 miles north of Boston and an easy day trip for groups looking to learn about some of the city's interesting (albeit macabre) history.  Visit the city's many witch-themed locations like the Salem Witch Trials Memorial, Old Burying Point Cemetery, and the Witch House, which dates back to 1692. Beyond its witchy history, Salem also offers great educational opportunities for groups at attractions like the Peabody Essex Museum and The House of the Seven Gables.
Boston Halloween Bashes and Parades
There's no shortage of Halloween events in Boston. From spooktacular costume fairs and trick-or-treating events for kids to Halloween bar crawls for adults, there's something for groups of all ages! Attend the popular North End Halloween Parade or join in on the annual Boston HalloWeekend PubCrawl starting at historic Faneuil Hall. Your group transportation to busy Boston Halloween events will be covered from beginning to end with National Charter Bus.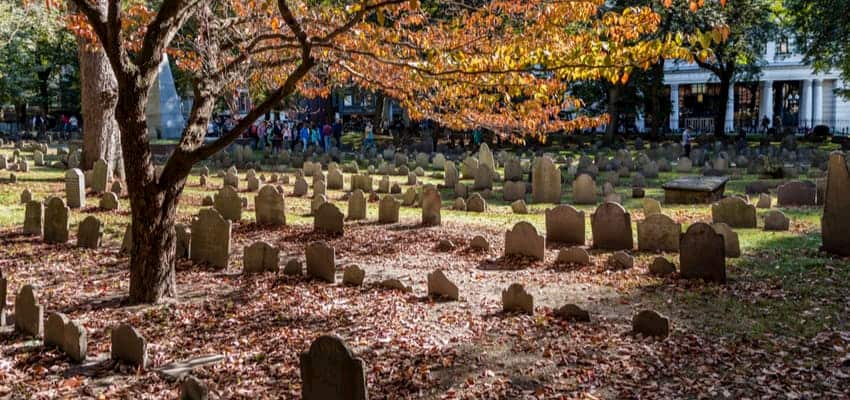 Book a Haunted Tour
Looking for some true chills and thrills this Halloween? Take one of many haunted group tours around Boston. The Freedom Trail offers guided evening tours around the city's many historic sights. You'll be guided through some of the trial's greatest mysteries by eerie lantern light.
If you're looking for an even spookier experience, book a guided ghost tour around Boston's centuries-old graveyards, haunted hotels, and attractions. You'll have a knowledgeable tour guide with plenty of hair-raising stories for your evening.
Attend a New England Sporting Event
Even though the Red Sox and Fenway Park will be winding down thanks to the end of baseball season, all other professional sports seasons are still in full swing! Sports fans visiting Boston will have more than enough options when looking for a sporting event in fall.
Tailgate at Gillette Stadium and learn why the Patriots are hailed as one of the best teams in the National Football League. If basketball or ice hockey are more your group's speed, head over to TD Garden to cheer on the Boston Celtics or the Bruins.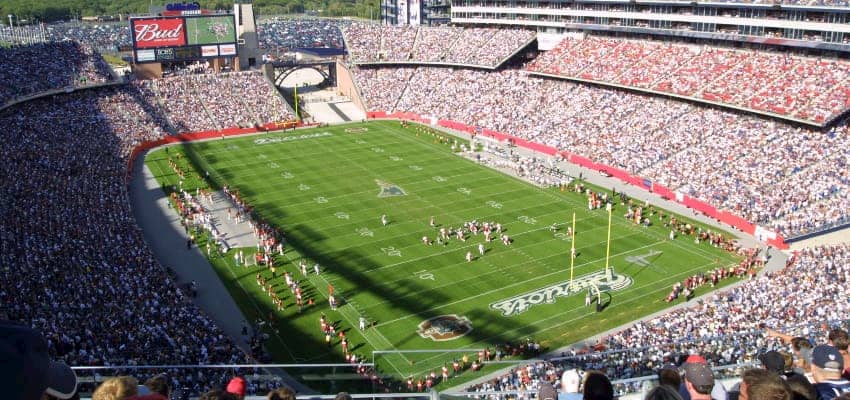 Image Credit
Before planning to attend a fall game, be sure to inquire about group sales. TD Garden offers group tickets for 20 or more guests attending a Celtics game, while grabbing group tickets for Bruins and Patriots games can be much more difficult.
Whichever game you choose to attend, National Charter Bus will make your tailgating and post-victory experience that much sweeter with a motorcoach and professional driver.
Book Your Boston Charter Bus for Fall Fun
Ready to explore all the fall activities that Boston has to offer? Get your group together and reserve your transportation for a day of fall fun with National Charter Bus Boston. Call us anytime at 617-275-8102 to get a minibus or charter bus quote for your fall festivities in Boston.
Tags In