Which Group Transportation Method Should I Use?
When it comes time to plan your next group trip, one of the first decisions you should make is what transportation methods you'll use during your travels. So how do you decide what mode of transport is right for your group?
Well, it depends on your plan and what's important to you. How far will you be traveling? How many people are tagging along? What's your budget? What does your itinerary look like? Are you worried about environmental impact?
Luckily, the National Charter Bus team has put together this guide to help you determine what your passengers should use for your next outing. Keep reading to see the pros and cons of popular methods of group transportation: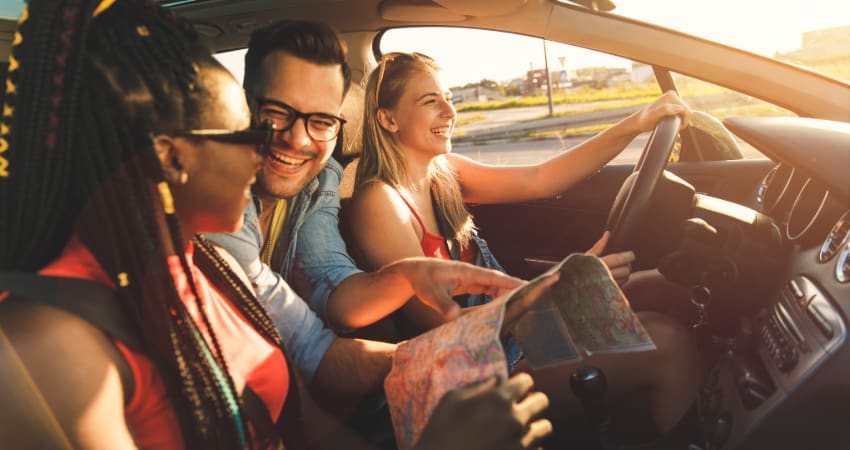 Personal Vehicle
Great for: smaller groups, short trips, and those who don't mind splitting up
Personal Vehicle Pros:
When most Americans think "road trip," the image of a car on an open road is the first thing that comes to mind. After all, 93% of U.S. households already have one. And in North America, personal vehicles and highway systems are the best way to get between and around most cities and destinations.
Besides the prevalence of roads and (relative) ease of access, embarking for your next group trip in a caravan of personal vehicles or rental cars can be inexpensive. Especially if a few of your group members are willing to volunteer their cars, you will only need to budget for gas and potential tolls. In other words, the cost of driving a car is the same regardless of the number of passengers in the vehicle—as opposed to traveling by plane, for example, where you pay per seat.
Traveling by car also grants groups more flexibility when it comes to itinerary-building. Relying on a car means there's no need to rush to catch a train or a plane, and you're not beholden to the strict routes of a public transit system.
Personal Vehicle Cons:
Say what you will about how economical your sister's minivan is—you can't say it's especially comfortable. For overnight trips and long-distance journeys, packing a car full of bodies and their luggage involves an amount of spatial awareness and mental math some travelers might not want to worry about.
Volunteering your vehicles for a group trip also means putting wear and tear on your own cars. This may not be ideal for long stretches on the road, or in the case of an accident or roadside mishap.
Driving cars (rental or otherwise) also means that groups with more than 6 or so passengers will need to split into multiple cars. In that case, you'll need more volunteer drivers—and if you're planning a private vacation or transporting minors, folks may not want to or legally be able to drive. Multiple vehicles also run the risk of getting lost or separated on busy highways, and no one wants to circle a parking lot trading "where are you?" texts back and forth when you've got a busy itinerary ahead of you.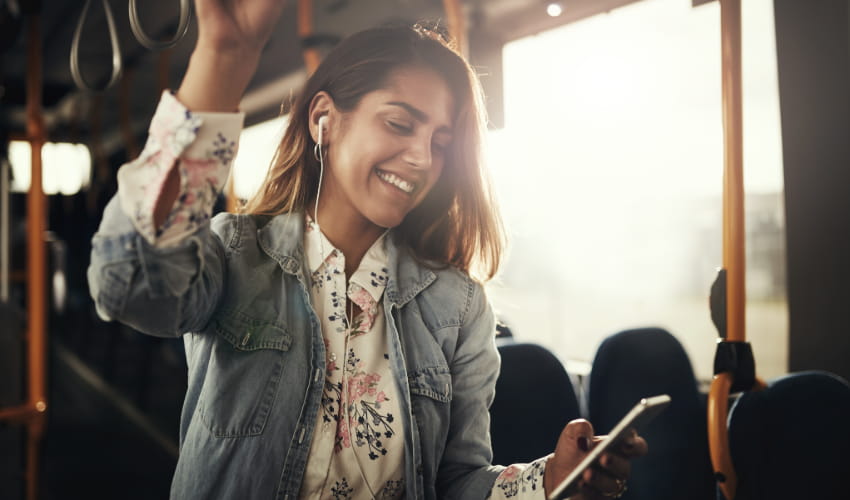 Public Transit
Great for: budget-conscious city travelers
Public Transit Pros:
If you don't count walking, utilizing the local bus or train systems is one of the cheapest ways groups can navigate a city. The average public transit fare in the United States is $1.60 per ride (though it varies—Chicago and Atlanta both charge $2.50 while some cities like Boston are considering throwing out public transit fares altogether).
Public Transit Cons:
Unlike in other parts of the world, U.S. infrastructure is not exactly built with intercity travel in mind. So while public buses and rail lines can efficiently transport your group within city limits, if you're traveling to places outside major city centers or even between cities, public transit is not always readily available.
Public transit is also not your friend when you have hefty luggage in tow (as there are little-to-no storage compartments on most buses and trains) or are unfamiliar with the routes and schedules. It's for this reason that many large groups who include small children, folks with disabilities, and out-of-towners tend to avoid public transit, to avoid getting lost or separated between stops.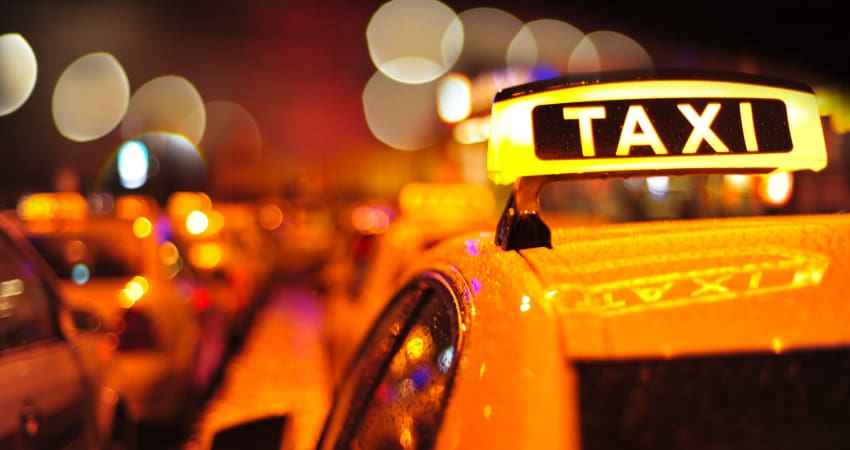 Taxi and Rideshare
Great for: fast-and-loose travelers who prefer flexibility
Taxi and Rideshare Pros:
Most cities have at least a few taxi companies to choose from. And with the growing prevalence of ridesharing apps like Uber and Lyft, hailing a ride is fairly easy for most destinations. Not only do these services provide on-demand transportation, but they're also flexible in terms of where they can take you. They can go anywhere a car can drive—no need to memorize a bus route or a train schedule. Plus, with a pro driver at the wheel, your group members can sit back, relax, and let someone else handle the logistics while you chat, take in the sights from your window, or focus on what awaits you at your next destination.
Taxi and Rideshare Cons:
Like we said, rideshare services and taxis are just cars. So if you're traveling with a group of 6 or more people, you'll likely need to split up to get where you're going—which raises your travel expenses.
And speaking of expenses, pricing and rates for this method of transportation can be unpredictable and rely on external factors like conventions, festivals, and peak tourism seasons. While taxis and rideshares offer flexible transportation that doesn't need to stick to a set schedule, they require some degree of flexibility when it comes to budget. If you're expensing your own private trip with friends and family, this may not be a big deal. But if you're with a nonprofit or corporate group with a set budget in mind, keeping track of receipts can be a hassle.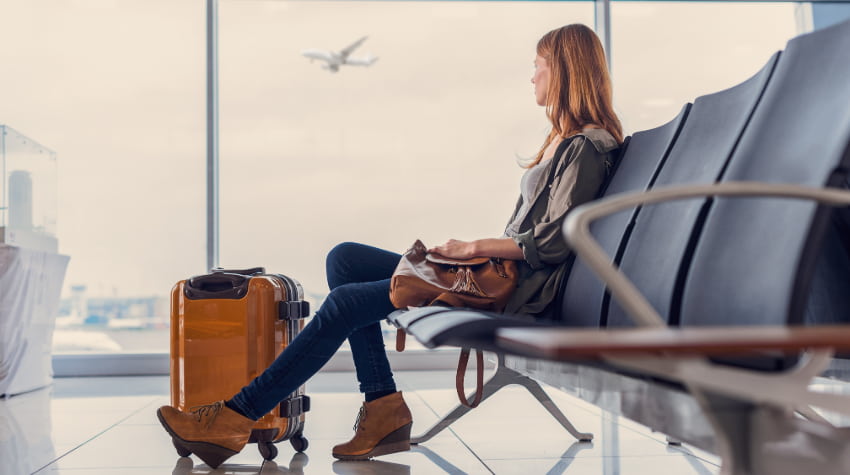 Plane
Great for: long-distance travelers on a time crunch
Plane Pros:
Flying is the fastest and one of the most convenient ways to cover long distances. If you're only traveling into the next state over, you won't shave much time off of the trip when you factor in going through security and waiting for your luggage. But longer trips, such as cross-country journeys that would normally take multiple days by ground transport, will only take a few hours.
Also, most airplanes are designed with passengers' comfort in mind. Traveling by air shifts the logistics of loading luggage and figuring out the best way to get between destinations from you to the airline. And you can take advantage of the comforts you won't find on public transport, in a taxi, or in your personal vehicle—including WiFi, movies, games, complimentary food, and restrooms.
Plane Cons:
On the flip side, flying is one of the most expensive transportation methods around, especially for groups. While some airlines like United offer 5% discounts for groups of 10 or more, it's common to pay upwards of $200 per person on mid- to -long-distance flights. Also, your group will still need to arrange ground transportation once you arrive at your given city, which means the high cost of flying is not even the beginning or end of your group's travel expenses.
Also, when traveling by airplane, your group will have very little control over the route you take and when you arrive. Sure, you can opt for a flight path that includes a connecting flight and enough layover to sightsee. But compared to other modes of transport, you and your passengers have limited control over your itinerary and pitstops.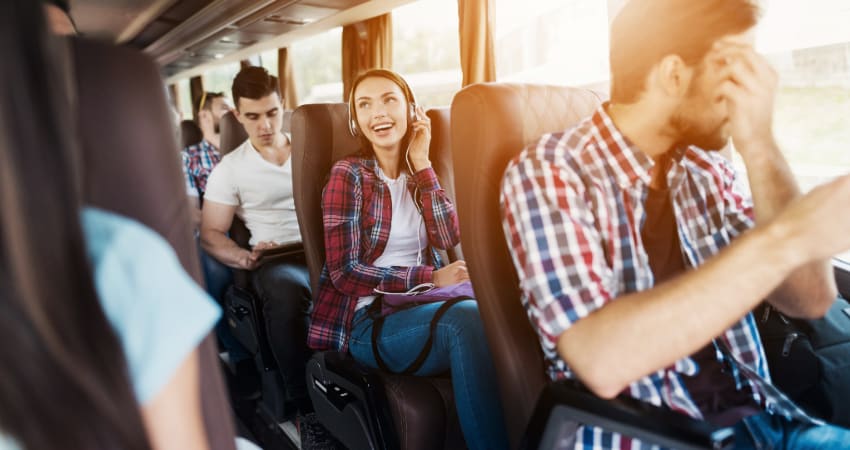 Minibus or Charter Bus Rental
Great for: larger groups who value comfort and customizability
Private Bus Rental Pros:
Private bus rentals vary in size, from compact minibuses to 56-passenger charter buses—so no matter how many people are in your group, everyone can arrive in one vehicle, all at the same time. And like a taxi, rideshare, or airplane, your group won't have to sweat the logistical details. Instead, a professional driver will be at your disposal to take care of the navigation, driving, and parking. Oh, and did we mention that traveling in a full motorcoach can be one of the most environmentally-friendly methods of transport available to North Americans?
But perhaps the biggest perk of traveling in a motorcoach or private bus is the fact that the entire experience is designed to be comfortable for your passengers. An average charter bus not only offers enough storage space for every passenger to bring multiple suitcases (that you don't have to pay extra for, unlike on an airplane!), but also premium amenities like free WiFi, individual power outlets, TVs with a DVD player, an onboard entertainment system, and a restroom.
The bells and whistles that come with a private coach also allow for less hassle on the travel planner's end. For example, while the New York City subway system has made improvements over recent years, only 25% of subway stops are wheelchair accessible, which greatly restricts the places travelers with disabilities can visit. If given enough time to find an ADA-compliant coach, however, your bus reservation specialist will connect you to one at no additional cost—one that can take your wheelchair users anywhere they want to go within the city.
Private Bus Rental Cons:
In some cities (especially old ones like San Francisco and New Orleans), many historical neighborhoods with narrow streets restrict oversized vehicle access. In other words, visiting places like Alamo Square or the French Quarter by motorcoach will require extra care when it comes to arranging loading/unloading zones and traversing the city.
Otherwise, the only major drawback of traveling by motorcoach is the price. While they are usually still less costly than flying, charter bus and minibus rentals can easily cost over $500 for local trips and over $2,000 for multiday journeys (depending on the city, available onboard amenities, and how long you need to rent it). Some groups find the upfront, all-inclusive costs make budgeting travel expenses easier, and some groups find the prices more manageable when every passenger chips in for the bus rental. But if your group is not large enough to fill a bus and the cost is a worry, other modes of transportation may suit your travels better.
Get Your Group Moving with National Charter Bus
If your group decides that a private bus rental is the best transportation method for your next group trip, National Charter Bus is here to help. Our 24/7 reservation team is always available to walk you through the rental process—whether you have questions about a specific bus model or need a personalized, free quote. Give us a call at 1-844-755-0510 once you have a headcount and an itinerary together, and National Charter Bus will be able to connect you to your ideal group transportation rental in minutes!