Where to Park and Load a Charter Bus in Chicago
There's so many reasons to bring a group to Chicago, and traveling by private minibus or charter bus is one of the easiest ways to get around together.
When you rent a bus through National Charter Bus, our 24/7 team is always there to help you hash out the transportation details—including what size bus you need and what amenities you'd like along for the ride. But knowing where your bus can and can't be certainly wouldn't hurt when planning your itinerary, which is why we've created this guide!
Keep reading to learn the ins and outs of parking a bus in Chicago, and call 312-392-0239 whenever you're ready to lock in a free, no-obligation quote for your rental.
Overnight Bus Parking
We know all you'll want to think about after a long day of traveling is winding down in your nice, clean bed. But before your group tucks in for a good night's rest, your bus will need a place to spend the night as well.
Hotel Parking
What's potentially the easiest place to park your bus overnight? Right at your hotel! Keeping your vehicle near your driver's room and board—which you need to provide for them, by the way—makes the loading process easier every morning, since they won't need transportation to the bus from the hotel.
With that in mind, whether or not your Chicago hotel offers bus parking can be hit or miss. Some lodgings offer complimentary bus parking and others charge extra for motorcoaches, but many places won't provide either. (Chicago is a dense city, so parking comes at a premium even when oversized vehicles aren't in the equation.) Just to be sure to ask the concierge if bus parking is available when you call to reserve a block of rooms.
McCormick Place Marshalling Yard
Address: 3050 Moe Dr, Chicago, IL 60616
If parking your charter bus or minibus at the hotel is not an option, this public lot is most likely your best bet. Bus drivers can park their motorcoaches in Lot B for a rate of $38 per day (and overnight, depending on spot availability), which includes unlimited in and out privileges. The parking attendant can even provide your driver with taxi information so they have a safe ride back to the hotel after a long day. It's open 24/7/365—except when there's a large trade show at the nearby convention center, so call (312) 808-3138 ahead of your trip to ensure availability.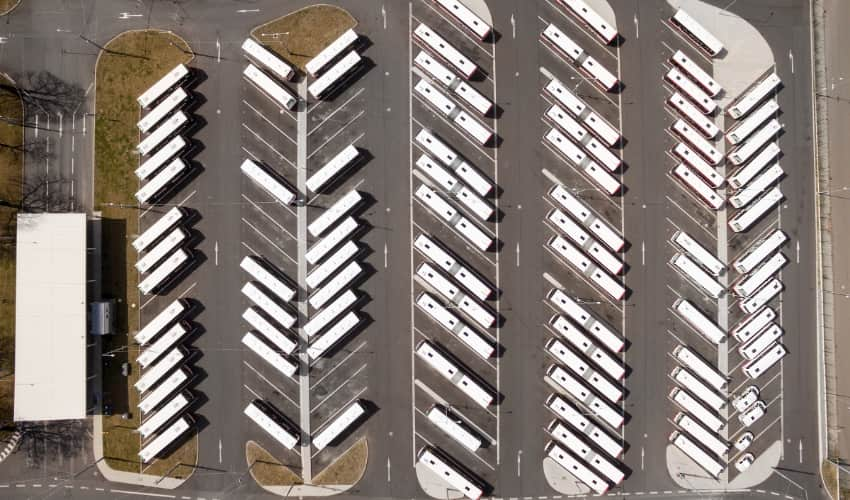 Daytime Bus Parking
When you're out and about during the day, your bus will need a place to park while your group sightsees, enjoys your wedding, cheers on your favorite team, or does whatever your trip brought you to Chicago to do. Luckily, there are a few bus-friendly parking options scattered throughout the city:
The Adler Lot
Address: 1362 S Linn White Dr, Chicago, IL 60605
It's technically the parking lot attached to the Adler Planetarium, but it serves as the go-to parking zone for buses anywhere near the Museum Campus section of Grant Park. If your group plans to tour the Shedd Aquarium, catch a game at Soldier Field, or otherwise be in Chinatown, the South Loop, or Little Italy—this parking lot is perfect for you.
Your driver can enter any time between 7 a.m. and 5 p.m., and all vehicles must leave the lot before 11 p.m. Prepaid parking passes are available, but be sure to double-check your calendar before sending your driver here—entry to the lot is very limited during Bears home games and special events at the planetarium.
The Wilson Lot
Address: 4600 N Lake Shore Dr, Chicago, IL 60640
Traveling near the north side of town? Here's your stop: this parking lot in Lincoln Park, near the skatepark and Montrose Beach. It's a short drive away from Wrigley Field, the Lincoln Park Zoo, the Chicago History Museum, and trendy neighborhoods like Lake View, Wicker Park, and Uptown. Like the Adler Lot, this lot lets you pre-purchase your parking pass online to save time upon arrival—your driver will just need to print out and display the pass in the bus's window.
On-Street Parking
There are some select curbside parking areas that can accommodate motorcoaches. Keep in mind that these spaces are available to all vehicles—personal cars and private buses alike—so they may fill up quickly on the weekends or during the peak travel months in summer.
That being said, it may be worth checking out these bus-friendly street parking areas if they're close to one of your Chicago stops:
Canal Street–South of Roosevelt Road, parking is available on the east side of the street Monday through Saturday
Kinzie Street–Parking is available on both sides of the street between Des Plaines Street and Union Avenue
Green Street—Between Kinzie Street and Carroll Avenue, your driver can park along the east side of the street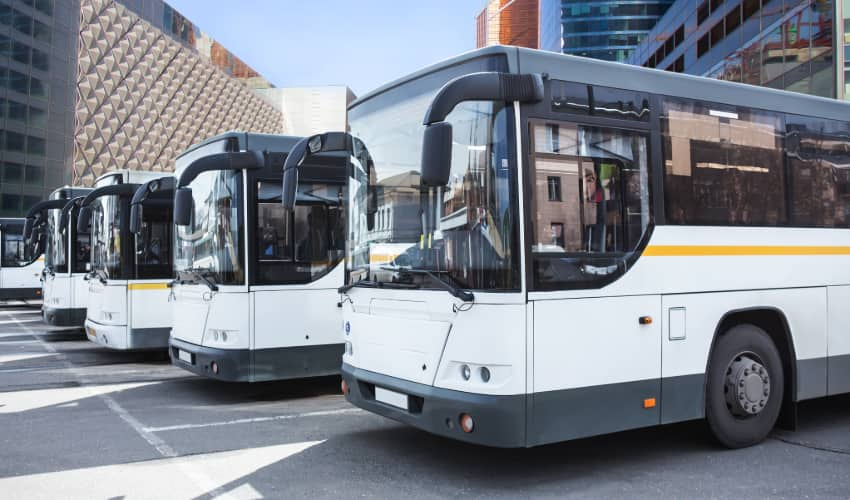 Idling in Parking Zones
According to the city of Chicago's guidelines, motorcoaches may not idle engines in parking areas for more than 3 minutes prior to their time of departure. The only exception to this rule is when outside temperatures are either below 32 degrees or above 80 degrees Fahrenheit—in which case your driver can idle as long as necessary to keep the coach and the passengers safe from the elements.
Loading and Unloading Near Chicago's Top Attractions
Of course, the closest bus-friendly parking lot is not always within walking distance of where your group needs to be. That's where loading/unloading zones come in.
These are spaces designated by the city where motorcoaches can temporarily idle while passengers embark and disembark. You cannot load or unload a bus anywhere else besides a parking lot, and buses can stay in these zones for only 15 minutes at a time—so look alive when you see your ride approaching!
There's plenty of these spots around the city, but here's where you can load or unload your bus near some popular Chicago attractions:

Skydeck Chicago
For those braving the heights of one of the tallest buildings in the world, exit your bus along Wacker Drive, on the west side of Willis Tower. Ascend the 103 stories up to the Skydeck, venture out onto the clear-glass balcony, watch the traffic zooming down below your feet, and take a group photo with the sweeping views of the city and Lake Michigan as your backdrop.
Here is where you'll find the infamous Cloud Gate, the whimsical Crown Fountain, and the interesting architecture of the Pritzker Pavilion. Have your driver drop you off near the Welcome Center, where Stetson Street dead-ends into Upper Randolph Street. Look for the bike rental station and you can't miss it.
The Magnificent Mile™
Ready to window-shop 'til you drop? Your driver can drop off your group right in the heart of this premier shopping district, either on the east 200 block of Chicago Avenue (across the street from the Water Works Visitor Center) or at 701 North Rush Street. And don't worry about picking up something nice for yourself while you're here—your driver will be more than happy to look after your souvenirs if you leave them on the bus, so you can explore your next stop unencumbered.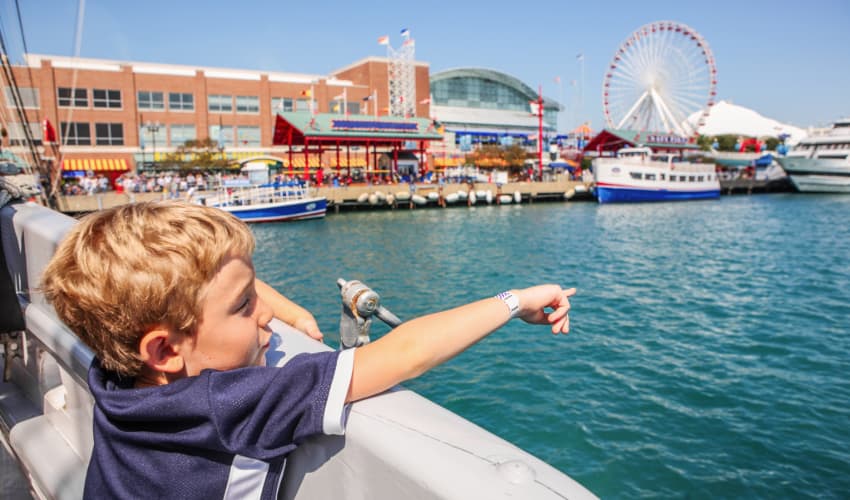 If your group is craving some good eats and fresh air blowing in off the Lake, tell your driver to drop your group off at 588 East Streeter Drive, right near the entrance to Navy Pier. When you reserve through National Charter Bus, your driver will strive to arrive at least 10 minutes early to every stop listed on your itinerary, so no one has to miss a single dinner reservation!
Reserve Your Chicago Charter Bus Rental
Now that you know where to park, all that's left to do is figure out how you're going to get there.
Never fear, National Charter Bus can help you with that too. No matter what brings you to the Windy City—a wedding, a college tour, a sightseeing excursion, you name it—we can set your group up with a reliable transportation service that ticks every box. Our huge network of coaches means we can find nearly any combination of vehicle size and featured amenities to suit your group's needs—from ADA-accessible shuttles with a lift and wider aisleways to full-sized charter buses with WiFi and TVs to keep everyone entertained between stops. Say the word, and we'll make it happen.
Call 312-392-0239 today for a free, no-obligation quote personalized to your Chicago group trip!
Tags In