Where to Park and Load a Charter Bus in New Orleans
New Orleans is one of the biggest group vacation destinations in the South. The city welcomes tourists year-round for big events like Mardi Gras and the New Orleans Jazz Festival. Traveling around NOLA offers groups endless opportunities for fun and entertainment. Figuring out how you'll get around town isn't so fun though.
Groups traveling in New Orleans may want to opt for a private minibus or charter bus. Keeping everyone in one vehicle with a pro driver behind the wheel is easier than handling logistics for an entire caravan. National Charter Bus can easily handle your transportation with a fully-loaded motorcoach equipped with top amenities like WiFi and reclining seats.
Building your itinerary to explore New Orleans by charter bus will be much easier if you know where you can load and park oversized vehicles. Check out this helpful NOLA parking guide and then call 504-272-2481 to chat with a National Charter Bus rental expert for a free quote.
New Orleans Charter Bus Regulations
Along with cities like New York and Washington DC, New Orleans has strict guidelines for oversized vehicles in certain areas. Popular historic neighborhoods like the French Quarter and Garden District have narrow roads and heavy foot traffic, making them more difficult to navigate by charter bus.
Before you plan your trip, review the city's motorcoach rules and regulations to avoid any major transportation hassles. These regulations include using specified routes around restricted districts and abiding by 15-minute time limits in loading zones. Be sure to communicate any regulations or concerns with your National Charter Bus reservation expert ahead of time. It'll also be helpful to communicate any special travel requests to your driver throughout your trip.
Hotel and Overnight Parking
If you're taking a multi-day trip, you'll have to find a place to park your bus overnight. Available parking onsite at your hotel is going to completely depend on where you're lodging. For example, groups staying in Uptown will likely have more onsite options than those staying in the Warehouse District near the hustle and bustle of the French Quarter. When you book your group's hotel block, inquire about a room for your driver (some hotels offer discounted rates for motorcoach operators) and on-site parking options.
Hotels without onsite parking for your charter bus might be near facilities with overnight parking for oversized vehicles. You can always ask your hotel concierge about offsite options, but here are a few lots to consider:
French Quarter Basin Lot
Address: 1205 Saint Louis St., New Orleans, LA 70112
This public lot is located just a few blocks from the French Quarter and offers prime charter bus parking if you'll be lodging in the heart of New Orleans. Overnight parking for oversized vehicles is available for $50 per 24 hours. Since this lot is so close to the French Quarter and many local attractions, parking availability may be limited during Mardi Gras.
French Quarter RV Resort
Address: 500 N Claiborne Ave, New Orleans, LA 70112
Phone: 504-586-3000
Depending on the time of year, oversized vehicle parking may be available at local RV parks. The French Quarter Resort in Tremé / Lafitte is typically reserved for RVs, but guests traveling by charter bus may be able to snag a spot with prior reservation. Rates begin at around $75 per night.
SP+ Parking Lots
Phone: 504-525-5476, ext. 1511
SP+ Parking operates several lots throughout the city with overnight parking for large vehicles. Call the parking office ahead of time to reserved spaces for your bus. The following lots are located near the French Quarter:
Tulane Lot
Address: 210 S. Villere Street, New Orleans, LA 70112
Price: $60 per day
Jung Lot
Address: 201 S. Liberty Street, New Orleans, LA 70112
Price: $60 per day
Blue Lot
Address: 1000 Perdido Street, New Orleans, LA 70112
Price: $75 per day
Family Lot
Address: 1000 Poydras Street, New Orleans, LA 70113
Price: $90 per day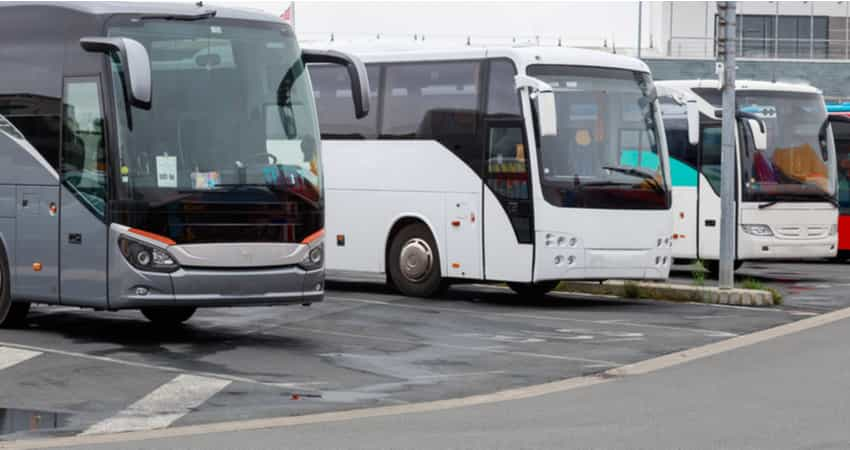 Daytime Bus Parking Lots
Your group will have an endless number of things to explore in New Orleans during the day, so you'll want to have easy access to your charter bus. Finding a central daytime parking spot will make it easier to hop on your bus and shuttle across the city.
Ernest N. Morial Convention Center (ENMCC) Lot J
Address: 102 Henderson Street, New Orleans, LA 70130
Phone: 504-252-1118
There are several lots around ENMCC, but select areas are reserved for charter buses in Lot J. Parking in this lot is a base flat rate of $35 per day. This may be a bit steep for guests who are only planning to spend a couple of hours in the Warehouse District, but this neighborhood is within easy walking distance to the French Quarter and Lower Garden District.
Keep in mind there aren't in-and-out privileges at this lot. If you're planning to explore farther away areas like Tremé/Lafitte and Faubourg Marigny, you may want to opt for a different parking solution.
Whale Wall Lot
Address: 728 Convention Center Blvd, New Orleans, LA 70130
Phone: 504-584-3994
This lot is located along the Riverwalk and is operated by the Hilton New Orleans Riverside next door. Oversized parking is available here and is usually reserved for hotel guests, but the hotel does offer oversized parking to the public if there is availability. Call or email msynh-parking@hilton.com in advance to ask about availability and cost.
Farmer's Market Lots
Address: 400-500 Elysian Fields Ave, New Orleans, LA 70117
Phone: 504-524-2919 ext. 101
Groups planning to explore Faubourg Marigny's popular attractions like Frenchmen Street can pre-organize parking at lots on Elysian Fields Avenue. Standard Parking operates two lots that accommodate charter buses as long as you make a reservation. The area is close to Frenchmen Street's famous jazz cubs, fun nightlife, local art markets, and tasty restaurants.
On-Street Parking
Metered street parking is available throughout New Orleans for standard vehicles but is often restricted for oversized vehicles. Parking on unauthorized streets can come with a heavy fine. It may be tempting to have your driver snag available meter spots if you're traveling in a compact minibus—but it's better to be safe than sorry in a designated lot.
Loading and Unloading Passengers at New Orleans' Top Attractions
The last thing anyone wants is to get a ticket for a traffic or loading violation while on vacation. Many loading areas around town have a strict 15-minute limit. To avoid any travel-related stress, make sure you not only have your parking in order but your loading process too.
National WWII Museum
The bus loading zone is directly behind the museum on the right side of Magazine Street (It's a one-way road, so it'll be easy to spot). The loading area will be marked by a red passenger area sign. After unloading, your driver can find a short-term parking area down Magazine Street underneath the Pontchartrain Expressway.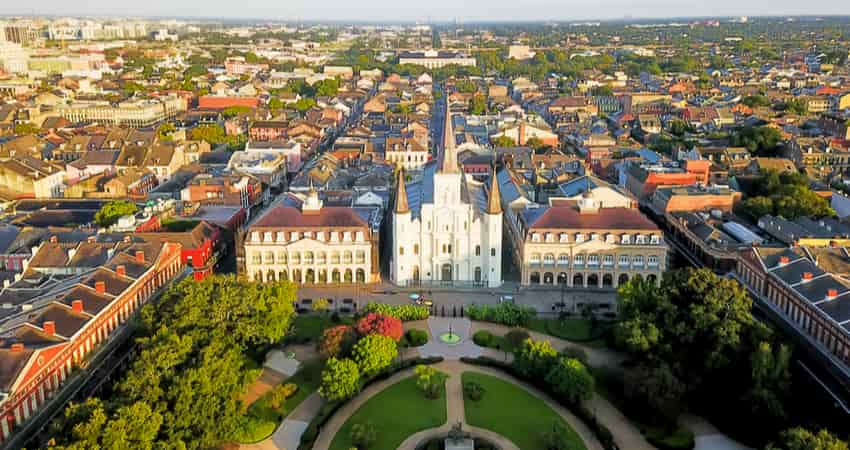 Jackson Square
This historic site is located in the heart of the French Quarter. With its heavy foot traffic and narrow roads, loading and unloading a bus in this area can be tricky. There are two bus loading zones close to Jackson Square. Have your driver drop your group off at the intersection of North Peters Street and Bienville Street or along Decatur Street between Ursulines Avenue and Governor Nicholls Street.
Mardi Gras World
Even if you aren't visiting NOLA during Mardi Gras, you can still get a taste of the holiday at this specialty museum. If you've booked a group tour, you'll have access to a designated bus loading area along Port of New Orleans Place and free parking.
New Orleans City Park
New Orleans City Park is a sprawling green space encompassing several attractions like the New Orleans Museum of Art (NOMA), Louisiana Children's Museum, and New Orleans Botanical Garden. Loading and unloading zones will vary depending on which attraction you're planning to visit within the park. NOMA, the Children's Museum, and Botanical Garden all allow bus unloading at their entrances. Parking for all vehicles is free throughout City Park. Buses can park along Lelong Drive at NOMA or in the lot located directly across from the botanical garden at 53 Dreyfous Drive.
Reserve a Charter Bus in New Orleans
Organizing group transportation in New Orleans may seem stressful, but don't worry! National Charter Bus has rental experts on call 24/7 at 504-272-2481 to help you out. Your rental expert can help you reserve the best type of bus for your needs, as well as help you work through parking and loading logistics. Whether you need an ADA-accessible minibus for your New Orleans family vacation or a full-sized bus for your private tour group, National Charter Bus has your transportation covered.
Tags In