A Comprehensive Guide to Visiting the NYC Boroughs
New York, New York. An urbanscape so dense, it's impossible to see it all in one trip. If your NYC travel group plans to hit all five boroughs, you're going to need a little help.
Luckily, National Charter Bus has put together this comprehensive guide to the New York City boroughs—from getting around with a group to what you should do once you get there.
Let's get started!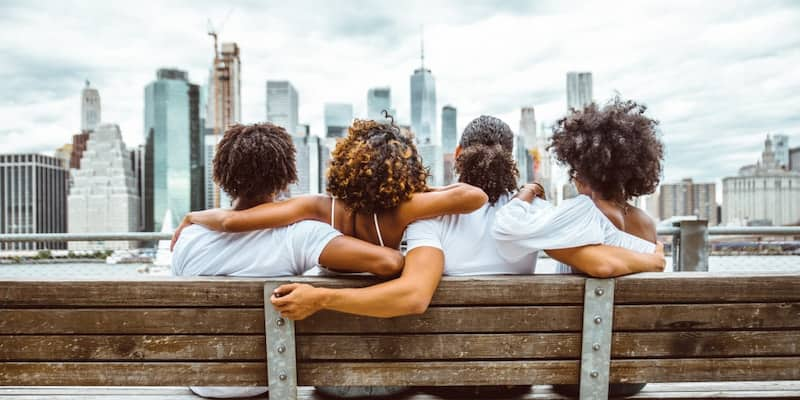 Quick Navigation:
Getting Around NYC: The Broad Strokes
If you're looking for group transportation tips for a specific borough, skip ahead to its section further down. We'll go into more detail about getting around each borough later.
But for now, here are the basics.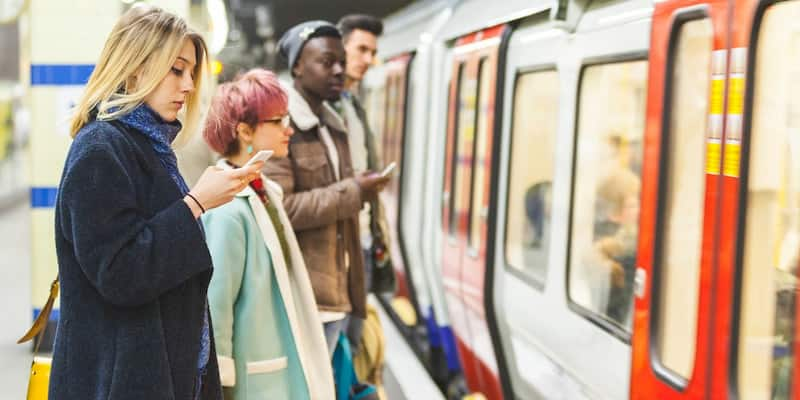 The Subway
Aka: how most locals and small groups travel within New York City.
Subway trains operate 24 hours a day, 7 days a week. There are exceptions, like closures during natural disasters, reroutes during construction, and less frequent service for non-peak hours. But more than likely there's a route to get you where you want to go, whenever you want to go.
Until the transit system switches to a contactless payment system in July 2023, to ride the subway you're going to need a MetroCard—a loadable swipe card. The New York City subway system offers multiple ways to pay your fare, including a pay-per-ride card, unlimited ride plans for 7-day or 30-day periods, and a slightly pricier single-ride fare ticket.
Honestly, determining which Metrocard mode to use depends heavily on how long you're in town and how many times you plan to use the subway. We suggest reading up on how each plan works and which one is right for you, if only to avoid fumbling at the turnstile and invoking the ire of dozens of local commuters just trying to get home.
While the NYC subway system is cheap, quick, and can get you nearly anywhere throughout the five boroughs, one thing it is not is accessible. Despite New York City's attempts to incorporate more ADA-compliant city planning and the introduction of reduced fare for folks with disabilities, only 25% of subway stations have elevator access.
But if you're traveling with wheelchair users or those with mobility concerns, there's always the public bus system… right?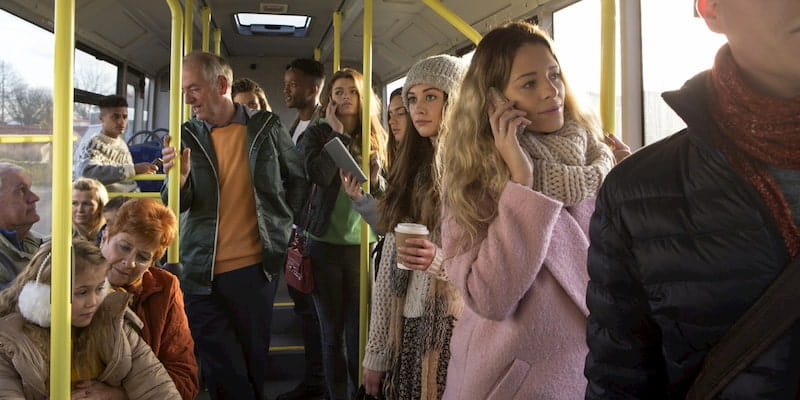 The Public Bus System
On the bright side, every bus in the MTA fleet is mobility-accessible, in that each vehicle includes an extendable ramp and a driver who can secure wheelchairs or help passengers transfer into a seat. Also, the bus system in NYC uses the same MetroCards and fare system as the subway—pretty inexpensive!—and covers much the same ground as the subway—which is to say a lot.
However, a given NYC public bus runs slower than your average subway rat—yikes—and nearly 75% of routes throughout all the boroughs earned a "D" grade or lower for speed and reliability in recent years. So unless you're hopping the Q52 Select Bus Service in Queens (the only line out of 248 that earned an "A"), expect a long wait at the bus stop and a sluggish ride to your destination.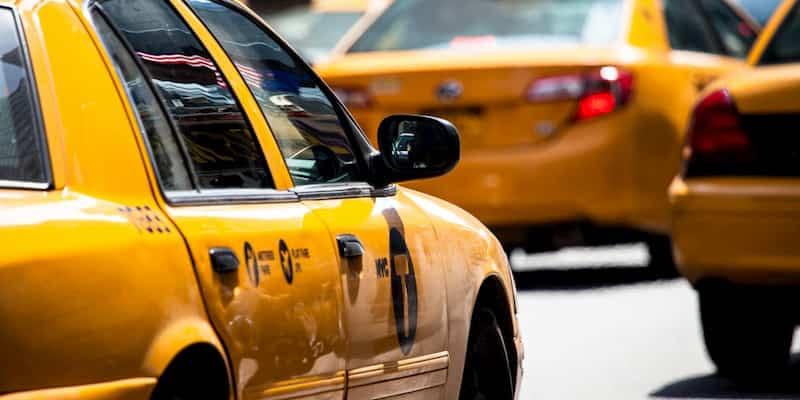 The Taxicabs
Ah, taxis! So iconic to the NYC cityscape, you'll find them plastered on t-shirts and snowglobes in all the kitschy gift shops.
Fun fact: you'll probably only see the famous yellow cabs in lower or mid-Manhattan. In northern Manhattan and all the other boroughs, you're more likely to hail a bright green Boro Taxicab. Despite their differences in location and appearance, they offer the same rates:
Base fare of $2.50
A $0.50 New York State tax surcharge
Weekdays 4 p.m. to 8 p.m., an additional $1.00 fee
Any day 8 p.m. to 6 a.m., an additional $0.50 fee
$0.50 per 1/5 of a mile while moving at or above 6 mph
$0.50 for every 2 minutes stopped or traveling below 6 mph
If crossing any toll bridges, the cost of any tolls
15% tip if you're satisfied with your ride
As far as getting around, taxis are really flexible—cab drivers are required to take you anywhere within the 5 boroughs, no matter how inconvenient for them—and accessible taxi vans are easy enough to find or reserve.
That being said, by law, only 4 people are allowed to ride in a cab at a time. So your high school class, senior citizen community, or any other group of 5 or more will have to split up into multiple cabs—which will quickly run up the cost and increase your chances of arriving at different times to your final destination. And when you've got a strict dinner reservation or you're scrambling to catch the ferry, that's definitely less than ideal—NYC waits for no one.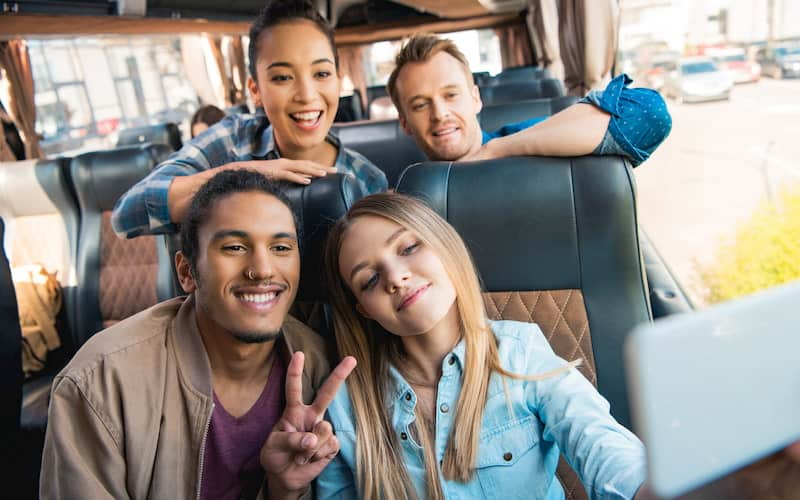 Private Transportation
Okay, we may be a little biased. But in some cases reserving a private charter bus is simply the best option, especially if you're traveling with…
10 or more people
a group of children
a group of out-of-towners
people who need accessible transportation
a tight itinerary.
And when you reserve a private coach through National Charter Bus, you get more than just a ride to all your favorite NYC destinations.
You get access to our huge network of motorcoaches, from compact minibuses to full-sized charter buses—which means we can find a bus that best suits your group's size, shape, and makeup. You can even book an ADA-compliant motorcoach at no additional charge!
You get a professional driver with years of experience and a clean driving record, who knows a thing or two about navigating the busy New York streets safely and efficiently.
You get your choice of additional amenities like onboard WiFi, TVs with DVD players, and reclining leather seats, so every passenger arrives entertained, refreshed, and ready to take on New York in total comfort.
You get a dedicated, 24-hour customer service team that won't rest until we've connected you with the perfect bus rental and nailed down every detail.
Don't believe us? Call 718-233-4974 and see for yourself how easy and effortless it is to ride with National Charter Bus. We'll offer a personalized, no-obligation quote for your New York City group transportation, free of charge!
Manhattan
If you're visiting New York City with a tour group, probability says you're going to spend most of your time here. For many tourists, this borough is synonymous with New York City as a whole. And who can blame them? All the most iconic NYC sights are here in Manhattan!
Times Square? Yep.
Empire State Building? Uh-huh.
The Broadway Theater District? It's all here.
MoMA? The main museum campus is here, yes.
The Statue of Liberty? …Well, Lady Liberty's on an island in the bay. But you can catch a ferry to her from here!
New York City may be the Capital of the World, but Manhattan is the center of it all—quite literally. All subway lines but one run through this borough, and depending on traffic, it only takes half an hour to reach most places in the city. (Oh, by the way: locals refer to Manhattan simply as "the city." If you want to avoid looking like a tourist, you should too.)
There's so much to do and see in Manhattan that you could spend full years poking around the island and still find something new every day. But if you're visiting from out of town and want to make the most of your limited time, here are some of the highlights: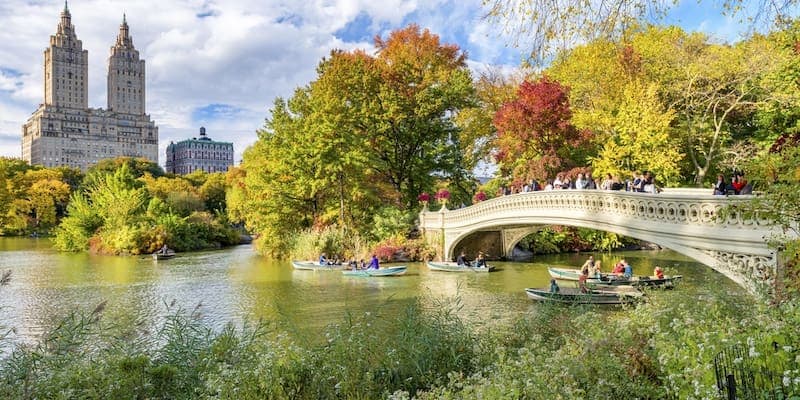 Central Park
Address: W 44th St & 45th Street, New York, NY 10036
Phone: (212) 484-1222
One thing that always seems to take out-of-towners by surprise is just how big Central Park is. It's huge—51 blocks long, or 840 acres, to be exact. Central Park is so lush and green, you can almost forget you're in the heart of an urbanscape as large and dense as Manhattan.
If you're looking for some structure and guidance, the Central Park Conservancy offers tours for groups of 10 to 40 people. These 90-minute tours run Monday through Friday between 10:30 a.m. and 1:30 p.m. and can cover a lot of different aspects of the park—from the scenic highlights to circuits of the Belvedere Castle, tours of the historical former Seneca Village site to the winding paths of The Ramble.
However, if your group can't afford a group tour, none of the tour options strike your fancy, or you're strapped for time, there's nothing wrong with letting them explore Central Park for themselves. That way, they can pay respects at Strawberry Fields, snap a selfie with the Alice in Wonderland sculpture, or gaze out over the calm waters of The Lake—all at their own pace. Just be sure to tell them when and where to meet back up, so their charter bus can whisk them away to their next stop without waiting around for the stragglers.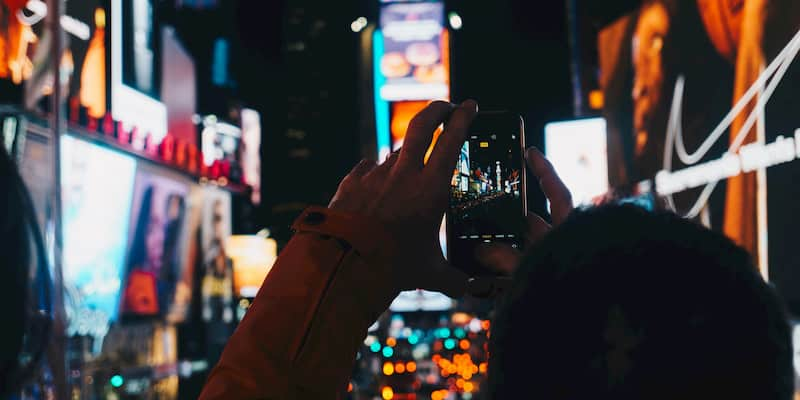 Times Square
Address: 14 East 60th Street, New York, NY 10022
Phone: (212) 310-6600
This major commercial intersection is anything but subtle. Whether you've come here to wander through the big and ostentatious storefronts, take a group photo on the bright red stairs, or simply bask in the artificial glow of over 200 billboards, you can almost always expect a crowd.
Traffic around this NYC landmark is hectic, even for New York. Pack some good walking shoes, and have your charter bus driver drop off your group around Hell's Kitchen or on the edge of Midtown—then you'll avoid the worst of the traffic jams. Besides, taking in all the storefronts, bright lights, and colorful characters of Times Square is best done at street level.
It's worth mentioning: for the safety of you and your surrounding pedestrians, don't stop in the middle of a sidewalk. This goes for any walkway in the city, but especially in places as packed as Times Square. If you or a group member need to stop—to tie your shoe, take a photo, whatever the reason—pull off to the side nearest the buildings. Otherwise, you risk getting run over (or at least annoying your fellow visitors).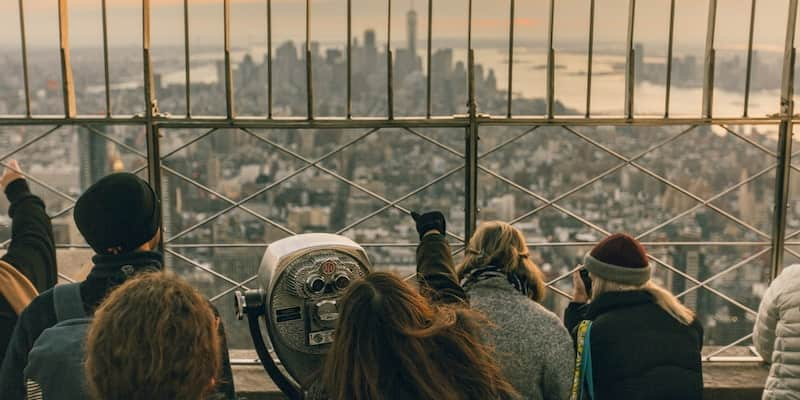 Empire State Building
Address: 20 W 34th St, New York, NY 10001
Phone: (212) 736-3100
Since conception, the Empire State Building was intended to be a giant—height restrictions were even placed on the surrounding buildings so the ESB would have unobstructed views in all directions. However, no one could have guessed exactly how huge it would be, both in size and reputation. When it was completed in 1931 (and for 40 years after), it did stand as the tallest building in the world. But even after other skyscrapers crept upward and above it, the Empire State Building still stands as one of the most iconic structures in the NYC skyline.
So needless to say, making the most of this experience involves an elevator ride up 102 stories to the observation deck—those with a fear of heights should probably sit out the ascent. We say it's well worth the climb though, as you'll be met with panoramic views of Manhattan. On a clear day, your group can even see the surrounding 80 miles of cities, suburbs, and ocean in all directions!
If you're planning to visit the Empire State Building with a school group, corporate group, or tour group of more than 20 people, you're eligible for discounted admission. Just contact the ESB beforehand with your group tour inquiry so the staff can ensure everyone tours the museum and observation deck together.
Brooklyn
More and more NYC sightseeing trips now incorporate at least one stop in Brooklyn. And who can blame them?
A haven for hipsters and history buffs alike, Brooklyn is on the up-and-up. Recent years' renovations of turn-of-the-century buildings, gentrification efforts, and rising rent prices have made this a desirable borough for entrepreneurs, start-up filmmakers, and young artists—who have brought with them a booming culture scene for youth and the young-at-heart.
The extensive stretch of subway lines in Brooklyn makes it one of the most-connected boroughs—second only to Manhattan. But there are some exceptions. Some trendier spots like Red Hook and parts of East Brooklyn have poor subway coverage, and if you're traveling between Brooklyn and any borough other than Manhattan, there are very few direct lines. Rather than navigating multiple train or bus transfers with your group of travelers, we recommend renting a minibus. It's compact and easily maneuverable in city streets, and it can offer a direct route to anywhere you need to be in Brooklyn, like these popular destinations: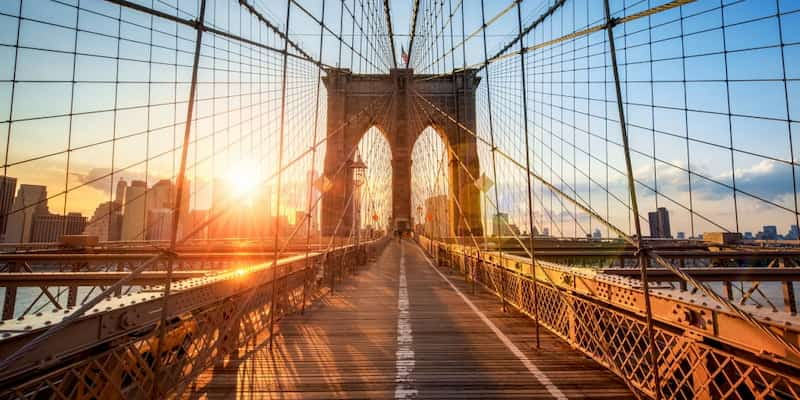 Brooklyn Bridge
Address: Brooklyn Bridge, New York, NY 10038
Phone: (347) 647-0876
When construction wrapped up in 1883, the Brooklyn Bridge was such a marvel of engineering that the public didn't believe it could exist without collapsing under its own weight—the chief architect had 21 of P.T Barnum's elephants march across to prove its structural soundness.
Nowadays, you probably won't see a circus act while crossing the pedestrian bridge over the roadway. But if the weather is clear you can easily spot the Statue of Liberty, the Chrysler Building, the New York Times' 1904 Manhattan office, and much more. The Brooklyn Bridge is open 24 hours daily and is considered a favorite spot for catching the sunset in New York City.
If you plan to walk the length of the Bridge starting in Brooklyn, have your bus drop you off on the corner of Tillary and Adams. If you're crossing from Manhattan, you'll start your stroll at the northeastern corner of City Hall Park. Normally it takes about an hour to walk the mile-long pedestrian path, but feel free to take your time crossing over. Oversized vehicles aren't permitted on the Brooklyn Bridge, so it may take a while for your private coach driver to go the long way around to your pick-up point.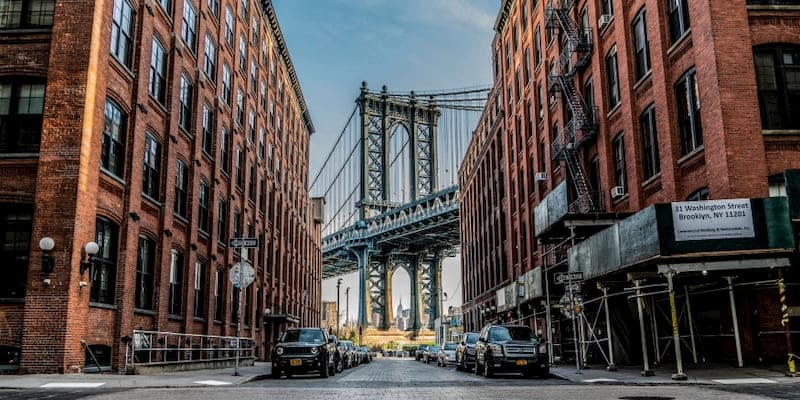 DUMBO
Address: Dumbo, Brooklyn, NY 11201
No, this has nothing to do with the cartoon.
"Down Under the Manhattan Bridge Overpass," otherwise known as DUMBO, is considered one of New York City's premier art districts. Here your group of art connoisseurs can peruse the area's multiple galleries for peeks of up-and-coming talent—we recommend the likes of St. Ann's Warehouse and the A.I.R. Gallery to start.
If you're not traveling with an artsy crowd, DUMBO still has so much to offer for those looking for the perfect souvenirs. Here, your group can haggle for a vintage find at the weekly Brooklyn Flea or check out the boutiques and food hall at Empire Stores, a renovated Civil War-era coffee warehouse.
DUMBO is also where you'll find—arguably—the most Instagrammable spot in Brooklyn: Washington Street between Front and Water Streets. Here, the cobblestone street and brick buildings beautifully frame the Manhattan Bridge (and if you line it up right, the Empire State Building as well). Please be mindful of your surroundings—plenty of other visiting photographers have the same idea, and no one likes a photobomber.
The Bronx
What do home-run legends, hip-hop history, and hundreds of acres of parks have in common? You can find them all in the Bronx! Nowhere else can you stand in the final footsteps of Edgar Allen Poe, on the street corner where the first rap battles played out, and inside the United States' largest metropolitan zoo—all in the same day!
If you search for street images of the Bronx but keep getting results that look more like San Francisco than New York City… don't worry, there's nothing wrong with your search engine. It's just that hilly here. Many sidewalks in the northwest part of the borough are simply staircases. In fact, it's not uncommon to stand on a street corner, glance a block over, and realize you're eye-level with a train line that's elevated 30 feet off the ground.
So unless you want to leave the Bronx with calves of steel, we recommend figuring out a transportation service before you go.
Luckily, National Charter Bus can get you anywhere around the Bronx. From weddings at the New York Botanical Garden to your Yankees fan club rally on game day, we won't rest until everyone arrives comfortably and safely where they need to be—including (but not limited to) these popular destinations in the Bronx:
Yankees Stadium
Address: 1 E 161 St, The Bronx, NY 10451
Phone: (718) 293-4300
Beyond housing the 27-time World Series champs that give it its namesake, this landmark is also the stomping grounds of New York City FC, one of New York's MLS teams. The stadium you see today isn't the original—the old Yankees Stadium is a block south of here and now acts as a public park—but this 2009 construction pays respect to the original's 1923 architecture and dimensions.
If you have time, sign up for a group tour of Yankees Stadium! Stadium tours run most days from 11 a.m. to 1:40 p.m, and bilingual tours are available at 1 p.m. on many tour days.
Parking lots at Yankee Stadium are not actually controlled by Yankees Stadium, which means driving and parking for a game can be expensive and limited (even by NYC standards). That's why we recommend either taking the subway or the bus if you're traveling with a group of 5 or fewer fans.
Coordinating a game-day outing for your Yankees fan group? A charter bus or minibus will be your best bet! That way, your driver can drop everyone off within walking distance of the stadium with enough time to take a pre-game tour, check out the gift shop, and grab some popcorn before finding your seat. Your professional driver will handle all the parking details while you enjoy the game and will be waiting outside whenever you're ready to head home!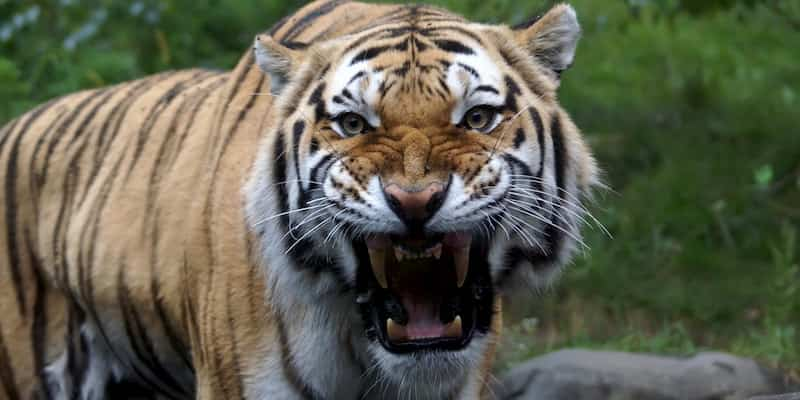 Bronx Zoo
Address: 2300 Southern Blvd, The Bronx, NY 10460
Phone: (718) 367-1010
Sprawling over 265 acres, the Bronx Zoo is one of the largest zoos in the state. Come visit the nearly 6,000 animals that call this urban oasis home—from big cats to little reptiles and so many fuzzy, slimy, and scaly friends in-between.
One thing you should know before you purchase tickets: there are two tiers, and buying a general admission ticket won't get you access to see all the animals. General Admission does include popular exhibits like the Himilayan Highlands, Madagascar!, and the Bison Range. But if you want to see the Butterfly Garden or the Congo Gorilla enclosure during the summer months, your group will have to spring for the slightly pricier Total Experience tickets.
Speaking of groups, the Bronx Zoo offers group discounts! In fact, if you're traveling with NYC public school students, General Admission is waived and groups receive one free ticket for every 20 purchased. The zoo just asks that at least one chaperone accompany every 10 children and remain with their little explorers at all times.
Queens
At this point, to say NYC is a melting pot is a bit cliche. But when we say Queens is one of the most diverse places you'll ever see—we're not exaggerating.
Located southeast of Manhattan and east of Brooklyn, this borough is the largest one by land area and the second-largest by population. No specific race or ethnicity makes up a 50% majority of this bustling borough's population, and nearly half of the people here are immigrants.
All that's to say: Queens is dense with different cultures, which means what you see and do here really depends on what your group wants to see and do! From snacking on kanafeh sweets in Little Egypt to sampling a few brews at a genuine German beer hall, admiring the intricate stone carvings of the local Ganesh Temple to enjoying an ice-cold cholado in Jackson Heights—this borough has it all.
If you're visiting Queens with a group, there's a chance these spots are already on your itinerary: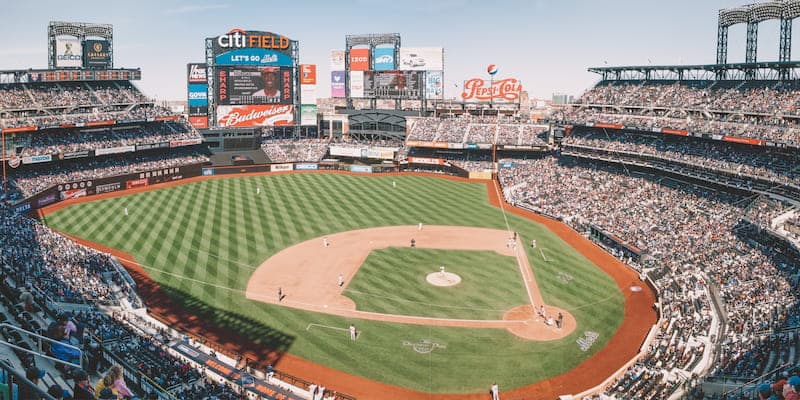 Citi Field
Address: 41 Seaver Way, Queens, NY 11368
Phone: (718) 507-8499
Aka: the Mets home turf. Built in 2009, this ballfield was made to replace the next-door Shea Stadium, originally constructed for the 1964 World's Fair. Citi Field is considered fairly modest in size, with the ability to seat 41,922 fans. It's also considered to be pitcher-friendly due to its larger-than-average outfield, which makes witnessing a home run or catching a fly ball even more exciting here.
Before the game, take some time to admire the installations, photos, and memorabilia of the Jackie Robinson Rotunda: the main entranceway to the stands that honors the memory of the famous Brooklyn Dodgers player. If your fan group wants even more of a history deep-dive, arrive at the stadium with enough time to explore the Mets Hall of Fame and Museum! It's only open on game days and lets fans brush up on their Mets history through interactive exhibits—free of charge if you've got a ticket to the game.

JFK Airport
Address: Queens, NY 11430
Phone: (718) 244-4444
Okay, so this one isn't exactly a popular attraction you'd add to a tour itinerary—unless for some reason you really like going through airport security. But it's one of the busiest airports in the area and reaches more cities than the city's other two airports, so if you're kicking off your NYC trip with a flight into town, odds are you'll be passing through JFK.
The airport offers dining for a wide range of budgets and some of the most critically acclaimed airport food you'll find stateside. Selections include burger dives like Shake Shack, Blue Smoke on the Road's ribs and barbeque, the trendy craft beers at the BRKLYN Beer Garden, and Deep Blue Sushi—which holds the title of "the best sushi you will probably ever eat in an airport."
As we said, JFK is busy—over 60 million passengers pass through here every year. That makes leaving and entering the airport a bit of a hassle, especially if you're new to the city and doubly so if you're traveling with a large group. This is the only New York airport directly connected to the subway system, so when you're traveling with just a few people, take advantage of the trains. Otherwise, we recommend calling us at 718-233-4974 and setting up a private airport shuttle so a professional driver can handle the traffic and you can get back to enjoying your trip.
Need to know more before you book your NYC airport shuttle service? Check out our comprehensive JFK airport guide for more information.
Staten Island
Let's be honest. Staten Island is often considered the most boring of the NYC boroughs. Of all five boroughs, Staten Island has a reputation for being the most mild-mannered, as well as the "safest" borough in New York City. It's the most residential borough for sure, so it's often overlooked when it comes to sightseeing potential.
But there's still plenty to see and do in Staten Island! And even better, its reputation and makeup mean it's less crowded and more family-friendly, which is great for tour groups with kids or those otherwise looking for sparser crowds. Besides, who doesn't love an underdog?
While Staten Island has its own bus and rail system within the borough, the MTA subway does not travel to the island itself—which makes getting here a little tough if you aren't driving (and we cannot stress enough how frustrating it is to drive in NYC).
Well, there's always the Staten Island Ferry—a favorite attraction on its own. It runs between Manhattan and the island and offers picturesque views of the skyline on clear days.
But if you're coming in from Brooklyn or Jersey or if you're navigating SI with a group of people who wouldn't do well on the bus or rail, a charter bus is your best bet. That way, everyone can arrive all together and at the same time to every stop on your itinerary—which, by the way, we recommend adding these attractions to:

Historic Richmond Town
Address: 441 Clarke Ave, Staten Island, NY 10306
Phone: (718) 351-1611
The perfect destination for field trips or scout troop outings, this place lets visitors of all ages step back in time and see 300 years' worth of history come to life!
Historic Richmond Town is a 100-acre living history village. In other words, expect to see historians and actors recreating the daily lives of New Yorkers from centuries past—all in historically accurate buildings while in period dress. Your group can explore the taverns, jailhouses, homes, and railway stations at your leisure or join one of the daily 2 p.m. guided tours.
This place can be reached from most major bridges and offers free parking, so we recommend coming in by either car or charter bus.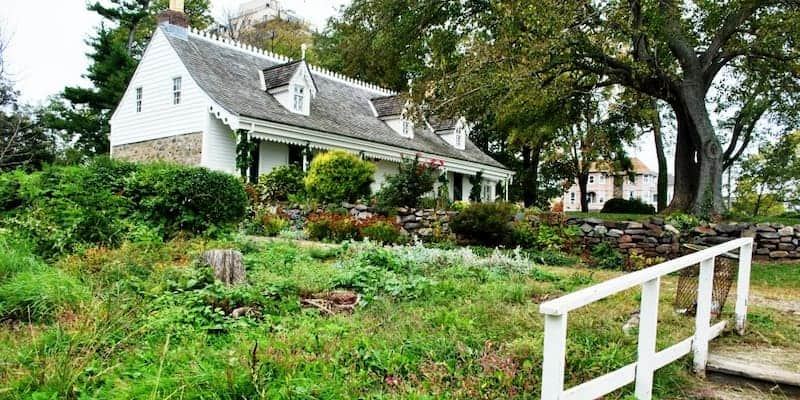 (Image credit: Wikimedia Commons)
Alice Austen House
Address: 2 Hylan Blvd, Staten Island, NY 10305
Phone: (718) 816-4506
Originally built as a Dutch Colonial abode in the 1690s, this historic home on the Upper Bay is now a museum dedicated to preserving the work of—you guessed it—Alice Austen.  In 1884, she became one of the first women photographers to work outside of a studio. Over her 40-year career, Austen captured nearly 8,000 photographs, mostly focusing on the daily lives of New Yorkers—from upper-middle-class Staten Islanders to impoverished residents of the Lower East Side. She and her life-long romantic partner inhabited this house, dubbed Clear Comfort by her grandparents, and the museum is now a registered LGBTQ history site.
The museum is usually open from around noon to 5 p.m. most days, and admission is $5 per person. It's a fairly small museum, size-wise, so groups of 10 or more are encouraged to call ahead to ensure availability. Likewise, the parking lot is small—ask your charter bus driver to drop you off near the gravel lot, and they can probably find a parking spot at the bayside lot on Edgewater Street.
Plan Your Group Trip through the NYC Boroughs
Consider a National Charter Bus rental your group's ticket to safe and easy travels through the New York City boroughs. Whenever you're ready to book your NYC group transportation, give us a ring at 718-233-4974. Our team is available 24/7 to take your call, walk you through the rental process, and answer any questions you might have. You can count on National Charter Bus to make your NYC borough trip a breeze!
Tags In