A Group Guide to Visiting Zion National Park
Just a quick 2-hour detour from Las Vegas, Zion National Park is one of the most popular destinations in the U.S. southwest. But did you know it's one of the most tricky national parks to visit as well? The unique canyon and desert ecosystems are extremely delicate—which means there are a lot of regulations regarding what you can and cannot do and where you can and cannot go.
Don't sweat it though; as long as you do your homework beforehand and follow the rules once you get there, visiting Zion National Park could be one of your group's favorite outdoor excursions yet.
Besides, National Charter Bus has put together this guide to group visits in Zion National Park to make the planning process that much easier! Keep reading to learn more about the ins and outs of Utah's first national park, and call 1-844-755-051 when you're ready to book your ride there.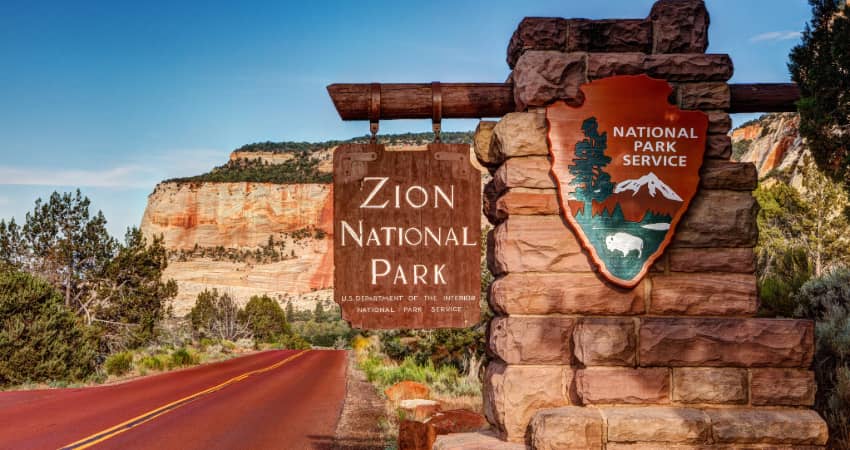 COVID-19 Precautions
For your safety during the COVID-19 pandemic, both Zion National Park and National Charter Bus are implementing some additional safety measures.
What you can expect from us:
Yes, we are still booking trips! Round up your established pod of family and friends, work buddies, or an educational group, and our team will ensure you have a clean and well-ventilated bus rental for your trip. Rest assured your professional driver will always wear a mask, and you can set up any number of safety measures aboard your ride. Read up on our COVID-19 group travel precautions to learn more!
What you can expect in Zion National Park:
In regular times, visitors could hop on or hop off the park's free shuttle service to get to nearly any major attraction. As of July 2020, however, the shuttle only runs on select days when high visitation is expected, as a way to curb the crowds. If you're visiting when the shuttles are running, the only way to access the Zion Canyon Scenic Drive is by this service, and your group will need to reserve your seats in advance.
When to Visit
Though parts of the park close for months at a time due to winter weather, most of Zion National Park is open year-round. As for choosing the best time to visit, well, it depends on what your sightseers want to do here! Here are some of the pros and cons for each season in Zion:
Winter
Pro: This season brings the sparsest crowds you'll see all year, as well as the lowest lodging rates at the area's hotels and resorts.
Con: Many of the high-elevation trails and roads (like Kolob Canyons Road and part of Kolob Terrace Road) are closed to visitors.
Spring
Pro: Many veteran visitors say springtime in Zion is the most beautiful. Have your charter bus rental make some pitstops along your scenic drive to take in the fields of wildflowers!
Con: The spring thaw brings higher water levels, making a hike along the Narrows riverbed trail very dangerous. If this attraction would be the highlight of your trip, consider visiting another time of year.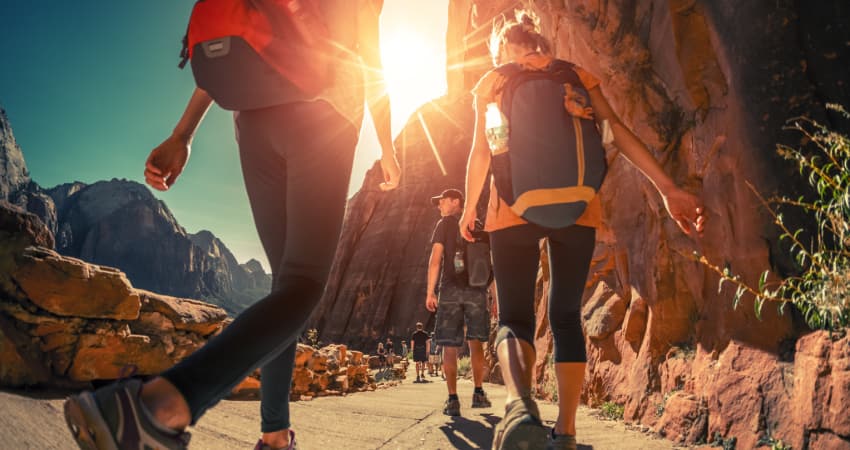 Summer
Pro: This is the best time of year to explore the park's high-elevation sites. Also, the blazing heat will make a watery trek through the Narrows that much more refreshing!
Con: Temperatures rarely leave the triple digits. You'll need to bring plenty of water and limit your outdoor excursions to an hour at a time.
Fall
Pro: Believe it or not, even the desert has fall foliage! Catch the vibrant colors of the cottonwoods and aspens before they lose their leaves in mid-November.
Con: Temperatures in this season can be very fickle—so make sure your group packs plenty of layers.
Lodging in Zion National Park
While lots of lodging is available in nearby cities and townships outside the park, there's nothing quite like spending the night in the great outdoors! If your group wants to stay on the park grounds, you'll have three options:
South Campground
Address: Dalton Wash Rd, Virgin, UT 84779
Just a half-mile from the southern entrance of the park, this campground boasts 117 sites in total—three of which are wheelchair-friendly, and four of which are designated group campsites. The group spots are limited to 12 people per site and cost about $50 per night. Just keep in mind that this campground closes for the winter months, so double-check the availability when your group reserves your site two weeks in advance.
Watchman Campground
Address: UT-9, Springdale, UT 84767
This campground is wedged between the Virgin River and the park's south entrance, just down the road from the Zion National Park Visitor Center. Here you'll have your pick of 190 campsites, including seven flat wheelchair-accessible sites and six reservable group areas. For $50–130 per night (depending on group size), your campers can set up their tents in the shadow of Bridge Mountain and have easy access to the park's major attractions come sunrise.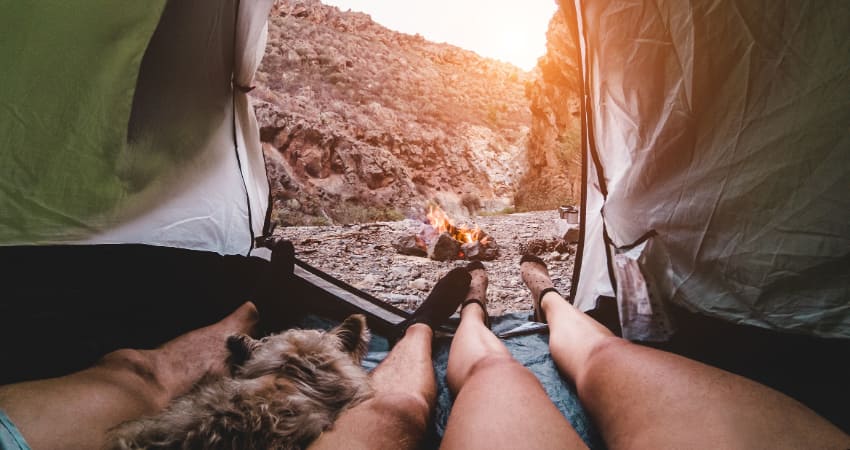 Zion National Park Lodge
Address: 1 Zion Lodge, Springdale, UT 84767
Not feeling like roughing it? That's okay too! The Zion Lodge is the only indoor lodging in the park and offers a variety of comforts to make your Zion adventure that much more comfortable. Grab a bite at the cozy Red Rock Grill, reserve tours and excursions at the desk, or send a postcard or two in the motel's built-in post office.
Group reservations are available for crews of 10 or more, and you'll receive one complimentary room for every 15 rooms booked. By the way, don't forget to reserve lodging for your bus driver! They need an 8-hour break for every 10 hours on the road, and many hotels will work with you to give them discounted room and board.
Things to Do in Zion National Park
Now to the fun part: what will your group get up to in Zion? We have some ideas:
Check Out the Visitor Centers
Before you do anything in the park, it is highly encouraged that your group stops by a visitor center first. Not only will you be able to pick up handy maps and arrange tours there, your sightseers can also read up on the best ways to enjoy the park without impacting the desert's fragile ecosystems. The park's two visitor centers are open year-round—though closing hours vary depending on the time of year—and each has ample charter bus parking, so there is no excuse to pass them by.
The main center, the Zion Canyon Visitor Center, is located right inside the South Entrance of the park, near the city of Springdale. From here, visitors can venture a half-mile north to the Zion Human History Museum—a showcase of the indigenous people and settlers who once lived here. The other visitor center, located near the west entrance in Kolob Canyon, is smaller and less-visited but should still be able to provide any information you might need.
Zion Canyon Visitor Center
Address: Zion National Park, 1 Zion Park Blvd, Springdale, UT 84767
Phone: (435) 772-3256
Kolob Canyon Visitor Center
Address: 3752 E Kolob Canyon Rd, New Harmony, UT 84757
Phone: (435) 586-9548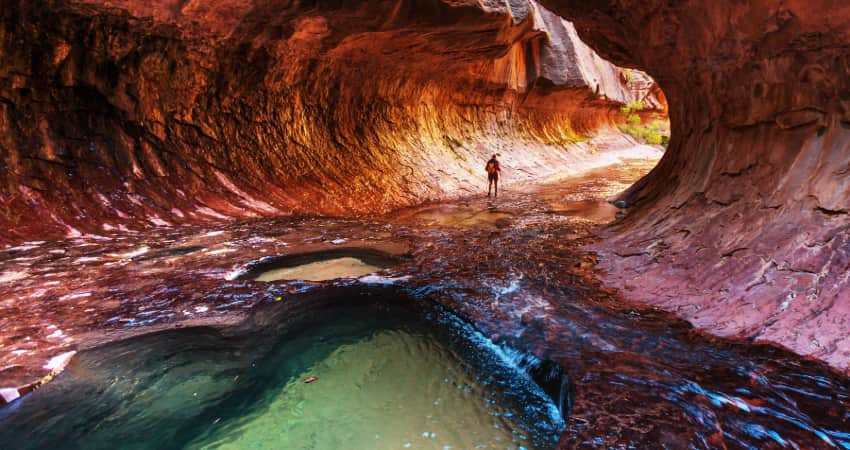 Navigate the Narrows
One of the most popular and aptly named sites in the park, "the Narrows" refers to the narrowest section of Zion Canyon—only 20 to 30 feet wide at most points. And one of the best ways to see it is by hiking upstream through the shallow river that carved the thousand-foot-tall gorge walls you see today.
Of course, hiking through the river is not always an option—the water is freezing cold until late spring, and the rocky riverbed is not particularly kind to folks with mobility concerns. In that case, feel free to enjoy the canyon views from the ADA-accessible Riverside Walk: a paved, mile-long stretch along the bank. Your ADA-compliant bus rental can drop everyone off at the Temple of Sinawava.
The Zion-Mount Carmel Tunnel
When the weather's too sweltering to venture out on foot, this attraction is a fun way to see the park's history from the comfort of a climate-controlled vehicle. This 1.1-mile-long tunnel winds through the side of Bridge Mountain, and when it was completed in 1930, it was the longest tunnel of its kind in the U.S.
Beware, though: this tunnel has vehicle restrictions based on height. Only bus rentals that have advanced reservations at the Zion Lodge (whether it's a dinner reservation, a room block, or a tram tour) may access the Zion Canyon Scenic Drive. Oversized vehicles are only allowed on certain days of the year, as determined by the NPS on a rolling calendar schedule. And even then, vehicles over 40 feet long and 13 feet tall are not allowed in the tunnel—so full-size charter buses are not ideal here. Opt for a compact minibus rental instead, and be sure to obtain a tunnel permit before you embark.
Hiking and Backpacking
Looking to stretch your legs? Zion certainly has enough space to do so: nearly 50 trails, in fact. The southern end of the park is home to shorter trails (anywhere between a quarter-mile and 3 miles on average), but you'll find a lot of longer trails in the Zion Wilderness to the north. These long trails are mostly out-and-backs, so your hikers would benefit from having a reliable shuttle to drop them off at the trailhead and meet back up with them on the other side.
Park officials discourage taking groups of more than 12 out on the trails (the park's ecosystems are delicate, and more feet stomping around means a higher likelihood of erosion). If you're here with a larger group and still want to hit the trails, consider dividing and conquering different trails in smaller pods.
Also, if you plan to stay on the trail overnight, you'll need a backpacking permit. Put together a detailed itinerary of where you plan to hike and apply for a reservation at a site along your route where you intend to make camp.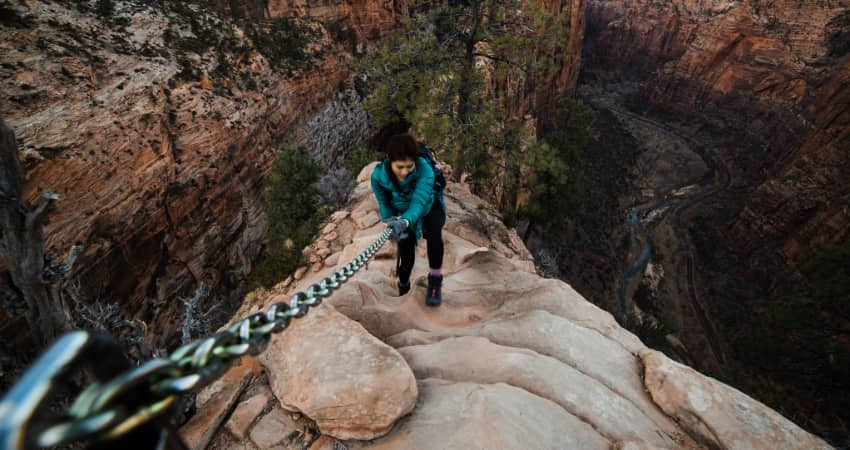 Climbing and Canyoneering
Perhaps the most iconic features of Zion National Park are the sheer vertical cliffs, deep and ancient canyons, and towering rock formations you'll see throughout it. So it makes sense that this national park is a haven for climbers, bouldering enthusiasts, and canyoneers seeking big thrills and challenging routes!
The most popular climb in Zion is Angel's Landing—a 2.5-mile long trail with a 1,500-foot incline and steep drop-offs on each side—though there are plenty of walls to ascend and bouldering spots throughout the park. Like backpackers, overnight climbers, and canyoneering groups need to reserve a permit before embarking.
Plan Your Group Trip to Zion National Park
Ready to go? The National Charter Bus team is here to make getting in and around Zion National Park simple and stress-free. Our 24/7 reservation team is available at 1-844-755-051 to take your call, help you find the perfect bus rental for your group's size and itinerary, and answer any questions you might have.
Get in touch today to receive a free and personalized bus rental quote with no obligation to book!