The First-Timer's Guide to Renting a Charter Bus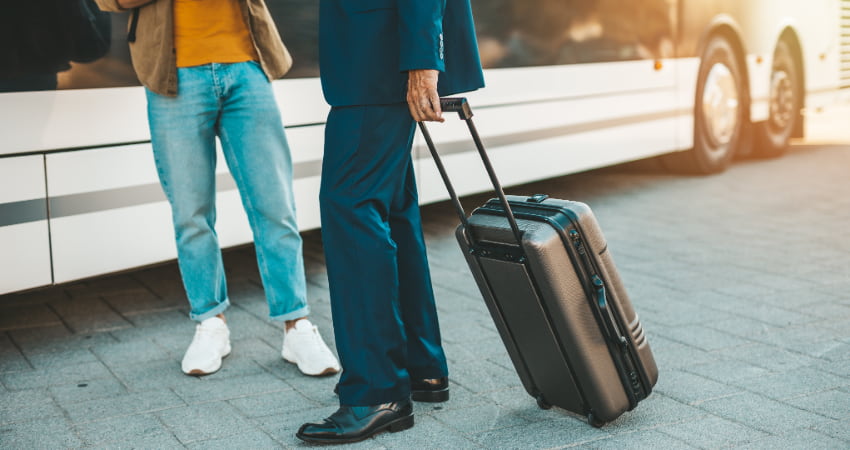 Renting a charter bus isn't something most people think about until, well, they really need a bus. Unlike renting a car, reserving group transportation comes with a few extra hurdles. Being responsible for fifty people is going to make planning more tedious than being responsible for five.
Don't worry! At National Charter Bus, we aim to make your rental experience as simple as possible for groups of all sizes. No matter the type of trip or your level of bus rental expertise (if you're an event planner, you may have plenty of experience here), we'll help you efficiently organize your group transportation. From choosing between full-sized charter buses and minibuses of various sizes to securing parking, you'll have a helping hand every step of the way.
Need a few rental pointers before calling us? We've developed a guide to help you along your charter bus rental journey.
The Charter Bus Rental Basics
Let's discuss the simple stuff first, step by step.
Step 1 – Decide if a charter bus is right for you.
We want you to choose the best mode of transportation for your needs. A charter bus rental isn't for everyone, but when you have a dozen or more people, using a group transportation service is a good option.
For groups like sports clubs in need of extensive storage space for equipment, a charter bus rental is a wonderful alternative to crowded carpools.
Large businesses in need of transportation to off-site trainings, team-building events, conferences, or company social gatherings would also benefit from a charter bus rental.
Even groups planning personal events like birthday bashes or wedding ceremonies with a long guest list should consider renting a charter bus to simplify arrival and departure.
Determining whether or not to rent a charter bus all boils down to how big your group is and how much time you're willing to dedicate to driving. If you want easy and efficient transportation without needing to volunteer someone to get behind the wheel, booking a bus is your best bet.
So you've determined a bus is the mode of transportation for your group– now what?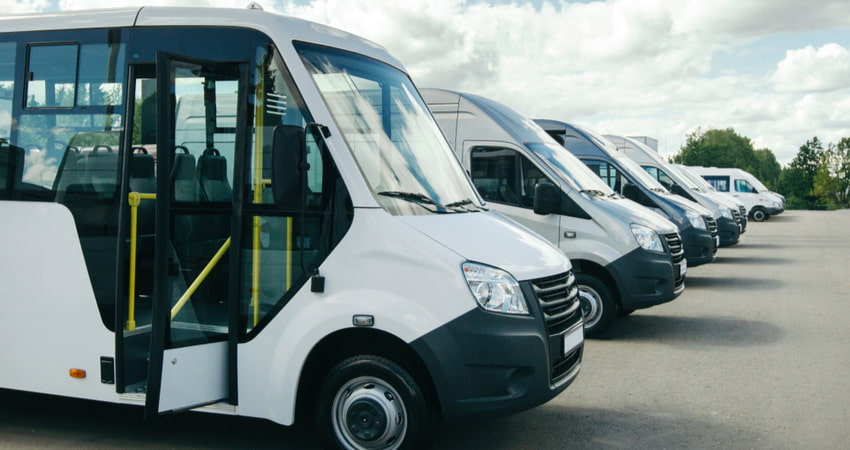 Step 2 – Find the right model of bus.
Picking the best type of bus for your group can always be done by simply calling your reservation specialist at 1-844-755-0510 for rental information and a personalized quote. However, it can also be helpful to have a little knowledge on what you need before you call.
Charter buses are generally split into two categories: full-sized charter buses and minibuses. Full-sized charter buses (sometimes referred to as "coaches" or "motorcoaches") usually seat 55 or 56 passengers and include plenty of storage space and onboard restrooms. Minibuses are smaller vehicles that usually seat between 18 and 25 people. Most minibus models don't include as much storage space as full-sized buses and don't have onboard restrooms. Both full-sized buses and minibuses can come equipped with WiFi, power outlets, TVs, and other amenities, by request.
A good rule of thumb: choose a model of bus based on your group's size. Passengers traveling for small personal events would be best suited with a minibus, while large groups like sports teams and businesses should consider a full-sized bus.
Now that you know the difference between full-sized buses and minibuses, let's get to answering an even more important question:
Step 3 – How much does a charter bus rental cost?
There isn't a "one size fits all" estimate for how much a charter bus rental will cost. National Charter Bus personalizes your quote based on your itinerary. The easiest way to determine the cost of your bus is to call our reservation experts with your travel information. All of our quotes are free, and you won't be obligated to book.
When you call in for a quote, keep in mind there are many factors that will determine your rental cost, including:
The duration of your trip. National Charter Bus requires a 5-hour rental minimum.
Travel distance
Where you're traveling. Major cities like New York City and Chicago often have more rental availability and more diverse offerings than smaller towns.
When you're traveling. Peak travel months during summer can be more expensive than other months of the year.
The size and model of your bus.
Additional amenity requests like WiFi and TVs.
How far in advance you book. Renting at least 3 months in advance is highly recommended, though we try our best to accommodate last-minute bus rentals.
Depending on where you're traveling and the duration of your trip, you'll be charged by the mile, by the hour or by the day.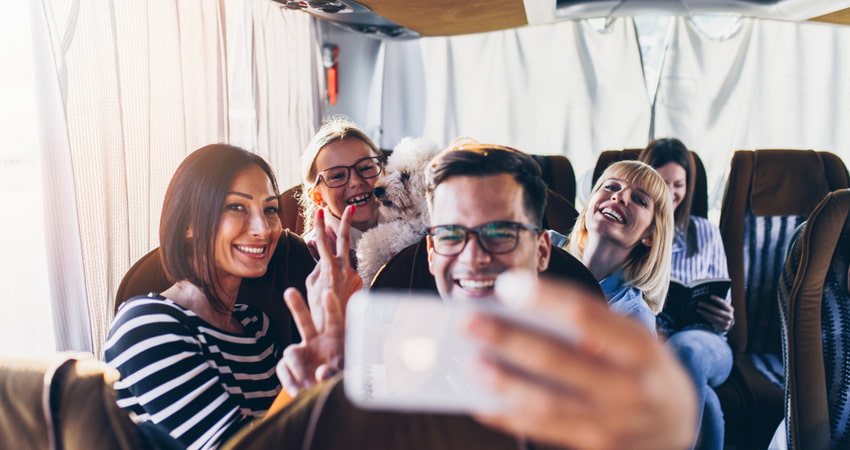 Booking a bus can seem like a big financial commitment, but when you're traveling with a large group, the cost of a bus rental can easily be split among everyone to minimize per person cost. Have your group headcount and any other travel information on hand before calling in to get your personalized quote.
Once you have a quote that meets your budget, let's get to the next major question:
Step 4 – How do I actually reserve a charter bus?
All National Charter Bus quotes are conveniently sent to our passengers via email. Once you receive an email, you'll be able to review your quote and reserve your bus after providing a 30% deposit.
After making your deposit, you can rest easy until your trip approaches and just call or email your reservation expert with any questions about trip adjustments. You'll need to make sure your rental is paid in full at least 30 days before the start of your trip. Once all payments are squared away, we'll also check in with you the week of your trip to confirm information like your specific pick-up and drop-off locations.
Beyond the Rental Basics
We've covered the basic information you'll need to rent a bus, so let's get into the nitty gritty of everything else that may come along with charter bus rentals.
Who will be driving the charter bus?
Every National Charter Bus rental includes a professional driver with a valid CDL license, clear background check, and clean drug test. We don't offer services where passengers can drive the vehicle themselves (regardless of CDL license ownership) or provide an externally sourced driver.
The cost of your rental includes regular compensation for your driver but does not include lodging or much-appreciated tips. If you're taking a multi-day trip, be sure to book your driver a hotel room. It doesn't need to be a 5-star accommodation, but ensure it's somewhere suitable for them to get plenty of rest to keep your group safe on the roads. To make things easier, you can always book your driver's hotel alongside yours to ensure timely departures. Be sure to inquire with your hotel about possible discounted accommodations for charter bus drivers.
Do I have to tip my driver?
Tipping is always appreciated, especially when your driver goes above and beyond to meet your travel needs. A cash tip of 10 to 20% is standard and can be given to your driver at the end of your trip.
How does parking a charter bus work?
Some cities are more charter bus-friendly than others. Locations like Washington, D.C. and Orlando see a heavy number of charter buses each day, which means it may be easier to find parking resources. Other cities may have strict regulations on charter buses traveling in certain areas, such as Lower Manhattan in NYC, the Garden District of New Orleans, and the many historic districts throughout Boston.
We can happily assist you in finding parking for your bus, but it can be exceptionally helpful if parking options are provided upon reservation. Inquire with the concierge at your hotel about overnight parking for oversized vehicles, and contact any attractions or venues you'll be visiting to ask about parking options throughout the day. The cost of parking your bus can vary greatly depending on the city and oversized parking availability. Be sure to provide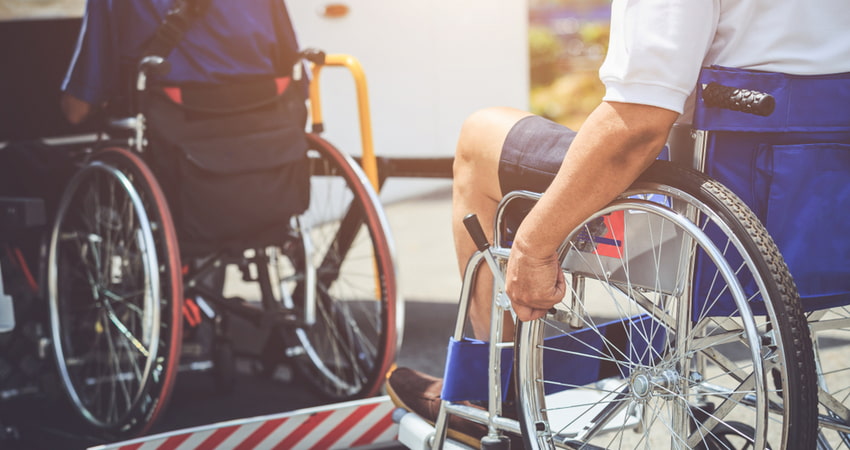 Can I rent an ADA-accessible bus?
Whether you're traveling with seniors or have other passengers with mobility concerns, you'll be able to rent an ADA-accessible vehicle with National Charter Bus. We'll be happy to find your group a bus with wheelchair lifts, railing, and extended space for mobility devices. ADA-accessible buses can sometimes be more difficult to acquire in busy markets, so please give your rental expert a little bit of patience while they book your trip.
Can I party on the bus?
We do service special occasions like bachelor and bachelorette parties and private vacations like girls' weekends and birthday bashes. We do not offer party buses. A minibus is a great, comfortable alternative to a party bus. Some of the providers in our bus network do allow passengers to drink on the bus, but you must let your rental expert know ahead of time.
Are more upscale buses available?
If you have a large group of important guests to tow around, one of your priorities may be renting a top-of-the-line bus to impress everyone. Occasions like corporate events and wedding services often warrant an upscale bus with an all-black exterior and leather seats. All of the buses in the National Charter Bus provider network are modern and comfortable, but if you need a fitting vehicle for a luxurious occasion, just let your reservation specialist know.
I have a small group but need plenty of storage space. What should I do?
We always recommend groups book their bus based on number of passengers, but every so often, a group will need more storage space than their bus can offer. Small sports teams may need space for equipment, groups of sports fans may need storage for their tailgating gear, and academic groups may need additional room for scholarly presentation materials. When you contact us to book your bus, let your reservation specialist know you'll need a vehicle that has additional storage options such as luggage bays underneath the bus. Just give us a heads up!
Still have a few questions about charter bus rentals? Check out our FAQ page or give us a call anytime at 1-844-755-0510.
Now, Let's Get Going!
Renting a charter bus for the first time can be daunting, but we want to make it easier for everyone. Whether you're a coach renting a bus for your high school football team, an office manager booking transportation for your company holiday gala, or a best man needing a bus for your buddy's bachelor party, National Charter Bus has you covered. Give us a ring at 1-844-755-0510 or shoot us an email at sales@nationalbuscharter.com for your personalized quote.