Things to Do in San Francisco that Aren't Fisherman's Wharf, Alcatraz, or a Cable Car
If you think of San Francisco and immediately imagine the wave-washed magic of Fisherman's Wharf, the sinister stories of Alcatraz Island, and the quirky joy of a cable car ride, you're not alone. These city staples are must-sees and do's for first time visitors, and for good reason!
However, if you're local or coming from another California city like San Jose or Los Angeles and have been around San Francisco's blocks a few times, you may be on the hunt for some new experiences. Get off the beaten track and explore any of these San Francisco destinations and things to do that aren't Fisherman's Wharf, Alcatraz Island, or a cable car ride, for once!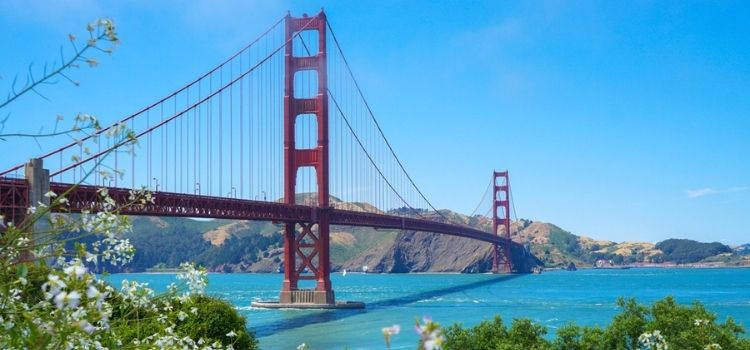 Golden Gate Bridge
The Golden Gate Bridge is an iconic part of the San Francisco skyline, and well worth a visit. Plan to go to the Welcome Center, which is where you'll find great views of the Bridge, orientation and information services, educational exhibits about the history, science and engineering of the Bridge, gifts and merchandise, and the original 12-foot stainless steel Bridge "test tower" used in 1933. If you still need to satisfy your Bridge fix, purchase tickets for a bike tour or walking tour, or go on a group hike through the Golden Gate National Recreation Area.
Travel Tip: It's important to know that parking is extremely limited at the Golden Gate Bridge, and we recommend coordinating with your charter bus driver to be dropped off at the Welcome Center. When you're done with your visit, you can coordinate pick-up back at the Welcome Center or at the end of a bike tour, walking tour, or group hike.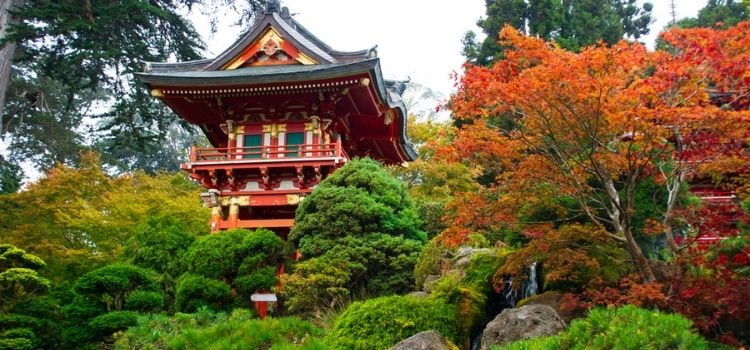 Golden Gate Park
From a small herd of bison to wooden windmills to an historic carousel to some of the city's most iconic destinations, it's easy to understand why Golden Gate Park is the third most visited park in the United States. There's no shortage of unique and interesting things to see and do! You could spend the entire day at this park with your group, exploring all 1,017 acres and visiting popular attractions like the de Young Fine Arts Museum, Japanese Tea Garden, California Academy of Sciences Museum, and the San Francisco Botanical Garden.
Travel Tip: Knowing where to park a charter bus in San Francisco is no easy feat, but parking at Golden Gate Park is uniquely simple. For a $3 fee, your driver can park in the bus-only lot on Concourse Driver behind the Music Concourse bandshell (and also enjoy the refreshment stand that's there just for charter bus drivers.)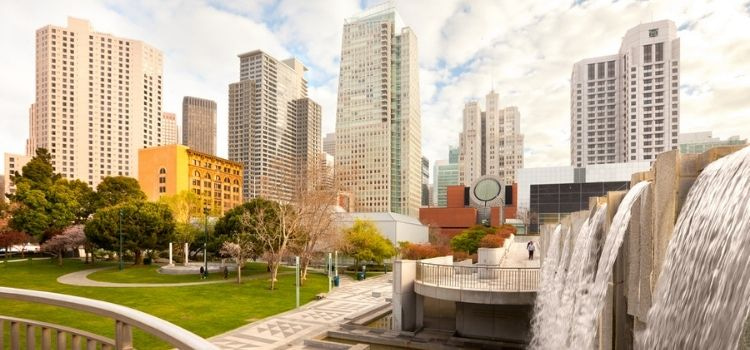 Yerba Buena Gardens
Known locally as the "Cultural Heart of San Francisco," Yerba Buena Gardens is a family-friendly public park full of attractions for arts and culture and recreational activities. In the park itself, you'll find the Yerba Buena Center for the Arts and the Children's Creativity Museum, as well as a year-round ice skating rink and Bowling Center. Area attractions include the San Francisco Museum of Modern Art (SFMMA), the Moscone Center, and the Metreon, a four-story shopping center overlooking Yerba Buena Gardens that features the largest IMAX theater in North America.
Travel Tip: While there's plenty to do at Yerba Buena Gardens on a quiet day, we recommend planning your visit around the Yerba Buena Gardens Festival. From May through October, park visitors can experience a plethora of free performing arts shows around the gardens, like music concerts, theater, dance performances, and circus arts.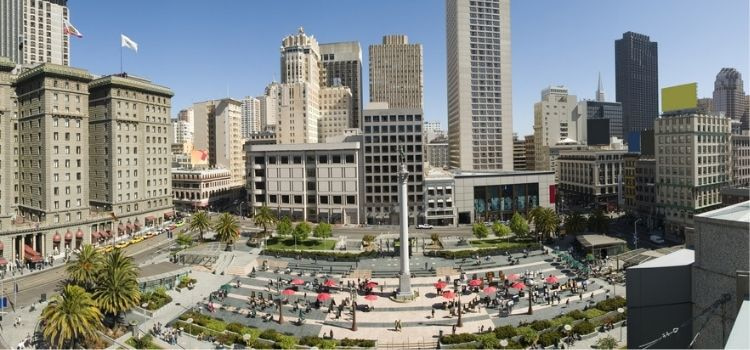 Union Square
Union Square is a public plaza in San Francisco for city visitors to enjoy some of the city's best free public events, shopping, art galleries, and theaters. One of the top draws to Union Square is its potential for retail therapy, so plan a visit here if you want to enjoy shopping at name-brand storefronts like Louis Vuitton, Chanel, Marc Jacobs, LUSH, Urban Outfitters, Burberry, Banana Republic, and more!
Travel Tip: Drop your shopping bags aboard your charter bus and stick around Union Square to enjoy its seasonal public offerings. Planning a holiday trip with your charter bus rental? Go to one of Union Square's annual holiday events like the Christmas Tree Lighting Ceremony, Bill Graham Union Square Menorah Lighting, or SantaCon, a mass gathering of everyone's favorite white-bearded, red-suited jolly old man in the Union Square Plaza.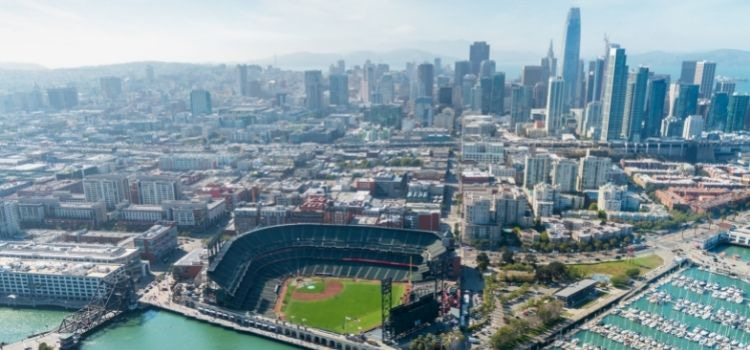 Oracle Park
If you've visited San Francisco but haven't made it a point to go to Oracle Park, now's your chance. For your next company outing, sports team team-building event, or fun day out with friends, plan to go for a San Francisco Giants ballgame, a private behind the scenes tour of the stadium, or a special event like a concert, running race, or movie night on the ballpark lawn.
Travel Tip: When traveling via charter bus to Oracle Park, note that there is a limited number of oversize vehicle parking spaces available in the Lot A "Bus Lot" which is located on the westside of Terry Francois Boulevard, next to the Lot A fence. Make sure to bring $80 in cash to pay the oversize vehicle parking fee.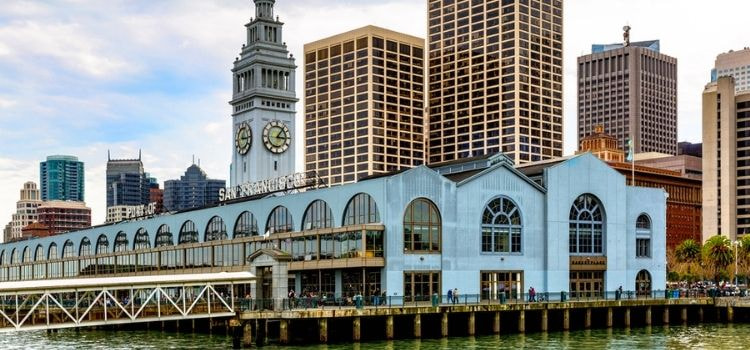 Ferry Building Marketplace
Epicureans and foodies among us must visit the Ferry Building Marketplace to enjoy and explore one of the city's best places to shop for unique, gourmet eats like handcrafted caviar, personal-sized cheesecakes, pure artisanal honey, and so, so much more. Some highlights worth having include a plate of "sozai" from DELICA, a Japanese delicatessen, freshly shucked oysters from Hog Island Oyster Company, and a mushroom log or bag of chanterelles from Far West Fungi.
Travel Tip: The historic Ferry Building Marketplace is situated along San Francisco's Embarcadero, home to several of the city's waterfront attractions. Once you've had your fill at Ferry Building, you can walk along one of the area's many piers for city and harbor views, or have your charter bus swing by Coit Tower to check another historical landmark off your list.
Exploratorium
One of our top 5 places to visit on a field trip in San Francisco, The Exploratorium is one of the city's most interesting institutions focused on the intersection of science, technology, and the arts. It's stocked full with interactive exhibits like the Sun Painting, a vision of colorful and ever-changing prismatic light, and Black Sand, an interactive "sand box" of magnetized sand from nearby Ocean Beach.
Travel Tip: Bus metered parking spots with 4-hour time limits are available at the nearby Fisherman's Wharf. Have your charter bus driver drop off your group and find a space at 600 North Point Street, 2700 Jones Street, 2600 Jones Street, or 199 North Point Street.
Rent a Bus in San Francisco with National Charter Bus
Whether it's your first time renting a charter bus in San Francisco, or you're a seasoned traveler to this coastal California city, let National Charter Bus Company take you wherever you want to go in San Francisco. From bustling Union Square to the iconic Golden Gate Bridge, we can offer private transportation services for group travel in San Francisco for any occasion or type of trip. Just give us a call today at 1-844-755-0510 to speak with a bus rental expert and get your show on the road!
Tags In