How to Avoid Tourist Traps in New York City
Whether you've been there, done that, and want to venture off the beaten path, or you simply want to avoid the worst of the big tourist crowds, New York City still has so much to offer for visitors and locals alike.
Not sure where to go in NYC without running into hordes of tourists? Never fear—we've put together this guide to help your group of travelers find their way around. Keep reading to learn the best tips for avoiding New York City's tourist traps and some alternative destinations you can add to your itinerary!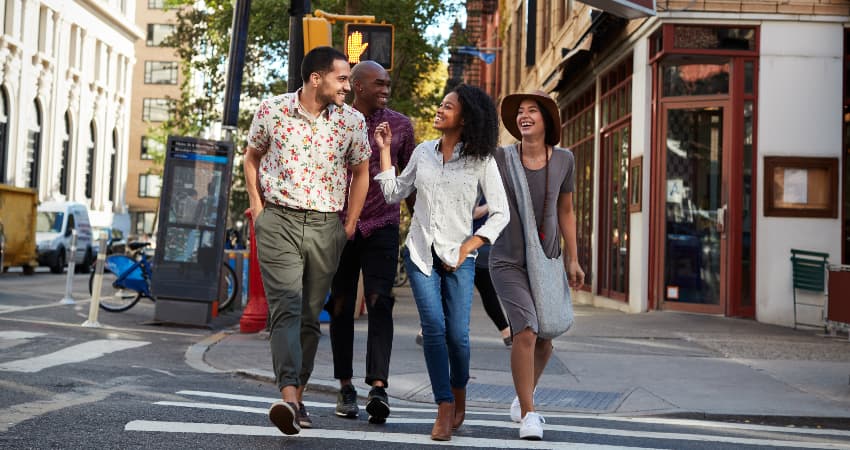 Ditch the preset tours.
With so much to see and do in New York City, more often than not first-time visitors opt for a preplanned bus tour of the city. And while these preset tours are a good option if you have no idea where to start, these bus tours are anything but personalized and only reach the most popular attractions in town.
If your group wants to stray from the overbeaten path, we recommend booking a private bus rental through National Charter Bus. That way, you'll be able to plan a custom route and schedule that suits your passengers' interests—one that visits all the sights you want to see and none that you don't. As an added bonus, you'll have the whole bus rental to yourself, without having to share your ride with strangers!
Get in touch with our 24/7 reservation team to inquire about all the personal touches that will make your NYC bus rental that much more comfortable for everyone. Whether it's an ADA-compliant coach to accommodate folks with mobility concerns or free WiFi so everyone can stream podcasts, music, and their favorite shows between stops, we'll work our magic to pair your group with the best bus rental to suit your travel needs. Call 718-233-4974 today to get started.
Time your trip wisely.
The holiday season in NYC is magical. No one will deny that.
But if you're looking to avoid the worst of the tourist crowds, then you may need to rethink your "Christmas in Manhattan" fantasy. Attractions like the Winter Village in Bryant Park, the skating rink at Rockefeller Center, and the New Year's ball drop in Times Square all draw thousands of tourists into town throughout December—not ideal if you're looking to avoid tourist traps.
The summer season also brings waves of families touring the city while on vacation, so your best bet for shorter lines (and milder weather, by the way) is to plan to visit in the fall or springtime. Besides, a couple of the city's most overlooked festivals happen during these seasons anyway:
Oktoberfest NYC
For nearly two months, the city celebrates German culture and beer in a variety of ways. From the pop-up festival in Central Park to the craft beer specials you'll find in nearly every bar in town, your drinking buds won't want to miss the city's annual October festivities!
Sakura Matsuri
For many NYC residents and veteran visitors, springtime in NYC means heading to Brooklyn Botanic Gardens and admiring the 76 cherry blossom trees in full bloom. At this two-day festival, you can show your students aspects of Japanese culture, jam out to J-rock bands, and take a stroll beneath a bright pink canopy of trees.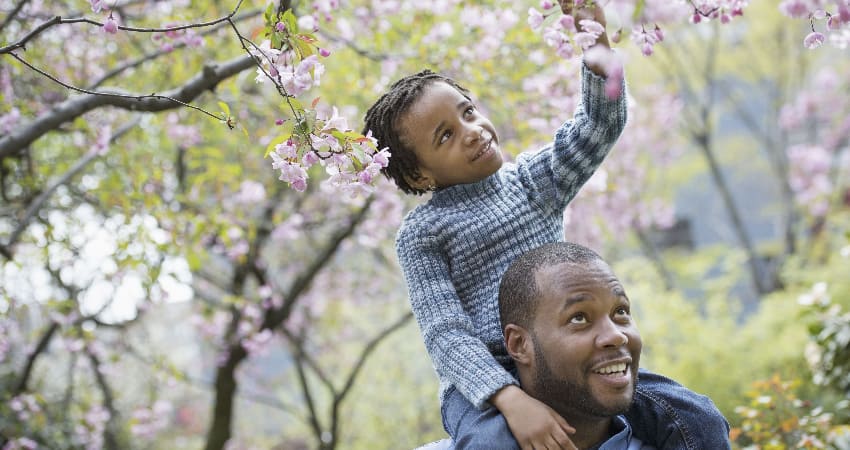 Beware in Times Square.
Time Square itself is a tourist trap—but for most out-of-town travelers, it's a must-see. So if you are planning to brave the bright lights and advertisements, at least do it smartly.
The most important thing to keep in mind? The characters in costumes will ask if you want a photo with them, and they will expect you to pay them afterward. Also, if you want to dig into New York's foodie scene, don't plan to eat there. Most restaurants in Times Square are nationwide chains and not representative of the best, "only-in-NYC" dishes you can sample.
Venture out from Manhattan.
We love Manhattan! When most out-of-town folks think of New York City, they're actually thinking about this bustling borough. And for good reason—that's where a lot of the biggest tourist attractions are!
If you're looking to stray from the typical tourist spots, consider taking time to explore the rest of the city. All of NYC's boroughs have a distinct vibe, a unique culture, and plenty of sights to see if you know where to look. Whether you're touring Brooklyn galleries with your artsy friends, taste-testing across Queens' diverse food scene, catching a Yankees game in the Bronx with your sports fans, or taking the kids out to the Staten Island Zoo, there's much to New York City than the standard Manhattan attractions—so get out there!
NYC Attractions that Aren't Tourist Traps
The Buschwick Collective
Address: 27 Troutman St, Brooklyn, NY 11237
Rather than contributing to the massive body pileup that is Times Square, stop by this open-air street art gallery in Brooklyn for a photo op that's equally colorful and Instagram-worthy, but not nearly as tourist-riddled. The area offers plenty of foot tours on a pay-what-you-want scale, but there's nothing stopping your group from meandering through the exhibits and enjoying the murals at your own pace. (Just keep in mind that there's little shade around the art, so you'll want to stash sunscreen and water on your climate-controlled bus rental if you plan to visit in summer.)
Governor's Island
Address: 910 Gresham Rd, Brooklyn, NY 11231
This 172-acre island in the New York Harbor is the ideal stop for vista-seekers on a budget. Here, you can take in the Manhattan skyline and cityscape without cramming into the elevator to reach the top of the Empire State Building, as well as view the Statue of Liberty without springing for the ferry ride. Every New Yorker knows that the Empire State Building can get crowded during peak tourism season and that Lady Liberty looks just as beautiful from this waterfront park as it does from the ferry—and visiting the park will cost you a fraction of the price it'd cost to experience either.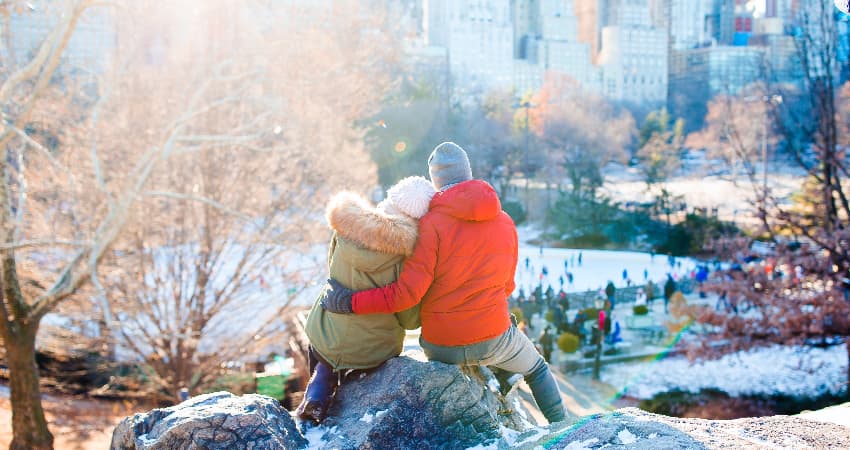 Central Park
Address: W 44th St & 45th Street, New York, NY 10036
This 843-acre green space may already be on the average tourist's itinerary, but that doesn't necessarily make it a tourist trap. In fact, most locals consider this park as "New York" as it gets! There are touristy parts—for example, the horse carriage rides and Strawberry Fields—but if you want to experience Central Park like a local, go for a walk on one of the many trails that wind throughout it. The Ramble offers plenty of tree cover for hot days, and there are dozens of hidden vistas, rock formations, and waterfalls around the Lake that make for perfect photo-ops with your friends.
The Woolworth Building
Address: 233 Broadway Manhattan, New York City
Grand Central Terminal is home to grand Beaux-Arts architecture and a stunning blue ceiling dotted with constellations—definitely a sight worth seeing if you're in the area or taking the train out of the city. But it also houses 44 rail platforms (more than any other station in the world), making it one of the busiest spots in the City that Never Sleeps.
Rather than annoying commuters as they travel to and from work, take your architecture lovers to the Woolworth Building instead. At its 1913 completion, it was the tallest building in the world. And while it has been closed to the public for decades and converted into a residential building, recent preservation, restoration, and education efforts have brought guided lobby tours to this overlooked neo-Gothic wonder. Reserve an hour-long tour today to take in the grand marble arcade, stained glass ceiling lights, and rich history of the Tribeca building.
Arthur Avenue
Little Italy is colorful, fun, and (relatively) authentic—but like a lot of places in Manhattan, the eateries and sidewalks here can get really crowded. If your group is craving Italian food, though, you're in luck—you can easily find authentic Italian eats throughout the city, not just in Little Italy.
One place in particular we recommend is Arthur Avenue: the Bronx's own majority-Italian neighborhood! Italian families have been settling here in the area between Arthur Avenue and Beaumont Avenue since the 1850s, and today visitors can still check out the mom-and-pop Italian delis, bakeries, cafes, merchants, and restaurants that line the streets.
Plan Your Trip to New York City Today
Once you've brushed up on your deli order and filled your group's itinerary with NYC's less touristy destinations, let National Charter Bus take the wheel. Our network of minibus and charter bus rentals lets us pair your travel group with the best motorcoach and experienced driver to suit your schedule and budget. We specialize in custom rental plans, so you can stray as far from NYC's tourist attractions as you please!
Give us a call at 718-233-4974 today to receive a free and personalized quote for your bus rental in New York City.