Things to Do in Boston that Aren't Tourist Traps
Think you've seen all that Boston has to offer? Think again!
Whether you're a returning visitor wanting to stray from the (over)beaten path or a local looking for an outing away from the sightseeing crowds, the city has plenty of exciting things to experience that aren't completely swamped with tourists.
Not sure where to look? No worries—National Charter Bus put together this guide to tourist trap alternatives, just for your Boston sightseers. And if you need help traveling between your destinations, we can help you there too! Our network of motorcoaches is one of the largest in the country, which means we can find you nearly any kind of charter bus or minibus or set of amenities your passengers may need. Whether you need an onboard entertainment system to keep your students preoccupied between stops or an ADA-compliant coach with a wheelchair lift, we've got your back.
Call 617-275-8102 to see how easy it is to book a Boston bus rental, and keep reading to find the ideal itinerary items for your Boston group trip.
COVID-19 Safety
Before you set out, keep in mind that many attractions, museums, and stores in Boston are closed or only offer limited access due to the pandemic. While avoiding the city's tourist traps can be a good way to avoid large crowds, you may want to confirm each destination's COVID-19 protocols so your group knows what to expect before embarking.
Additionally, National Charter Bus wants your next Boston outing to be as safe as possible. That's why we'll work with your group to enforce whatever measures you want aboard your bus to keep your passengers healthy. Rest assured your professional bus driver will always wear a mask and will help sanitize your bus rental before and after your trip. When you call to book your bus, ask about setting up hand-sanitizing stations or staggered seating arrangements to encourage social distancing.
Instead of the Freedom Trail, try…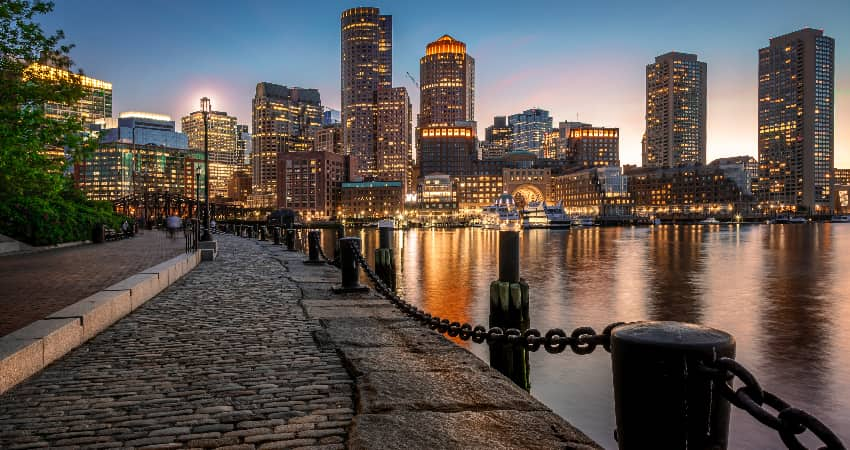 Boston Harborwalk
The Boston Freedom Trail is one of the best ways to see the city's top historic attractions, all in one 2.5-mile stretch. But if you've already seen all the historical sites along the trail (or just want to avoid the worst of the tourist crowds in the summer), the Boston Harborwalk is a great place to get your steps in throughout the city's historic districts.
This public walkway traces the Boston Harbor's piers, wharves, and shoreline for 47 miles, from East Boston to the Neponset River. While the walking trail is not quite as history-focused as the Freedom Trail, there are plenty of opportunities to learn a thing or two. Along the way, your group can read about and inspect a piece of the rolling Old Colony Railroad Bridge, or admire the interactive public art pieces near the Harbor.
Charter bus parking: Where your charter bus parks depends on where along the Haborwalk your group would like to walk. There are four places along the waterfront where your group can load/unload your Boston bus rental:
Outside the skating rink on the north side of Commercial Street
Near the Lewis Wharf, along the east side of Commercial Street
Near Rowes Wharf, along the east side of Atlantic Avenue
Fort Port Channel, on the north side of Congress Street
Instead of the Boston Common, try…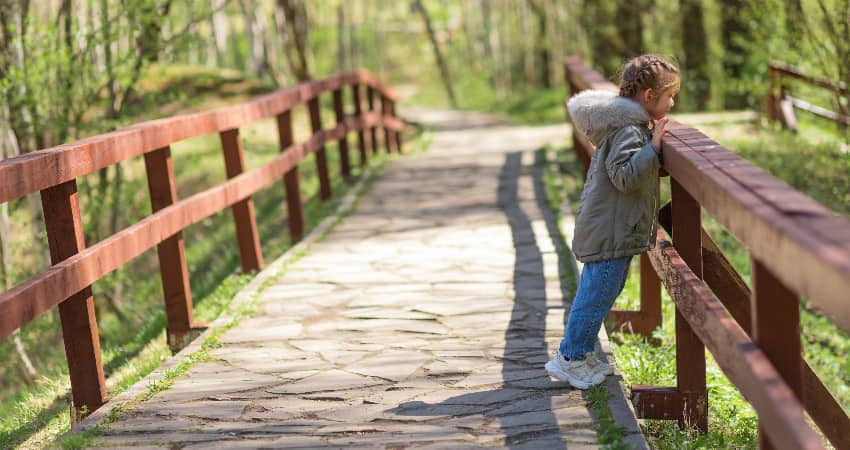 Arnold Arboretum
Address: 125 Arborway, Boston, MA 02130
These 281 acres are technically located on Harvard's campus. But since they're a mere 6.5 miles from downtown, many Bostonians consider this greenspace a great alternative to the Boston Common—which can get very crowded with sightseers during peak tourist season.
Like the Boston Common, this place is historic—founded in 1872—and free to the public. And while there are no cute statues of ducks or history walking tours passing through every hour on the hour, your nature enthusiasts can meander through the collection of 15,000 plants at your own pace. Or, if your group does want a more structured experience, you can schedule a personalized tour with the gardens' directors or even an educational nature hike with your class.
Charter bus parking: Visitors coming to the arboretum by bus rental must receive a parking permit from the visitor center upon arrival before your bus driver can park your motorcoach on the grounds.
Fenway Victory Gardens
Address: 1200 Boylston St, Boston, MA 02215
Looking for some fresh air and flowers closer to town? The Fenway Victory gardens might be more up your alley. These 7.5 acres of the historic Back Bay Fen once served as community vegetable plots starting in 1942 as civilian supplies became scarce during World War II.
Today, residents and community organizations still tend to the 500+ plots, with a wide variety of flower, herb, and vegetable gardens, as well as fish ponds and aviaries occupying the 15-foot by 25-foot spots. If you don't want to get your hands dirty, though, that's okay too. The grounds are open to the public and serve as a community space for picnics, workshops, and self-guided nature walks.
Charter bus parking: After your driver drops off everyone at Back Bay's designated bus loading/unloading area outside the Hynes Convention Center, your driver can park your bus rental near the Christian Science Center for up to three hours.
Instead of the Boston Public Library, try…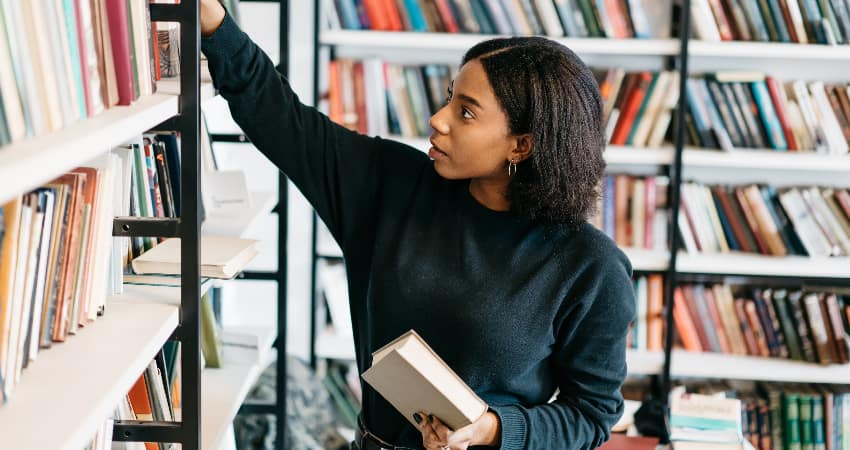 Boston Athenaeum
Address: 10-1/2 Beacon St, Boston, MA 02108
The Boston Public library may be the first free municipal library in the country, but it is also very crowded during tourism season—nearly 4 million people visit it every year! If you're interested in seeing a stately and historic library without dealing with crowds, the Boston Athenaeum ticks both of those boxes as well.
Constructed in 1807, this cultural center is stacked with over half a million volumes covering local history, British and American literature, and fine art. Only library members can access all 5 floors, but the public is welcome to peruse the galleries, exhibits, and tomes on display throughout the first floor. Curated guided tours of the library are available with admission, which is $8 per adult, $6 per student or military member, and free for kids under 12.
Charter bus parking: The closest place you can disembark your motorcoach rental is along the east side of Broad Street, close to Milk Street in the Financial District. If you're staying at a hotel with bus-friendly parking near the Boston Common, it will be easiest for your bus driver to park there while you explore the library.
Brattle Book Shop
Address: 9 West St, Boston, MA 02111
If your group is more interested in taking a few titles home with you than taking pictures of architecture, this historic bookstore may be a better stop for you. Brattle Book Shop is one of the oldest independent bookstores in the country—selling secondhand books and print materials since 1825. The shop has been run by the same family since 1949 and currently houses more than 250,000 books, postcards, maps, and prints spanning multiple genres and decades.
The first two floors are filled with more contemporary literature for purchase, but your bibliophiles will definitely want to venture to the third floor to peruse the collection of first-edition antique books. Some titles even author-written notes and dedications scribbled in the margins of the pages!
Looking for a bargain read instead? The shop also offers an open-air sale lot sandwiched between two industrial brick buildings and a mural of famous authors. Racks upon racks of discounted encyclopedias, novels, and more fill the outside space—some as cheap as $3 per book.
Charter bus parking: The bookstore is located just a few blocks south of the Boston Athenaeum, so the parking situation here is much the same. Have your bus driver drop everyone off in the Financial District, or simply park at your hotel if you're staying nearby.
Create a Custom Tour of Boston by Bus
No matter where you go in Boston—whether it's a tourist trap or something a little more obscure—your group is going to need a reliable ride to every destination. There's where National Charter Bus comes in! Our 24/7 team of reservation specialists is dedicated to connecting each group to the ideal coach rental for their needs. So whether you need a simple shuttle around downtown or a full-size charter bus to bring in a sightseeing group from out of town, our vast network of motorcoaches is at your service.
Give us a call at 617-275-8102 today to reserve your Boston charter bus rental, and we'll offer a free and personalized quote with no obligation to book!